A Century of Eclipse Watching, in Photos
Just try to look away.
On August 21, 2017, the moon's shadow will cut a swath across the United States, from Oregon to South Carolina. In towns and cities in the path of totality—where the moon completely blocks the sun—hotels are in high demand. Airlines are promoting flights that coincide with the eclipse, and one is even offering a special eclipse-viewing charter flight. Millions of Americans near the path of totality are expected to hit the road to witness the first eclipse to cross both coasts since June 8, 1918. Still others will attend special events to be around fellow eclipse enthusiasts, including Atlas Obscura's own Total Eclipse festival in Eastern Oregon. There is, in short, eclipse madness, and not for the first time.
Ninety-nine years ago, the East Oregonian described otherworldly scenes of the eclipse: "Along the streams the crows flew to their roosts in the weird darkness of midafternoon, and the sensations as the unnatural gloom deepened was one of the impending end of all things. All the traditional thrills and creepy feelings ascribed to eclipses proved a part of the real thing and the experience of a lifetime will never be forgotten by those who passed through it."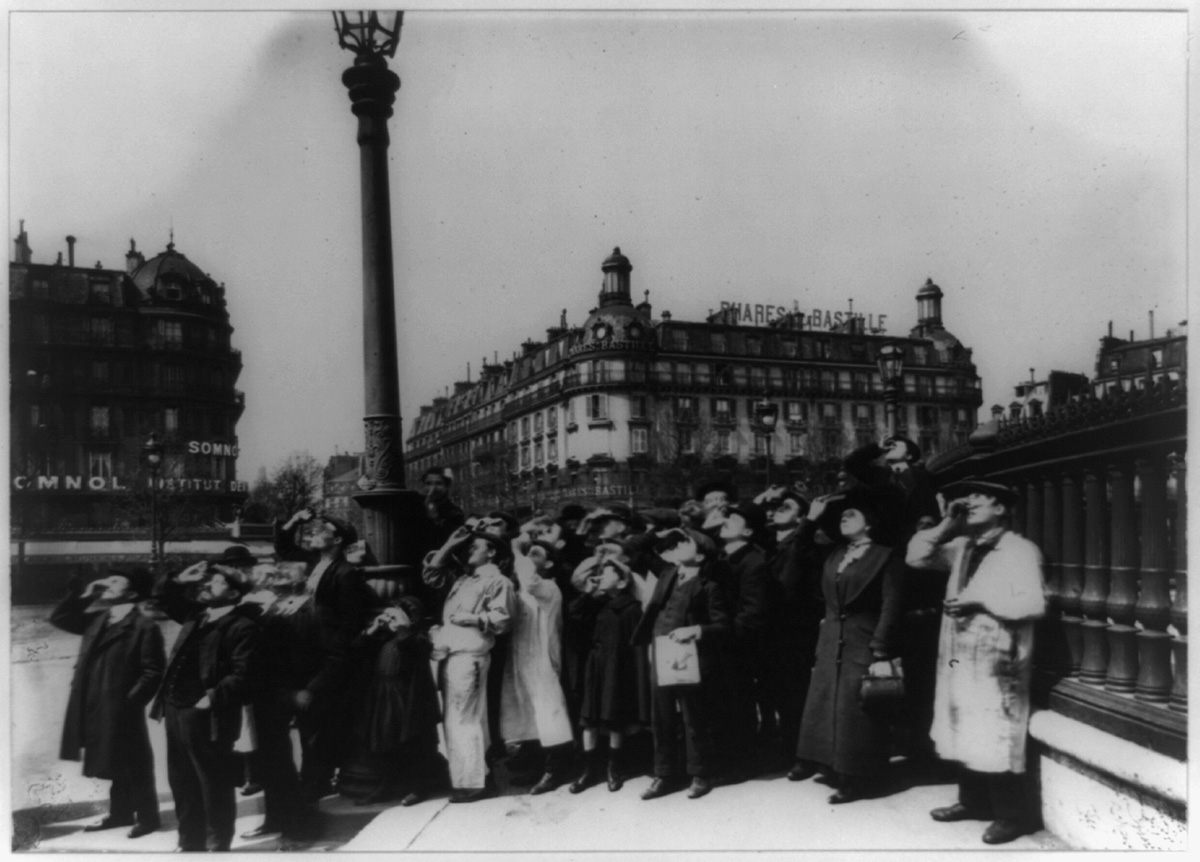 Witnessing the eclipse itself is not safe for the eyes (except during the brief period of totality), so NASA recommends using certified eclipse-viewing glasses only—even the darkest sunglasses won't cut it. There was no certification for eclipse glasses in 1918, and one of the recommended ways to view the phenomenon then was through smoked glass. A "stamp a squint" promotion by the War Savings Stamps salespeople allowed passersby to pay to peek through smoked glass. Today, however, we know this to be an ineffective method of protecting the eyes. Other early suggestions for safe eclipse-viewing included watching the reflection in a bucket of water or oil in a place "where it may not be agitated by the wind" (notably more effective than smoked glass).
Regardless of the eyewear or historical period, eclipse-viewers have always shared—and will share again this year—the same sense of wonderment. To kick off Atlas Obscura's coverage leading up to the eclipse, we have compiled a selection of vintage photos of people caught in the throes of that wonder.
In celebration of the eclipse and the Total Eclipse festival in Eastern Oregon, Atlas Obscura is presenting Eclipse Madness, a selection historical, scientific, and cultural takes on the astronomical phenomenon.