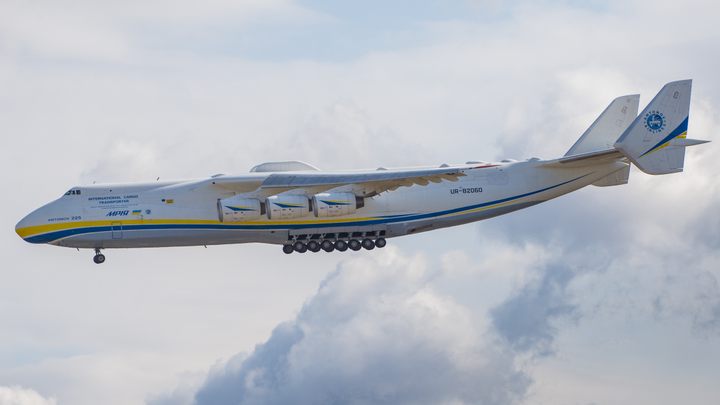 The World's Chonkiest Plane Is Fighting COVID-19
The Soviets made it to carry spacecraft. Now it's zooming medical supplies around the globe.
It was so big that Travis Hammond thought surely it should fall out of the sky. It seemed inconceivable for something so massive to take flight.
Hammond was standing at a viewing area near the end of the runway at Ted Stevens International Airport in Anchorage, Alaska. Scads of other planespotters stood by, eagerly awaiting an aircraft so rarely in flight that glimpses of it are almost mythical.
"This plane is it," Hammond says. "I mean, it's like the great white buffalo. A unicorn of airplanes."
Hammond used to be in the Air Force, and now works for the Federal Aviation Administration at the fifth-largest airport in the world in terms of cargo. He has seen myriad planes throughout the years. Nothing compared to this massive bird: the Antonov An-225 Mriya (Ukrainian for "dream"), the world's largest cargo plane.
"There's nothing else like it in the world," says Doug Moody, an air traffic controller in Anchorage, who watched the plane depart the following day. "That's what draws people out to look at it. It's rare that it makes appearances up here. In 10 years of working at the airport, I've only seen it twice."
After over 18 months of repairs, the An-225 was refueling in Anchorage en route to Montreal, Canada to deliver medical equipment needed to combat the COVID-19 pandemic. And it's had a busy year so far, with several other medical supply missions spanning the globe.
But back in the early 1980s, Mriya was conceived for a completely different purpose: to help the Soviet Union dominate space.
The Soviets ran into a problem in their attempts to rival NASA's space shuttle program: their Buran space shuttle and Energia super rocket were too big to be transported from where they were being built in Russia and the Ukraine to where they'd be launched in Kazakhstan. The Russians considered reworking existing planes, as well as revamping the railroads or building a new highway system, but tests showed none of these approaches could move the massive rockets.
Enter Mriya.
The aircraft is so big, says Moody, that air traffic controllers need to make sure there are no other airborne planes within 10 miles of it. Its sheer mass is enough to kick up a big wake, causing nasty turbulence for other aircraft.
The An-225 has the largest wingspan of any aircraft in service at 290 feet (picture seven-and-a-half school buses end to end), and is 276 feet long. It's the heaviest plane ever built, so it needs six turbofan engines to lift off. And its cargo hold measures 142.2 feet by 21 feet by 14 feet—big enough to transport (multiple!) tanks, trains and smaller aircraft. The Wright Brothers' first flight (120 feet) could have taken place in the An-225's cargo hold, with room to spare.
At 50 percent larger than any other aircraft at the time of its construction, the An-225 would have been able to move massive rockets and shuttles from various construction sites to their launch pads easily.
But the plane's original assignment never came to fruition. The An-225 did a short test flight with the Buran shuttle piggy-backed on top, but the Soviet Union's space operations soon became moot—because the USSR dissolved. The An-225 spent the following decade in storage. Ideas for the aircraft were tossed around, ranging from follow-up space programs to a triple-decker passenger plane complete with a shopping mall and a casino.
Eventually it was decided the one-of-a-kind aircraft would simply be a cargo carrier for extraordinarily oversize payloads.
"I wouldn't ever turn down an opportunity to go see it," Moody says, adding that on the day it landed in Anchorage, he and his coworkers were eagerly texting friends to tell them to go check it out while they had the chance. "It's a piece of history."
Without knowing Mriya's history, those lucky enough to catch sight of the plane likely wouldn't be able to guess its origin story. The only details on the outside that give clues to the plane's roots are the rails on top (for mounting another aircraft) and the Ukrainian name splashed across the sides.
The cockpit, however, is an aeronautic time warp.
Located on top of the plane to maximize space in the cargo hold, the vast cockpit is painted a steely Soviet-era green and employs early aerospace technology. The command center looks about as similar to its recently crafted peers as brick cell phones to modern iPhones, with old-school computers and enough buttons and levers that it requires six crew members. Reportedly, Bono, the lead singer of Irish rock band U2, once toured the inside and declared it "bigger than a rock star's ego."
Still, it stands the test of time and after renovations, Antonov says they plan to use the An-225 until at least 2033. Not bad considering most aircrafts are retired at about 27 years.
Though the plane only makes a handful of trips a year it is not because of its age. It's not often that a company needs the kind of heavy lifting that Mriya's stupendous size allows. It's also costly—use of the An-225 generates invoices of roughly $30,000. An hour.
In April, Mriya came out of a long hibernation to deliver COVID-19 medical supplies. Before landing in Anchorage, it first flew directly from the repair hanger in Kiev, Ukraine to Tianjin, China to pick up personal protective equipment, medication, and testing supplies, before landing in Warsaw, Poland on April 14. The volume of medical gear on that flight contributed to the biggest ever recorded cargo volume at about 100 tons. In the weeks since the plane has run a handful of other COVID-19 related missions.
This isn't the first time the An-225 has been used for humanitarian aid. In 2001 it carried 216,000 ration packs to US military personnel serving in the Persian gulf. In 2002, it brought 80,000 shoeboxes filled with Christmas gifts to children in Uganda. And in recent years, it's delivered relief materials to Mozambique, Saipan, and Guam after natural disasters.
Various watch groups track the whereabouts of Mriya online. Both Moody and Hammond said they use websites like Flightradar24 or follow other aviation nerds on social media to know when bucket list planes are in their area.
Sam Chui, who runs a popular flightspotting blog, said that if there weren't flight restrictions due to COVID-19, he would have flown from his homebase in Los Angeles to Anchorage, just to see the An-225.
"It's so different and so rare," Chui says.
Mriya might not be an only child for long, though. In 2016, the Airspace Industry Corporation of China signed a deal with Antonov for the An-225 program. They're not interested in the existing plane, but are looking to use it as a rough draft for a modernized fleet capable of transporting cargo and spacecraft. In a few years, spotting planes as massive might not be so elusive.
But there will always be only one Mriya.