The Cypress That May Have Inspired Dr. Seuss's 'The Lorax' Has Toppled Down
Now there's nothing left of its whimsical crown.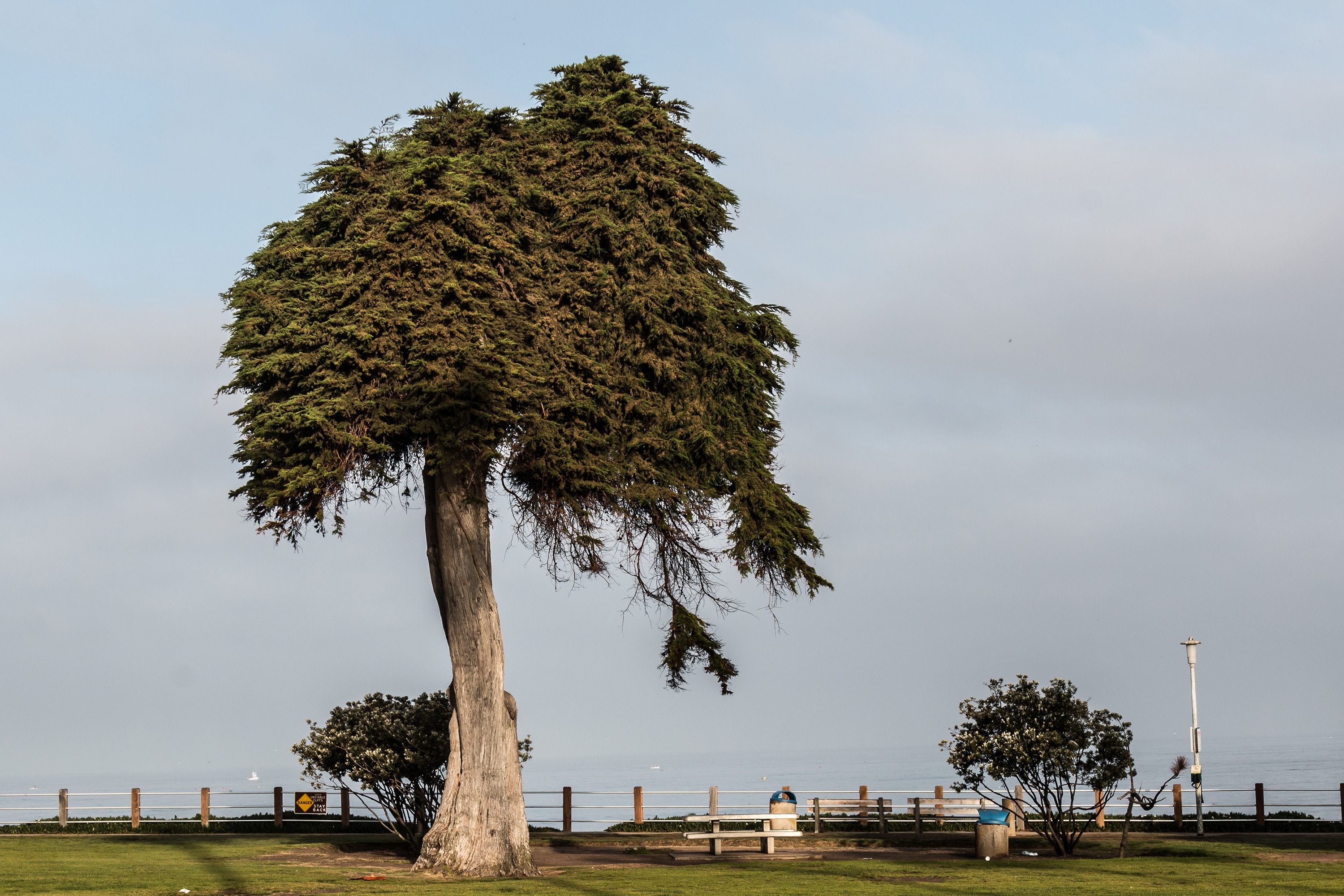 Over the years, trees have had a special place in children's literature. Shel Silverstein's The Giving Tree is a story of growth, dedication, sacrifice, and loss. In The Story of Ferdinand by Munro Leaf, a Spanish bull escapes a bullfight and finds refuge under his favorite cork tree. And in The Lorax by Theodore Geisel (that's Dr. Seuss to you and me), the titular creature is an early advocate for environmental preservation (the book was first published in 1971). As it turns out, the Truffula trees the Lorax so valiantly defends may have been based on a real life Monterey cypress (Cupressus macrocarpa) in La Jolla, California's Ellen Browning Scripps Park. The literary icon fatally fell over on Thursday, June 13.
The Monterey cypress is native to central California, and has been recognized for its whimsical, irregular trunk and flat-topped evergreen leaves. Some have been known to reach 140 years of age, while others only reach 40. The Seussian cypress in La Jolla had a good run. "Based on review of the tree, the arborist estimates the tree to be approximately 100 years old," says Tim Graham, a spokesman for the San Diego Parks and Recreation Department. While the city is still determining what exactly caused the tree's (possibly premature) fall, Graham says, "We have had a very wet winter and that may have impacted the tree."
Geisel lived in La Jolla, a small seaside community enveloped by the city of San Diego, for 43 years until his death in 1991. His home, high up above the coast, overlooked Ellen Browning Scripps Park and the inspirational cypress. And though the story of inspiration is a bit of local lore and has never been officially confirmed, the trees he illustrated in The Lorax certainly bear an uncanny resemblance to the recently departed cypress. (Similarly, researchers found a connection between the fictional Lorax character and the real-life patas monkey in 2018.)
The city of San Diego is exploring ways to memorialize the tree and its large trunk. "The City doesn't have any definitive plans at this time, but finding ways to use the wood and repurpose it in some way is planned," says Graham. "There is also initial discussion related to potentially planting another tree near the location of the original tree." Most of the century old-tree was removed the day after it fell, but the trunk remains there for now. It remains to be seen who will speak for it.