Decoding London's Spontaneous David Bowie Shrines
More than a year after the rock star's death, "it would appear that Bowie is a source of spiritual sustenance."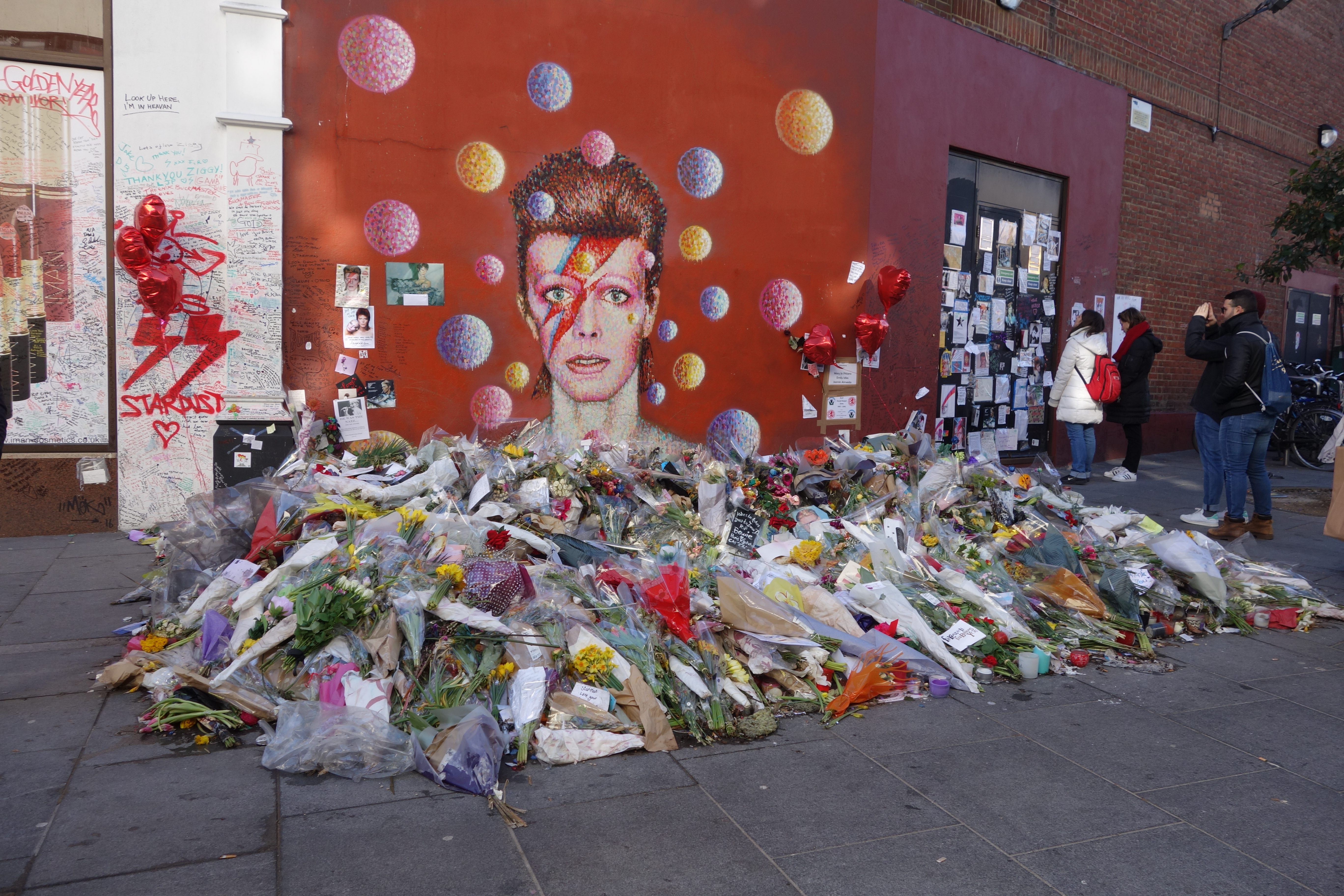 On January 10, 2016, as news broke of David Bowie's death, fans around the world took to the streets to mourn. New Yorkers gathered outside what had been his Manhattan apartment. Californians went to his star on the Hollywood Walk of Fame. Some Londoners made their way to Heddon Street, the site of the Ziggy Stardust photoshoot, or to the Beckenham Bandstand, where a young Bowie played a legendary early show.
But anyone who was close enough headed to Bowie's birthplace, Brixton, where a huge mural of his face decorates the side of a department store. There, people cried, sang, and laid thousands of flowers, notes, and other offerings against the wall, beneath the musician's painted chin.
Among those visitors was Dr. Paul Graves-Brown, of the University College London. A Bowie fan to be sure, Graves-Brown is also an archaeologist, and had set out to investigate a particular question. David Bowie was dead—but would he, as it were, rise again? Or, to reconfigure a question posed in the 1990s about Elvis: Is Bowie a god?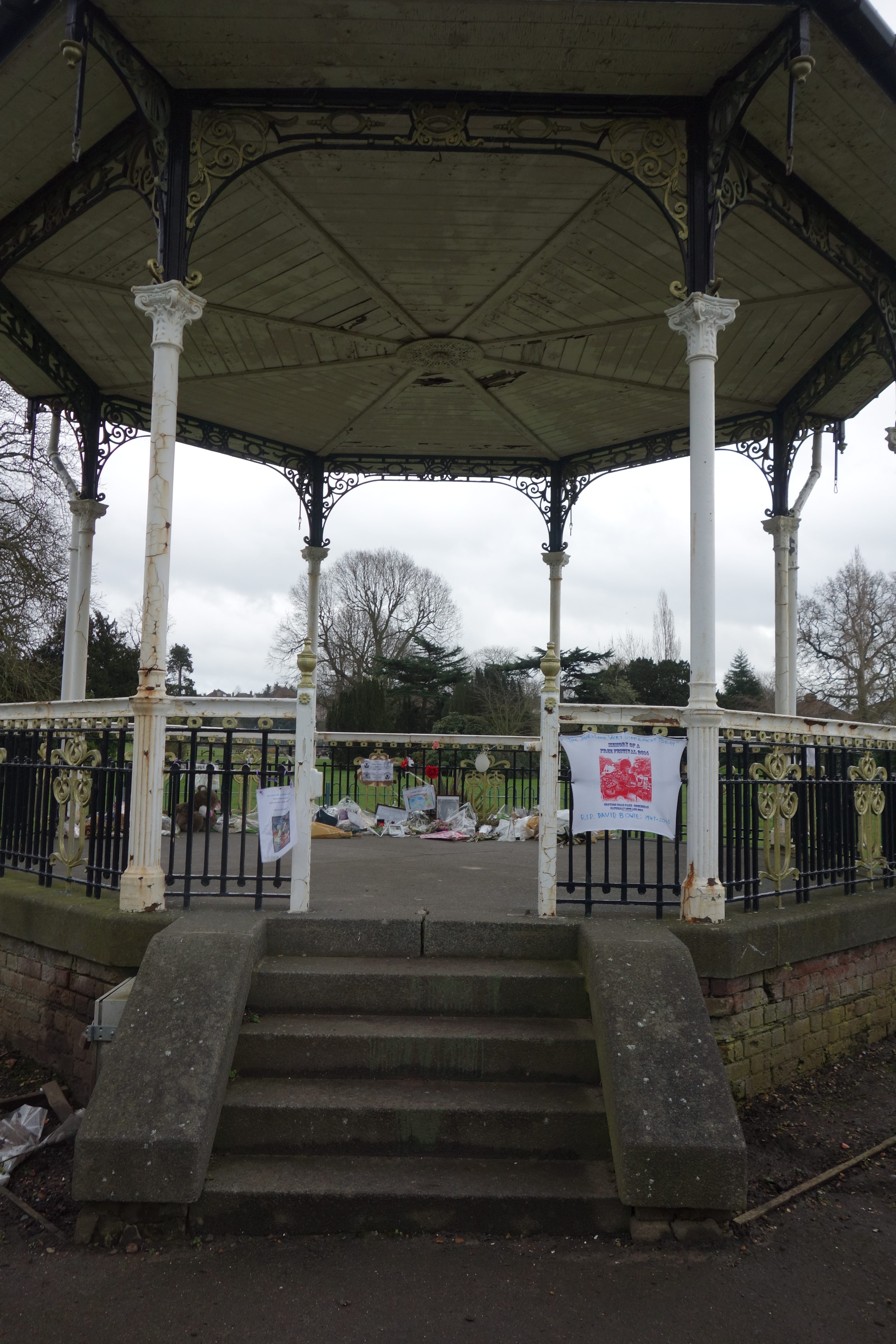 Graves-Brown started his career studying prehistoric humans, but he soon found his interests lay more in the present, and he now digs into more contemporary relics. Many of his recent projects—such as an archaeological examination of this Sharpie graffiti, scrawled by Johnny Rotten on the walls of the Sex Pistols practice space—relate to British rock 'n' roll.
His examination of Bowie shrines—recently published, with Hilary Orange, in the journal Material Religion—is part of a larger project for which he has been studying a number of similar memorial sites in London. There's Freddie Mercury's former studio, covered in etched tributes to the singer. There are the trees across the street from Amy Winehouse's onetime apartment, fluttering with notes and draped with flowers. For a while, there was even the sycamore that T. Rex frontman Marc Bolan crashed his car into, which was eventually festooned with so many baubles and trinkets that it, too, died. (It has since been replaced with a plaque and statue, which continue to attract offerings).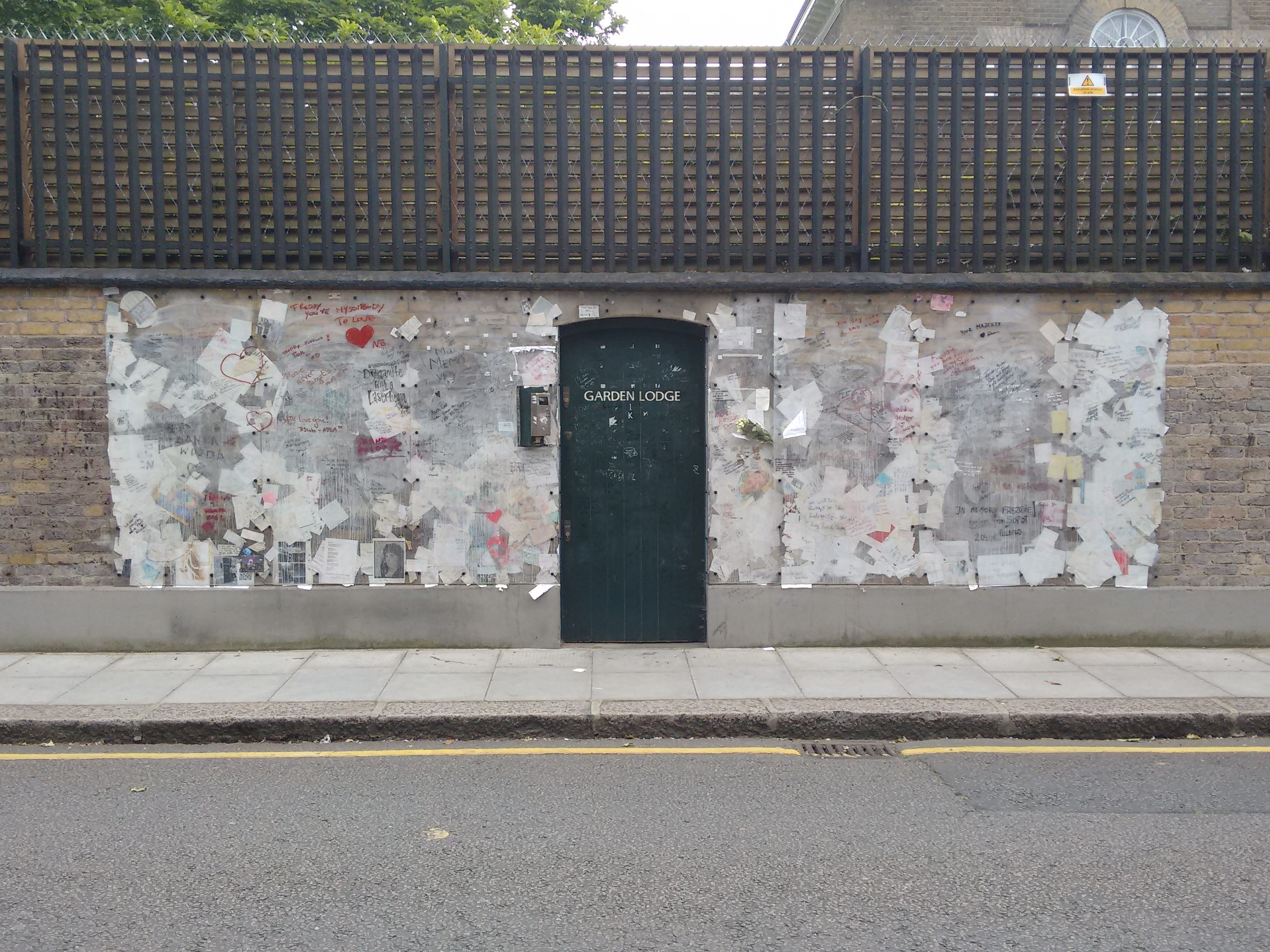 Such shrines, Graves-Brown writes, "are the product of collective and democratic popular activity." They live and die not by any official authority, but by the sheer will of the people who keep them going. As flowers die and notes blow away, people keep bringing more. This makes them ideal for studying exactly how, and how much, people care—and whether it's enough to transform a human into something more. "We're interested in how long people will carry on leaving offerings at these shrines," Graves-Brown says.
Plenty of people have noted the parallels between religious worshippers and really, really big music fans. In his 1998 essay "Is Elvis a God?," the cultural theorist John Frow catalogues some of the ways in which Elvis's acolytes have made these similarities particularly explicit. Elvis fans still go on pilgrimages to his erstwhile estate, Graceland, and leave offerings along the wall outside.
They also make dioramas depicting scenes from Elvis's life, or pay to spend time with people dressed up like him. Every year, on the anniversary of his death, thousands of such pilgrims hold a candlelit vigil around Elvis's grave. Some even swear he never died at all—an allegation that brings to mind a more famous resurrection.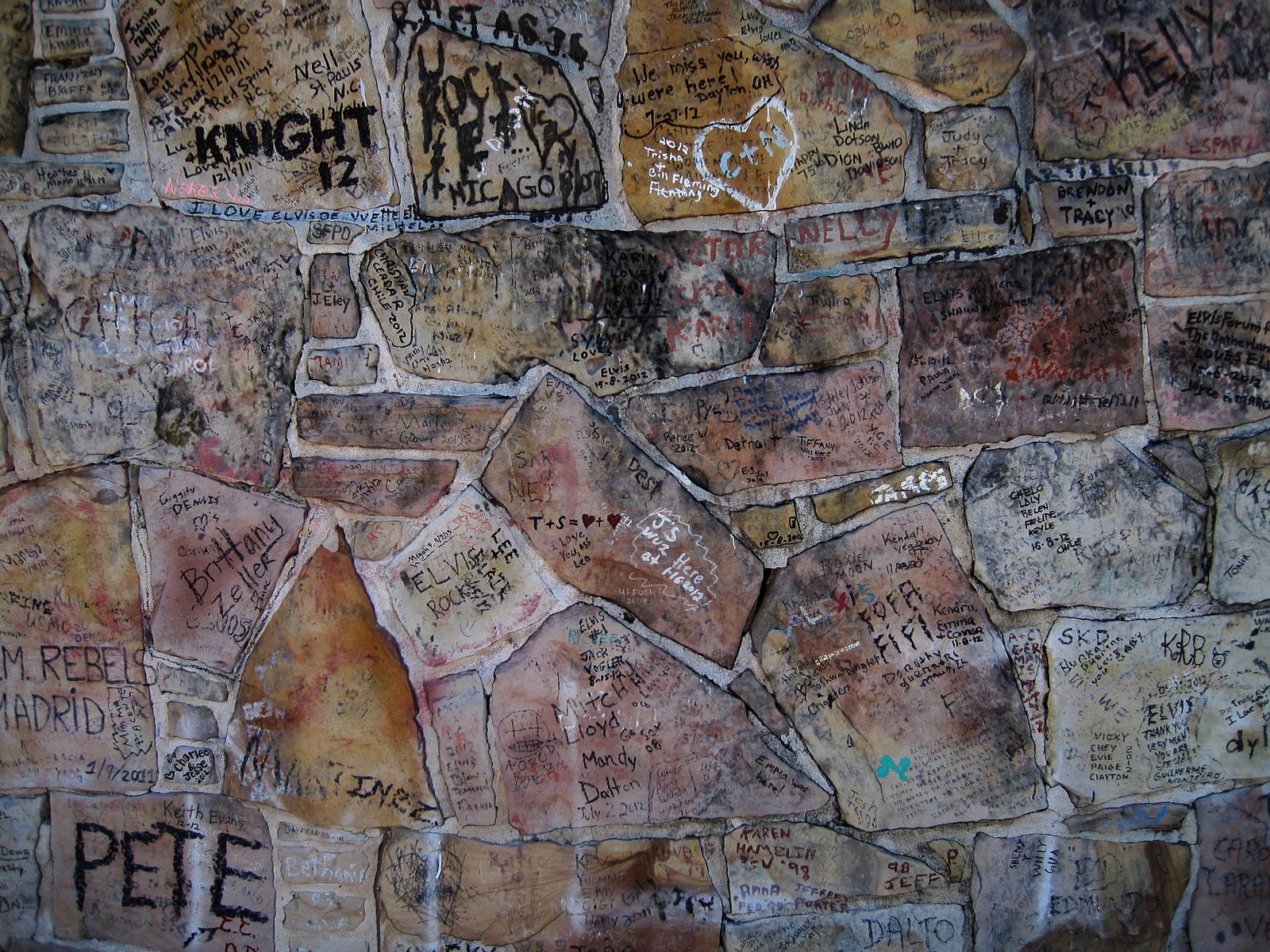 In studying these more recent celebrity deaths, and the shrines that gather in their wakes, Graves-Brown hopes to determine whether any of these musicians are destined to join the King in immortality. But he also wants to investigate what he sees as a more widespread phenomenon of spontaneous, gift-based public mourning.
"It seems to me to be a relatively recent thing, historically," he says. "It's manifested in all kinds of different ways: the proliferation of roadside memorials to people who have died in accidents, the way in which people leave offerings at the sites of terrorist attacks."
Even his local graveyard, which he has been observing for decades, is suddenly full of carefully chosen items. "There is amazing stuff left on the graves—garden ornaments, lanterns," Graves-Brown says. "This very elaborate material activity." One of his theories chalks this trend up to changes in belief systems: "Rather than believe in some sort of afterlife," he says, "people are leaving items that are more about the person's life."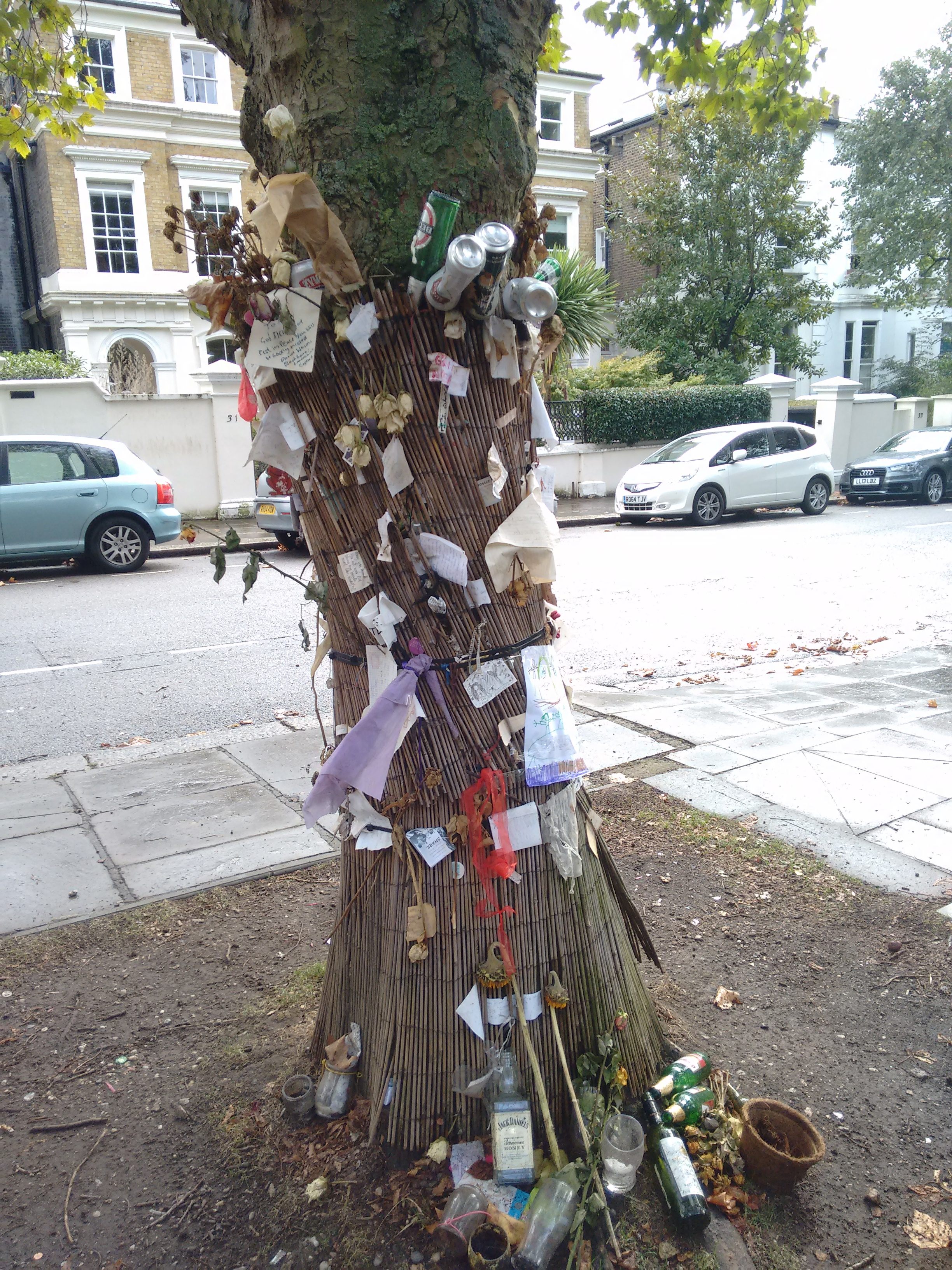 In the case of Bowie, this means the life the public knew: images of his many alter egos; illustrations of his most touching lyrics. 
And "it all seems to revolve around Brixton," Graves-Brown says. On the one-year anniversary of Bowie's death, thousands gathered there for a singalong. The site still hosts a consistent stream of pilgrims, who leave balloons, flowers, and messages such as "you were my best friend during the hours of darkness," and "thanks for saving me when I needed you most."
What kind of afterlife all this material adulation will eventually procure for Bowie is still unclear, though. "A small handful of stars and public figures experience this adoration that raises them beyond the human plane," writes Frow, who goes on to offer up a few diverse examples: Hitler, Lenin, Stalin, Mao; Bruce Lee, Kurt Cobain, James Dean. All these figures inspire not only adulation, but deification—their fans tend to think they are literally gods, or at the very least, saints.
February 28, 2017
In Graves-Brown's view, Bowie is not quite at this level—at least, not yet. (He thinks that of all the figures he's tracking, Winehouse is the most likely to reach it.) "It would appear that Bowie is a source of spiritual sustenance," he writes, "but at least for now, his apotheosis is not impending."
But over the next few years, he, at least, will continue returning to Brixton, just to find out for sure.