Ode to a Denny's Hobbit Menu
The long history of fandom food.
THIS ARTICLE IS ADAPTED FROM THE SEPTEMBER 4, 2021, EDITION OF GASTRO OBSCURA'S FAVORITE THINGS NEWSLETTER. YOU CAN SIGN UP HERE.
In the winters of 2012 and 2013, Denny's offered, of all things, themed menus based on the first two Hobbit movies. The sheer hilarity of this partnership means I can still rattle off menu items from memory: Radagast's Red Velvet Pancake Puppies. The Hobbit Hole Breakfast. Gandalf's Gobble Melt.
Sadly, I never made it to Denny's to try any of these. (And the restaurant chain has not offered me, nor Gastro Obscura, money to write about them.) But the appeal of foods connected to a film series based on one of my favorite books is so strong that I'm still thinking about the menus almost a decade after the last Gandalf Gobble Melt was served.
I'm not the only one fascinated by fandom food. (There's an exhaustively detailed list on Wikipedia of the dozen Teenage Mutant Ninja Turtle official foods, for example.) For fans, eating food based on a favorite book or film offers one more way to immerse. Without further ado, here are some of the most fascinating ways that book, film, television, and video-game franchises have tried to reach your table.
Books: The Nero Wolfe Cookbook

No genre of literature loves food like the detective story, whose authors use their writing chops to describe both gruesome murders and dinner parties, sometimes only a few pages apart.
Janet A. Rudolph, the editor of Mystery Readers Journal and the owner of more than 700 themed and tie-in cookbooks, points to Rex Stout's Nero Wolfe books as a likely culprit for inspiring this trend.
The dozens of Nero Wolfe novels and short stories, starting with Fer-de-Lance in 1934, describe endless cosmopolitan meals. Other mystery writers followed suit, deploying food descriptions to comfort, tantalize, and immerse readers in otherwise-grim narratives. (Though plenty of books use food as a murder weapon. Check the tea for arsenic!)
Many of the most famous Wolfe dishes ended up in The Nero Wolfe Cookbook, published in 1973. According to Rudolph, this was the very first book she bought for her collection, and it remains a classic of the genre. Exactly how complicated were these recipes, though? Peep the following cartoon from 1949.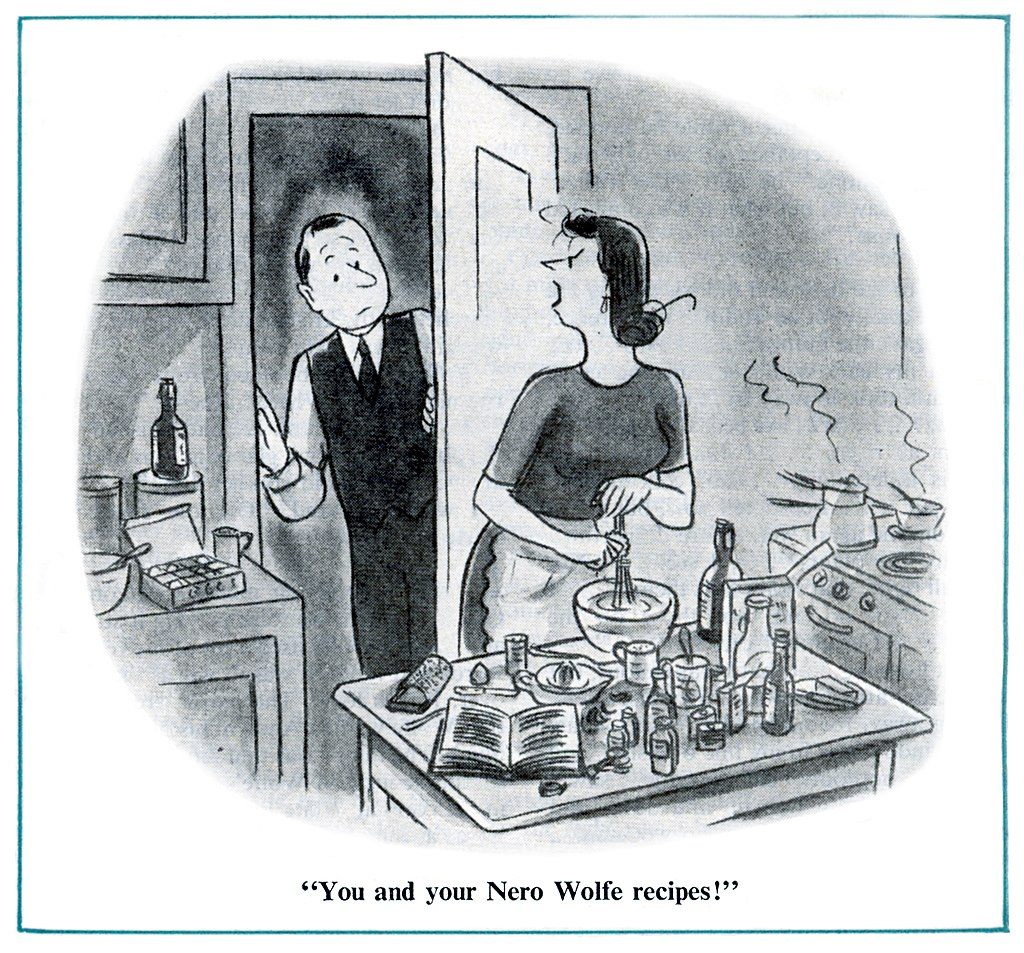 Television: Game of Thrones Wine and Beer

A whole industry has sprung up to make wines for different fandoms. Considering that Cersei, Tyrion, and Bronn are constantly drinking on-screen, Game of Thrones marketers furiously cross-promoted with alcohol, selling beers, wines, and whiskies based on the books-turned-TV show.
The beers have some pretty sweet names, from "King of the North" for an imperial stout to "Mother of Dragons" for a smoked cherry beer. For those who really didn't like the last season, there's the "My Watch Has Ended" brown ale.
TV shows are a natural choice for tie-in booze—appointment television means regularly scheduled soirées at home with friends, family, and something to drink. One company in particular has cornered the market for nerdy wines, for TV shows and beyond. Wines That Rock produces bottles for nearly every demographic, from tote-toting public radio listeners ("All Grapes Considered" wine for NPR) to wrestling aficionados (the Undertaker 2018 Cabernet Sauvignon for WWE).
Video Games: Extinct Bird-Flavored Chips

Halo is a video game franchise about a space marine fighting aliens. Pringles is an American chip brand. The moa was a quarter-ton flightless bird endemic to New Zealand that was hunted to extinction hundreds of years ago.
These all seem like disparate facts, but at the moment, you can buy tubes of moa burger-flavored Pringles as part of a Halo advertising campaign. The games feature moa as an alien species, often turned into burgers or wings.
Scientists have speculated that Earth's moas were extremely delicious, since their closest living relatives, South America's tinamous, have been overhunted because of their tastiness. The Pringles' take on moa flavor, going by the tube of chips I have on my desk, is savory and gingery.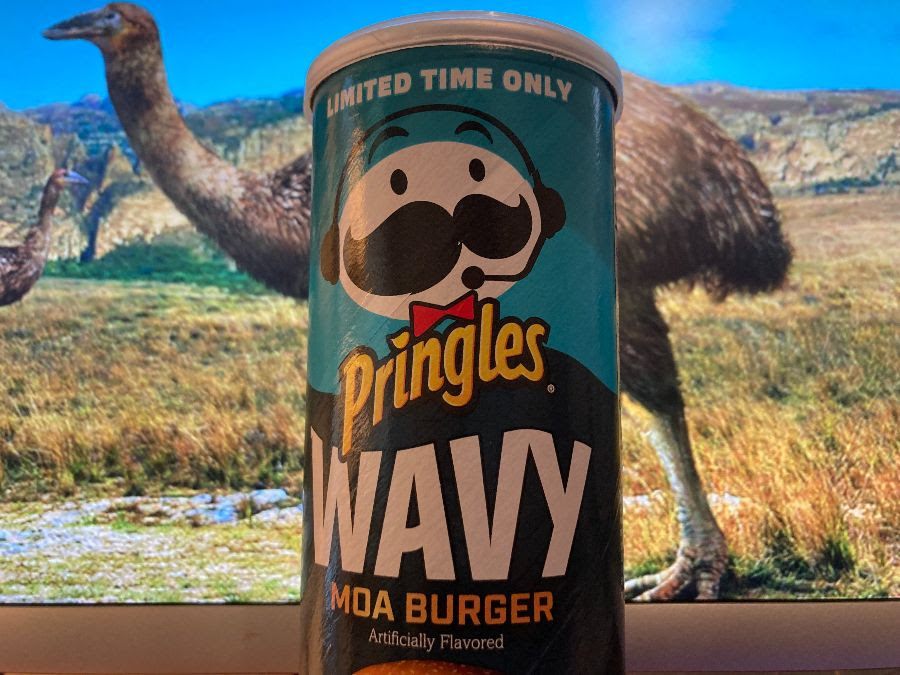 Movies: The Denny's Hobbit Menus

Even by Hollywood mega-movie standards, a tremendous amount of time, money, and effort went into this particular campaign. The movie's marketing team reached out to superfans for their opinions on menu items and names, and even developed an augmented-reality placemat.
The combination of an American diner chain menu and the works of J.R.R. Tolkein was pretty goofy, but in a thrilling way: The result was downright cottagecore. Honey Cake French Toast is leagues more interesting than the usual batter and bacon plates. So interesting, in fact, that the restaurant chain has to keep fending off requests to bring the Hobbit menus back.
"when covid is over" is starting to sound a lot like "when dennys has the hobbit menu again"

— Denny's (@DennysDiner) January 28, 2021
For those sad that they missed out, there are still places where you can eat like a hobbit. In Houston, Texas, The Hobbit Cafe is a beloved institution. Visitors can gaze upon the large collection of LOTR memorabilia and order Dragon Wings, a Fellowship Platter, or perhaps a Pippin Piña Colada.
Gastro Obscura covers the world's most wondrous food and drink.
Sign up for our email, delivered twice a week.