Inside One Distillery's Pivot to Hand Sanitizer
The small Massachusetts outfit supplies local police, firefighters, and hospitals.
Dirty Water Distillery in Plymouth, Massachusetts, is best known for its "Velnias," a honey liqueur whose recipe was passed down to owner Pepi Avizonis by his Lithuanian grandfather. The distillery's biggest product these days, however, is hand sanitizer. That recipe comes straight from the World Health Organization.
Avizonis and his team join a growing number of craft distilleries around the country weaponizing their facilities in the fight against COVID-19. To shore up a national dearth of disinfectant, they're forgoing distilling to manufacture and distribute vast quantities of hand sanitizer to vulnerable citizens, government employees, and healthcare workers, free of charge. While Avizonis is happy to flip an age-old connotation with distilling on its head, he hopes the day will soon come when he can return to his beloved craft.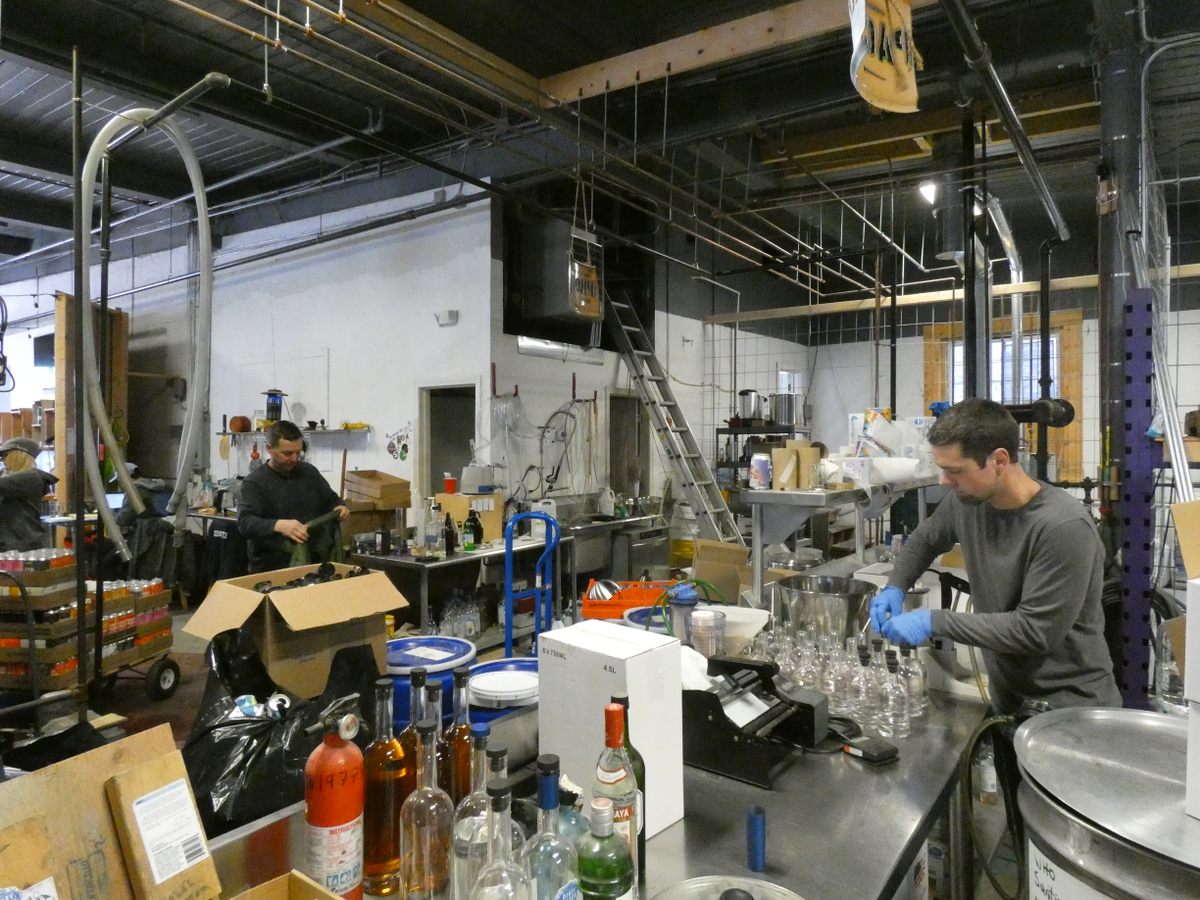 According to Avizonis, Dirty Water was the first distillery in the state to make the unexpected pivot. He got the idea in early March when he went shopping for cleaning supplies to disinfect his taproom, which was then still open to customers. "The shelves were empty—you couldn't find anything anywhere," he tells me in the middle of his whirring distillery.
When he returned home empty-handed, his wife showed him a recipe from the WHO website for homemade sanitizer. If Dirty Water had the necessary facilities, they had credentials in spades, too: Avizonis has a Ph.D. in physics, and his head distiller, Brenton MacKechnie, has a degree in chemistry.
Aside from ethanol and distilled water, both available in droves at the distillery already, the recipe called for glycerol and hydrogen peroxide, easily procured ingredients. After their first five-gallon test batch came out well, Avizonis and MacKechnie jumped to a 40-gallon batch the next day. In two weeks, the distillery has produced and distributed about 200 gallons of hand sanitizer, and they're just getting started.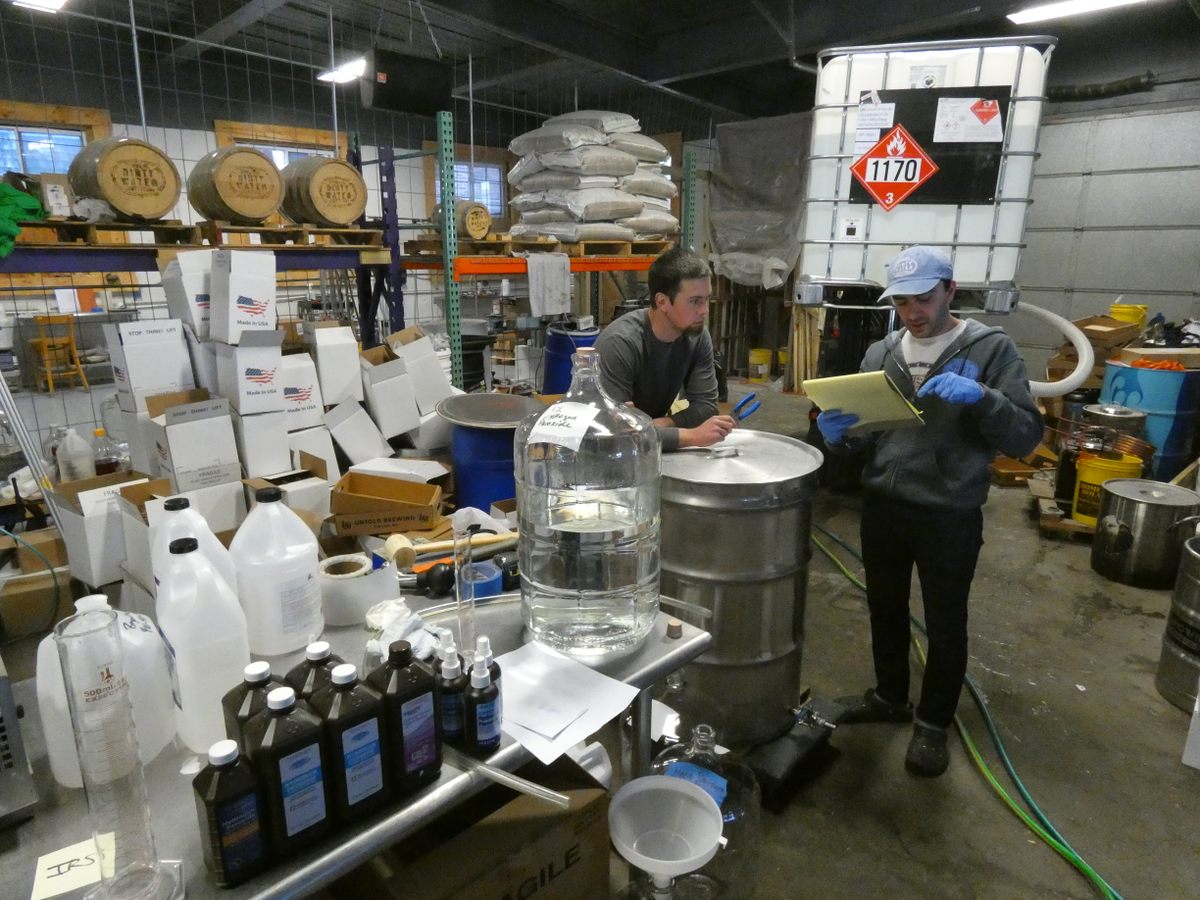 While most shops around the quaint New England town sit shuttered with posts of well-wishes on storefronts, it's all-hands-on-deck at Dirty Water Distillery. MacKechnie fills hundreds of 375 ml glass bottles with their finished sanitizer for Avizonis to label and box before the delivery truck comes. Not only is Dirty Water an essential business as a liquor store, but they're now crucial to supplying public-facing government workers with needed supplies. "I view us as essential, and if someone differs, they can talk to the state police who just picked up a couple gallons of sanitizer," says Avizonis. The gung-ho staff at Dirty Water haven't taken a day off since the pivot.
Today's batch is for local police and fire stations, but they're also distributing to EMTs, elderly-care facilities, and a handful of Massachusetts hospitals. The general public is welcome to bring in one empty two- to three-ounce bottle per person to be filled at the distillery, though, during my visit, the 30 gallons they mixed earlier were running low. In the past week alone, the IRS, ATF, and the FDA have also approached Dirty Water—not with audits, but with orders for sanitizer.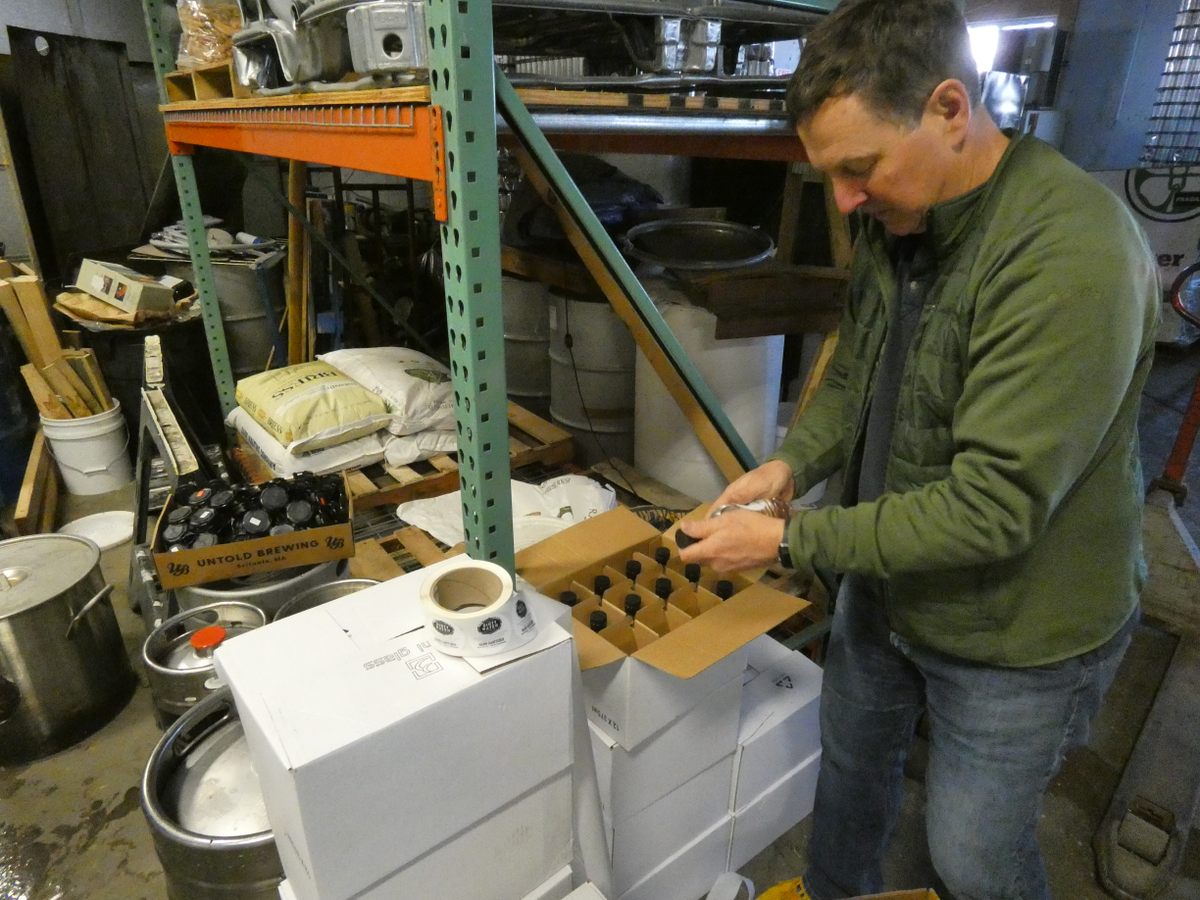 "Liquor is definitely on the back burner right now," says Avizonis while he loads a dolly full of boxes. With distilling on hold, Dirty Water is breaking into the reserves they'd produced ahead of the busy summer season. Fortunately, they're not the only alcohol producers showing their samaritan side.
Avizonis called on a network of area distillers, brewers, and other companies to work together in distributing sanitizer. "If everyone pitches in, we can go further, longer," says Avizonis. A local print shop donated the labels adorning the bottles of sanitizer, and the trucks that delivered them throughout the area refused payment.
A handful of area microbreweries answered Avizonis's call to donate their "distillables" to the cause, as well. In other words, one Dirty Water employee had the mournful task of pouring out hundreds of otherwise-drinkable canned beers into a 55-gallon copper barrel, the ethanol from which will be distilled to make more sanitizer. "It's rare that life gives you a chance to truly be helpful," says Avizonis of these bizarre circumstances.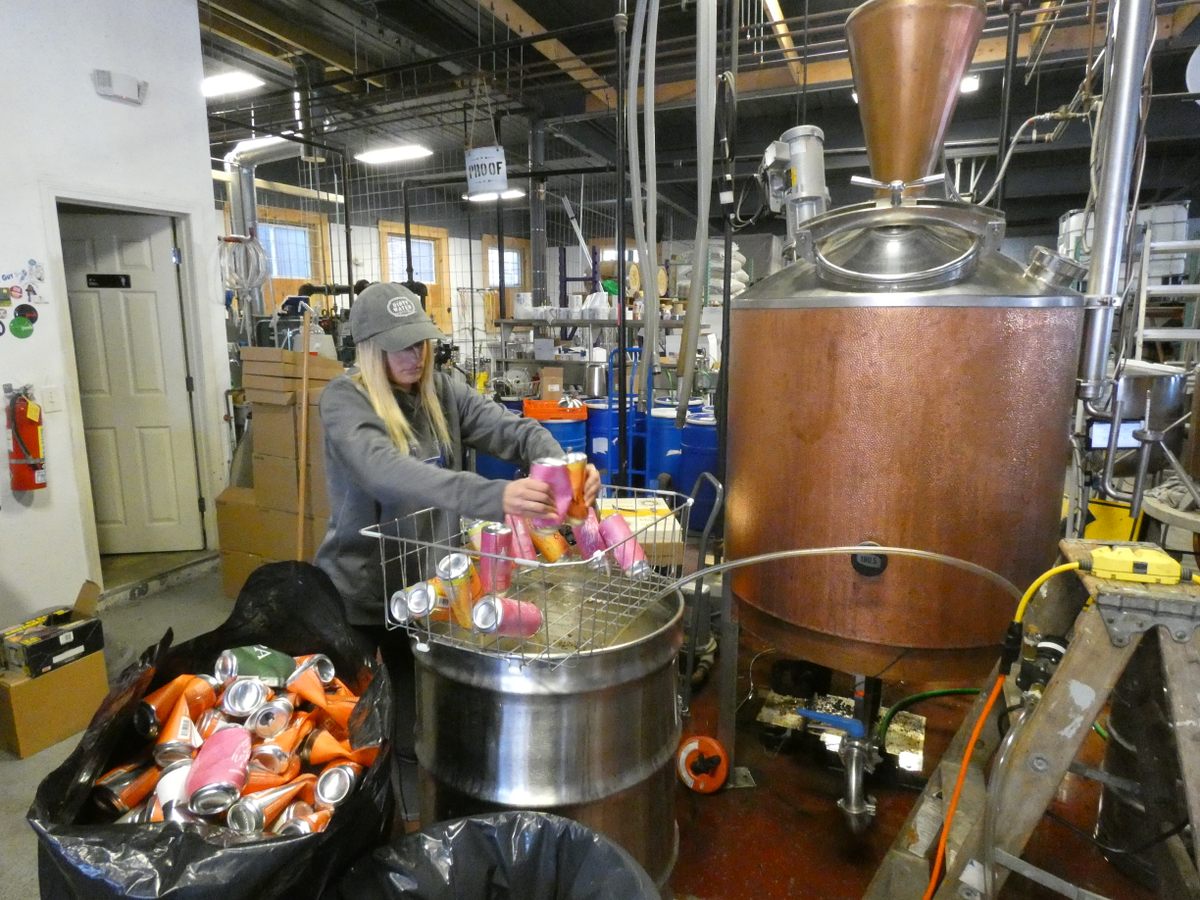 While Avizonis doesn't plan on making sanitizer forever, he'll do so as long as he has to. "People knowing that there are resources in their own community makes them feel better," he says. "It's psychological." He sees his distillery's efforts as a stopgap while bigger players such as Tito's and Bacardi can make similar pivots. For now, says Avezonis, "we'll keep doing this until the epidemic is over or until we run out of money."
Dirty Water Distillery and the hundreds of other distilleries making sanitizer are upending a conventional narrative about the ills of liquor-making. "We're not all evil drunks, you know?" says Avezonis. "We're compassionate, caring people, and this unfortunate opportunity is finally giving us a chance to help those that help us."
You can join the conversation about this and other stories in the Atlas Obscura Community Forums.
Gastro Obscura covers the world's most wondrous food and drink.
Sign up for our email, delivered twice a week.