The Refugee Women Turning Tastes of Home Into a Food-Delivery Business
Fleeing conflict in Somalia, Afghanistan, and Iraq, they've created a rare melting pot in India.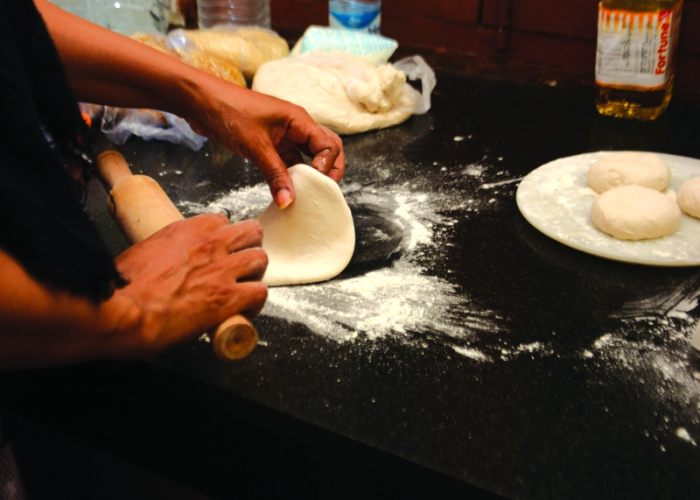 When food became scarce under Taliban rule, Hoor got creative. Since the Mujahideen conflict, trade between neighbors had been periodically forbidden, rations were portioned out to the privileged, and even growing garden plots could be risky. But years of war had taught her how to find food for her family in a pinch. Hoor snuck groceries under her chadari, or veil, stretched poor-quality rice imported from Bangladesh into filling meals, and turned to the black market for meat.
Now relocated to New Delhi, Hoor is part of a small collective of migrant and refugee women from Afghanistan, Somalia, Iraq, and other conflict-stricken countries who have created a growing tiffin, or lunch delivery, business. (Hoor's name, and the names of all the refugee women in this article, has been changed to protect her visa status in India.) Calling themselves the Khanapados ("food and neighborhood") collective, these women—many of whom were professionals in their home countries, but don't have the visa status to take on paid work in India—have transformed culinary skills developed in times of scarcity into an artistic collaboration and growing business.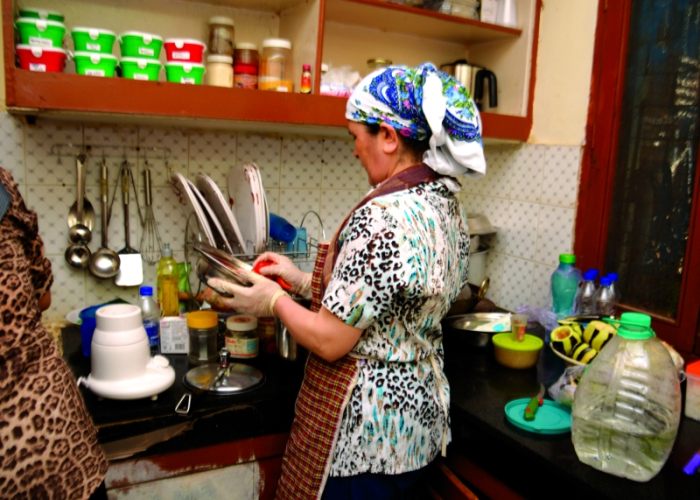 To understand the contradictions of their lives in New Delhi, you have only to stand in the busy road in the middle of South Delhi's Saket neighborhood, between Khirki Extension and Select City Walk Mall. The mall is a behemoth of glass and marble, frosty with air conditioning and gaudy with advertisements. It's home to the Kiran Nadar Museum of Art, a sleek gallery that has showcased Khanapados's artistic work. Khirki Extension is a sprawling neighborhood, whose potholed streets overflow with motorbikes and errant cows. The mall's clothing displays and global food chains boast a consumerist cosmopolitanism. But Khirki is cosmopolitan in a different way: It is home to many of Delhi's Middle Eastern and African migrant families, many of whom have fled war and economic crisis.
Largely populated by North Indians, New Delhi can be a harsh city for migrants. Non-Indians often live in different neighborhoods, and racially mixed community spaces are rare. Migrants are often victims of harassment, and racist violence against Africans is a particularly brutal problem.
Walk through Khirki, however, and you can witness migrant communities living and thriving. Underground African hair salons are interspersed with Indian tailors who can't make typical sari blouses, but specialize in Nigerian dresses. Shops selling North Indian chapati flatbread mingle with stores offering thick, nigella-seed-studded Afghani naan. Khirki's diversity has attracted artists from around the country, and murals by local women and children reflect the neighborhood's status as a rare racial melting pot.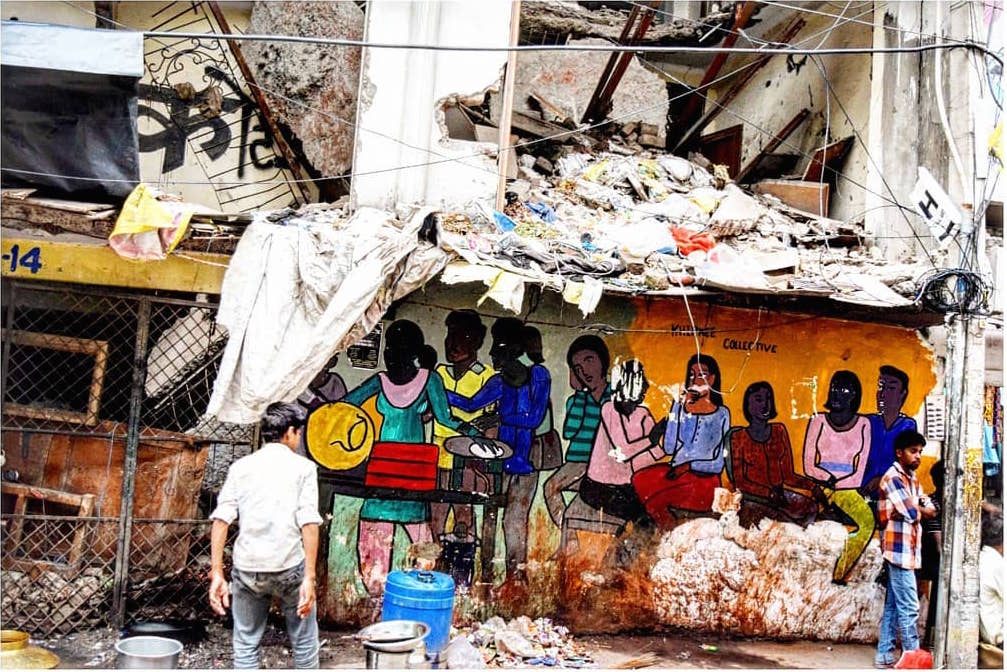 Sreejata Roy is one of these artists. She and Mrityunjay Chatterjee, who comprise the artistic collective Revue, began the collaboration that would lead to Khanapados in 2017. At the time, Roy was working with local children and young women, encouraging them to draw maps of their own experiences of the neighborhood. Roy was intrigued by the prominence of Khirki's diverse culinary landscape in these maps. When she invited older neighborhood women to map their culinary experiences, they responded with expansive creations that encompassed memories of home: Nepal, Afghanistan, Iraq, Somalia, the Democratic Republic of Congo. Roy's project soon pivoted: Instead of simply creating paper records of food, why not bring the archive to life?
The Khanapados "Living Lab" was born. At first glance, the Living Lab is indistinguishable from other apartments in the neighborhood: a one-room flat with a small gas stove. But for more than a year, it has been the site of a rare culinary experiment. While Indian cuisine is vast and diverse, incorporating historical influences from across the globe, Roy says that Delhi residents aren't always welcoming to cuisines brought by new migrants. In this context, the Living Lab became a rare point of contact. "We thought we would meet and share recipes," says Roy. Instead, the women cooked for each other, one woman preparing a meal for the group each week. They talked as they worked, chopping memories of home, family, and festivals with the onions and sizzling them with the meat. They communicated in a mix of English, Hindi, Persian, Arabic, and Google translate.
Many of them cooked recipes colored by war. The Afghani women shared the recipe for home-made Afghanistan Fried Chicken. A local version of the American classic—marinated in sour ghore angur (dry green grapes) and made crispy with a coating of roti bread crumbs or crushed masala potato chips—it was one of the few pleasures available to them during war. Ladan, from Somalia, shared her recipe for semolina porridge, which, requiring nothing but water and salt, was a staple food during lean times.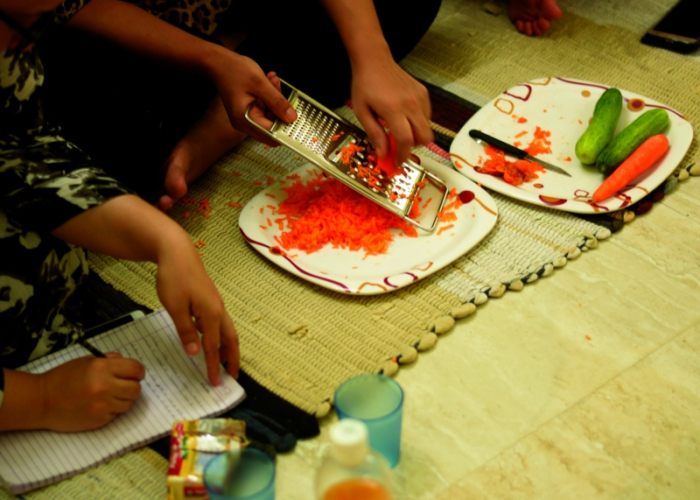 Their weekly cooking sessions evolved into monthly pop-up events, which culminated in a 2018 festival at the Kiran Nadar Museum. Throughout, they documented their culinary discoveries and memories in an online archive they dubbed the Museum of Food. For Roy, the project was a work of art, a way of capturing the complex and living relationship between food, memory, and neighborhood. As they cooked together, writes Roy, the women themselves became living museums documenting the cultures they'd left, and building a new culture together. These culinary jam sessions also provided the women with small incomes: Thanks to grant funding from the British Council and the Prince Claus Fund, the women received a small fee for each day of cooking, and they sold their food at the pop-up events.
Now, the collective is focusing more on livelihood by taking their collaboration out of the museum and into Delhiites' lunchboxes. Neighborhood locals, university students, and organizations can order Afghani pulao (rice and meat) and other specialties from the Khanapados lunch delivery service for around a dollar a plate. That's about the same price as lunch in a working-class dhaba, or roadside cafe. (Roy says they set that price to make the food accessible to locals.) Like many Indian tiffin services, the food is home-cooked, delivered in reusable containers, and available for order on WhatsApp.
Local Delhiites haven't taken to all of the Khanapados members' dishes, says Roy. The women of the collective tend to use less spice than many North Indians prefer, and they sometimes add unfamiliar flavors. "One of our colleagues, she's from Somalia, she put some perfume (attar) in the biryani and nobody liked it," Roy says. Still, some dishes, such as the mantu dumplings and qabuli pulao, which are already familiar to Delhiites thanks to the city's many Afghan restaurants, are consistent crowd pleasers.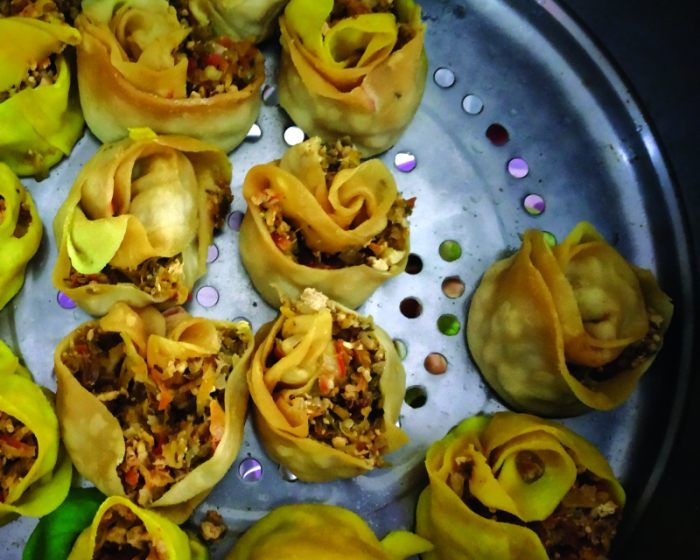 For members of the collective, Khanapados has become an outlet for their creative and entrepreneurial energy, countering the monotony and instability of refugee life in India. "In Afghanistan, I was a teacher," says Hoor. Unable to practice her profession due to visa restrictions, she says, "I came here and sat in the house." Khanapados gave her a sense of community. Ladan, who fled conflict in Somalia before relocating with her family to India, feels the same way. "When the children went to school every day, I was alone," she says in Hindi. "I was bored." She came to the Living Lab with friends, and has been earning through the collective's work.
Khanapados hasn't just given the women a way to earn money. It has also, says Mari from Afghanistan, who translates for her friends from Persian and Arabic to Hindi and English, given them something people fleeing war too often lack: respect. Using skills they've developed through scarcity—the often-uncelebrated ability to nourish their families and communities in difficult circumstances—the women of Khanapados have carved out a space for themselves both in Khirki Extension and in the rarefied art gallery across the street. "Everyone knows that we're the women who make food," Mari says with a laugh. "We've become famous."
Gastro Obscura covers the world's most wondrous food and drink.
Sign up for our email, delivered twice a week.