Social Distancing Is Bringing Drive-In Theaters Back to Life
"I really think it's gonna help the drive-ins. Will it last? Only time will tell."
Last month, John Watzke was going about a normal day at his drive-in theater in Ocala, Florida, when a customer called him to share concerns about COVID-19. Watzke, who has run the outdoor business since 2011, knew he had to think fast. "I got a window from my storage building, cut a hole in the concession's sidedoor, and put the window in," he says. "By the time everybody got here, they could safely pick up orders." In less than a week, he gave the 72-year-old venue a total makeover: he acquired new food packaging, cordoned off parking spots to create buffer zones, and implemented strict sanitation guidelines for employees. The two-screen venue, which was relatively quiet this past winter, is now keeping busy even on weeknights, welcoming as many as 200 cars at once.
Though Florida is currently under a stay-at-home order, the Ocala Drive-In Theater is one of several drive-ins enjoying an unexpected renaissance, and says it received permission to remain open from the governor and local police. As the coronavirus pandemic has altered millions of lives across the U.S., these old-timey facilities offer a temporary escape from reality. Because visitors enjoy films from their cars, they can still practice social distancing.
Watzke, a 63-year-old former projectionist, has heard of at least 11 drive-in theaters in America that are currently operating under strict public health guidelines. While that's a small fraction of the 305 businesses known to the United Drive-In Theatre Owners Association, the response he's witnessed has been strong enough to offer a glimmer of hope. "This could actually be an upslope of the industry that we haven't had in many a year," Watzke says. Atlas Obscura asked him how he's nurturing his business and his community during a pandemic.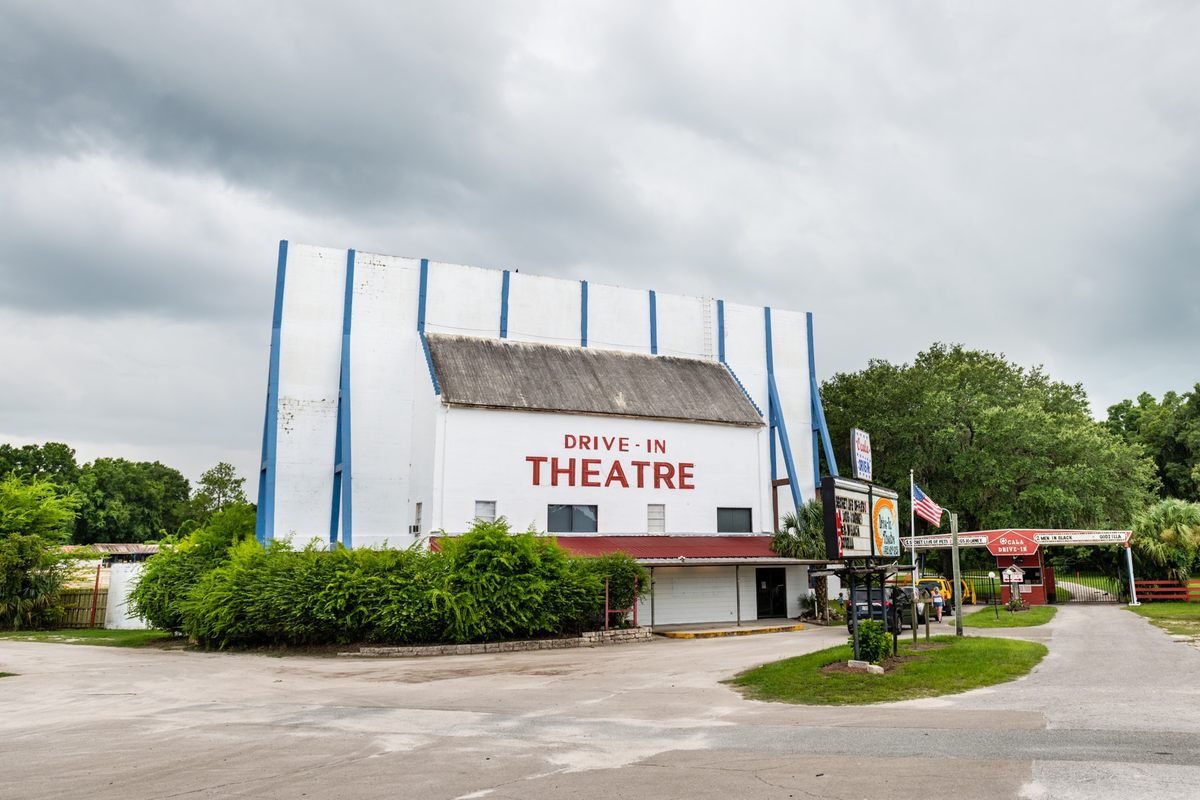 How sizable is the uptick in Ocala's attendance?
Business is almost double what it normally is this time of year. Now it's more like the summer months. We are getting a lot of people from all over the state, some driving two hours or more. The last couple nights have been a little bit slow because I'm having trouble getting some new movies: Those I had scheduled from Disney, Universal, and Warner Brothers have been canceled. So I'm reaching out to some independent film companies. Regardless, I believe people will come as this gives them a chance to get out of the house. To watch a movie on a gorgeous screen in the state of Florida is totally different than watching a movie at home.
Implementing new social distancing measures is expensive, but you haven't raised ticket prices. What makes all the extra effort and expenses worth it for you?
Number one: my employees keep their jobs. Two: I've been through several disasters in my life. I'm a Katrina victim—I was on the Mississippi coast. What I learned is that the things that bring just a few minutes of normal life to you are the things you remember.
I'm a great believer that mental stability is as important as physical stability. If people don't have a certain amount of normalcy in their life, it's going to affect them. Especially the smaller children—they've been taken out of school and locked indoors. They can't go see their friends, their grandparents. To them, they're being punished, and they didn't do anything. So if parents can take them to the movies and have a few hours of normal life, it kind of relieves the tension.
How are visitors responding?
Customers are thrilled to death that we are open and they have something to do. On Facebook, people are telling me how safe and comfortable they felt. There might be a dozen negative commenters, but I think it's because they haven't come out here. For them, this is not an essential business. It is to me. You have to have mental stability, too. My family has worked in theaters since 1913. My grandfather was a projectionist. My dad was a projectionist. My brother and I were projectionists, and our sons were projectionists. Basically, the old cliche, "The show must go on," is a way of life for us.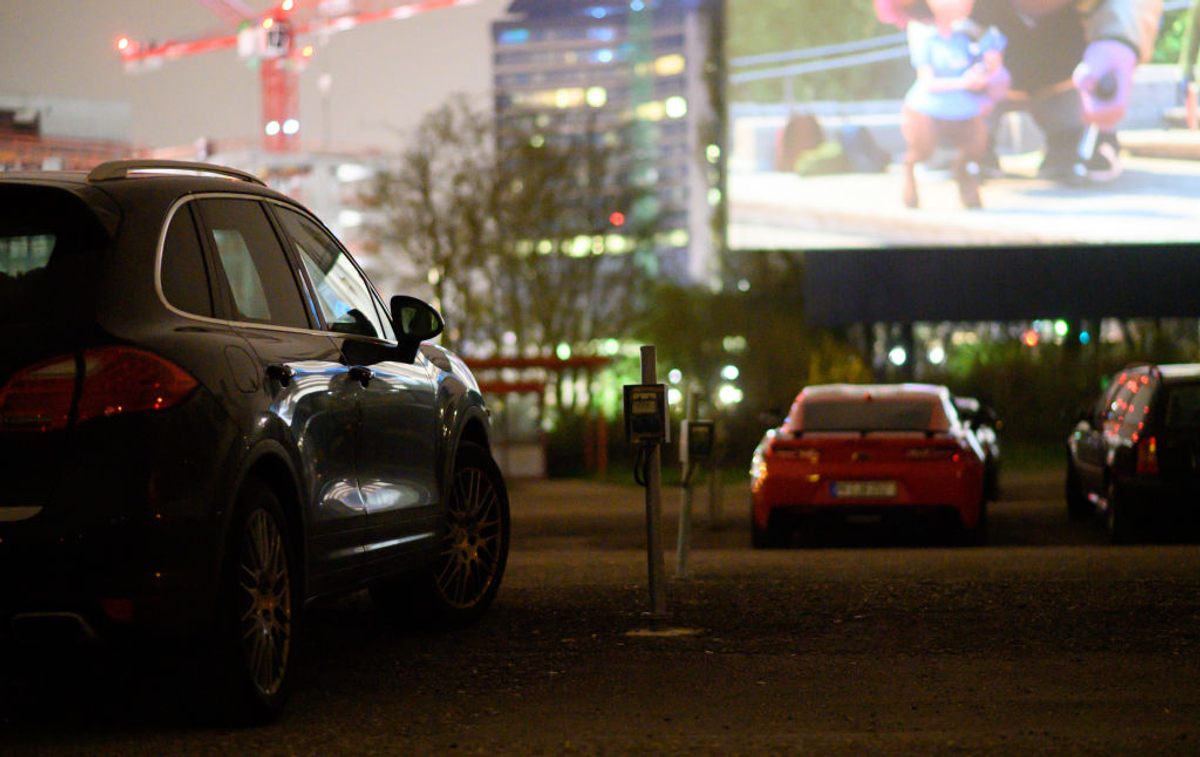 How else is the drive-in trying to give back to the community?
A nondenominational church has service here two nights a week so people have the opportunity to worship from the safety of their vehicles. My offer is actually out there for any church that wants to use my sound equipment and transmitters. I'm not saying it has to be affiliated with a certain religion: Everybody's got their own faith. If they want to use my property, they're welcome to it.
I've also offered my services at no cost to the county school board. In the event that seniors cannot have a traditional graduation, they could do a drive-in one. All the speeches and procedures would be projected on the big screen, and the students could walk up while maintaining a distance and get their diploma. It would only be immediately family, but we could live-stream everything so extended family could see it. The school board is considering it.
I put the offer out a few weeks ago after my youngest daughter, who is graduating in May from nursing school, called me saying they had cancelled the ceremonies. That's likely the first time in her life that there was nothing I could say or do to make things better. I was thinking that I can't help her—she's 700 miles away—but I can sure make it better for the seniors here.
Do you think this surge in attendance at drive-ins around the country will help the industry in the long run?
Right now, I feel that customers are going to keep coming because they appreciate the extra effort I'm putting forth. And I think people will realize that, no matter the situation, they're safer at a drive-in than they are in a building with a crowd. I really think it's gonna help the drive-ins. Will it last? Only time will tell. I do think people will be looking for outdoor activities for quite some time.
Of course we still have a lot of obstacles that we fight regularly: weather, daylight savings time, DVDs. But I would love to see drive-ins make a comeback. I would like to see the next generation keep this going. This is a part of American history that shouldn't die.
You can join the conversation about this and other stories in the Atlas Obscura Community Forums.