Every Halloween, an Oakland Man Stages Spooky Marionette Shows in His Driveway
Larry Schmidt has been offering the free performances at his California home for over a decade.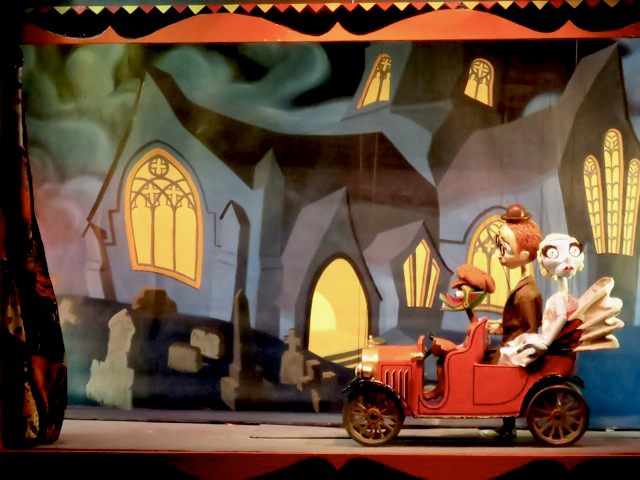 "When I moved here 25 years ago, Halloween was a cultural wasteland," says Larry Schmidt, sitting on a homemade bench in his driveway in the Trestle Glen neighborhood of Oakland, California. "There wasn't much in the way of trick-or-treating or jack-o'-lanterns. And I was disturbed that the cultural event I remembered wasn't happening."
As the 64-year-old Schmidt recalls, a slow erosion—due to reasons ranging from a culture fearful of knocking on neighbor's doors, to the razors-in-apples news stories of the '90s—had turned Halloween into just another day on the calendar. Pumpkins went uncarved, decorations stayed in the attic, uncostumed kids spent the evening indoors. "You didn't have that inter-generational exchange anymore," he says.
He set about trying to reignite the Halloween spirit.
First, he hoisted his old massive witch sculpture onto his garage roof to loom over the passersby. Next, he designed a "front yard haunt" for prospective trick-or-treaters. Schmidt slowly added decorations to the haunt over the years, but when space became cramped, he knew it was time to try something else. So, he built a theater in his driveway, constructed benches for an audience, and wrote a puppet show.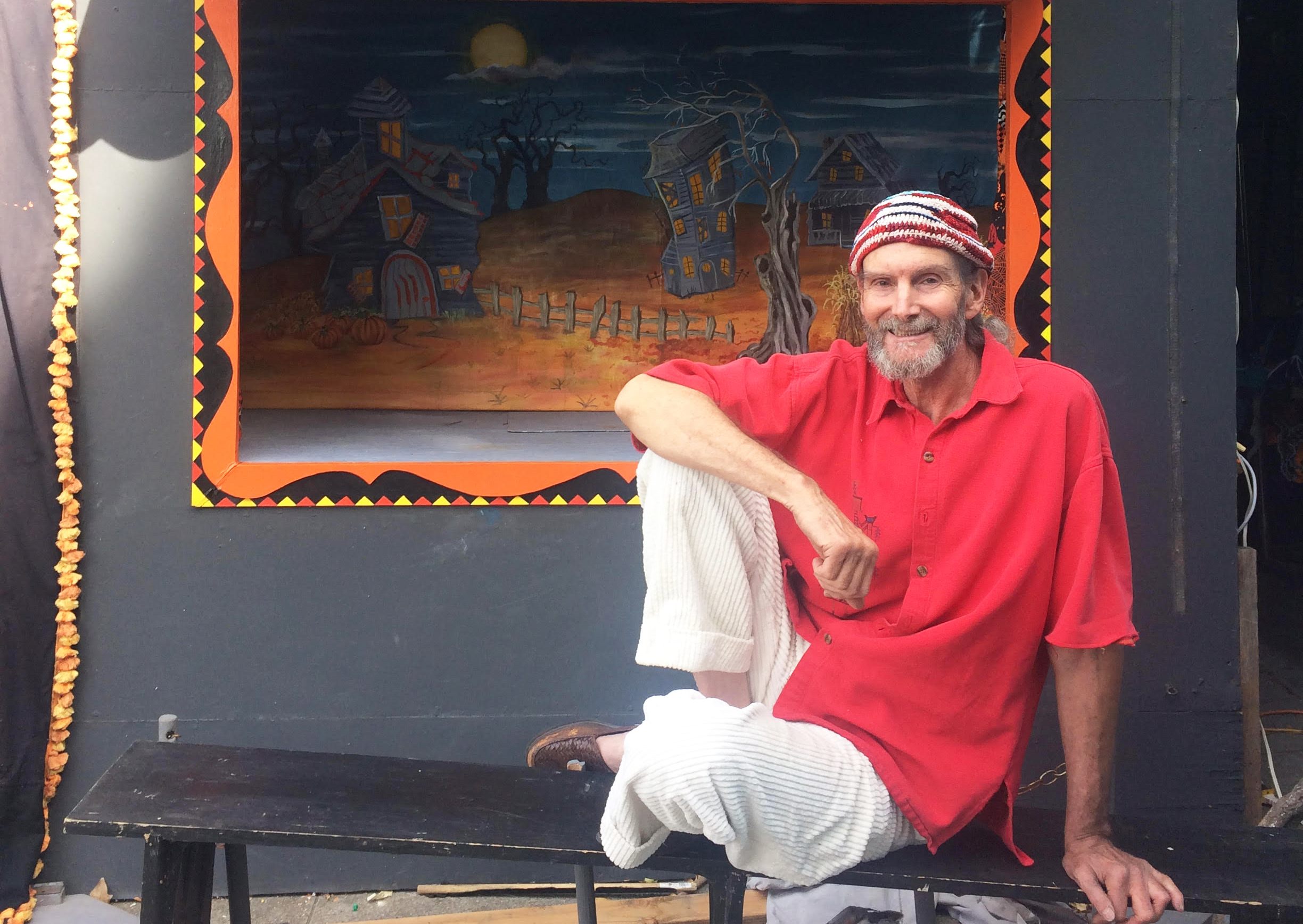 This Halloween, Schmidt's "Driveway Follies" will celebrate its 11th anniversary with a now-customary set of musical numbers using intricately crafted and expertly manipulated marionette dolls, interspersed with a few jokes from the ghost puppet M.C. The performances take place before and on Halloween, starting when the sun goes down, resetting for a new audience after each 25-ish minute show concludes, and replaying it until the crowd's gone for the night; they generally pull off between four and six shows, rain or shine.
If Schmidt's ultimate goal was to bring Halloween back to the neighborhood, it's worked.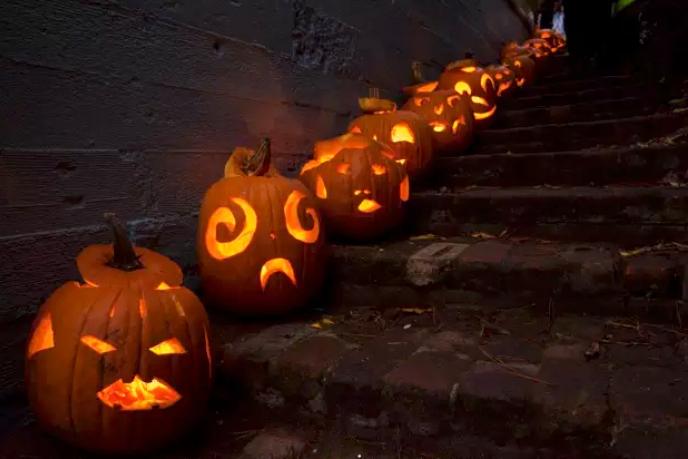 "Last year, there were some empty seats, and I thought, that's strange. I was a little disappointed," he says. "But then on the sidewalk, I noticed a flurry of adults and children making the rounds. I liked that I had to compete with other things."
This year, among Schmidt's rotating army of puppeteers, stage managers, and vocal talent—the group that makes his vision possible—is a 13-year-old puppeteer named William. He's not only an invaluable assistant, but gives Schmidt hope about the future of the art form.
"It's hard for me to imagine marionettes will have a resurgence, because they're more difficult than puppets," he says. "A hand puppet is so immediately connected to our bodies, and it's wonderful because it's intimate and cozy. But the marionette is on strings, it's a little more mysterious."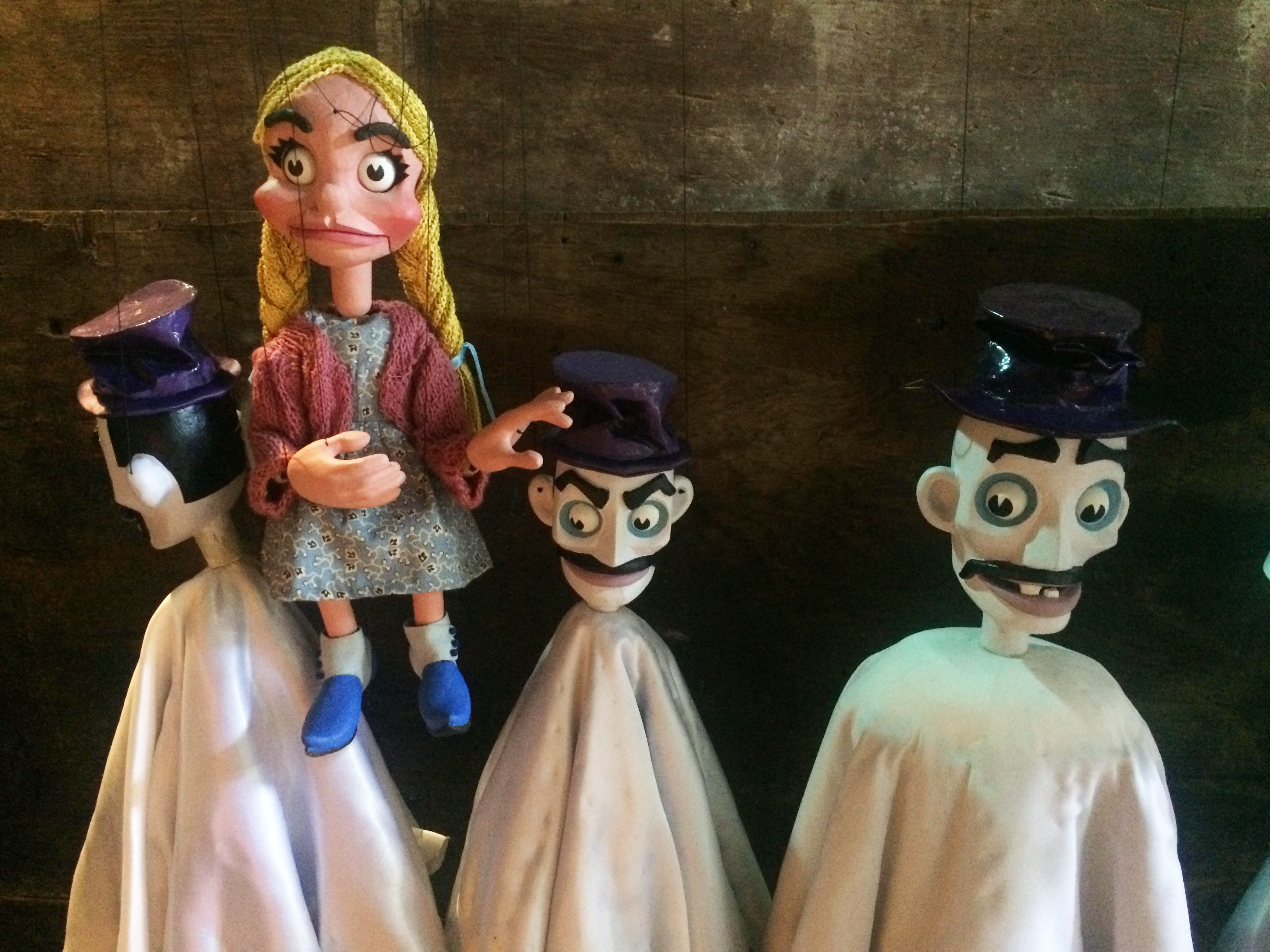 Like the yard haunt, Schmidt adds a little something new to the show every year; this time it's new benches and the help of an usher, who will be dressed in 1930s garb with a red hat and yellow detailing. "I initially thought it wouldn't be fun to have an authority figure, as the show is slightly chaotic in a fun way," he says. "But he'll serve apple cider, get people seated, maybe relay a message back to us if the sound system isn't perfect."
While most of the audience will watch the show, have a few laughs, and head home, Schmidt's hope is that the endeavor plants seeds that will blossom into their own ways to celebrate the holiday.
"It was never my plan to be the King of Halloween. What I'd rather have is an even distribution all over," he says. "People sometimes think this show in the driveway was an experiment, that I should put it in a commercial 'legitimate' theater space. But if I took it to a theater, there wouldn't be the street scene around it. This way, it's part of the culture of the night."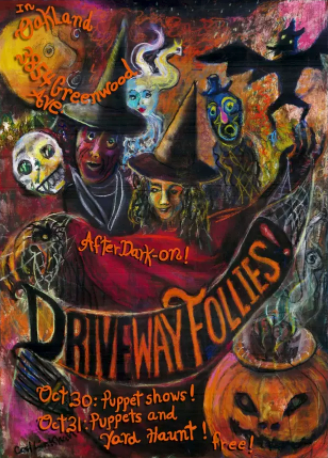 It's also why Schmidt performs the show for free. Last year, with Schmidt's blessing, a group of fans formed the "Friends of the Driveway Follies" committee to promote the show, an effort that included an IndieGoGo page that raised over $7,000 in donations. But that's a fundraising method Schmidt wants to avoid. This year, with the help of a few grants, Schmidt is once again keeping monetary exchange out of the audience/show relationship.
"The free part is important to me," he says. "Free used to be a good thing, but now people think the word means of lower quality. For me, for my generation, 'free' means that it's a gift."
After this year's gift is delivered, when the calendar flips to November, Schmidt will break down the set and cram it back into the garage. He'll work on a longer, single-story show that he hopes will be ready in a few years, and he'll tinker with his "bucket list" idea of a Christmas marionette show. But when next year's weather chills again, he'll begin work on the next Halloween show, for another round of putting that lost feeling from his youth back into the world.

Shows this year are on October 30 and 31, and adults are encouraged to come out after 9 p.m., after the crowd of kids has thinned out. More information is available here.