Massive Dust Devils Leave Their Mark Across Eerie Dunes
Often associated with Earth's hottest places, these whirling columns show up on all seven continents—and beyond.
In an unforgiving landscape of rock and dust beneath a broiling sun, they appear on the horizon. The pale, undulating figures take a serpentine course across a bleak and barren world. And then, with a final spectral whirl, they're gone.
Long a tool of cinematographers to signal inhospitable, sweltering deserts, dust devils are not limited to the hotter corners of our planet. They can occur anywhere that's dry and sunny enough, and have been recorded from Antarctica to Iceland. All that's required is enough direct sunlight to heat the ground and the layer of air closest to it. As the warmed air rises and breaks through cooler layers above it, the chillier, denser air sinks, creating a rotational pattern. If a strong wind sweeps through, it can knock the vertical circulation on its side and kick off the whirling columns we know as dust devils.
While they are the result of similar rotational processes, dust devils are not tornadoes, which are attached to a larger weather disturbance, usually a thunderstorm. Dust devils are independent of other phenomena and are also much smaller, weaker, and less destructive than tornadoes—at least on Earth. On Mars, dust devils get supersized. While their Earthly counterparts typically have a car-sized footprint (or smaller) and can reach heights of a few hundred feet, Martian devils have been documented at more than a mile wide and up to 12 miles tall.
"The dust devils can be just amazing," says Candice Hansen, senior scientist at the Planetary Science Institute. Hansen studies the Red Planet's atmosphere and seasonal processes, and marvels at the intense scouring effect the monster devils can have on the planet's landscape.
In the image at top, the black lines criss-crossing Martian dunes are dust devil trails. "Wherever there is really loose, really fine dust you get these patterns," says Hansen. "The dust devils lift the really fine dust, which is bright. They've hoovered that off the surface."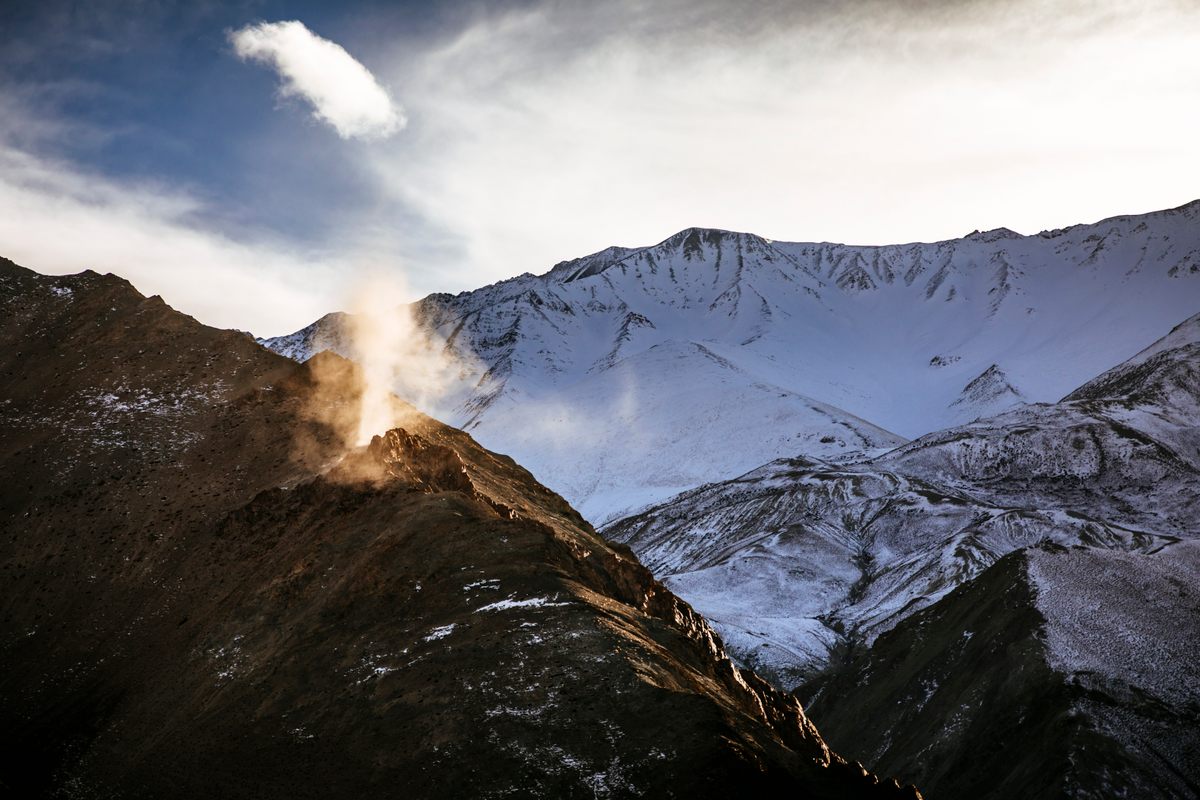 Dust devils get so huge on Mars thanks to its much more expansive planetary boundary layer, the lower portion of the atmosphere that's directly influenced by the planet's surface. The scars left behind by the devils are so dominant that they almost obscure something else in the top image, which was chosen as a photo of the day in October by the team behind the High Resolution Imaging Science Experiment (HiRISE), a powerful camera aboard the Mars Reconnaissance Orbiter. Hansen, who serves as HiRISE's deputy principal investigator, says the image, detailing dunes in the planet's southern highlands, hints at a curious feature known as dune gullies.
"This image was taken after most of the seasonal frost was gone," Hansen says, adding that frost on Mars—like the planet's polar caps and other icy features—is made of carbon dioxide. In the late Martian spring, residual chunks of solid carbon dioxide, or dry ice, linger at the tops of the dunes. It's similar to the way seasonal snowpack on Earth can form what are known as cornices, which overhang cliffs and ridges like the eaves of a house. And, just as Earth-bound cornices can collapse and trigger devastating avalanches, Hansen says, the blocks of solid carbon dioxide on Mars eventually "let go and whump! slide down the dune."
Hansen and her team believe these dry ice blocks can carve out dune gullies, which are common in the southern highlands. Several years ago, she and colleagues from NASA's Jet Propulsion Laboratory tested their hypothesis on a smaller scale—and on Earth—and captured the event on YouTube. The gullies are distinctive because they end suddenly, rather than fanning out in a wide apron of debris and runoff like you might see following an avalanche on Earth. That's because dry ice transitions from a solid state directly to a gas, a process known as sublimation.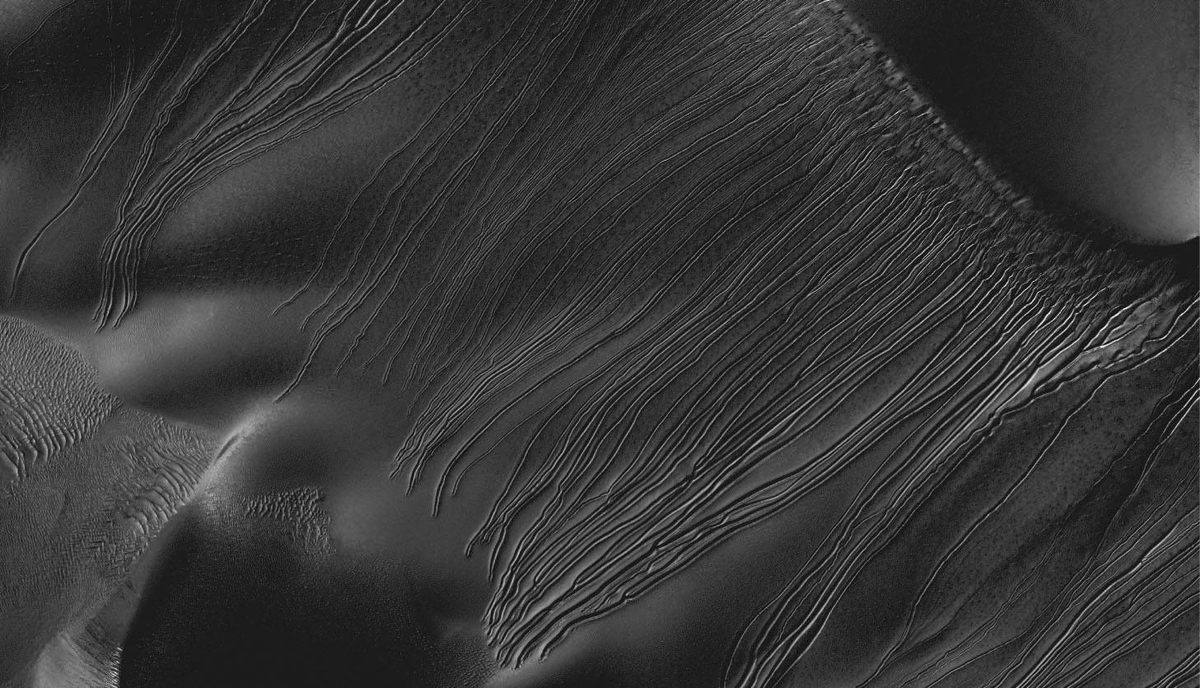 The dune gullies, like the XXL dust devil tracks that crisscross them, are unique to Mars. The planet is much colder than our own—temperatures average around -80 degrees Fahrenheit—which makes it more conducive to the formation of giant chunks of dry ice. And there's plenty more carbon dioxide to be found there: As a gas it makes up about 95 percent of the Martian atmosphere, compared with less than half a percent here on Earth. (While atmospheric amounts on Earth are tiny, carbon dioxide has an outsized ability to trap heat and impact climate worldwide.)
"We just don't have temperatures cold enough for CO2 to freeze out naturally, plus we don't have enough in our atmosphere," Hansen says. "Wouldn't it be nice if we could get rid of the CO2 in our atmosphere by just freezing it out? Then we wouldn't have to have climate summits."