Exit Interview: I Played With LEGO for a Living
A former LEGO master model builder talks about taking toys seriously.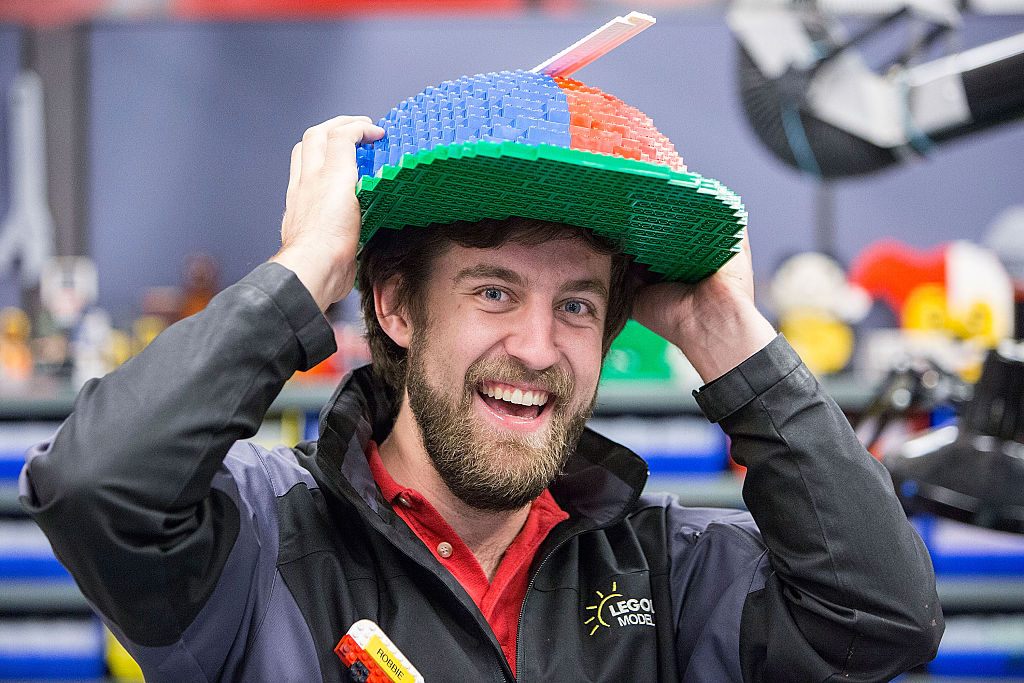 Robbie McCarthy, former LEGO Master Model Builder. (Photo: Daniel Knighton/Getty Images)
A select few people around the globe are living the ultimate childhood dream: getting paid to play with LEGO.
The company's 50 or so Master Model Builders spend their days designing and constructing miniature worlds and giant, blocky sculptures for LEGOLAND theme parks and specialty installations.
For two years, Robbie McCarthy was one of three Master Model Builders at LEGOLAND California. "I had been going to the park since I was nine years old," he says. When he got the job at the age of 23—which tied the record for the youngest Master Model Builder ever—he would "come into work and be refreshed with memories from childhood, from playing here with my mom and dad and my brother as young kids."
Though you might envision that being a Master Builder means spending all day hunched over, clicking blocks together, the job, he says, was "not always just sitting at a desk building with bricks. Sometimes you're driving a crane, and you're lifting the LEGO bricks over a wall, over people's heads into a construction site. But if you really step back and look at it, you're playing with toys."
We spoke to McCarthy about how he got this rare job, his favorite LEGO creation, and why newbie model builders tend to injure themselves with chisels.
What presence, if any, did LEGO have in your childhood?
It was pretty much the constant of what kept me happy after school, or what kept me motivated when playing with my friends or in spending time alone or being creative.
And at any point during this, were you thinking "I want to be an adult who builds LEGO for a living"?
Absolutely. I would talk about it with my friends in elementary school, you know, "One day I'm going to be a professional LEGO builder. I'm going to be a Master Builder." And my friends thought, "Yeah, okay." My parents were always very supportive, but they also said things like "That's cute, but you should work hard and go to college and get a real job."
A few years after I graduated college with a teaching degree I wound up being a professional LEGO builder.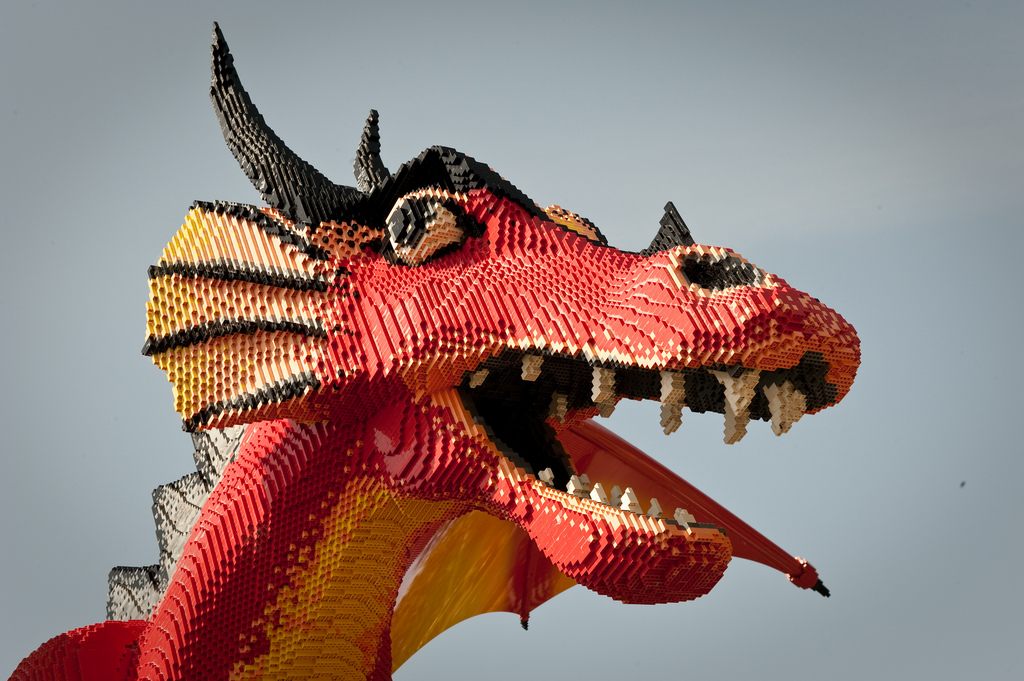 A dragon at LEGOLAND California. (Photo: Josh Hallett/CC BY-SA 2.0)
What was the process of applying for the job like?
Like any creative job, there is a portfolio required. Things that I had designed out of LEGO were important, because anyone can follow instructions and build a LEGO set, but what is important to be a Master Model Builder is to be able to create something of your own using limited resources and to be able to recreate things that exist in the world out of little plastic bricks.
So I had a phone interview to get my background, I had an in-person interview to talk about my portfolio and my aptitude with tools and equipment, because it's a very industrial job. We have to use large equipment to lift LEGO models into place—when they weigh over 700 pounds you can't just pick it up off your bedroom floor.
And what did you show them? What kinds of models had you built, that you brought in the blueprints for and the photographs of?
I had a few models of some famous movie characters. From the Pixar film WALL-E I had a working robot with the treads and the hands that waved. I also had his partner, EVA, who is an egg-shaped model. And the selling point, I think, in my interview was I was able to build some curves and something spherical out of rectangles.
For some people that don't bring in such a large portfolio, they will be asked to build a LEGO model—you know, "You have one hour to build something that represents yourself." Or "You have one hour to build something that represents California, or represents New York, or Florida," or wherever they're applying.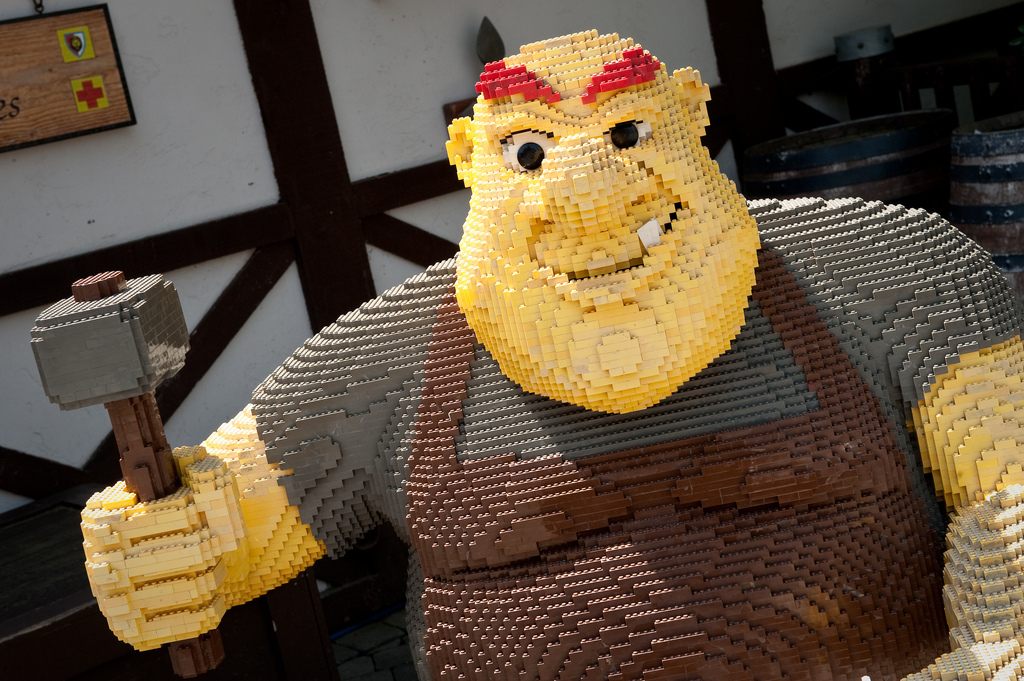 A block-headed man at LEGOLAND California. (Photo: Josh Hallett/CC BY-SA 2.0)
Did you see the job advertised somewhere, or did you approach LEGO and say, "I want to do this"?
Well, I graduated college with a teaching degree and teaching credentials in 2012, and I taught junior high school for a short time. I thought it would be nice to move back home to California to be near my parents and where I grew up. And it was hard to find a teaching job.
My mom jokingly said over the phone one day, you know, I was getting a little out of sorts, and she said, "Why don't you just go look and see if there's any jobs at LEGOLAND?" And call it serendipity, call it whatever you will, but there was a job opening at that time, and everything worked out for me in the end.
What was it like day-to-day?
It's the kind of job where you can't just wear 10 different hats, you have to make the hats yourself. So you're juggling constant projects and design work and construction work and repair work. You show up in the morning and you have to make sure that the whole theme park is safe—all the LEGO models are intact, there's nothing broken, nothing's going to fall down. And from there we'll start to work on any repairs that they need done, or we'll work on designing new models using computer software or using pencil and paper, or just building it from bricks.
Toward the end of the day we'll start building those models, and the design process is really either up to us or up to other LEGO Master Model Builders at other LEGOLAND parks. We share designs all the time, we'll share construction and things like that. So it's different depending on every single project, and every single project has a story behind it.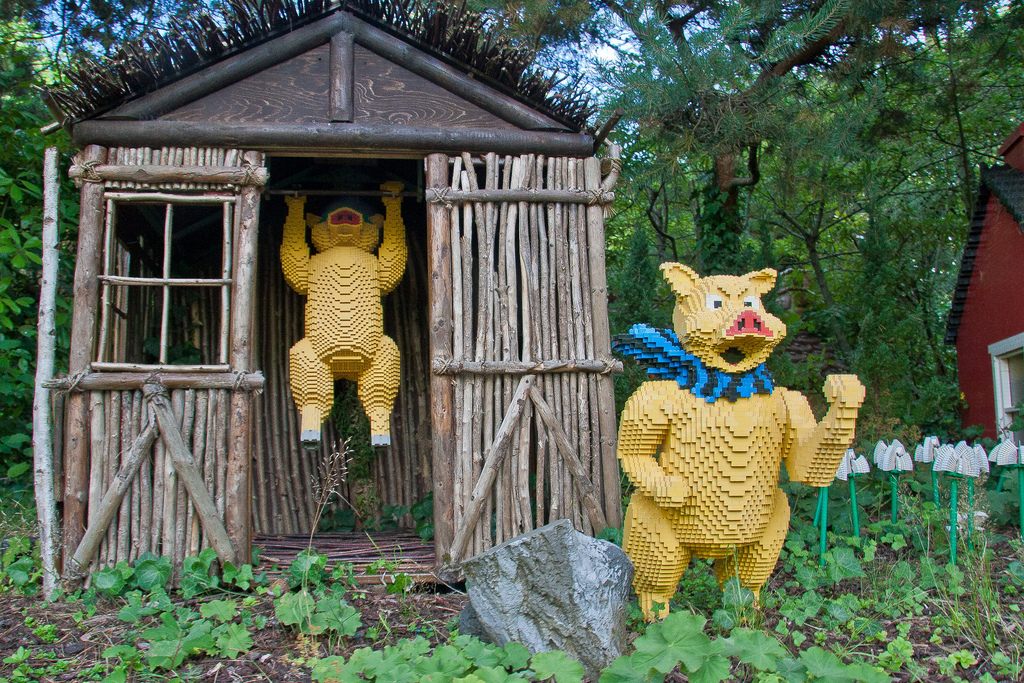 Two of the Three Little Pigs at LEGOLAND in Germany. (Photo: Mike Prince/CC BY 2.0)
Were you known as having a particular specialty, like a type of design or a genre?
Absolutely. There were three of us working in the LEGOLAND California model shop when I left, and one of us was very good at animals in miniature and organic creations. Things that you would see on planet Earth—humans interacting with their environment. One of us is an extremely fast builder, and he would constantly build buildings in half the time it would take me to do it.
I did a lot of computer-based LEGO design, using software or using pencil and paper to design models before I even built them, or before other people could build them. I also did a lot of training of new model builders. So we all had our specialties. Any one of us can do the job well, it's just a matter of what we like and what we do the best.
What was it like physically? Did you get any injuries? Is it a strain on any part of your body?
So a big part of the job is gluing all of the LEGO models together to make sure they're safe, for kids to climb on and kids to hang from and interact with. And the problem with that is that if you build something incorrectly the first time, you have to cut it apart with chisels and pliers and tools.
Every time a new Master Model Builder starts, they always end up cutting themselves with a chisel. It's kind of a rite-of-passage thing. You'll only really mess that up and cut yourself once. And after you do that you get to be a little more comfortable with the tools and the environment.
Are there one or two particular creations that you are really proud of?
The model I'm most proud of sits in a barbecue restaurant, of all places. At the north end of the park we have a barbecue restaurant that's castle-themed. I did a 10-foot-wide stained-glass window effect out of transparent LEGO bricks that depicts two dragons breathing fire onto a steak to barbecue it. And it's lit up from behind with an LED light box that makes it look like a stained-glass window that you see in a medieval or castle church.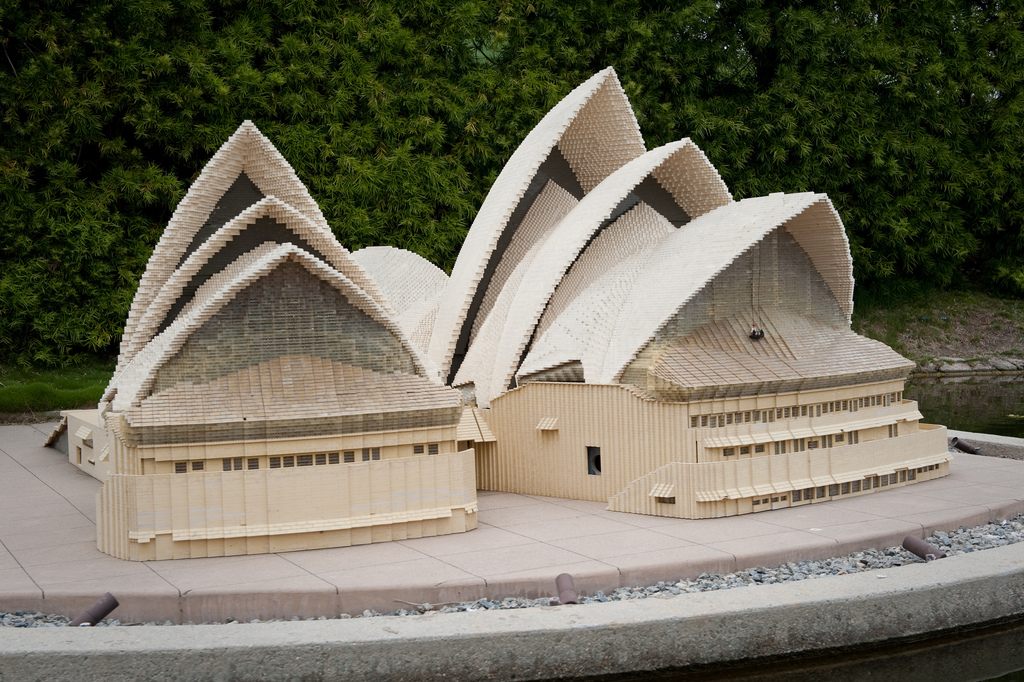 The Sydney Opera House, LEGOLAND California style. (Photo: Josh Hallett/CC BY-SA 2.0)
What about kids, teenagers who are building LEGO in their homes, who see this job and think, "That is my dream job!" Is there anything they can be doing to increase their chances of getting that job?
Yes: never stop building. For me, I was into LEGO a lot as a kid but most people go through what I call the Dark Ages. That's that time you reach at either adolescence or shortly after when you are a young adult, and you put the LEGO bricks away because you discover your high school crush, or you discover rock bands, or you discover what's going to take you into adulthood, so you put the toys away for a little bit.
But then a lot of people come back when they're in their Dark Ages. They find their LEGO bricks either in the closet or in their childhood bedroom, and they realize how there really is no age limitation—they're fun no matter how old you are. A lot of people go through the Dark Ages and they don't touch bricks.
But I had a secret LEGO brick collection under my college dorm room bed. And I would play with the LEGO bricks whenever my roommate had gone home for the weekend. But then one time he came home early and he found me playing with a bunch of LEGO bricks on my desk. And we just started building together. He never even said anything about how these were a children's toy. And that's when I really realized that LEGO bricks are for everyone. And the ability to incorporate play kind of transcends age.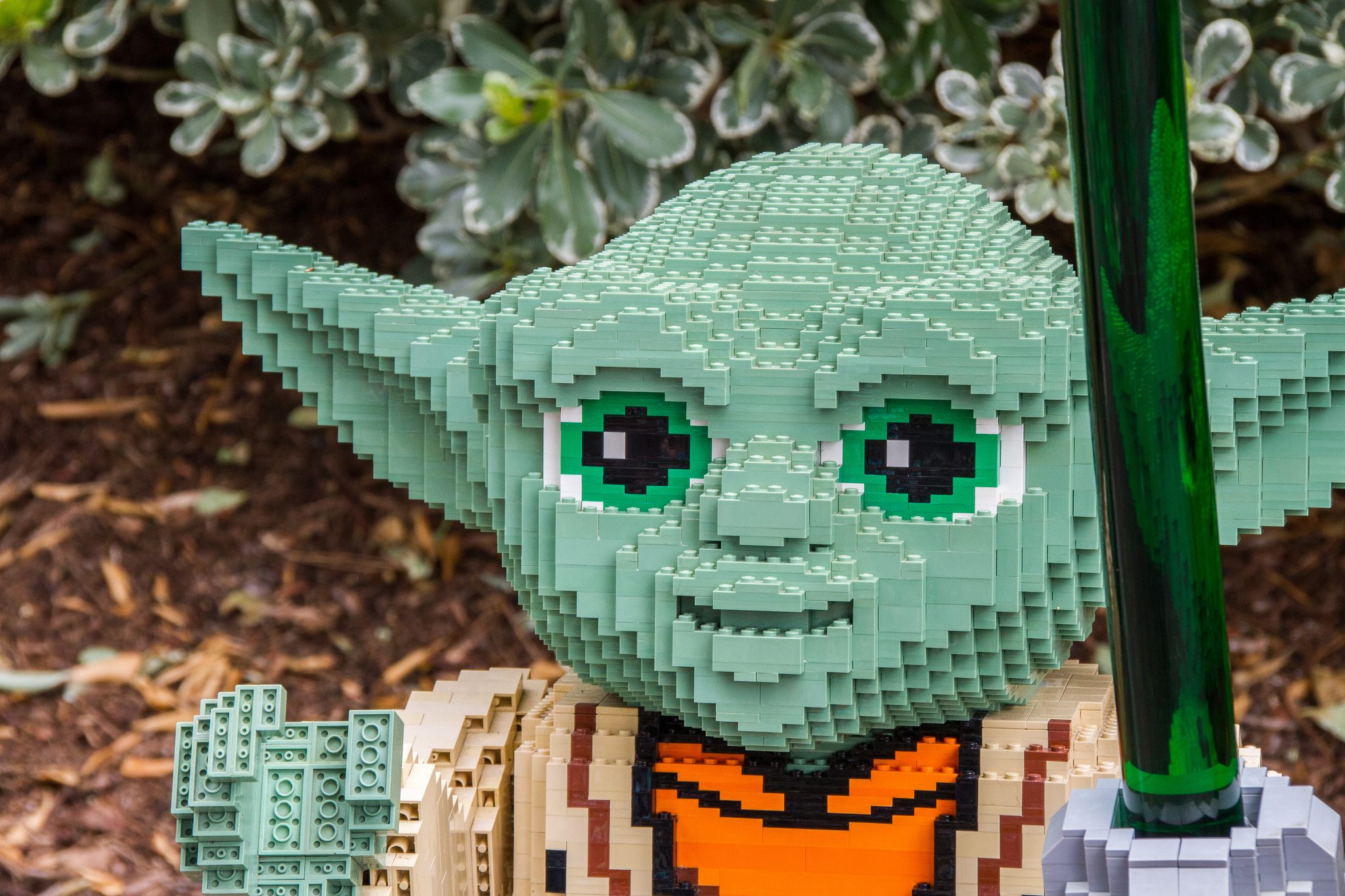 Made of tiny bricks, he is. (Photo: Josh Grenier/CC BY 2.0)
Does it become a 9-to-5 job? Does it ever settle into that, despite being such a cool, fun thing?
For me it did. It did absolutely settle into that. The rewarding part about it was that you're playing with toys, so when you're done at the end of the day, you're not stressed out about what's going to happen when you're gone. There's no major world economies riding on my investments, there's no life-or-death situation where other people are going to be relying on me. If I miss an email or I miss a text message while I'm relaxing at home, it's not the end of the world. And that was something that was very rewarding about playing with toys professionally.
What was it like to leave?
Coming into work there was a little bit of a dream come true at the beginning. And towards the end, it's a job, so you eventually get complacent with anything, if it's not continuously pushing you, or continuously providing you with new ways to explore and learn.
I felt like I was ready to move on and learn new things, but at the same time, it was extremely bittersweet, because I know I will be back [at LEGOLAND] one day if I have a family of my own.
And will your creations still be there? How long do they sit there for?
I think most of them will be. The average outdoor LEGO model, if it's in the sun, it has a lifespan of about 10 to 15 years.
I think I'll be excited to go back and tell my kids, "I built that."
What are your plans now?
Right now I'm traveling across the country because I always wanted to do it. I've had a few job offers from coast to coast, but I really just want to see what else is out there in the world, because I've never lived outside the southwest United States. I experienced humidity for the first time this year! It was miserable.