Exploring The Last Resort, Robert De Niro's Forgotten '90s Adventure Game
Also featuring Aerosmith, Cher, and Christopher Reeve.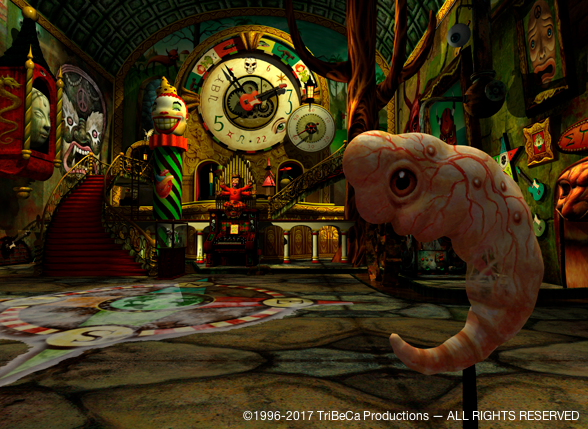 It's 1996. At the behest of Robert De Niro, a small group of coders and game designers toil away in a seedy San Francisco warehouse to finish a surreal, puzzle game about a run down hotel that may house the creative muses. Also, Christopher Reeve, members of Aerosmith, and Jim Belushi will also be voicing character with names like The Toxic Twins and Uncle Salty.
While that all might sound like some kind of bizarre pop culture Mad Lib, it's actually the story of the long forgotten and hopelessly strange computer game, 9: The Last Resort.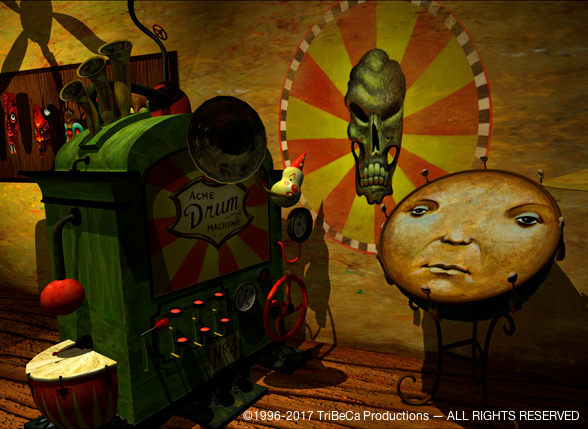 The director of 9: The Last Resort, Buzz Hays, met De Niro while working as the Director of Engineering at Lucasfilm THX. De Niro enlisted Hays to help design a portion of his new Tribeca Grill, and the actor eventually convinced Hays to get into the movie business himself.
"One day, Robert got tired of us talking about making movies, and he said, 'Why don't you just quit your job, and make a movie?'" says Hays who is now the owner of True Image Co., which specializes in stereoscopic 3D film development. 
The classic computer puzzle game Myst had been released in 1993, setting a new standard for what thoughtful, atmospheric games could be, thanks to its use of haunting locations and lonely atmosphere. This more cinematic approach to gaming inspired a number of creators who would previously never have thought to make a video game, to try their hand at the growing medium, even as more action oriented games began to take over the scene.
A few years after Myst's release, De Niro's production company launched Tribeca Interactive, a division that would focus on new types of media. Hays was put in charge of their very first computer game.
"We knew that we were going to be released in a time when most games were first-person shooters and driving games," says Hays. "Myst had already had its day in the sun. It was still, in many peoples' eyes the finest video game ever to be created. So we decided to try and do a more irreverent version of that."  
Hays put together small team and moved the operation into a San Francisco warehouse space where they developed 9: The Last Resort.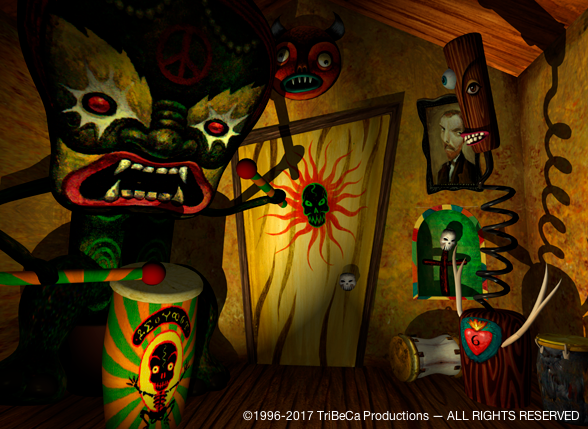 To create their game world, Hays teamed up with pop art icon Mark Ryden to help design the look of the game. Ryden's signature aesthetic, heavy on eerie, childlike figures and mysterious symbols, was a natural fit for the world of an enigmatic puzzle game.
"He ended up doing on the order of 1,200 paintings for the game," says Hays. "Mark would come up a couple of times a week and paint furiously, and our [internal art director] would stand next to him with a hair dryer, drying the paint, so that we could scan it and get it into the computer."
The resulting game ended up looking not unlike a gorgeous living, explorable version of one of Ryden's paintings.
Working off of characters Ryden had created, the resulting story in the game came to revolve around a rundown resort hotel and its odd inhabitants. The player starts the game having inherited The Last Resort from their late uncle Thurston Last (Christopher Reeve). As the player explores the hotel and uncovers its secret puzzles they learn that The Last Resort was once a place where creators thrived thanks to the nine muses who lived there. But now a pair of evil residents named The Toxic Twins (Aerosmith's Steven Tyler and Joe Perry) has taken up residence in the hotel, and have ruined its powers of inspiration. The player then has to move through the hotel and find a way to remove the Twins for good, by solving surreal puzzle challenges. They are helped along the way by a little stogie-chomping man in an airplane, Uncle Salty (Jim Belushi). It's a very weird game.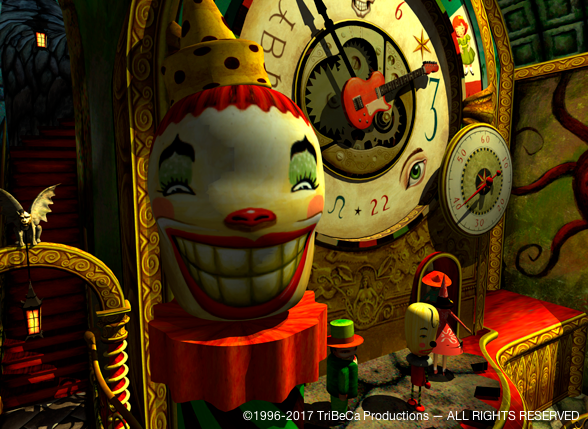 Unlike with other puzzle games of the day—okay, Myst—Hays created the puzzles in the game to have multiple solutions, so that they couldn't be instantly burnt through with a strategy guide. "What I wanted to do was to foster this notion that when you finished the game, you had a different way of getting through it than the other people who finished," says Hays. "So you had something to talk about."
With De Niro's star power and connections, the game was able to pull in an incredible number of celebrities to voice characters in the game. In addition to Reeve, Aerosmith, and Belushi, Cher was brought in to voice a fortune telling machine named Isadora, and Ellen DeGeneres makes an appearance as a cryptic octopus.
According to Hays, the celebrity voice actors really got into the parts. "When we went to record Steven Tyler and Joe Perry, they were recording an album down in Florida. Joe came up with this idea that he maybe should use the voice box he uses when he plays guitar. So his whole character talks through the voice box."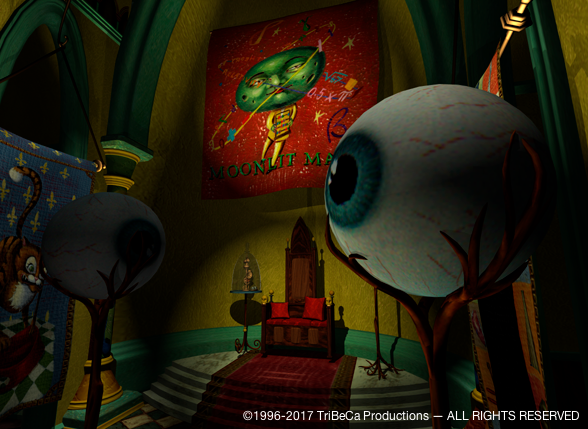 Working with Reeve proved to be a bit of a challenge do to the debilitating injuries he suffered in a 1995 horseriding accident that left him reliant on a mechanical breathing apparatus. According to Hays, because of the noise of the respiratory machine, they could only record Reeve's lines in short six-second bursts, although his somewhat rasping delivery ended up being perfect for the mysterious character.
Despite all of the heavy-hitting Hollywood names and gorgeous style of the game, when it was finally released in 1996, 9: The Last Resort turned out to be a dud. While many critics gave the game positive reviews, the changing trends of the 1990s computer game industry proved too much for this weird game to overcome.
"The game came to market, and it barely got noticed," says Hays. "In those days everyone and their grandmother was releasing CD-rom games. I wouldn't call it a failure. it was just kind of a quiet landing."
Surprisingly, before the game even hit store shelves, Hays and his team had already packed up shop and moved on to other projects. "At the end of the game, we ultimately realized that maybe this wasn't the best business for a film production company to be in," he says. "So we all agreed that it was more important to fold up the tent and walk away gracefully."
In the years since its release, 9: The Last Resort has been largely forgotten by most gamers. Even with names like De Niro, Tyler, and Cher involved it is only rarely referenced. The game has never been re-released to run on modern machines, making it incredibly difficult, if not nearly impossible, to play now. But Hays still fondly remembers the game, and the experience of making it.
"For us it was just this funny nostalgic time when we got to do this crazy thing in this tiny warehouse in San Francisco," he says. "We had such a good time making this thing that at the end of the day it kind of didn't matter whether people loved it or not."