Atlas Obscura's Fall Destination Staff Picks
From Kazakhstan to Vermont, these are our dream places to visit this autumn.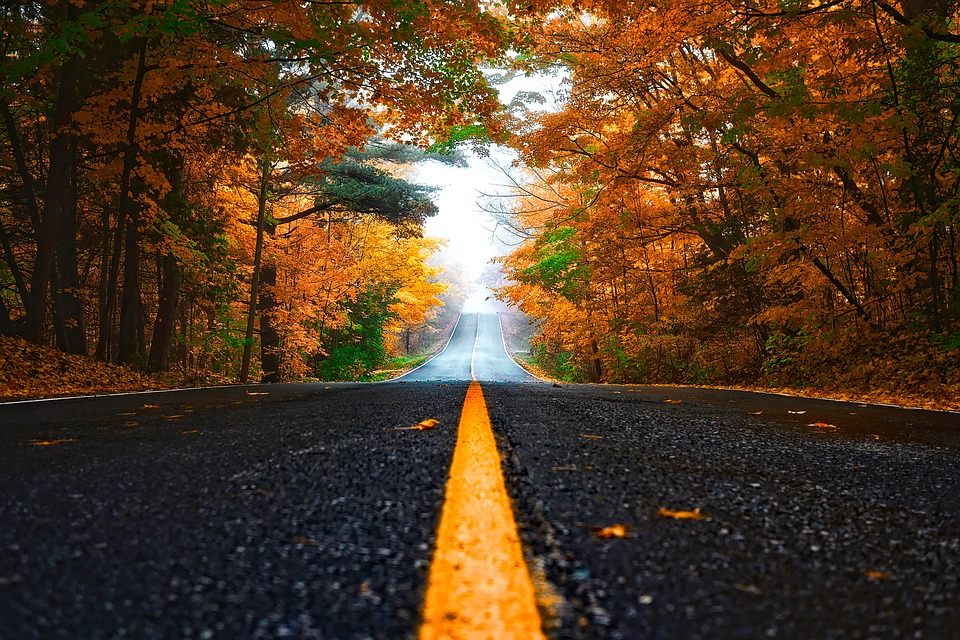 Labor Day is behind us and fall is nearly… fallen? In any event, it's a great time to start thinking about wondrous new places to visit and soak in that autumnal wonder. We polled the staff here at Atlas Obscura about where they'd most like to go this fall. So if you're looking for new destinations to dream about as the seasons change, let us give you a few suggestions.
---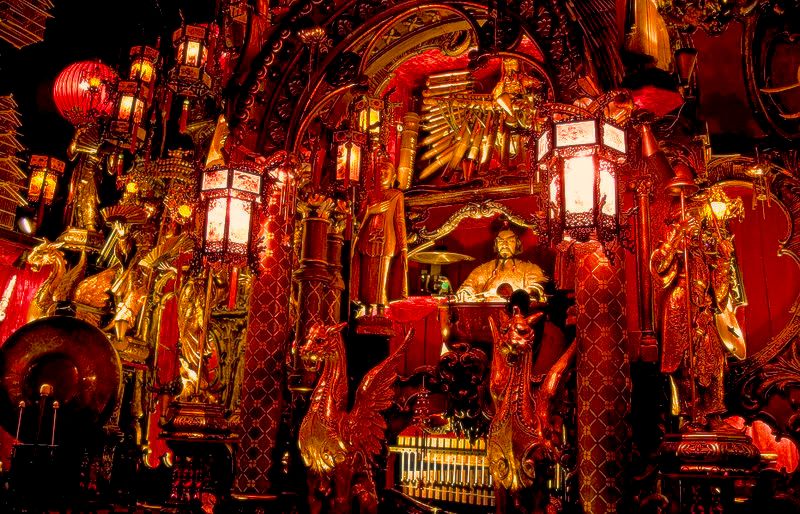 Spring Green, Wisconsin
For me, autumn (my favorite season) evokes a sense of decay and coziness, which in my head gets conflated with over-stuffed antique collections and haunted houses. The perfect confluence of all of that imagery is probably Wisconsin's House on the Rock.
A decades-old curio collection that sprawls out across a complex of buildings and features a staggering collection of items: carousel horses; a recreated town from the early-20th century; an assortment of automatic music machines; and so much more. The eccentric collection dates to the 1940s and is featured in Neil Gaiman's American Gods.
Despite its renown, House on the Rock still manages to maintain an air of mystery, with who-knows-what hiding in its many nooks and crannies. For any wannabe Goonies such as myself, exploring those musty secrets would make for the perfect fall expedition.—Eric Grundhauser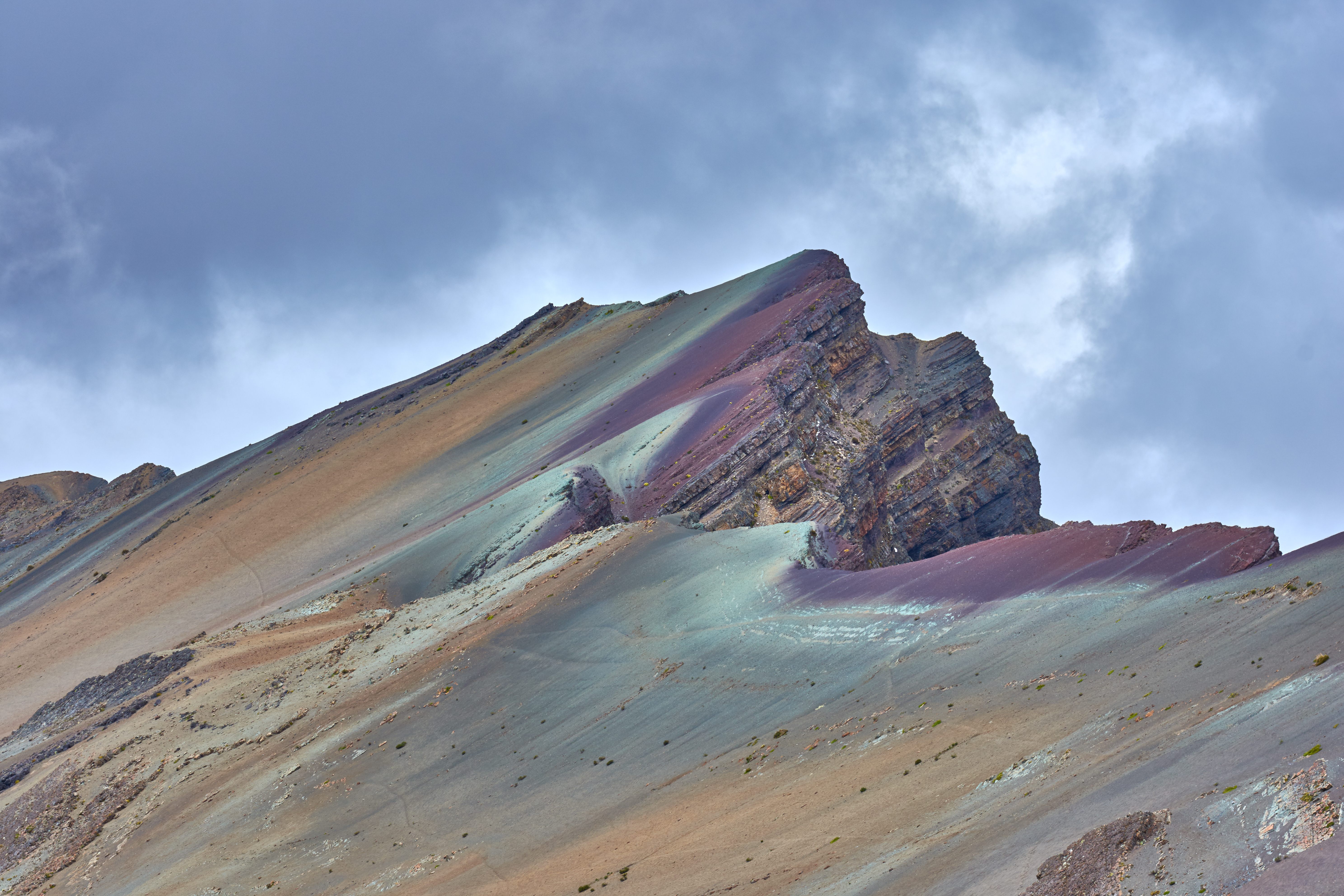 Pitumarca, Peru
On television, young people have all the fun. But researchers who study happiness say it's older people who are happier and living their best life. And doesn't that make sense? Decades of trial-and-error are a good way to learn what makes you grin like a 5-year-old being handed ice cream.
I'm no octogenarian, but I've wised up over my 28 years. When I travel, I ignore the guidebook checklists in favor of places and experiences that combine a few of my favorite things: endorphin-fueled exertion and beautiful scenery. That's why I want to trek to Rainbow Mountain in the Peruvian Andes this fall: a multi-day hike that features hot springs, candy-colored vistas, and the satisfaction of knowing that your tired legs carried you to a true hidden wonder.—Alex Mayyasi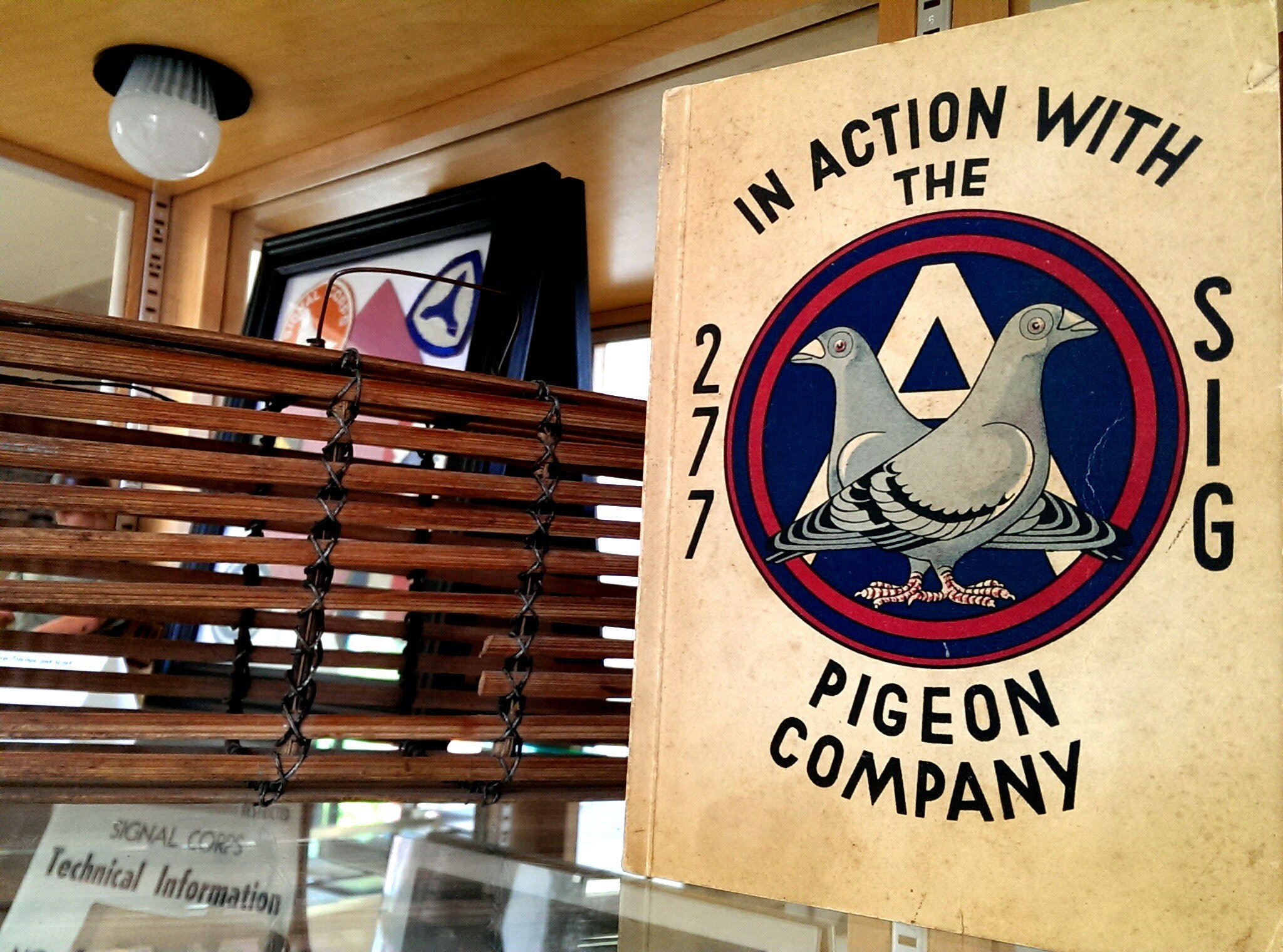 Oklahoma City, Oklahoma
Pigeons are the nexus of so many of my interests: urban wildlife, birds, animals that no one likes. But I don't really mind if no one else likes them. Having met a bunch of pigeons at various wildlife rehabilitation volunteering gigs, I can proudly say that I like pigeons.
It's probably not surprising then that I've been itching to go to the American Pigeon Museum since I first flipped by the entry for it in my early days at Atlas Obscura. I want to immerse myself in pigeon knowledge: What is the history of the human-pigeon relationship? What celebrity pigeons have there been? How can I be friends with pigeons? There aren't many outlets for a pigeon fan to discuss and learn about these birds. That's why I'd be thrilled to visit the museum this fall, a place where people like pigeons just as much as I do.—Lex Berko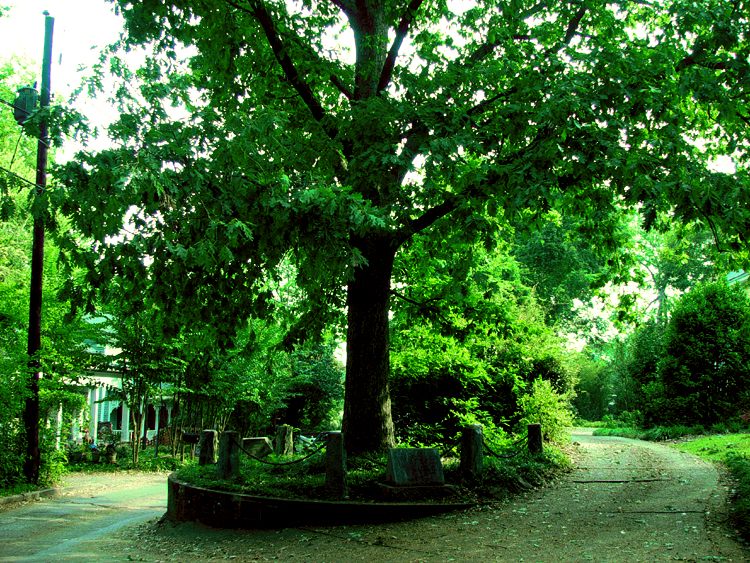 Athens, Georgia
Fall: it's all about trees. The year 2017: it's all about not being able to decide whether the stress of contemporary life is a) inspiring you to find strength and self-possession you never knew you had, or b) encouraging constant, rushed decisions that will eventually undermine you to the point of collapse. In other words, it's the perfect time to visit The Tree That Owns Itself, a stately white oak in Athens, Georgia.
Is this tree constantly playing itself, Khaled-style, you ask—or has it simply gained the right to make autonomous decisions? Good news! It's the second one. Legend has it that before an upstanding Athenian named William H. Jackson died, sometime around 1832, he granted a tree on his land power over its own destiny "for all time."
"For and in consideration of the great love I bear this tree," Jackson supposedly wrote, "I convey entire possession of itself and all land within eight feet of the tree on all sides." That's right: the tree in question does not merely own itself, it also owns land. This makes it far more accomplished than me, another good reason to pay my respects.
Sadly, even proprietorship does not protect one from death, and the Tree That Owns Itself perished in a windstorm in 1942. It was replaced by one of its own acorns, which has since grown into another healthy, sprawling, self-ruling oak, known as the Son of the Tree That Owns Itself. One last theme of Fall 2017: get in with the right people (or plants) and they'll take care of you.—Cara Giaimo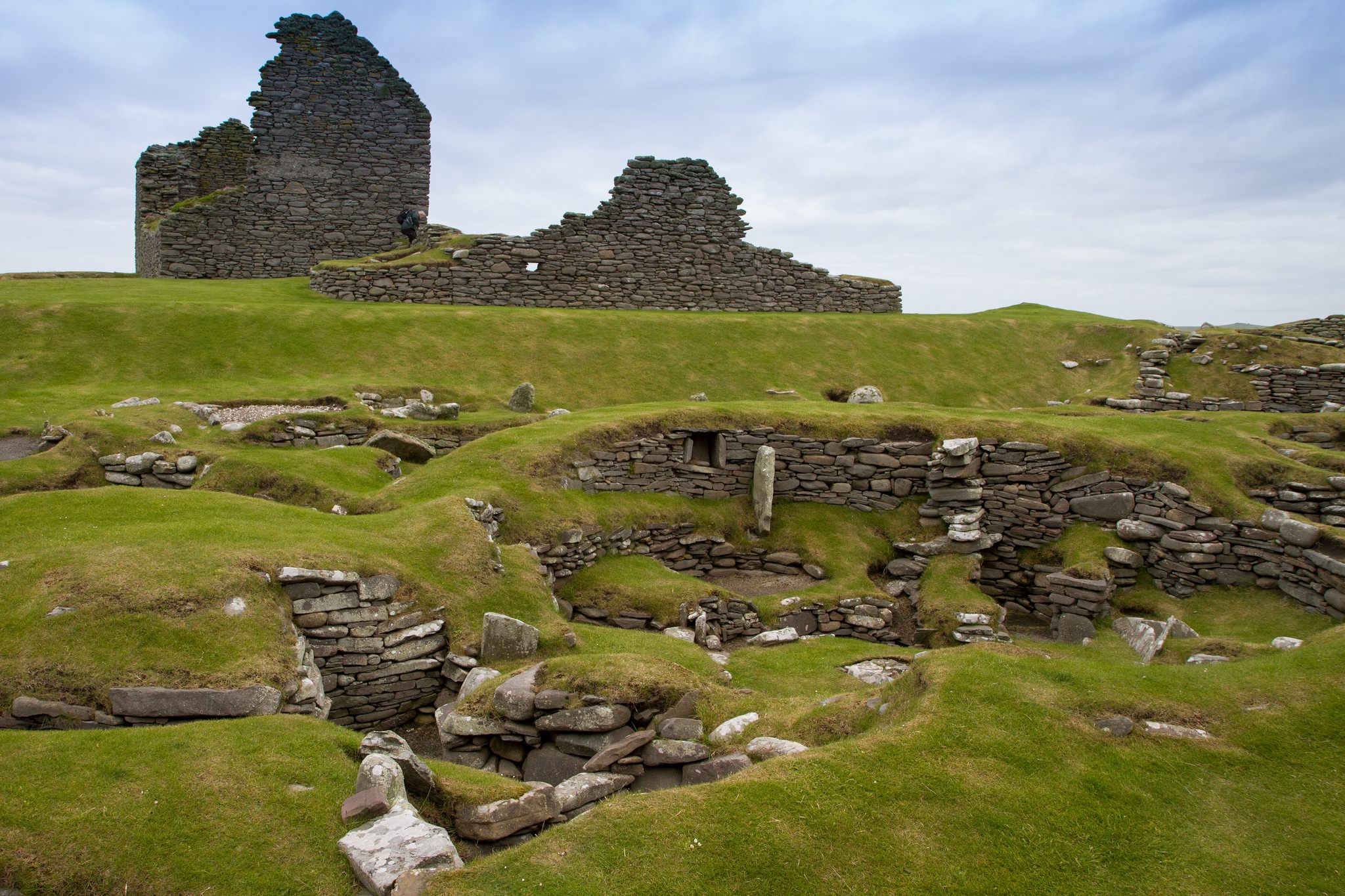 Shetland Islands, United Kingdom
If I could pick one place to explore this fall, it would have to be Jarlshof in Scotland's Shetland Islands. The site is rich with layers of history piled atop each other, with structures that range in age from as far back as 2500 BC to more "recent" ruins from the 17th century. It's like some sort of archaeological time warp that whirls through a blend of Shetland's Pictish, Norse, and Scottish past.
Though the long, relatively mild days of summer are often an ideal time to visit Scotland's subarctic archipelago, fall offers an opportunity to combine my interest in the country's expansive history with a shot at glimpsing one of nature's most impressive acts: the Northern Lights, a spectacle I have yet to witness from the ground. The darkening autumn days can be a good time to catch the aurora borealis before the even colder, wetter winter sets in. Though, since this is Scotland we're talking about, there's always a risk of stubborn clouds blocking any light show.—Kerry Wolfe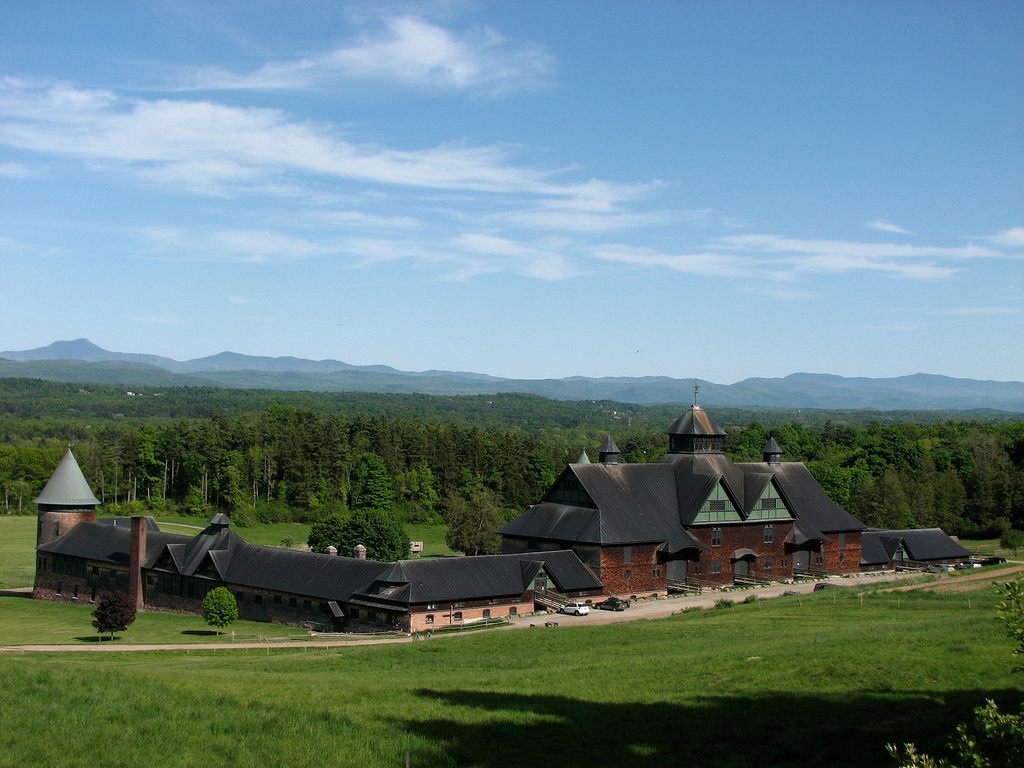 Shelburne, Vermont
I always make sure to get back to my home region of New England when the fall foliage is at its height. This year, I hope to jump in a family car and go to Shelburne Farms, a gorgeous historic farm on the Vermont coast of Lake Champlain.
Whenever anyone visits New York City, I always insist that they budget more time for Central Park than they have already. The magic of our park is in the act of getting lost in it. Frederick Law Olmsted (et. al.) preserved some of the vertiginous terrain of Manhattan, and weaved the park's acres with footpaths designed to delight visitors with, literally, every single turn of a corner.
Shelburne Farms is a project Olmsted completed decades after Central Park. He maintained his design philosophy, which was derived from Impressionism with its focus on overwhelming first glimpses, in the design of the 1,400 acres. I've never been, but I'm curious about how that will manifest in a context quite different from a park in the middle of a metropolis.
I hope to add to the Atlas Obscura entry on the farm with photos of it after the leaves have turned and before they've fallen, because as the "leaf peepers" who flock to New England in tour buses during the foliage season know, you haven't truly seen the region until you've seen it decked out in red and orange.—Luke Thomas
Enbekshikazakh District, Kazakhstan
As a creature of New England, autumn has always been my favorite season, ushering in all of my favorite things: fall foliage, the start of school (I loved school!), soccer season, wool socks and sweaters, reading by the wood stove, and Thanksgiving. But one of my most magical autumn moments took place on an October visit to Kazakhstan during my year abroad in China.
Keeping cozy and warm in jeans, sneakers, and a thick sweater, my friend and I hopped in a car and slowly wound our way up into the coniferous forests of the mountains outside of Almaty—foothills of the majestic Tian Shan range, the "Heavenly Mountains" that unfurl across Central Asia. As the snow became brighter and the air grew colder and crisper, we turned a final bend to discover Issyk Lake, shimmering a bright turquoise.
When we learned the tumultuous history of the lake, involving a fatal mudslide followed by a rebuilt dam that shrank the body of water to half its original size, the brevity of our visit, and the ultimate ephemerality that autumn will always represent—felt that much more poignant.—Tao Tao Holmes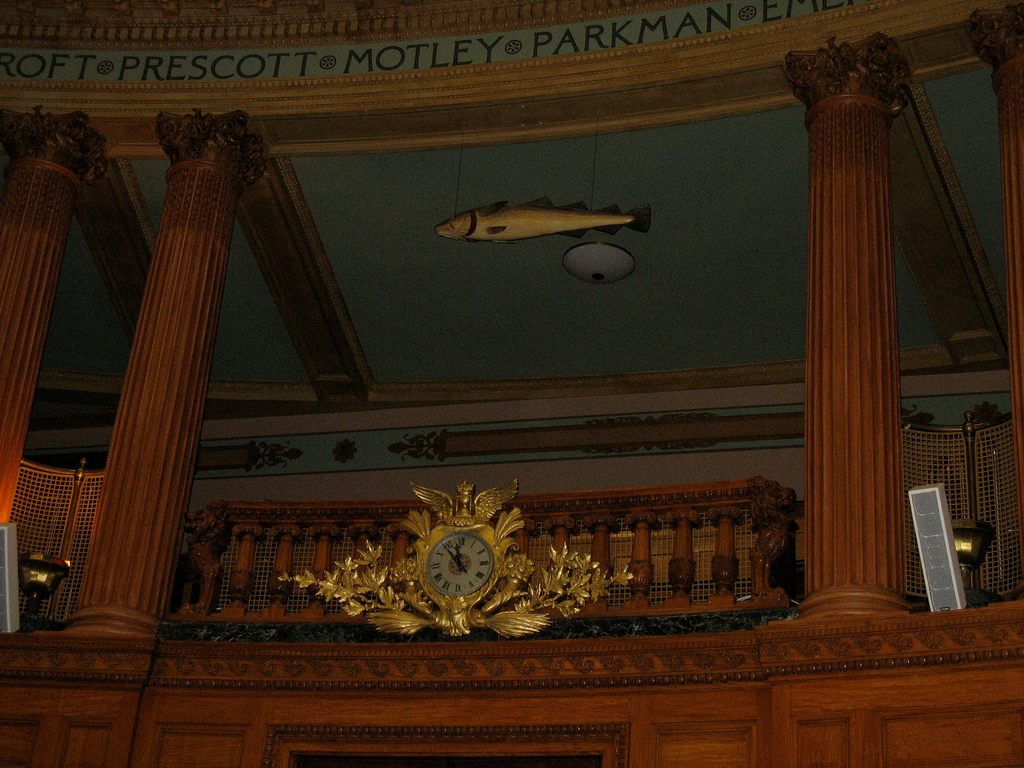 Boston, Massachusetts
Boston's Sacred Cod may seem an odd choice—and to be fair, lately it's Italy, not Massachusetts, that I've been lusting to visit—but there's nowhere like New England in the fall.
The foliage is beautiful, the air is perfectly crisp, and the apples (and more importantly, apple cider donuts) are delicious. I just finished reading Mark Kurlansky's Salt, so am unusually obsessed with the history of the fish trade at the moment, and hence the cod. Despite being the object of numerous thefts and pranks, a proud wooden codfish has been hanging in the State House since the early 1700s, a reminder of the colonial era's booming fishing trade. I also just love quirky local traditions like this—they are some of the most delightful places in the Atlas.—Meg Neal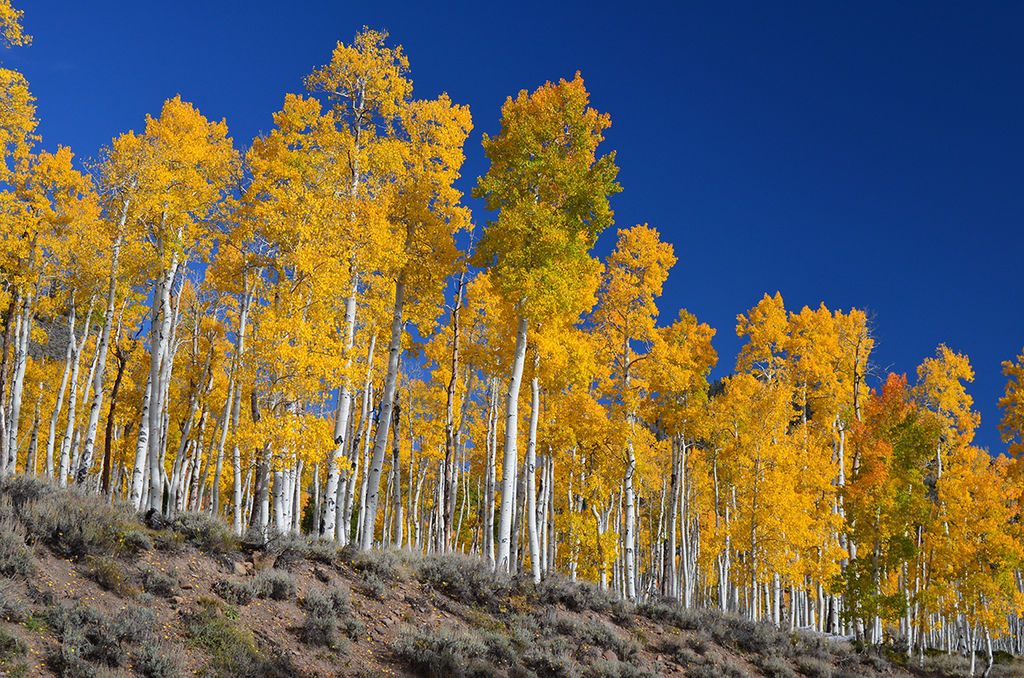 Richfield, Utah
I'd like to see the leaves turn on Pando, the Trembling Giant, the grove of aspen trees in Utah's Fishlake National Forest. Pando's 47,000 individual trees are a single organism: They're genetically identical, and nourished by a collective root system. Pando, which has been around for more than a million years, is one of the oldest living things on the planet, and also one of the biggest. (It used to hold the world's biggest title, but it's been supplanted by a giant fungus in Oregon. Fungus! That shouldn't even count!)
Pando's in danger, enfeebled by overgrazing from deer and elk. Arborists have launched a lively effort to save it, and I hope they do. But Pando is still huge and gorgeous, and I want to see its fall foliage, golden-yellow leaves against the white bark, beneath the dry, blue Utah sky.

Plus, while I'm in the neighborhood, I could visit my favorite state park on this or any planet, Goblin Valley.—David Plotz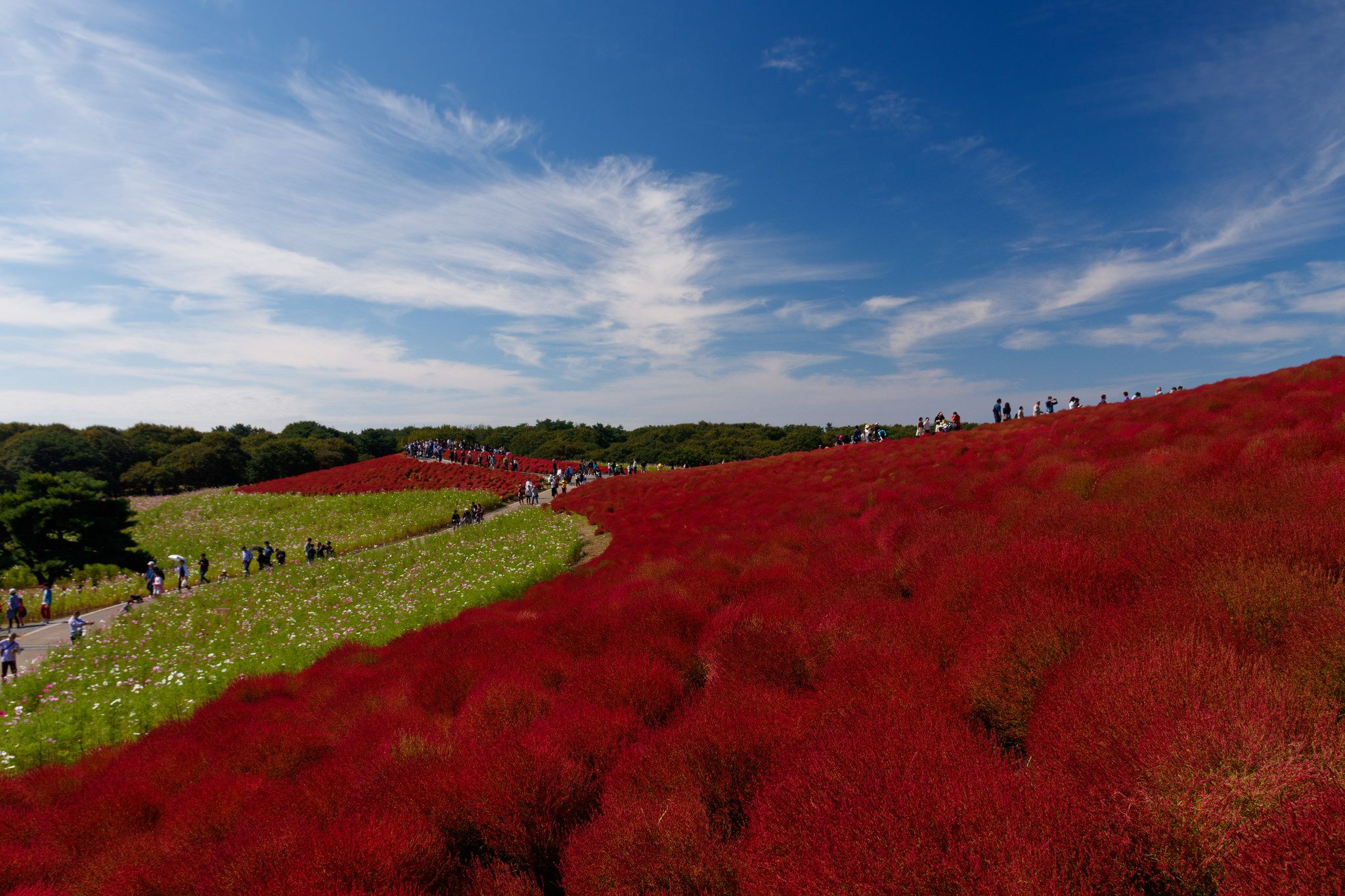 Hitachinaka, Japan
As far as dramatic fall colors go, it's hard to beat Hitachi Seaside Park in the northern Kantō region of Japan. I'd like to take a long, leisurely walk among the kochia plants, armed with a camera. During the rest of the year these summer cypress bushes are fairly nondescript, but in the fall, they turn a deep red and tend to sway in the breeze, like some sort of enchanted crimson sea.
Kochia Hill, where the most dense collection of "burning bushes" live, is located in the middle of a massive public park that includes a small amusement park, so I'd finish the day with a ride on the nearby Ferris wheel. I'm a sucker for a good Ferris wheel, and there's no better way to get a bird's eye view of Kochia Hill's gorgeous annual display. —Sommer Mathis.