A 105-Year-Old Tattoo Artist Is Teaching Girls to Ink for Independence
Filipino tribal tattooist Fang-od Oggay has built an economy on the back of skin art.
After a grueling hike through the jungle, traversing valleys and vibrant rice terraces to the top of the mountain where the teetering village awaits, visitors, tourists, and fans arrive sweaty and gleeful at Buscalan village, Kalinga, in the Philippines' far north.
Buscalan, which has narrow dirt walkways, limited electricity, and no cell phone service, is the most popular destination in Kalinga Province. Tourism to the village has increased significantly from an estimated 30,000 in 2010 to 170,000 in 2016.
Fang-od Oggay emerges from her wooden hut in the distance, and there is a literal rush towards her. Everyone wants a glimpse of this quirky, fastidious centenarian.
She is known worldwide as a living legend and the last tribal tattoo artist to hold the title of Mambabatok—the name given to traditional tattooists by the Kalinga ethnic group for thousands of years.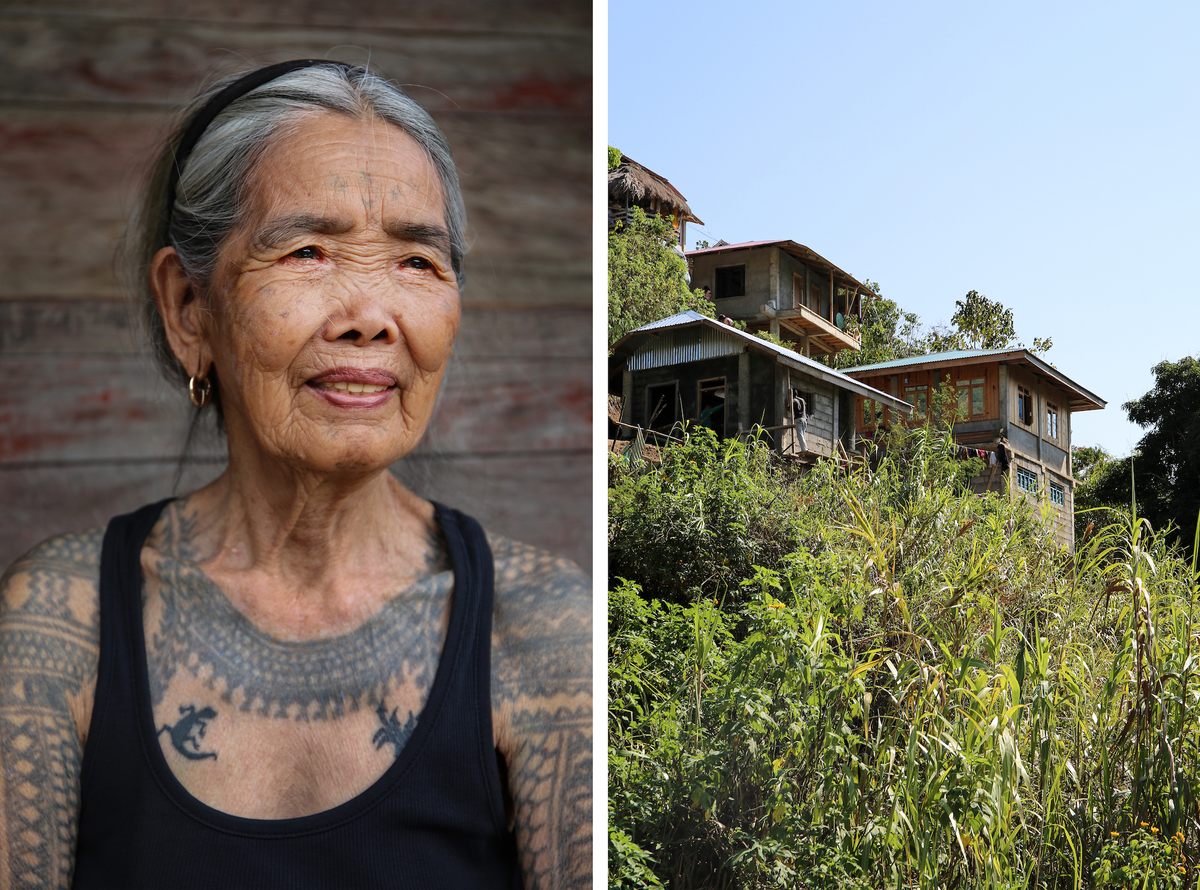 "When you die, a tattoo is the only thing that will remain on your body, so it is a treasure, a treasure that lasts," says Oggay.
For nine decades, Oggay has been single-handedly keeping the traditions of the Butbut tribe alive through a unique method of hand-tap tattooing.
It is an archaic procedure in which Oggay uses citrus thorns to prick the skin—either from calamansi, a cross between citrus and a kumquat, or pomelo tree branch. The thorns are threaded into a bamboo reed. Oggay marks the tattoo design on the skin with a delicate piece of straw. Charcoal and water are mixed together to make the tribal tattoo ink, which is wiped onto the thorn and hand tapped into the skin using a 12-inch bamboo hammer.
I traveled to the remote Philippine Cordillera Mountains to learn about Kalinga tattooing culture from Fang-od Oggay herself several years ago when the artist was 101. She recently marked her 105th birthday and was spotted dancing at the community-wide celebration held in her honor.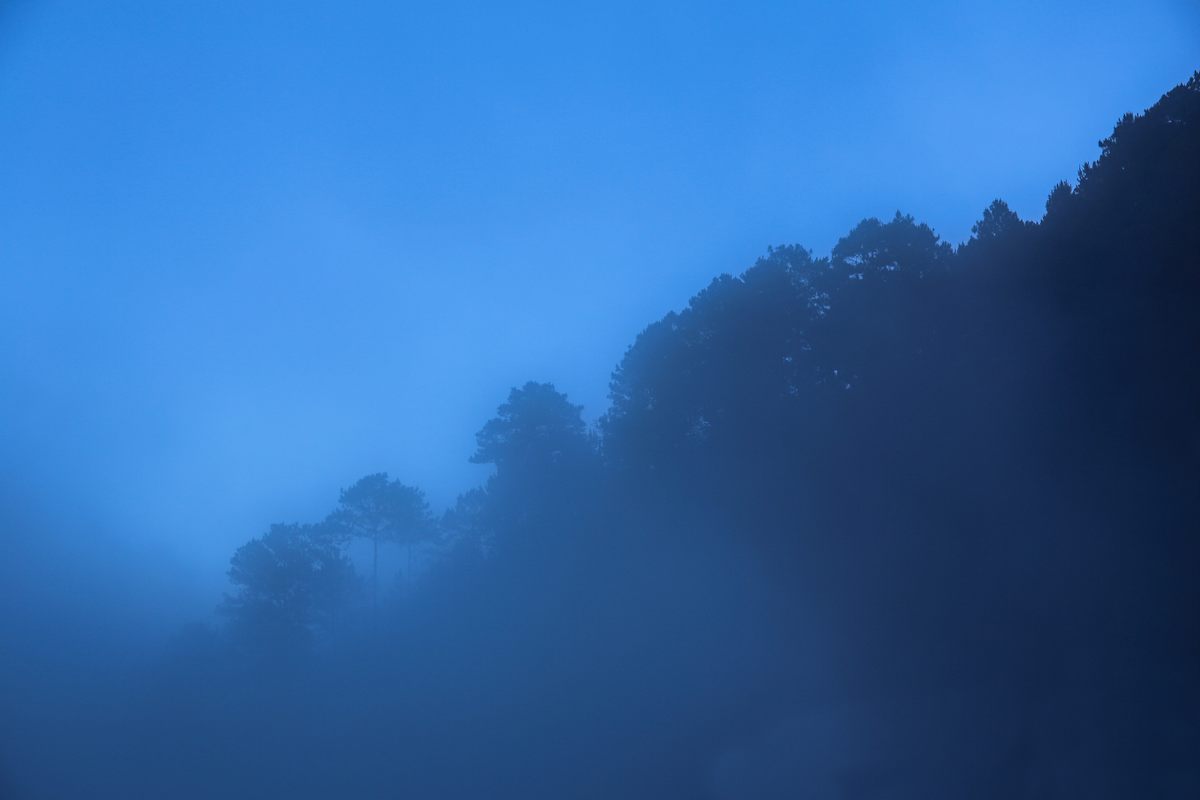 ---
Kalinga means "outlaw," which is highly appropriate.
During 400 years of occupation by Spain and the U.S., the Kalinga were one of the few tribes to not come under foreign rule, due to their fighting skills and contempt for outsiders.
Thousands of years ago the tribe was involved in bloodthirsty battles for land and honor with neighboring villages. At night, their victorious battles were celebrated with rice liqueur, drunk out of the skulls of enemies, and dancing to the beat of gongs made out of human jaw bones.
Triumphant Butbut head-hunters and male warriors of the indigenous tribe would go to the mambabatok in Buscalan, Kalinga to get the batok (a hand-tapped tattoo), a symbol of their bravery and courage for protecting their village against enemies, to the extent of killing them. And the number of tattoos on a warrior was directly related to the number of heads they took. This tradition has long since ceased, and the last warrior to receive a tattoo from Oggay for killing was in 2002, she says.
In 2018, just 30 warriors remained in Buscalan.
---
Anyone wanting to learn and practice the art of tattooing has to know what it feels like, says the Kalinga. They have to experience the pain in their bodies.
For men, a Kalinga tattoo was traditionally a sign of strength, wealth and power. But there is also a romanticism around Filipino tribal tattoos. Tattoos here represent beauty. A tattoo turns a girl into a woman, and the more tattoos you have, the more beautiful you are, says the Kalinga.
"We were tattooed because we wanted to have sex appeal and to be attractive to men," says Oggay. "Many of the elders here have the same tattoos as their husbands. It's a Kalinga tradition for the wives of warriors to match their tattoos with their husbands."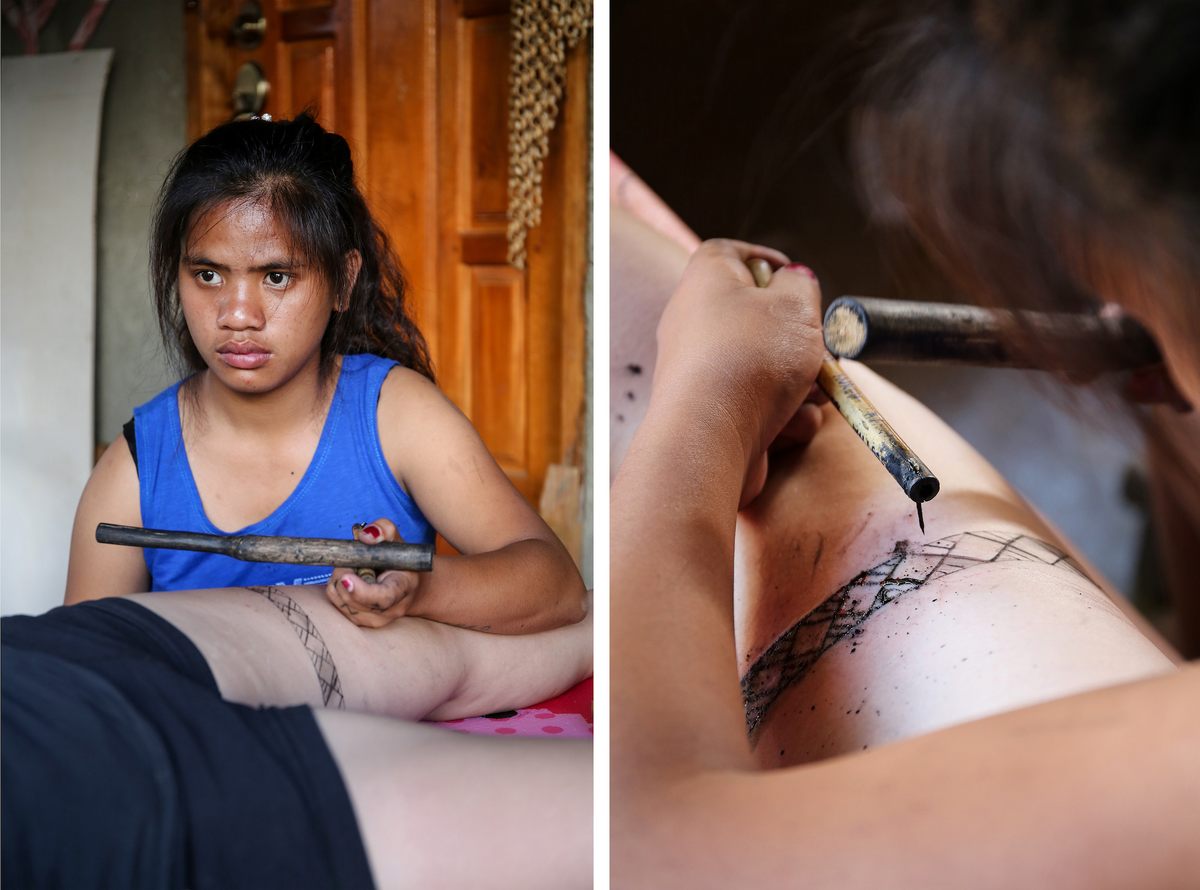 In 2018, there were 20 female elders in Buscalan with full-body tattoos, many of whom received their first tattoo at just 13. And these women and their daughters and granddaughters played a major role in the village.
"They are the breadwinners," says Oggay. "They work in the fields and rice terraces. Women are hardworking and strong, we can carry heavy loads and do labor work … if a man can, why not a woman. We want to support our families and village, it is the Kalinga way."
And it is also the women who carry on the indigenous inking of the batok.
Oggay was the first female tattoo artist in Kalinga. But she may not be the last Mambabatok. Over time there has been a shift, with young women taking up the ancient tradition. Through tattooing, they are economically supporting the whole village.
"The women have more interest and passion in carrying on this millennium-old technique," says Oggay, "And they are patient. Men cannot be as still and precise for long periods of time as a woman can."
---
Oggay may have spent her whole life tattooing head-hunters, but these days her time-honored folk art is practiced on the countless tourists that visit Buscalan village each year.
In her second century, she moves freely, indifferent to the public adoration, feeding her ducks and pounding rice. Visitors sit next to her posing for pictures with their thumbs up and sidle up to her to kiss her cheek.
Her fame is undeniable. But no one seems to really get her attention, which she saves for her tattooing.
"When I was young my friends and I were always tattooing each other but my tattoos were always the better ones," says Oggay.
"Whagay, the Mambabatok from the neighboring village of Ngibat, tattooed me when I was 15 years old, he took three days to tattoo my full body," says Oggay. "He then went on to teach me the art of Kalinga tattooing."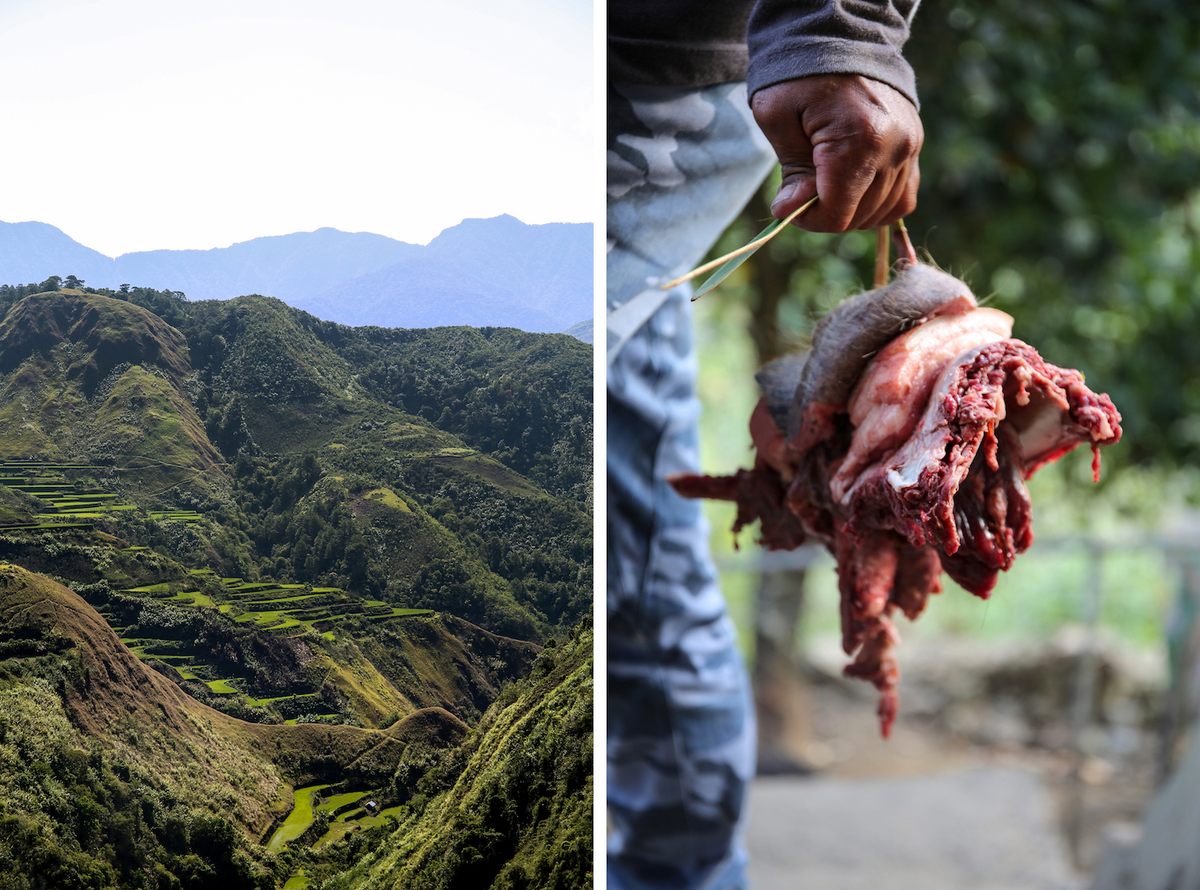 Oggay never married and has no children. At 101, she did everything on her own in absolute independence. "I have boyfriends but when I was 25 years old the man I loved died during the Japanese occupation, so instead of marrying another I choose to dedicate my life to tattooing," she says. "Through it I support myself and my village. In fact, the proudest moment in my life was when I started tattooing."
Thousands of hopeful tourists from all corners of the earth make the journey to Buscalan each year to get a "Fang-od tattoo," having read about her on the internet. And one must wonder how the stardom around Oggay, in the Philippines and globally, affects her and her craft.
In October 2017 Oggay traveled to Manila to appear at the Manila FAME trade show, an international showcase for the country's artisans. Her appearance received global criticism after a photograph surfaced on social media showing Oggay sleeping at the tattoo show after tattooing an estimated 300 trade show attendees in two days. There was debate over whether Oggay should have traveled from her remote tribal environment at her age, and whether she was being exploited.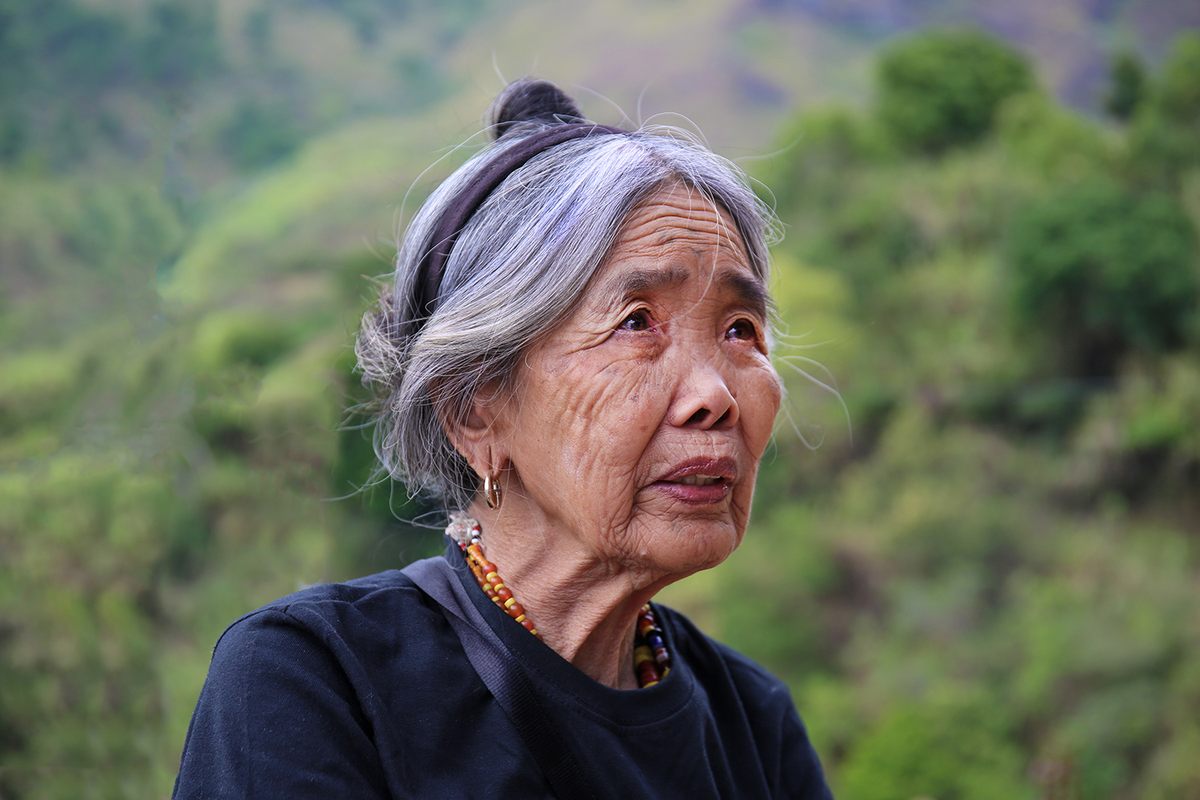 "It was an honor to be invited and I wanted to see what Manila was like," she says. "The organizers said I should stop and rest, but I didn't want to waste the journey of the many people who had come to see me for a tattoo."
"On social media they were saying that I was exploited but I love what I do and I chose to go and earn money for the village, which has little other income outside of Kalinga tattooing."
In 2018, Oggay was nominated by the Philippine Senate for the honor of National Living Treasure. "The batok survived centuries of foreign influences. Bestowing [Oggay] the National Living Treasures award does recognize the beauty and grace of the ancient art of tattooing and ensures that such Filipino heritage will survive and continue to exist," said Senator Nancy Binay in a statement.

"I work seven days a week from 8-5 p.m., so I am proud to be recognized for the work that I do," Oggay said at the time. "I have a great responsibility. With every tattoo, I am sharing a piece of Kalinga's history and culture with someone new."
---
Oggay is the oldest witness of the Kalinga tribe to see her home turn into a destination for travelers from around the globe. And in many ways she is an entrepreneur, having turned her craft into a booming business that supports the whole tribe.
"I do more selfies than tattoos these days," she laughs.
Filipino tattoos symbolize unity and belonging to a tribe, in contrast to the western tattoo culture where designs are often used to show individuality.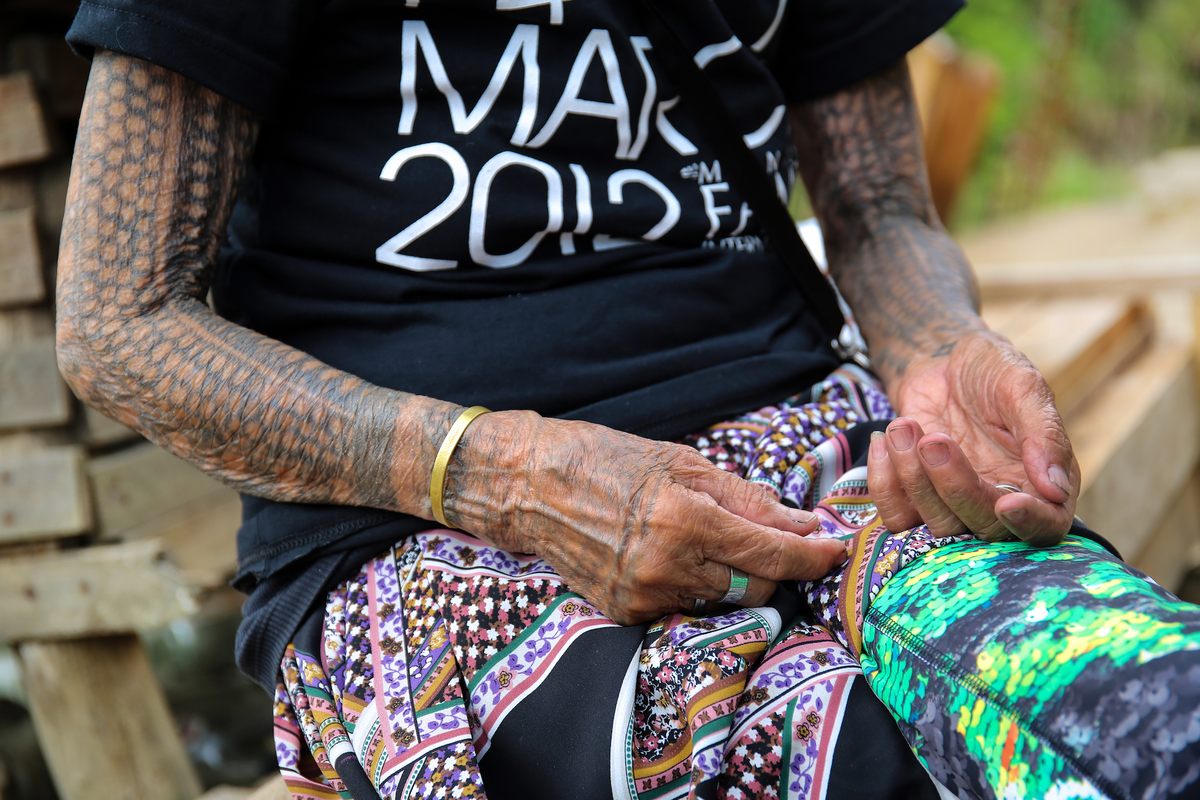 "I used to tattoo village warriors, and the Kalinga designs meant a great deal to them, but these symbols don't have the same significance to foreigners who choose more 'aesthetically pleasing' designs, no matter the meaning," Oggay says.
The income from visitors, however, is welcome. "Kalinga tattooing supports the village, and without the tourists we would not survive."
---
Buscalan Village has a population of over 700, of which 20 young girls are practicing the art of skin painting. In 2018, the youngest, Inga, was just nine years old.
Of these tattooing descendants of warriors, Fang-od's grandnieces Grace Palicas and Elyang Wigan are arguably the most experienced and sought after. They are also the only two girls who Fang-od allows to tattoo with her. Grace started tattooing when she was nine and used to practice on Oggay's arms.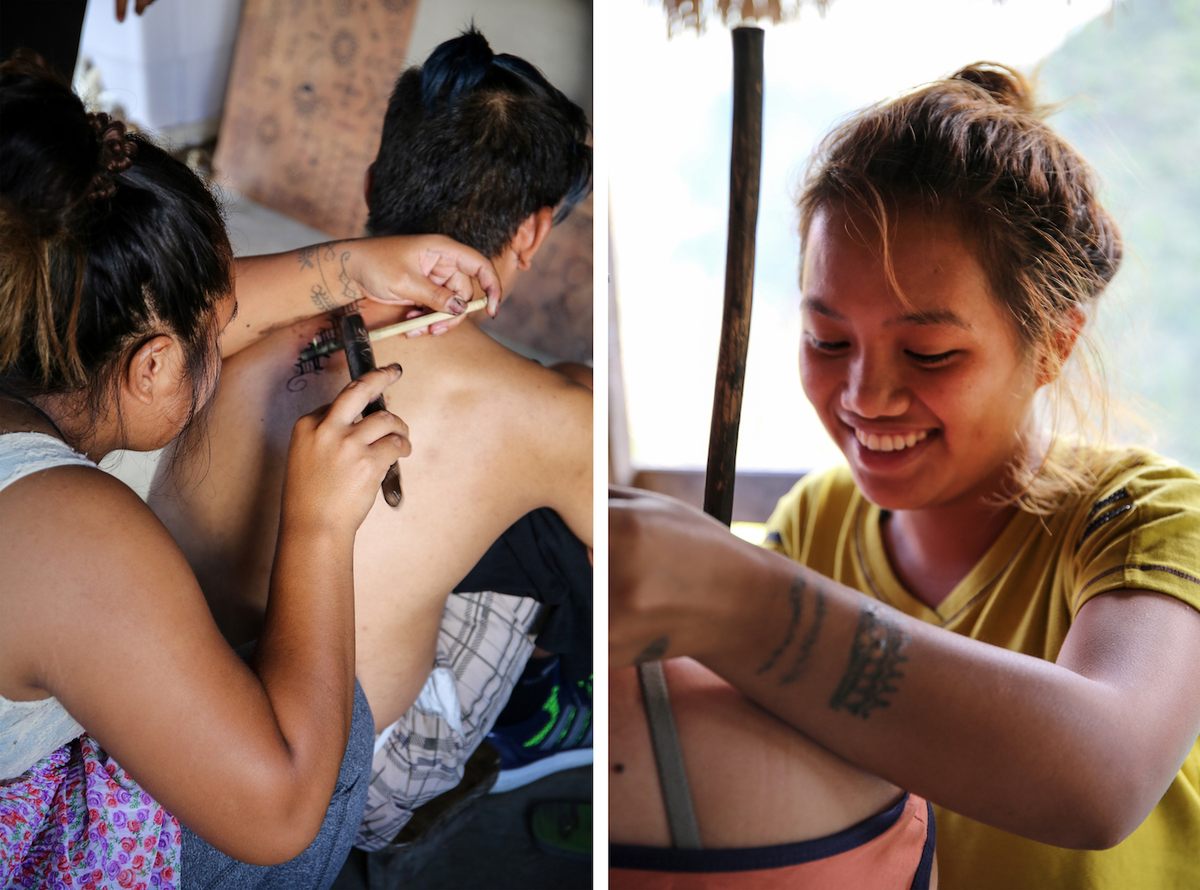 "Grace and Elyang watch me and learn off me, but I never taught them, they are not my apprentices, I took no apprentices," she says. "Kalinga tattooing cannot be taught, there is no school for it, you either have the talent or you don't."
The Kalinga believe that the art of tattooing can only be passed through the bloodline. "If someone outside the tribe were to continue the tradition, the tattoo would be infected," explains Oggay. "As I have no children, my grandnieces are the only choice and my knowledge of traditional tattooing is my only inheritance, so I let them watch and learn."
---
On one hand, the women practicing this ancient art are giving life to the tradition through thousands of skin jabs daily. On the other, Buscalan village has become completely reliant on tourism, brought about by Oggay and money that tattooing brings. "I'd be sad if this art form were to die with me," she says.
The future of the village and of the Kalinga tattoo lie in the keen hands of the next generation of female inkmasters, whose reservation books are already full. These young women have been learning to adapt tribal designs to suit the tastes of modern visitors. This does represent a shift in meaning from the traditional Kalinga approach, but, as Oggay says, "I am happy that anyone can have a tattoo now without having to kill someone."
At 101, she tired easily, but her eyesight remained sharp. She pledged to "continue tattooing until I lose my vision," but also imagines a life less hectic.
"You asked what I want to do in my future," she says. "I want to rest."
A version of this story originally appeared on May 9, 2018. It was updated in March 2022 after Fang-od Oggay's 105th birthday.