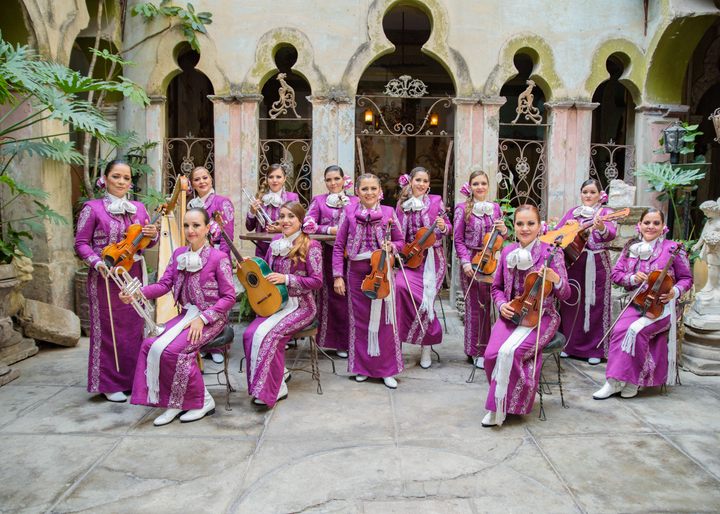 Mexico's All-Female Mariachi Bands Are Shaking Up Tradition
The genre is moving beyond its machismo-fueled roots.
It's a drizzly Sunday afternoon in Tlaquepaque, a Mexican city known as much for its ceramics and pottery as it is for its mariachi culture. In a traditional Mexican restaurant and bar called El Patio, the atmosphere is buzzing. Families dine on large plates of pescado and pollo in mole sauce and share stories, while steps away in the eatery's central al fresco courtyard, two dancers donning colorful baile folklorico dresses stand at the ready on a raised wooden stage. Suddenly, a melody of voices fills the air, followed by the sounds of trumpets and violins. It's the iconic mariachi song Guadalajara, which the band members sing as they work their way around the restaurant, the dancers twirling and stomping their feet in unison. It's all very normal for Mexico's Jalisco state—the birthplace of Mariachi music—save for one major aspect: the band is entirely female.
Mexico's Mariachi heritage dates back at least to the 18th century. The genre of music and related culture began in the countryside of the west and later made its way into Guadalajara, Jalisco's largest city. Along with using a range of various string instruments and, in more modern bands, trumpets, Mariachi music tells the stories of the Mexican people, from their love for their homeland to unrequited love for another, in styles that range from ballads and waltzes to polkas and pasodobles. Mariachi performers are also known for their distinctive attire: Charro-style suits that typically consist of short jackets embroidered with embellishments on either side and pants to match, a piteado (a type of decorative leather) belt and matching buckle, tie, boots, and a sombrero.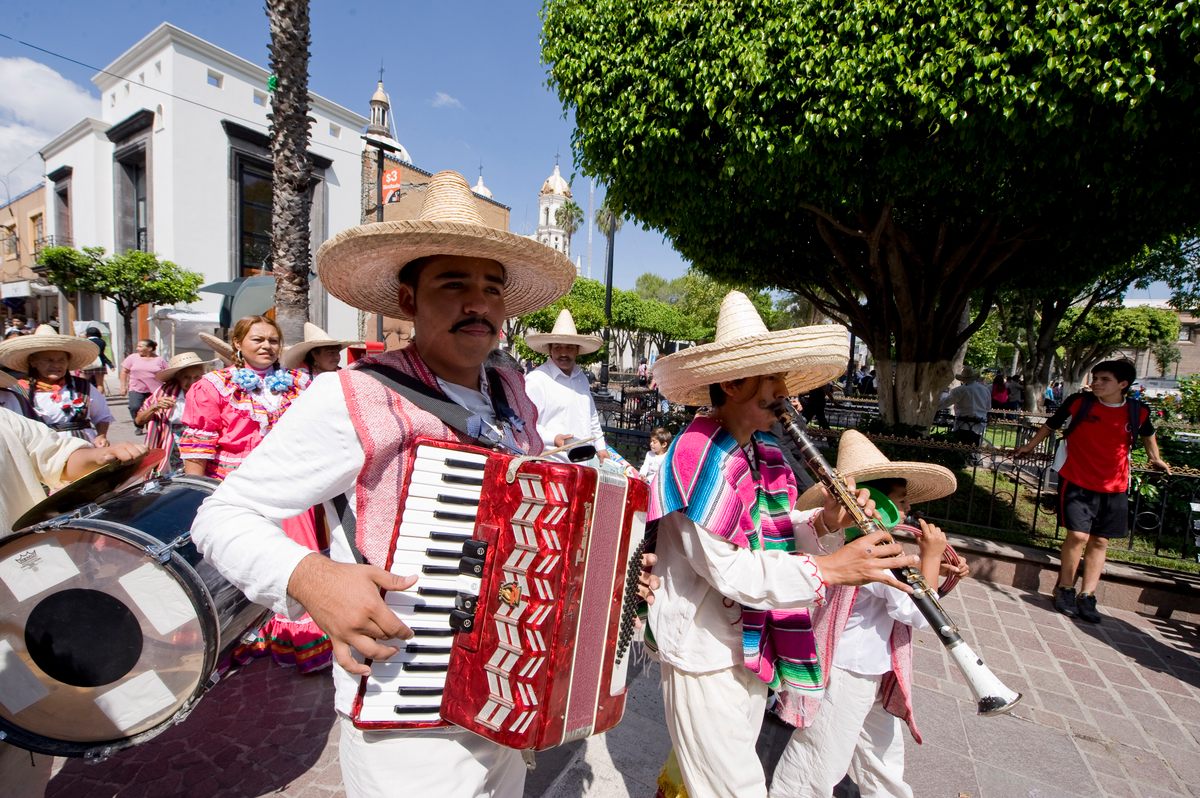 You can always find mariachi bands playing in Guadalajara's Plaza de los Mariachis, or main square, and musicians strolling along the streets of Jalisco towns such as Tapalpa and San Sebastián del Oeste. In 2011 UNESCO designated Mariachi a symbol of Mexico's "Intangible Cultural Heritage," joining previous designated treasures such as Dia de Muertos and traditional Mexican cuisine. But while all-female mariachi bands are well-known outside of the country in cities such as Los Angeles and New York, they're still fighting to find their place at home.
"For every 100 mariachi bands, only about five of them are female," says Verónica Oviedo, leader of Mujer Latina, the same band playing at El Patio and one of the few all-female bands in the area, despite performers like Lola Beltrán breaking the gender role nearly 75 years ago. Often referred to as "Lola la Grande" and later, "Queen of Mariachi," Beltrán was a Mexican actress and singer who became a prominent part of the Mariachi scene for more than 40 years, beginning in 1947, and is largely responsible for spreading Mariachi music globally. Yet, it remains more common to see female mariachi performers in a mostly-male band than within an all-female group. "People have the notion that women can't play Mariachi music," Oviedo says. "But in reality, it's good musicians and bad musicians that is the real distinction."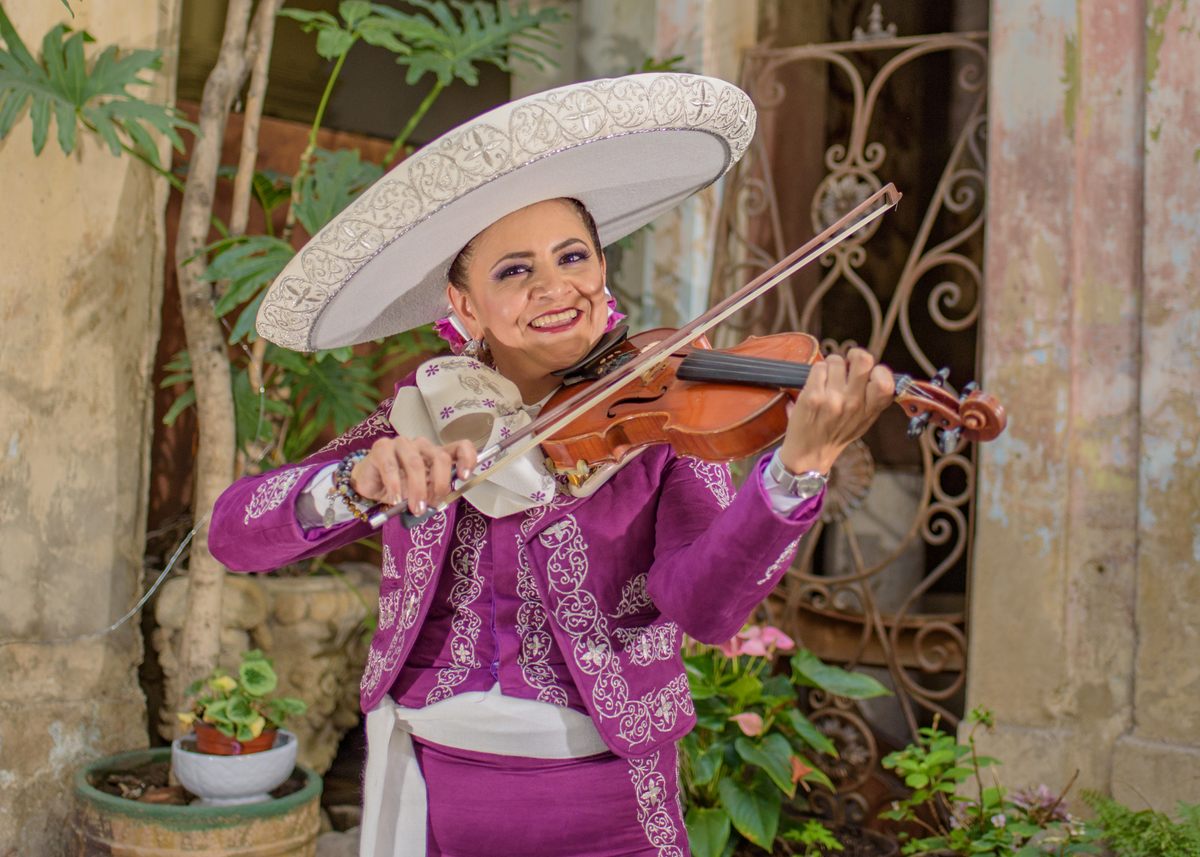 Oviedo began Mujer Latina in December 2004 with only eight members, but the group has since grown to 10, including five violinists, two trumpeters, a guitarrón (or large bass guitar), vihuela (guitar-like string instrument), and harp. Dressed in matching outfits of deep purple or black that substitute long skirts for pants, but otherwise adhere to the standard Mariachi attire, they've played across Mexico, performed as part of August's annual International Mariachi Festival of Guadalajara, and have even taken their show of mostly traditional songs to international festivals, such as Vancouver's Mariachi Festival Canada and Festival del Tamal in southern California.
"Part of the reason I started Mujer Latina," says Oviedo, "was to open another door for Mexican women. In a culture where 'mariachi' exudes machismo, it's been a difficult thing." Oviedo tells me that choosing a different musical genre, such as pop or bolero, would have been acceptable in Mexico, but not mariachi. "For most women who do perform Mariachi, it's more of a hobby," she says. "We're still expected to combine it with household obligations and childcare, but for men it's a viable business."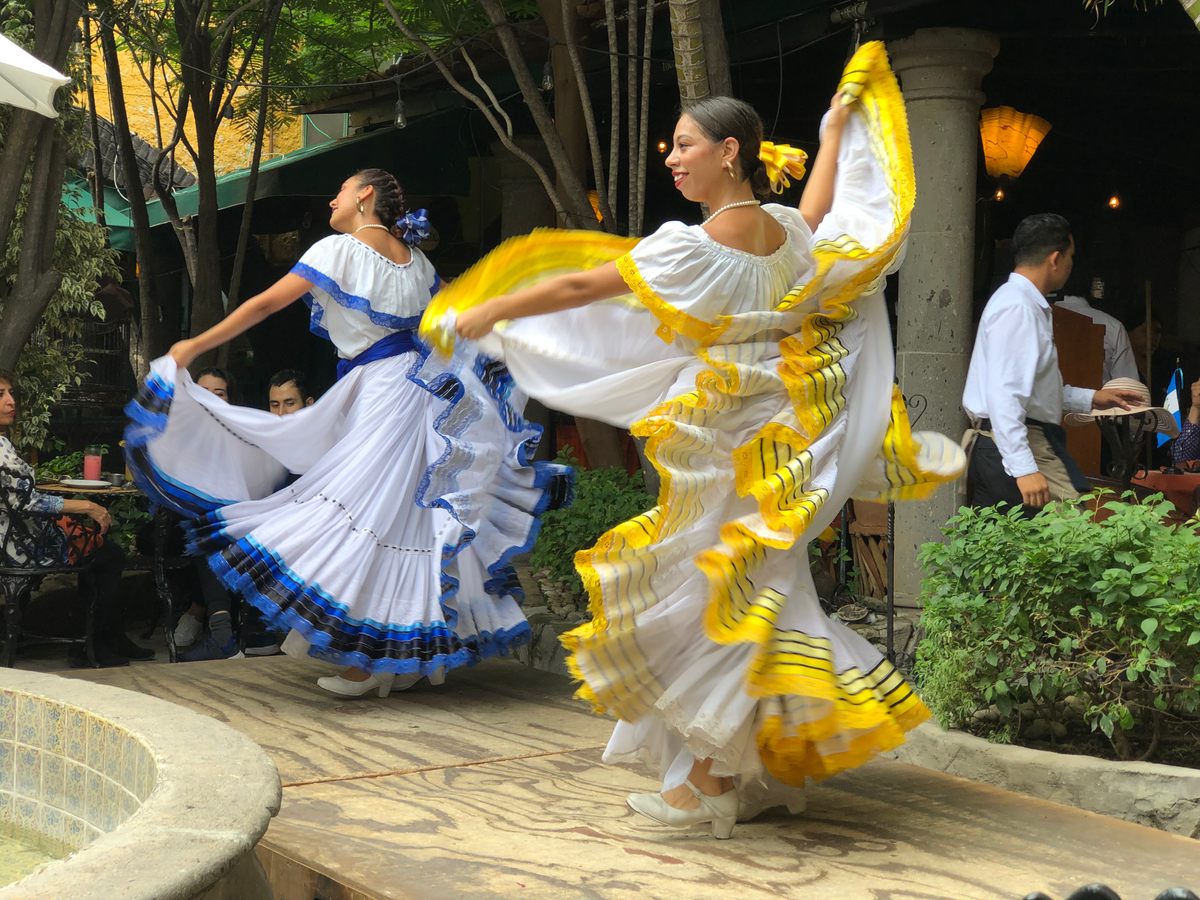 Unlike most Mariachi performers, Oviedo didn't come from a family of musicians. Instead, she decided to learn guitar on her own and then violin, taking lessons for three straight years before forming Mujer Latina. "Mariachi music is very much its own entity," she says. "For example, you play a mean salsa trumpet, but that doesn't mean you'll be able to make the switch to a Mariachi band. It's another reason you won't see many female Mariachi musicians—it takes a commitment of time that's just not there."
Mujer Latina's members average around 36 years of age, and many of them (especially those who are single) have other means of employment. Several are full-time teachers, dedicating their nights and weekends to music. Despite the uphill battle, the women agree that it's both a sense of pride and the ability to partake in a beloved Mexican tradition that prompted most of them to join Mujer Latina. For example, Margarita Rojo Chávez has been a violinist with Mujer Latina for 12 years. "I studied music at the University of Guadalajara as a professional career," she says. "Although my family thought that my foray into music would be in a symphony orchestra or philharmonic, I loved the idea of being in a mariachi band. Here I can also sing, and am already one of the main voices."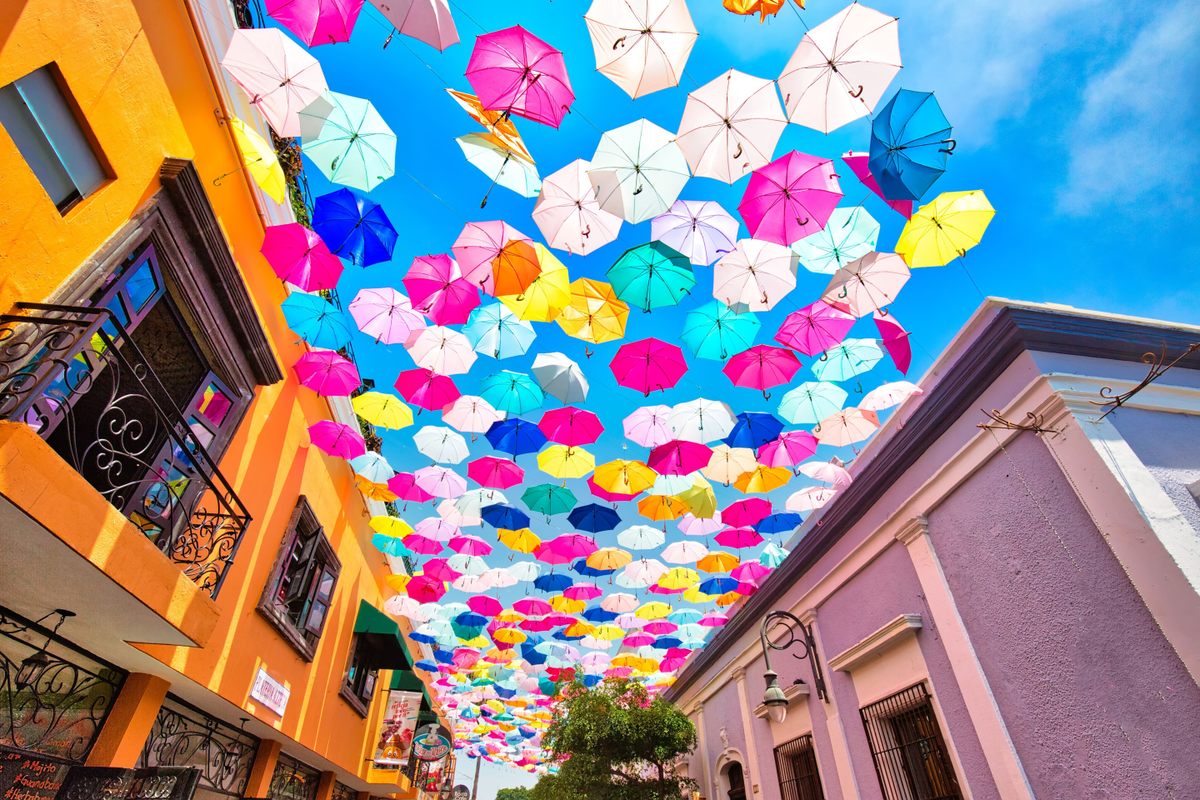 Elva Aranza Zavala Souza, also a violinist for Mujer Latina, says it's her love of Mexican music, along with an opportunity to represent Mexico in other countries, that inspired her to give Mariachi music a go. "It can be difficult, since it's not economically profitable for women and the environment remains predominantly male," she says. "However, my parents could see how hard I've been working and decided to assist me with my dream."
According to Oviedo, it's a common misconception that all mariachi bands are male—one that occurs because male musicians are the traditional model. "We have [mariachi bands] at everything: playing in restaurants, as part of parades, even performing at funerals," she says, "but the majority of people still envision them to be made up of men." In fact, today there are Mariachi bands made up entirely of children; fathers and sons playing together, and even LGBTI groups. Amid the differences in age, gender, and/or sexuality, the music sounds the same.
"Most of the responses to Mujer Latina have been positive," says Oviedo, "both from male mariachi performers and our audiences. Mariachi may have a long tradition of being male, but Mariachi is also Mexico. [The genre] has opened doors for our country. Now, it is also opening doors for our women."
You can join the conversation about this and other stories in the Atlas Obscura Community Forums.