Florida Man Fends Ten Sharks Off With Fishing Pole
Florida, man.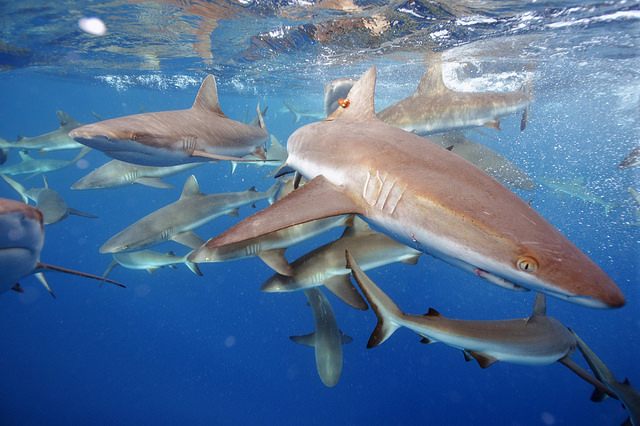 Sharks! (Photo: US Fish and Wildlife Service/CC BY 2.0)
There are good fishing trips, where you pull in something big and photo-worthy. There are sad fishing trips, where you don't get much of anything. And then there are very, very scary fishing trips, where you become trapped on a sandbar by ten sharks and have to spend an hour and a half fending them off with your pole.
Steve Moon of Southwest Florida found himself in this last situation yesterday, WFTX reports. The 24-year-old was going after red fish near Burnt Store Marina in Punta Gorda when he got stranded near a sandbar. His phone lost service. Then the sharks started showing up.
"It wasn't a big deal until I counted ten," Moon told the outlet. "They kept getting closer and more aggressive… I saw them out of the corner of my eye come toward my leg, and I said, yeah, it's a seven-foot shark." Moon says he used his fishing rod to keep them out of range, until he remembered his phone's emergency button. Fire rescue crews were there within ten minutes. No word on whether Moon actually caught any red fish.

Every day, we track down a fleeting wonder—something amazing that's only happening right now. Have a tip for us? Tell us about it! Send your temporary miracles to cara@atlasobscura.com.