Welcome to the Spanish Village Saved by Art—And Nearly Destroyed by Fire
In Southern Spain, a destructive blaze threatened both Genalguacil's people and their beloved public art.
In early September, the flames ate their way across hills forested in chestnut and cork oak. The inferno would come within a mile of the tiny whitewashed village of Genalguacil, perched on a steep slope high in the dry air of southern Spain. The sky darkened and a hot autumn wind brought the scent of fire to the hamlet's 600 or so residents as they gathered their livestock, packed their belongings, and evacuated. As a trail of cars, trucks, and motorbikes snaked along the twisting, narrow road to safety, residents left behind more than their homes.
There was the table-sized mosaic lizard scurrying across the wall near the village church; the three white skeletons lazing on a rooftop; the lamp post, whimsically canted because its base rests on an orange; and the giant pencil drawing a line down the side of a village house. Genalguacil, once a dying rural village, had been reborn in the 21st century as an enchanting open-air gallery of fantastical and surreal public art. Now, as the destructive and deadly fire loomed, so did the question: How to safeguard the art of a town's museum when the town is the museum?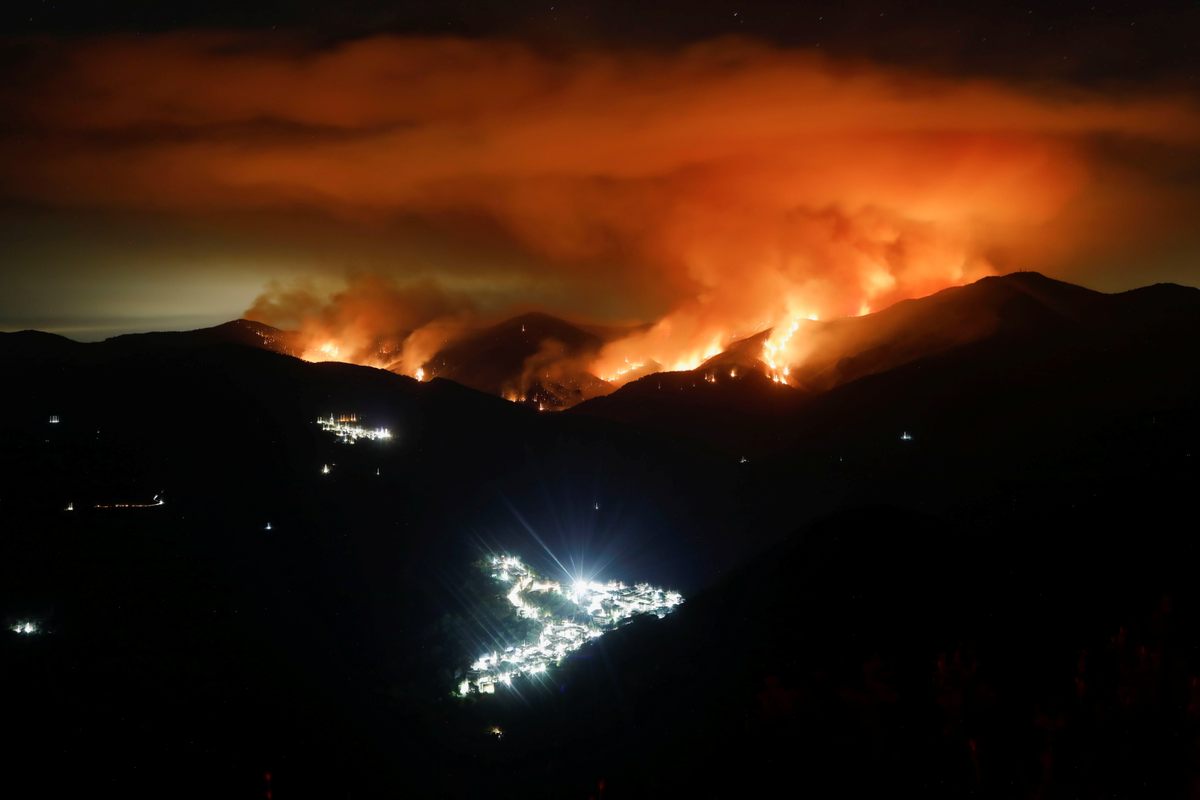 "We were evacuated when you could see the flames on the ridge across the valley. You could almost feel the heat," says the village's mayor, Miguel Herrera, speaking from the Fernando Centeno López Museum of Contemporary Art, the heart of the town's art collection. "I stayed as long as I could, with another neighbor. We thought we'd use garden hoses attached to agricultural water tanks to defend the village if we had to. That was quite possibly a dangerous decision, but I am responsible for this town, our neighbors, and our irreplaceable art collection—our town's heritage."
When the fire broke out, artist Juan Zamora, whose 2014 work "Vulture Shadow" stretches across a village rooftop, was preparing a new exhibit called "Doubling Ecologies," about the village's unique natural environment, in collaboration with Taiwanese artist Wan-Jen Chen. Zamora had already sourced tropical plants for the exhibit; they were housed in the museum when the evacuation was ordered. Having no idea how long the evacuation would last, he recalls, "I was afraid that these beautiful plants—conceived as a living sculpture—might die of thirst, so I drove to the village to rescue them. It was like a heist." Artist Miguel Moreno, whose 10 ceramic soccer balls are installed in cheeky locations around the village, also remembers his worry as the flames advanced: "I suffered sleepless nights thinking about the fire surrounding Genalguacil. They don't deserve it. It's a special place with special people."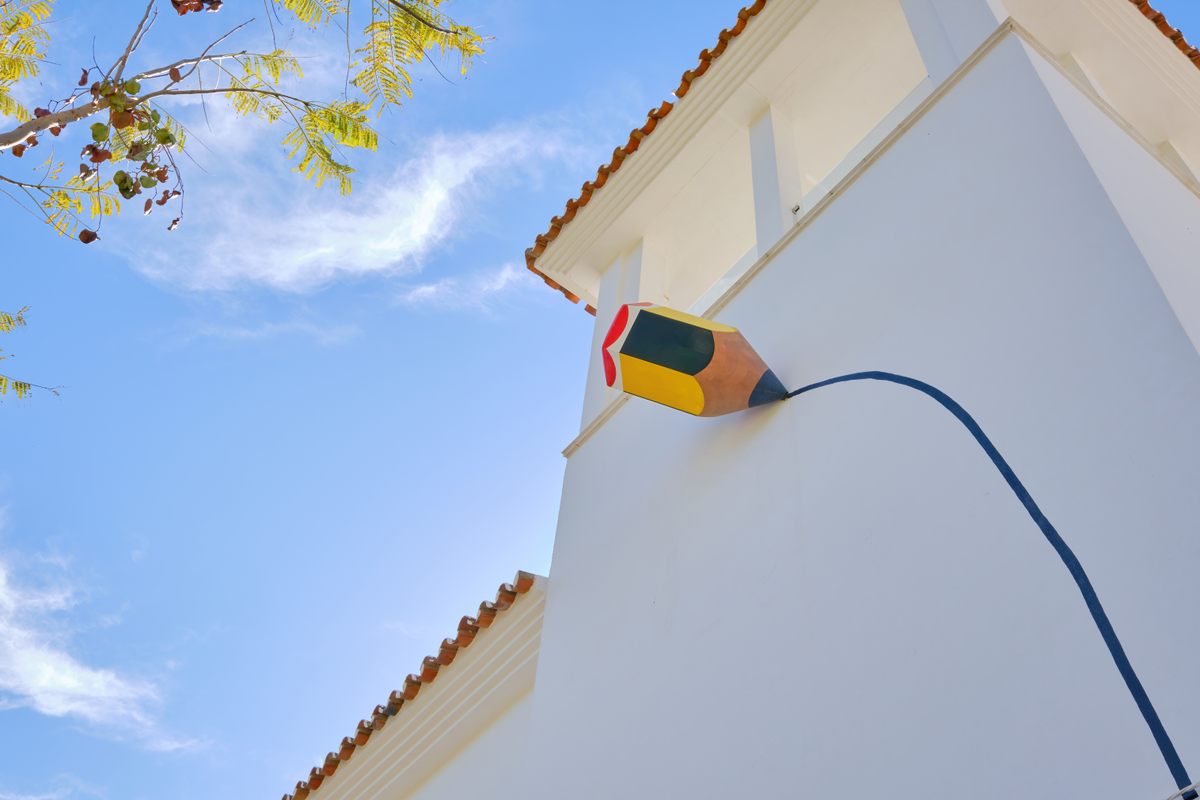 Relief finally came when rain allowed firefighters to get control of the blaze. Villagers returned, grateful for the reprieve but mindful of how close they had come to tragedy. This is not the first time fire has threatened Genalguacil's art, and many locals feel obliged to save the more than 500 artworks installed around the town. After all, it was art that saved Genalguacil.
Back in the mid-1990s, the economy of Genalguacil was almost entirely based on cork and chestnuts, with a few hardy hikers drawn to the nearby valley's endangered Pinsapo fir forests. Fernando Centeno, the mayor at the time, explains: "When tourists came, there was nothing to do and nowhere to stay." Many families with children and young people were moving away. The village was shrinking so fast that its future was in doubt. "It was a time to act if there ever was one, to save Genalguacil from the fate of so many other extinct villages," says Centeno.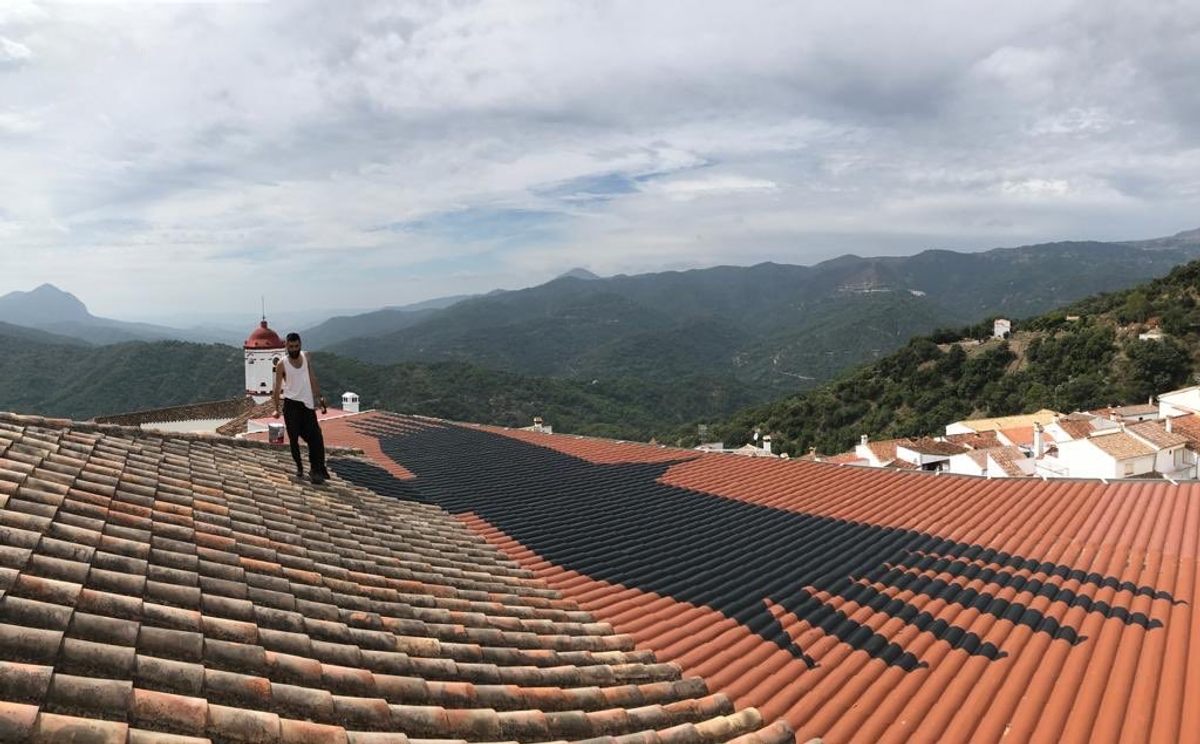 In 1994, Centeno had an idea one morning while reading about a contemporary art exhibit in Madrid. "Why can't we do things like this here in our beautiful village?" he recalls asking his wife. "I decided I would use art to revive our dying village. Art against depopulation." He would transform the entire village into a living museum, and he would invite artists from all over the world every other year for an art festival, modeled after the Venice Biennial. He would focus on contemporary art because, he says, it's "the art of the youth—the art of the future."
Not everyone loved the idea of contemporary art. Antonia Herrera, the town's informal matriarch, knew Genalguacil needed a shot of vitality, but her idea of art was oil paintings by Goya and Caravaggio, not café chairs, horns, and a bicycle wheel suspended over a pueblo street. Centeno needed her support to get this initiative off the ground, so he dropped by her house one afternoon and laid out his vision of Genalguacil as an open-air museum village. Herrera became swept up in his excitement for the project. She got to work visiting neighbors and town council members, talking up the idea. "I knew what I had to do. I had a mission," she recalls.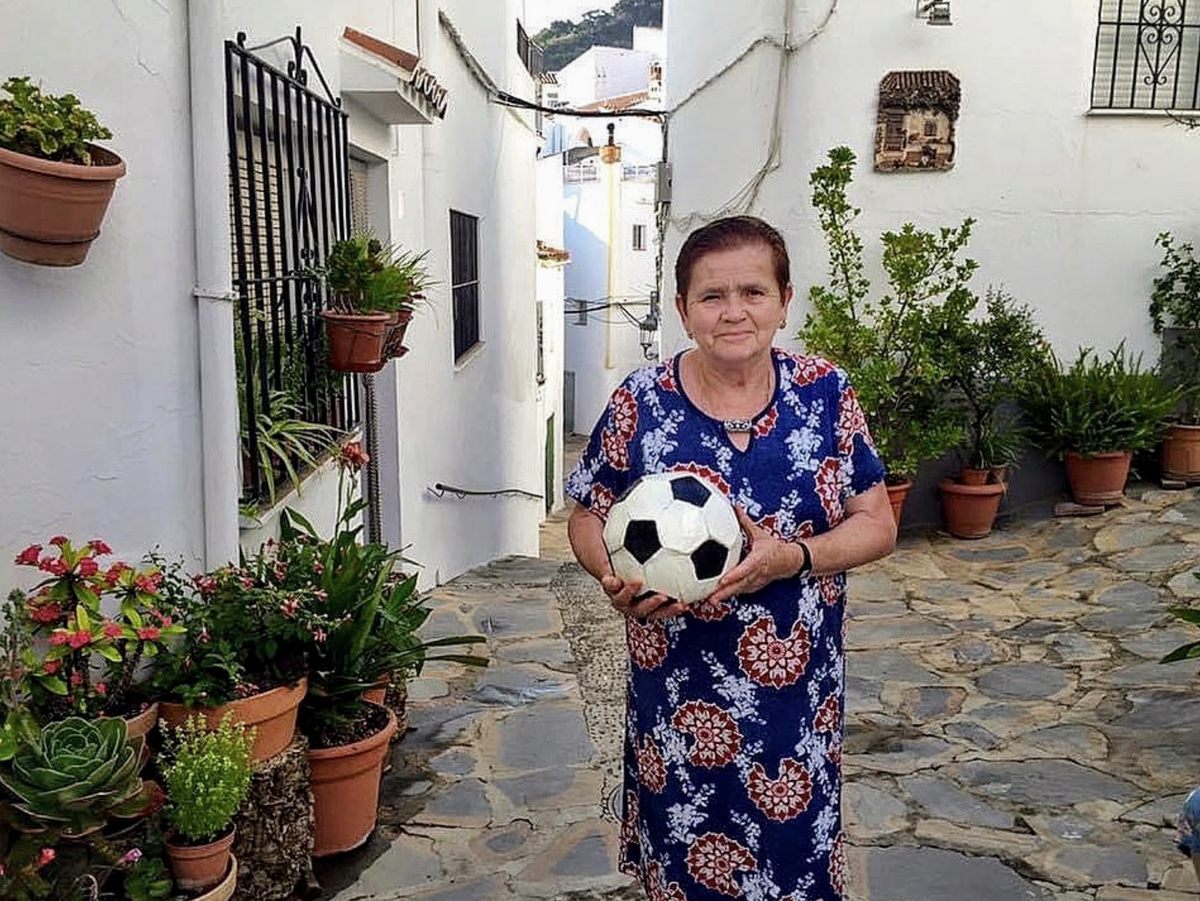 Now, the former critic of the plan is one of its greatest assets, so much so that a new museum gallery was recently named in Herrera's honor. "If someone shows up and knocks on the door to see the museum, Herrera brings the key she keeps at home and opens it for them," says University of Malaga art historian Juan Francisco Rueda. Herrera, who once bristled at contemporary art, has embraced it as the future. "One day soon, we will have 600 works, so every neighbor will have their own piece of art," Herrera says. Asked what her favorite piece is, she replies: "That would be like picking a favorite grandchild—impossible!"
Many other locals share Herrera's enthusiasm, serving as docents and conservators, or opening guesthouses and vacation rentals, known in Spain as "rural houses." As many as 2,000 tourists visit the town daily during biennial Art Encounters, when new art is installed. "We've exceeded my expectations," says Centeno. "We are known worldwide and we have helped the local economy diversify from agriculture. In the nearly three decades since our first Art Encounters, four restaurants, two bars, a hotel, and numerous rural houses have opened. The population has been growing about 5 percent per year."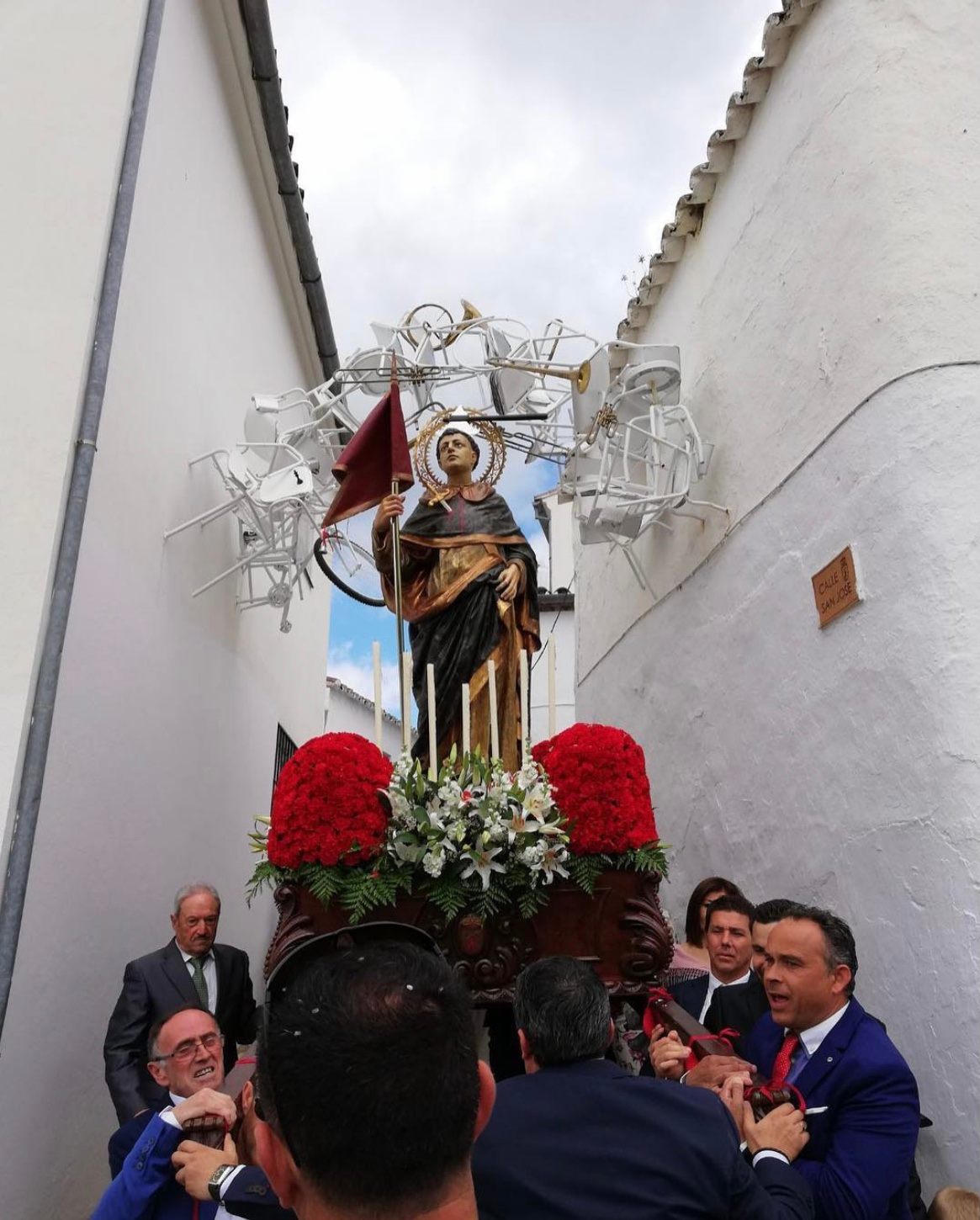 Many of Genalguacil's new residents were attracted by the village's embrace of the unconventional. "This is an open village," says art historian Rueda, who frequently assists with curation projects at Genaguacil's museum. "They welcome all, especially if you've got a good idea to add to the village's art collection."One of those new residents was the late Ute Seidel, a German artist who lived just outside Genalguacil, where she moved after her 2010 residency in the village. She passed away in 2021, leaving behind her artistic contribution to the village: a mosque door painted beside the church to acknowledge the town's complex religious history. "The people here are so used to being conquered, occupied, invaded," Seidel mused in 2020. "Now they accept anyone. Even a strange German artist like me." Fellow artist Zamora feels the same: "I'm a Madrid city kid at heart but I would live here. It's full of art, happenings, artists from all over the world coming through. And they would have me!"
As the climate changes and the rains become less reliable in Andalusia, current mayor Herrera reminds me that Genalguacil has been threatened before—parts of the valley burned in 1994 and 2004, though the most recent fire was unprecedented both in intensity and how close it came to the village. "The fire plan for the province is deficient for isolated villages," Herrera says, adding that preparation for, and recovery from, potential destructive blazes relies on fundraising by surrounding towns and the artists who have come to love the village that appreciates them. The artist community raised about 30,000 euros (about $34,000) to help the town recover from the nearly-catastrophic September fire, which destroyed crops and caused a steep drop in tourism.
"The fire burned for 46 days, but we never lost hope," says Herrera. "We've survived drought, famine, a rural exodus, and fires. We'll survive this, too. Artists are already proposing works that engage with the theme of fire."'