The Artist Collective That Brings Heavy Metal Fever Dreams to Life
For nearly 40 years, a rotating cast of artists has made costumes and props for GWAR—the band behind one of the world's wildest stage shows.
A dozen or so workbenches occupy a roughly 2,000-square-foot space in downtown Richmond, Virginia. They're covered with neatly arranged tools and safety gear: jigsaws, scalpels, grinders, palm sanders, airbrushes, gloves, and goggles. But it's not your average fabrication shop or artists' studio. It's more like slipping backstage at a sadistically hilarious Disney production.
Walls are hung with custom-fabricated items such as bison-horned demon masks, spike-studded battle armor, wearable satyr hooves and haunches, cybernetic steel mandibles, prosthetic buzzsaws, and more.
Here are molds for making human bodies from latex. There is a trio of freshly painted polystyrene space goblins. Over there is a station for mixing no-stain, water-soluble blood and bodily fluids. Deeper in the room is a leather codpiece from which hangs a two-foot-long, fish-lipped phallus with dangly bright red testicles for a chin.
What the hell is going on here?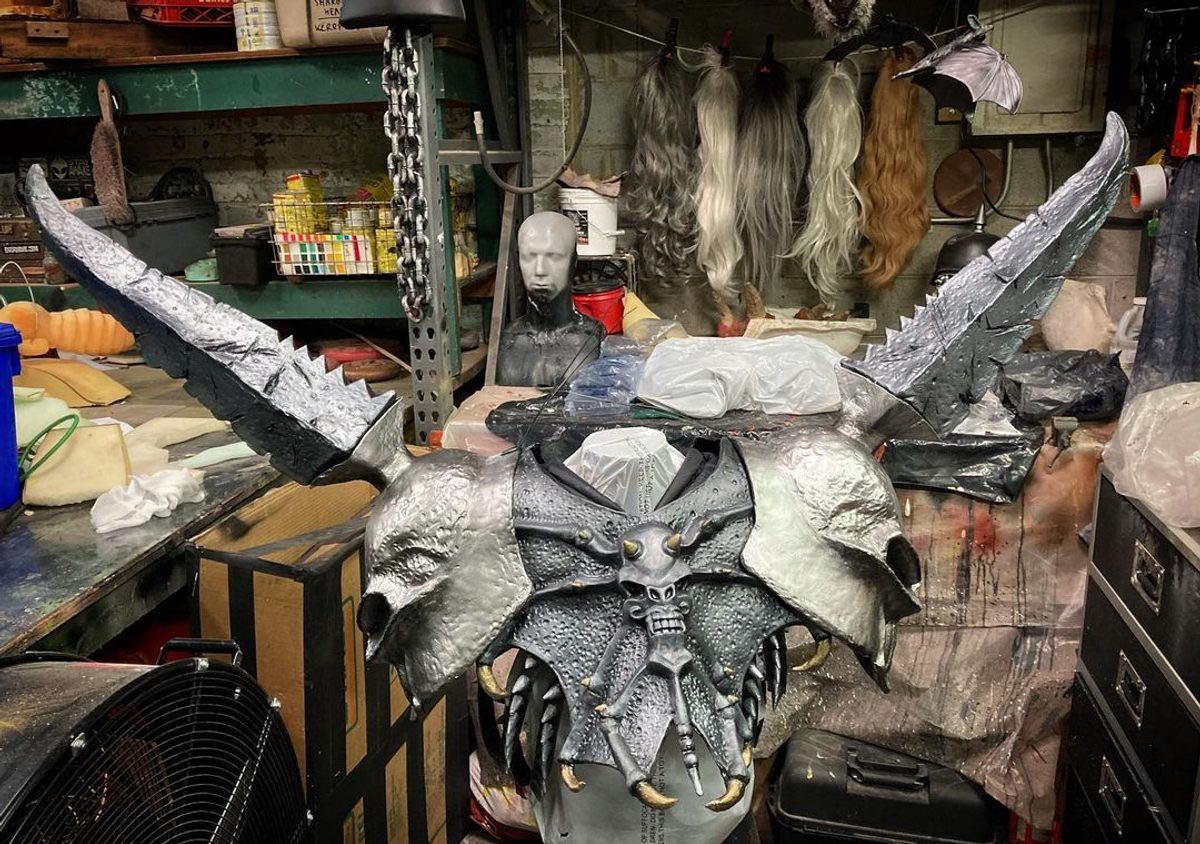 This is the studio that creates custom costumes, sets, and stage props for two-time Grammy-nominated thrash metal band GWAR. The group's costume- and FX-fueled live comedy-horror operas won international attention in the early 1990s and continue to disgust and delight audiences today. Concertgoers can expect things like huge, grotesque monsters raging amid fiery explosions, as band members dressed like satanic space-ogres shred on guitars with headstocks that spew fake blood.
The artists working here are responsible for bringing the show to life. They're considered band members and work on everything from storylining albums and scripting stage productions to filming music videos and writing branded graphic novels. And sometimes they play monsters onstage. The team consists of two full-time artistic directors and a few dozen contract contributors. Most attended art school at nearby Virginia Commonwealth University (VCU).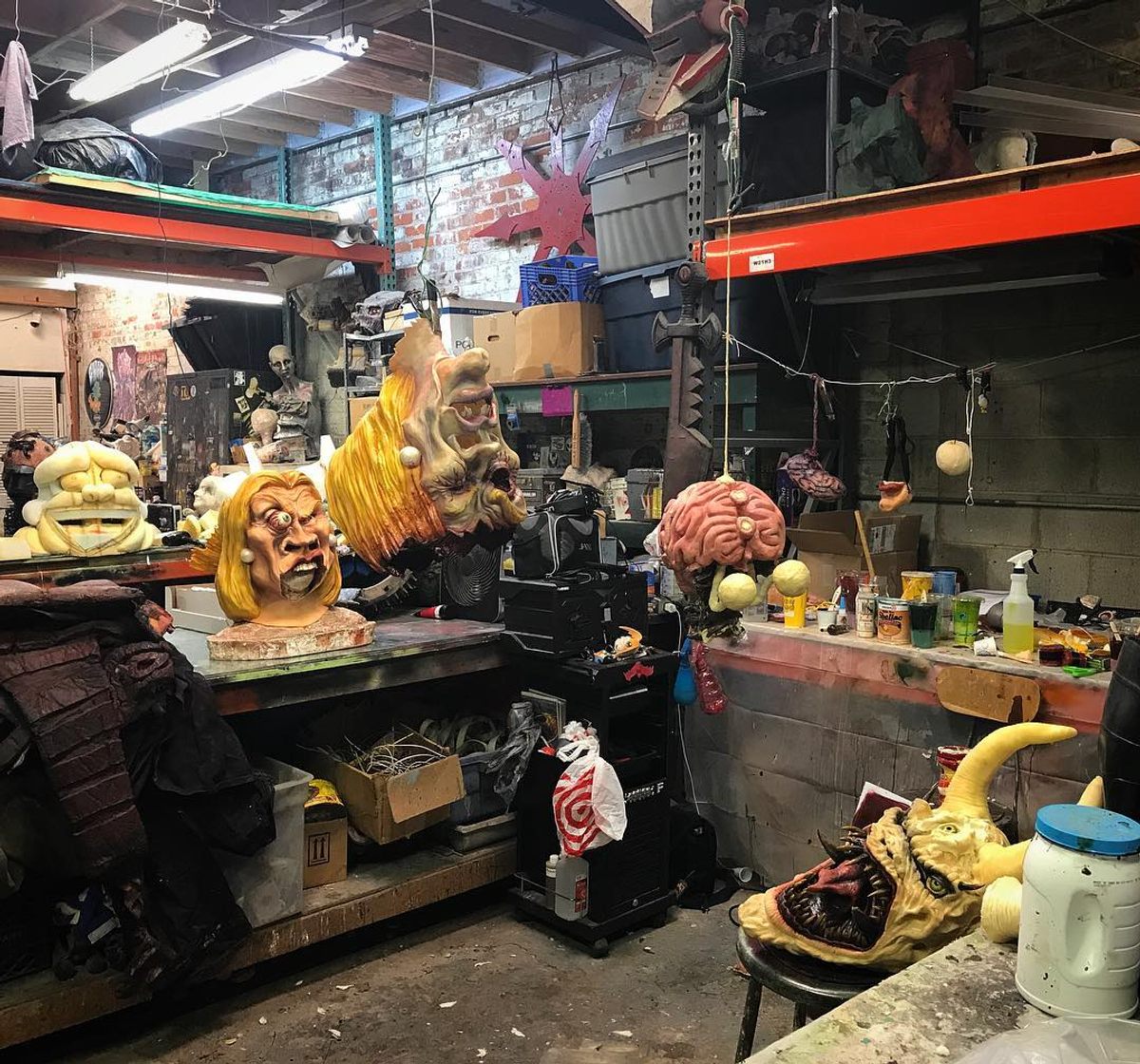 "Your average person comes in here, takes two looks around and starts thinking they've stumbled into some Silence of the Lambs–type shit," laughs artistic codirector, Bob Gorman, 52. "But really, we're just [a group of guys and gals] that got lucky enough to land a gig making crazy, off-the-wall stuff for a rock band."
---
GWAR and its artistic offshoot evolved from a chance collaboration between a Richmond-based musician and aspiring filmmaker in the mid-1980s.
A group of college-aged artists had leased a century-old dairy warehouse in a rundown industrial neighborhood not far from VCU, says Gorman. They built illegal live-in studios, a communal kitchen, and stages for bands. They threw wild parties and the space became a melting pot for creatives with ties to the city's punk scene.
Founding resident Hunter Jackson was shooting an indie horror-comedy about space pirates—Scumdogs of the Universe—and writer-illustrator Dave Brockie was the lead singer of a local metal band.
"Hunter had a background in sculpture and had built his characters around all these crazy costumes," says Gorman. Brockie asked to borrow the outfits for a show. The crowd's over-the-top reaction inspired him to pitch Jackson on a collaboration. They got the idea to turn the movie into a stage production that was "part–Black Sabbath, part–Monty Python, part–Nightmare on Elm Street," says Gorman. The show would be like an opera, wrestling match, horror movie, and immersive theater production rolled into one.
"Dave kept saying, 'People will pay for the rock 'n' roll and the rock 'n' roll will pay us to make the … art!'" says Gorman. Brockie and Jackson recruited resident musicians and artists, founded GWAR, and started adapting the Scumdogs script into a background narrative.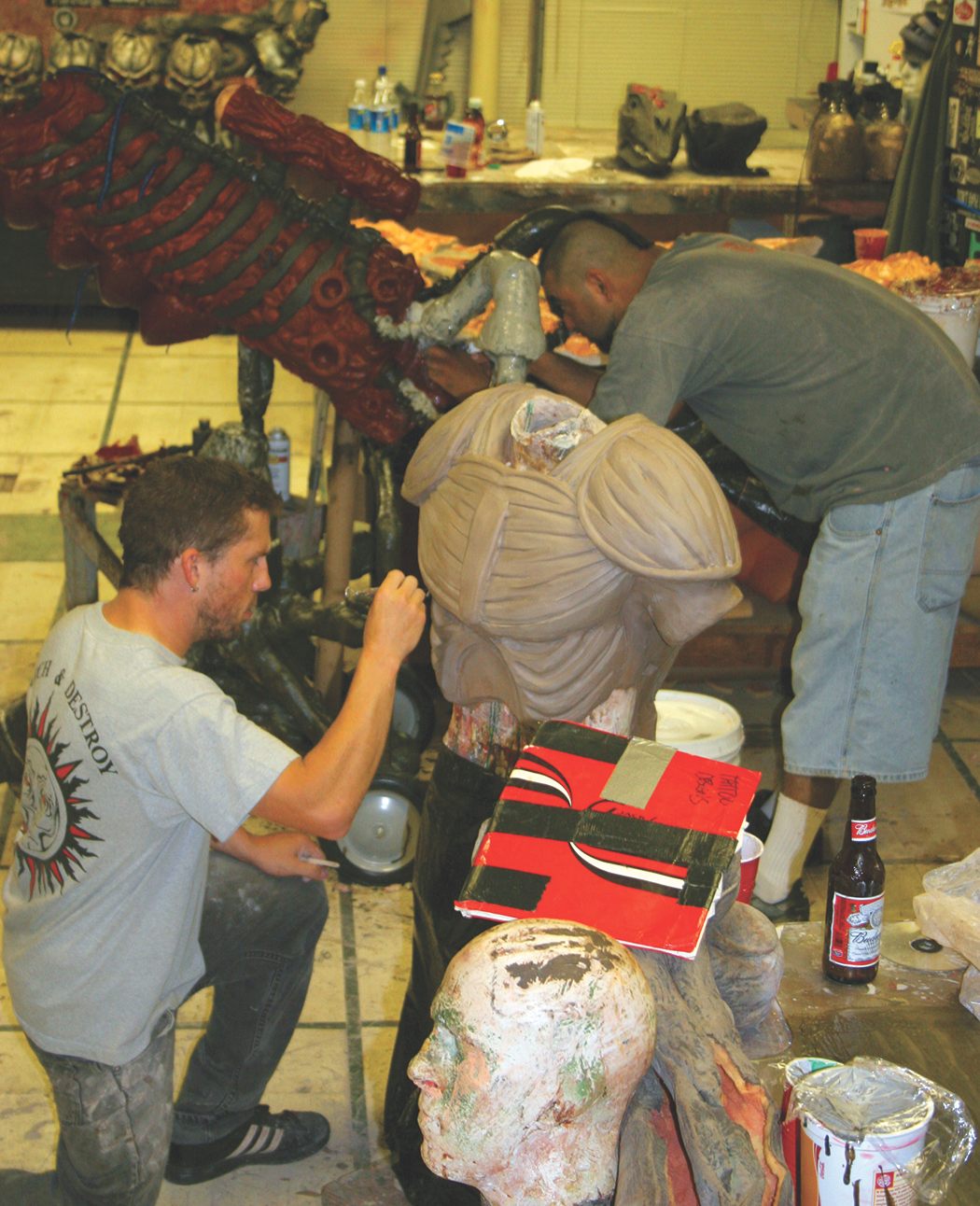 Gorman, then an art student at VCU, joined the collective shortly thereafter, in 1988. "I'd been watching [the dairy building scene evolve for about two years] and was feeling pretty fed up with academia," he says. The curriculum seemed divorced from his artistic interests. "What Hunter and Dave were trying to do had never been done before. I thought, 'I can always go back to school, but this is once-in-a-lifetime.'"
When Gorman joined, production methods were crude. Costumes mostly consisted of body paint and found objects—say, a WWII helmet, a bison pelt, and ram horns—pieced together with hot glue, thread, and duct tape. Fake blood was essentially water and food coloring. Systems for spraying crowds—persistently one of the most talked-about features of a GWAR show—amounted to little more than buckets and Super Soakers.
Jackson and Gorman wanted to up the ante, artistically, at least. They got jobs with a local prosthetics company and learned to make latex flesh and movable appendages. They combined the methods with traditional sculpting techniques to craft nightmarish masks, disemboweled torsos, giant lizard feet, impish claws, and more.
But the innovations didn't stop there. Members learned to make props from polystyrene foam and hardened rubber, and studied Hollywood techniques for ballistic wounds and lacerations. They developed recipes for realistic body fluids and engineered elaborate systems for expelling them from everything from beheaded human dummies, to phallic codpieces, to guitar headstocks.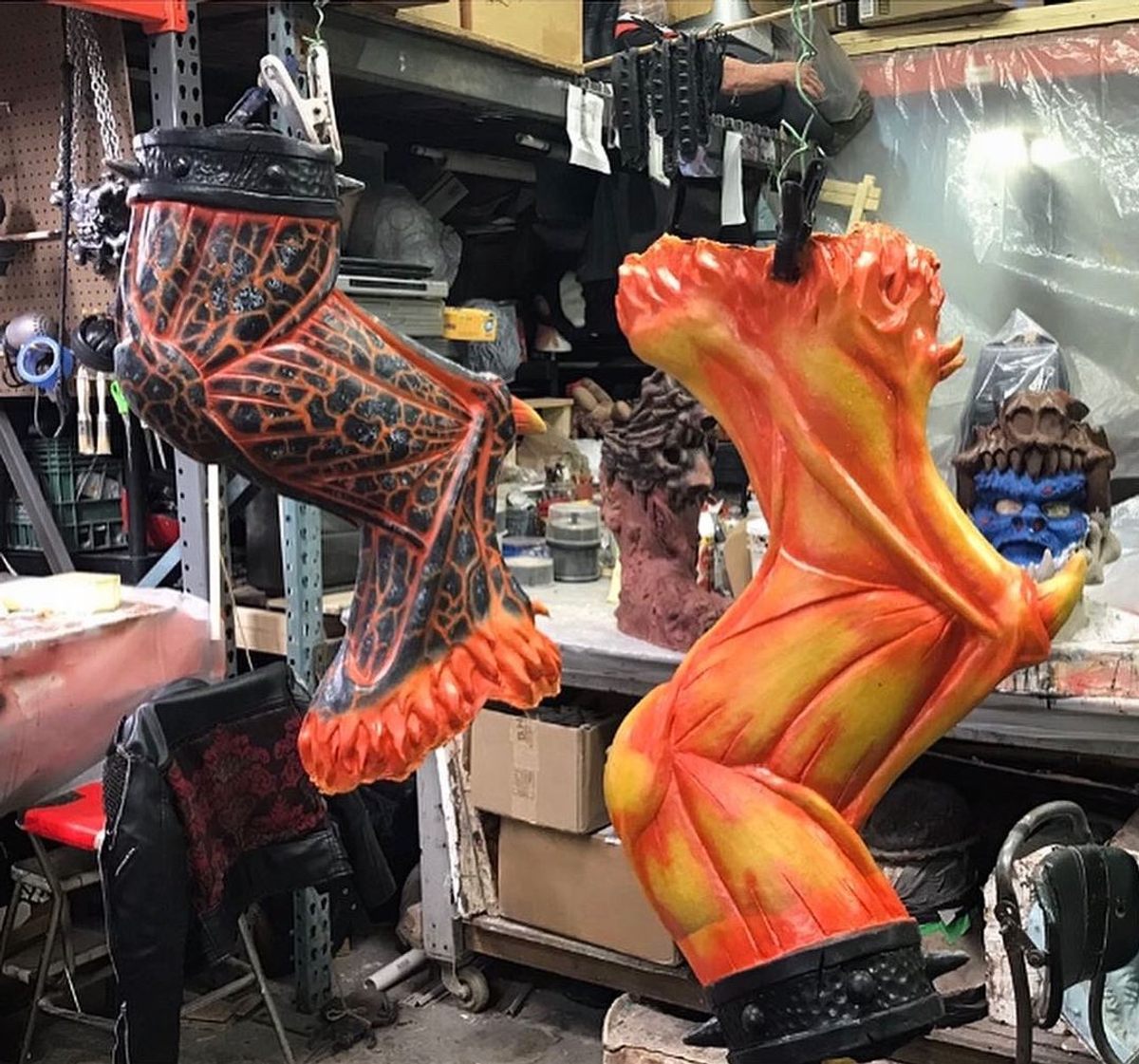 "There were so many crazy challenges to figure out," says Gorman. He likens the effort to a team of LSD-fueled mad scientists working round the clock.
There were, of course, restraints, though not for the sake of good taste or public mores. The costumes had to be lightweight, pliable, and breathable enough that musicians could wear them for hours on end and move around relatively unimpeded. They also had to withstand the abuse of shows involving copious liquids and simulated combat. Touring demanded compactibility for packing and shipping. Vascular spray systems had to be incorporated as well.
"The list goes on and on," says Gorman. "It was a madhouse in there. The R&D was insane."
The hard work paid off: GWAR's over-the-top stage antics won the band widespread praise, ridicule, and revilement. A dedicated cult following led to signing with a major record label, MTV airplay, and television appearances. Lucrative advances for early-90s albums Scumdogs of the Universe and America Must Be Destroyed fueled greater ambitions—most notably, full-length feature films such as Phallus in Wonderland, which was nominated for a Grammy Award in 1993.
Current artistic codirector Matt Macguire left art school to join the collective in 1991. By then operations had ballooned from about 12 full-time musicians and artists to a sprawling crew that often included more than 100.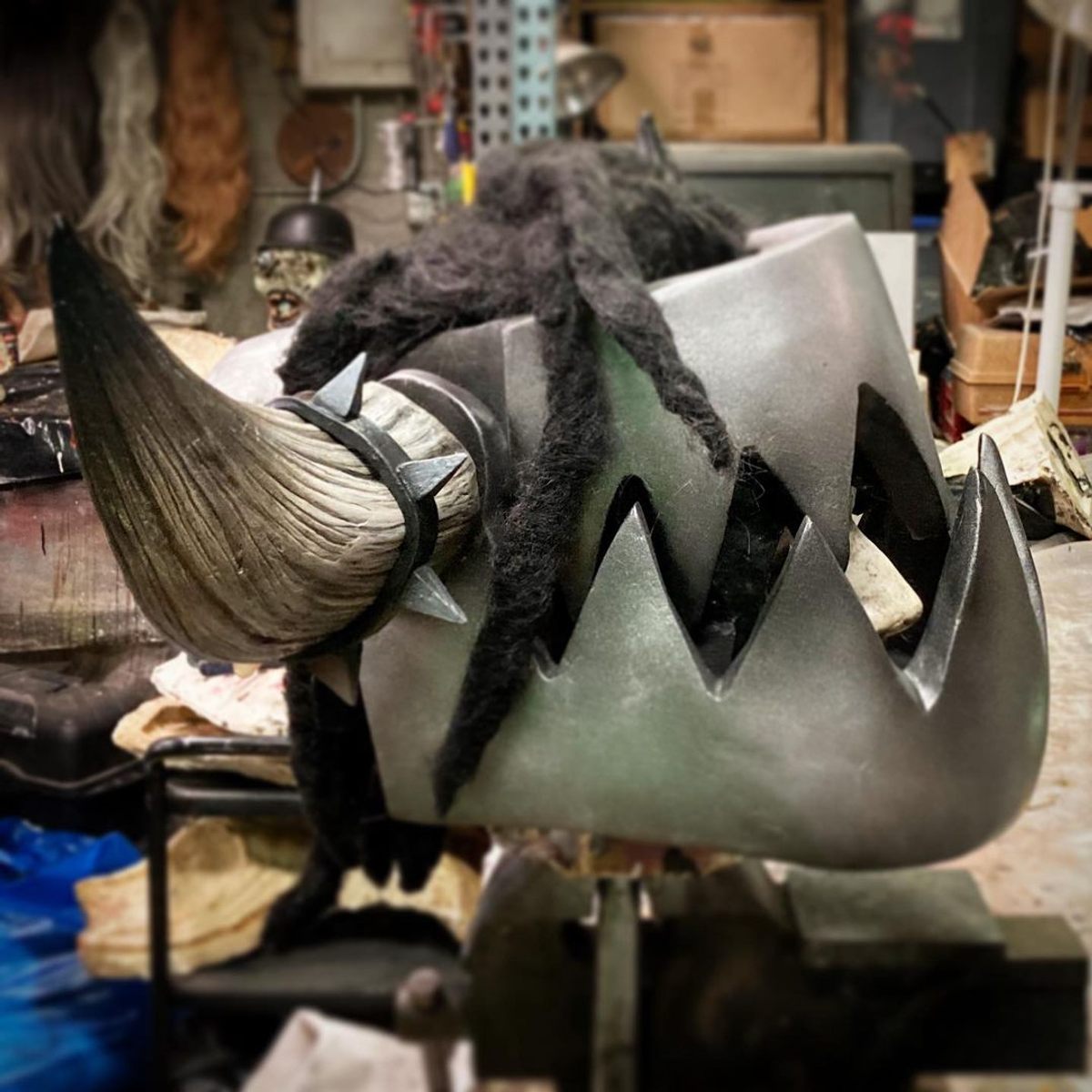 "We were touring with two semi trucks for gear plus two-and-a-half tour buses and a van [for artists and band members]," says Macguire, 49. Meanwhile, "we had these super complex storylines with elaborate props, multiple set changes, and 14 or more characters running around onstage at any given moment."
And each new album brought more. More storylines, more costumes, more props, and more characters. Macguire often worked for days on end without sleep. When the band wasn't touring, he and Gorman rarely left the dairy building. Eighty-hour weeks were the norm.
Yet Macguire says the experience was like living in an artistic Neverland.
"I was an aspiring artist with a warped sense of humor that grew up loving old horror movies and comic books," he says. Working for GWAR was "like my wildest dreams had suddenly come true. I kept expecting at any moment to wake up back in my dorm next to a friggin art history book."
---
Today the collective mostly consists of Gorman, Macguire, and a core group of longtime collaborators that still help with concepting for new albums and production around tours.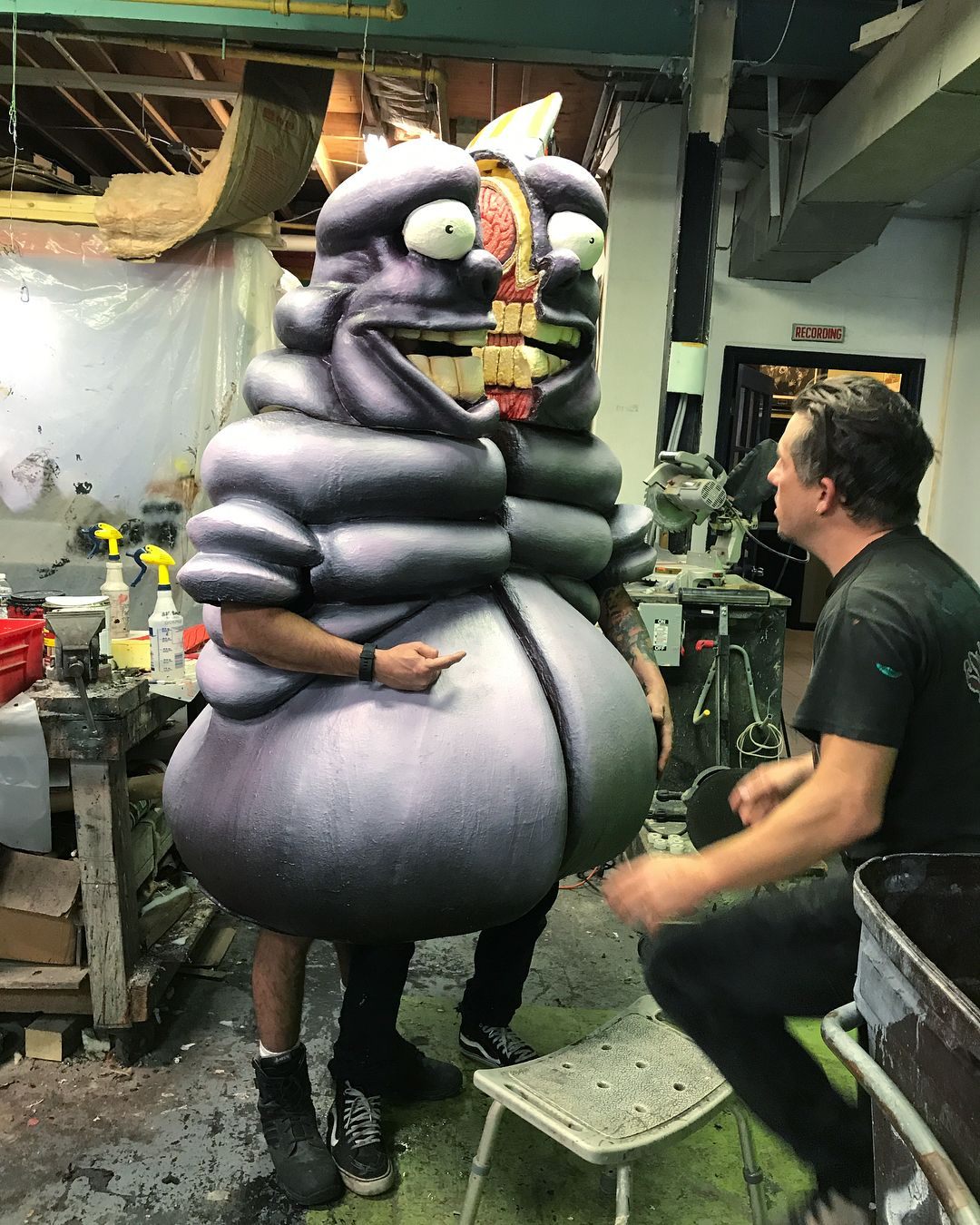 Brockie passed away in 2014. The dairy building has been transformed into a luxury apartment complex in a rapidly gentrifying neighborhood. Jackson just rejoined the group after a lengthy hiatus for a Scumdogs 30th-anniversary tour. Budgets have shrunk, leading to streamlined storylines and shows that feature fewer large monsters, and rarely more than eight characters onstage at the same time.
Regardless, Macguire and Gorman say they still have the best gig around.
"To me, it's almost unfathomable that we've been able to make a living doing this for so long," says Macguire. "I figured the gig would last a few years then I'd have to pay the piper and drag my ass back to the real world."
Instead, he's still working 60-hour weeks making costumes and props such as giant alien semen extraction pistols for the upcoming national tour—and has no plans of stopping.