The Tragic Life and Global Legacy of the Last Hawaiian Princess
'Brilliant, beautiful, and betrayed,' Princess Ka'iulani was also the mother of modern surfing.
With the destiny of a kingdom on the line, Princess Ka'iulani, heir to the Hawaiian Crown, entered the White House in Washington, D.C., on a delicate diplomatic mission. She had just sailed from Great Britain, where she had been riding her surfboard in the waves at Brighton Beach, on England's southern coast. It was 1893, a momentous year for Hawaiians.
While her meeting with the 24th president of the United States was brief and cordial, its goal was to advance her cause: saving the Kingdom of Hawai'i and her future throne. Weeks earlier, before leaving England to seek the American president's support, the princess had issued an eloquent and emotional plea: "Four years ago, at the request of Mr. Thurston, then the Hawaiian Cabinet Minister, I was sent away to England to be educated privately and fitted to the position which by the constitution of Hawai'i I was to inherit. For all these years, I have patiently and in exile striven to fit myself for my return this year to my native country. I am now told that Mr. Thurston will be in Washington asking you to take away my flag and my throne. No one tells me even this officially. Have I done anything wrong, that this wrong should be done to me and my people? I am coming to Washington to plead for my throne, my nation, and my flag. Will not the great American people hear me?"
Grover Cleveland, the American president, was moved. He would, he promised, take her case to Congress and demand that they honor the legitimate Hawaiian monarchy, and refuse to recognize the January 17th, 1893 coup led by a contingent of powerful American businessmen attempting to annex the Hawaiian Islands. A decision by Congress would determine her fate and the future of Hawai'i.
Brilliant, beautiful, and betrayed by American financiers, Ka'iulani was exceptional. Classically educated at Great Harrowden Hall, in Northamptonshire, England, she spoke several languages, wrote poetry in English, Latin, and Hawaiian, and was a child prodigy in art and music composition.
But first and foremost, the princess was a surfer. Known to ride a long wooden board, a particularly heavy and demanding one at that, she had a reputation for outstanding performance in big surf. Hawaiian women, particularly those of royal blood, were noted for their prowess and power on the waves. The Hawaiian monarchy had surfed with passion until the late 1800s, when wave riding became almost extinct as a sport. The evangelical missionaries' religious dogma had become the preeminent cultural power in the land—and for the most part they had succeeded in removing surfing from the everyday lives of the Hawaiian people. But Princess Ka'iulani— second in the line of succession for the Hawaiian Crown—was a notable exception. Disregarding the missionaries' efforts to eradicate all wave-riding activities, she continued to surf daily in full defiance of the western restrictions imposed on the Hawaiian culture. "She was an expert surfrider," recalled early 20th-century surfrider Knute Cottrell, one of the founders of the Hui Nalu surf club at Waikiki in 1908. Riding a "long olo board made of 'wili wili' hardwood, Ka'iulani was the last of the traditional native surfers at Waikiki."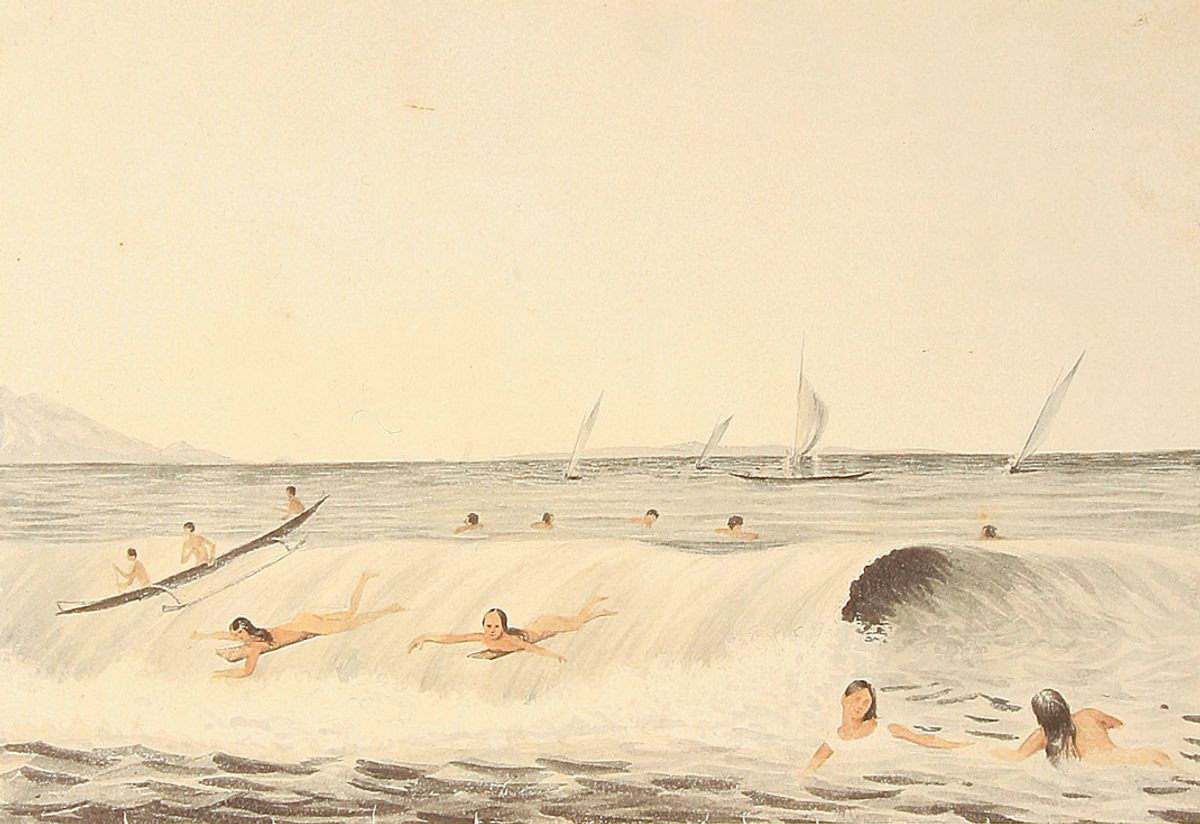 There is a strong case to be made that surfing was saved from extinction by this brave, bold woman. If Hawaiian swimmer and Olympic gold medalist Duke Kahanamoku is rightfully the man who introduced surfing to the world in the early 20th century, then Princess Ka'iulani might be the savior who made that possible.
Born Princess Victoria Kawēkiu Ka'iulani Lunalilo Kalaninuiahilapalapa Cleghorn on October 16, 1875, the Crown Princess was named after Queen Victoria and her maternal aunt, Anna Ka'iulani, who died young. Princess Ka'iulani's life and legacy are a testament to her love of the Hawaiian people in their hour of need. Ka 'iu lani means "the highest point of heaven" or "the royal sacred one" in the Hawaiian language.
Descended from her first cousin Kamehameha the Great, the founder and first ruler of the Kingdom of Hawai'i, Ka'iulani's mother was known as Likelike, and was the sister of the last two ruling monarchs. Her father was the prominent Scottish businessman Archibald Scott Cleghorn. Because Princess Ka'iulani was second in line to the throne after her elderly and childless aunt, the young girl was expected to eventually become queen.
When Ka'iulani was just 11 years old, Likelike fell ill and never recovered. Legend has it that a large school of bright red fish—an omen of death in the family—massed close to shore and that Likelike predicted her daughter would never marry, and never become queen.
The reigning monarchs, King Kalākaua and Queen Kapi'olani, talked with Cleghorn and the princess about preparing her for her royal role with a British education. Sent to Northamptonshire, England, in 1889 at the age of 13, Ka'iulani was given a private education, excelling in her studies of Latin, literature, mathematics, and history. She studied French and German and took lessons in tennis and cricket. Growing up knowing the landscape painter Joseph Dwight Strong from her uncle's court, and the author Isobel Strong, a lady in waiting under her mother, she showed an early talent for art and took several trips to Scotland and France to study. Strong was the stepdaughter of Scottish novelist Robert Louis Stevenson, of Treasure Island fame. Ka'iulani and Stevenson became good friends; he called her "the island rose" in a poem he wrote in her autograph book.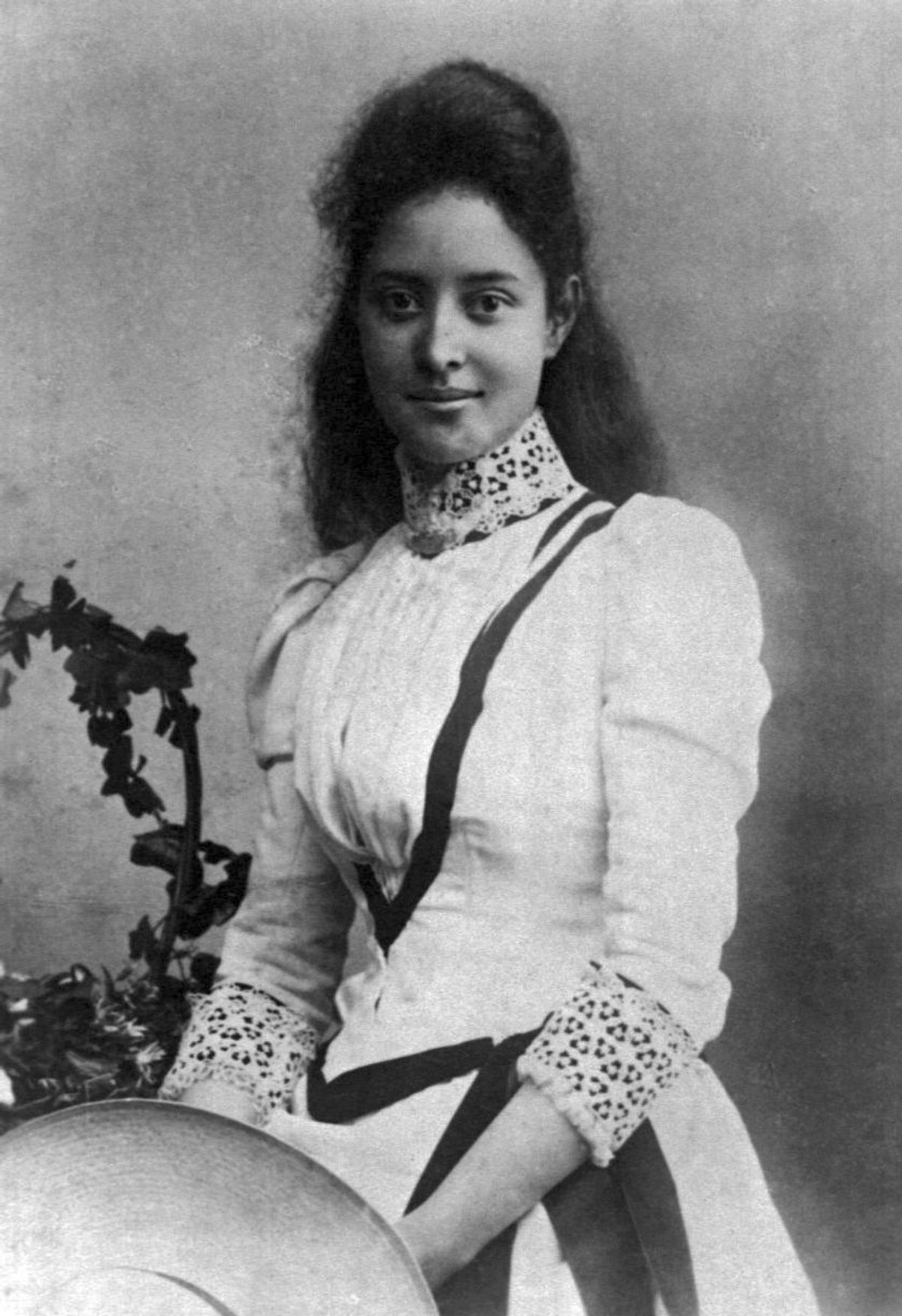 Moving to Brighton in 1892 felt like a fresh start for Princess Ka'iulani, who continued to study in England for the next four years. Surfing was her great joy, and there is evidence that she surfed the beaches of Brighton on England's southern coast quite frequently. She was chaperoned and tutored by a Mrs. Rooke, who set up a rigorous curriculum. The resort by the sea pleased the princess with its consistent surf. As Mrs. Rooke reported, the princess "loved being on the water again, the bracing sea air giving her renewed energy."
After arranging for her to have an audience with Queen Victoria as part of a trip around Europe, her Hawaiian overseers suddenly had to cancel all plans in late January of 1893. A short telegram announced the shocking message: "Queen Deposed. Monarchy Abrogated. Break News to Princess."
Refusing to remain idle while the nation she loved was stolen from her people, Ka'iulani released her impassioned statement to the English press and headed for the American capital.
It was to be a bitter experience. Treating Ka'iulani with contempt, the pro-annexation press referred to her in print as a "half-breed," calling her "dusky." Typical of the time, "positive" accounts of Ka'iulani's appearance often emphasized what was thought to be "white" about her.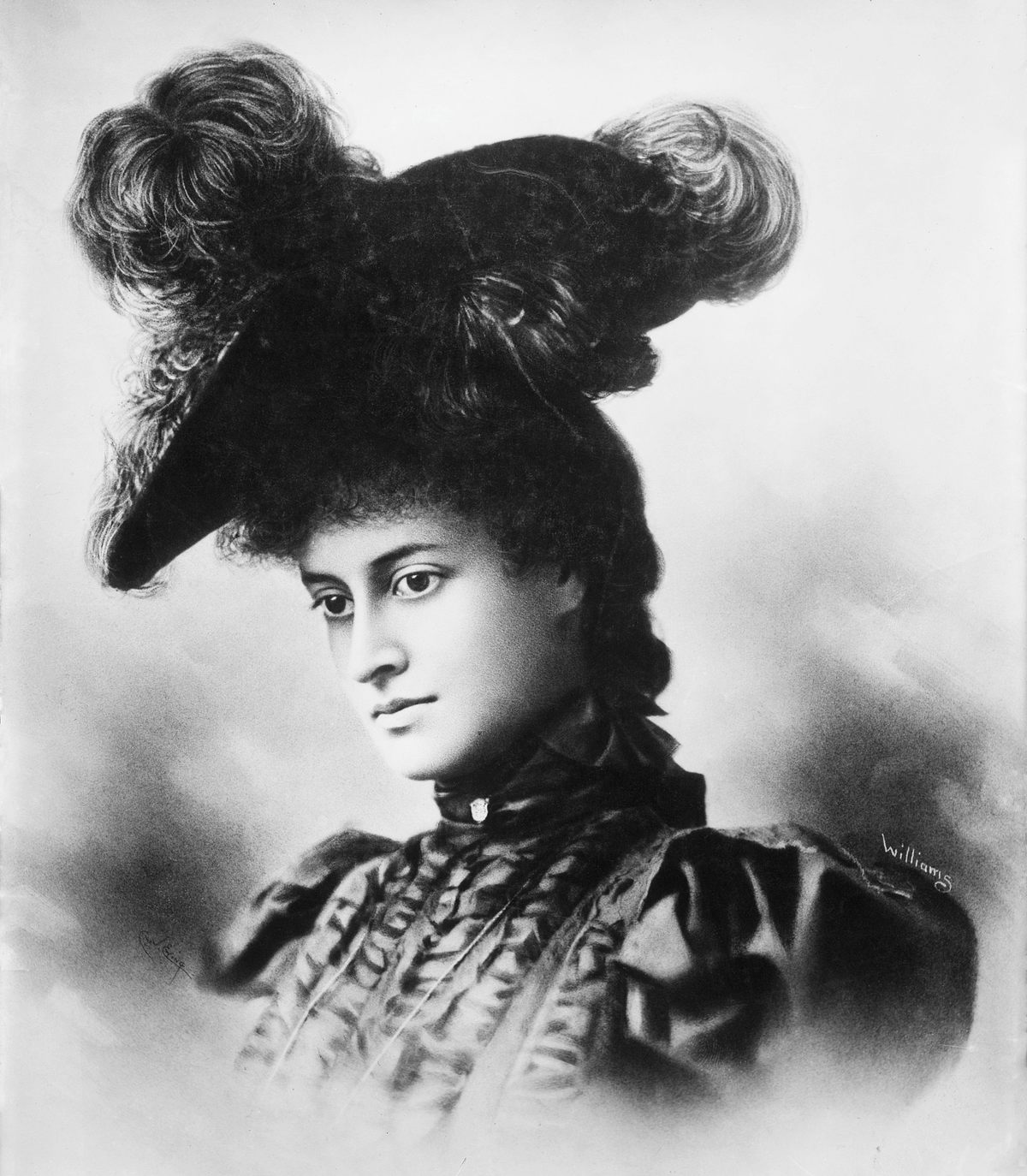 Returning to Europe to finish her education, her world further imploded when her cherished friend Stevenson died. And then came the news that a new Republic of Hawaii had been established—in her absence and against her will. Despite her exhortations to the president, who brought her plight before Congress, her efforts could not prevent the annexation of her homeland.
The day Hawai'i was annexed as a territory of the United States—August 12, 1898—citizen Ka'iulani and her aunt, the Hawaiian kingdom's last monarch, wore funeral attire to protest what they considered a criminal coup d'état. "It was bad enough to lose the throne," Ka'iulani said, "but infinitely worse to have the flag go down."
Shortly thereafter her half-sister, Annie Cleghorn, and her English guardian, Theophilus Harris Davies, both died. A great sadness overwhelmed her. In heartbreak, her health started to decline. Urged by her father to continue making public appearances, the futility of her efforts caused Ka'iulani to become more withdrawn and emotionally exhausted.
Riding in the mountains of Hawai'i in late 1898, Ka'iulani was caught in a storm and came down with a fever that led to a fatal case of pneumonia. Princess Victoria Kawēkiu Ka'iulani Lunalilo Kalaninuiahilapalapa Cleghorn died on March 6, 1899, at the age of 23.
Her mother Likelike's ominous prediction had come true: Ka'iulani was never able to marry and would never become queen. She was the last in a line of tragic Hawaiian royals whose sovereign nation was usurped by would-be colonials. It was an irony compounded by the fact that America had only a century before thrown off the bonds of a foreign power and demanded self-rule.
One silver lining in her legacy remains: fighting valiantly but vainly to save her country, Princess Ka'iulani preserved a precious piece of Hawai'i. She kept on riding waves—and in so doing saved surfing for all generations to come.