How an Experimental Event Designer Crafts Incredible Culinary Experiences
A fruity infusion and a conversation about inspiration, immersion, and creative community.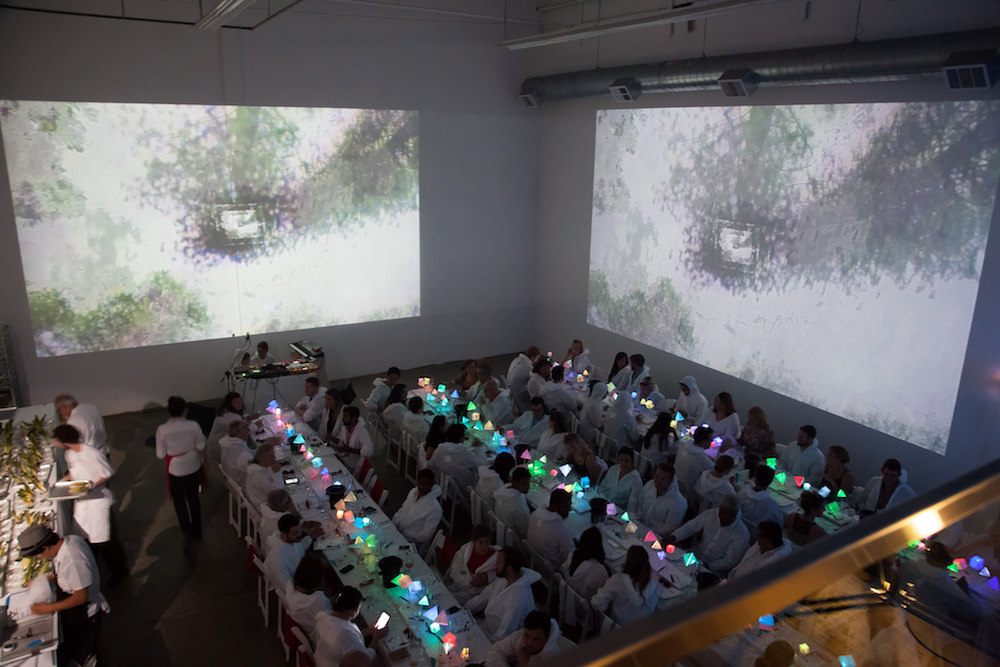 This post was written by Carly Pifer and originally appeared on Per la Mente. Discover more like this at Per La Mente.
Meeting Adam Aleksander is itself an experience. He dresses like a modern New York City revision of a 19th-century flâneur, and the scent of his cologne, which is noticeable but welcome, smells like you're skipping through a British flower garden.
Adam is soft-spoken and kind, but he gets giddy when speaking of his many inspirations and projects. He has low blood sugar, so the day we sat with him, he was snacking on a grapefruit, which enhanced his sweet-scented charm. It was a delight to chat with him, and it's impossible not to admire the man's commitment to experience.
Read on for Adam's tips for catching inspiration, his love for the hospitality industry, and his favorite part of any party.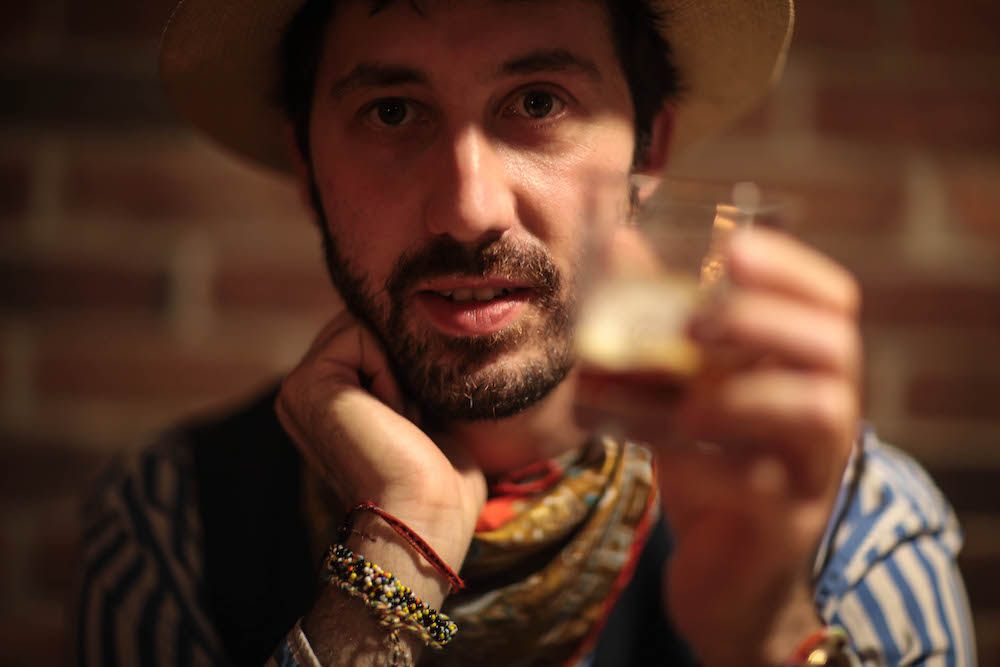 Tell us about yourself.
Adam Aleksander: I'm an experiential event designer, meaning I use my set design background to create immersive worlds that people can step into.
I came to New York in 2002 and saw the show De La Guarda, the precursor to Fuerza Bruta, the immersive party. I didn't know what it was, but I knew I wanted to follow that path and create something like it. It felt like the best Brooklyn warehouse party you've ever been to. There were people hanging from the ceiling, running through the crowd, picking you up. The performers interacted with everyone. If you think of parties as a feeling, it was exuberance.
I then went to art school to study fine arts, dropped out, and started to make things with my hands. I wanted applicable skills that I could get paid to do. The experience I had with De La Guarda was like a mustard seed—I kept wanting to do things like that.
All that time, I worked in food service, and hospitality was very close to my heart. I had the good fortune to work at a place that would go on to win the "World's Best Cocktail Bar" award. They became family to me and gave me some of my first introductions to sponsors. So when I did my first event, I came in with really great sponsors and really great set design.
How has New York's creative community influenced your path?
My time in hospitality gave me an entrée into events. When the bar I worked at opened a new restaurant and cocktail destination, they asked me to help them plan their opening party. It started out as me making a dragon costume and ended with a completely transformed restaurant with a dragon performer group, and the original dragon fighting a cross-dressing Chinese opera singer.
What kind of changes have you witnessed in New York's nightlife scene?
When I started out in 2009, nightlife was pretty awful. There was bottle service everywhere, and people were so profit-driven that creatives couldn't get their start because they had such humongous overheads. We started doing our own things underground because nobody would give us a chance.
We didn't care, we just did it. We made it work and we made it high quality. I was producing underground dinner parties filled with performers and sets, another friend did an underground wine club, another friend an underground cheese club. The internet enabled us to do that.
Experiential event creation was our way to make what we thought should exist in the world.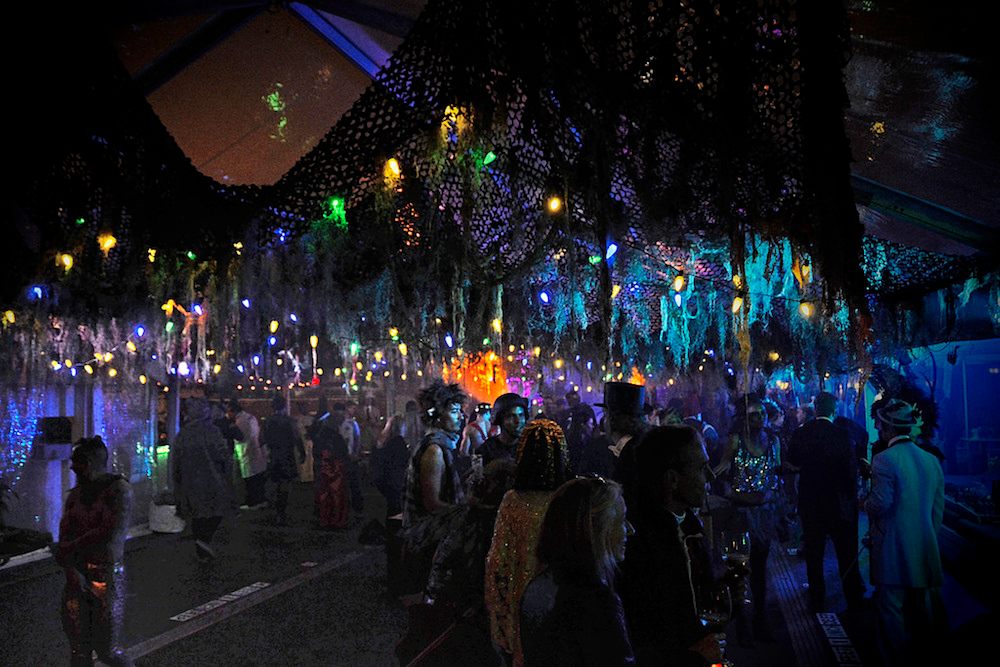 How do you turn a spark of inspiration into a full-blown concept for an immersive event?
We need to go through life catching inspiration more consciously. I carry a notebook with me all the time; every night in my journal I try to recap my top inspirations of the day, and on Sundays I recap my top inspirations of the week. Little things people tell us can change our lives, but often we don't remember. Our eyes aren't open.
Relive one of your most epic events with us.
I threw the after-party for AREA: The Exhibition in 2013. I'm fascinated with the natural mess that a party makes, so my concept was you walk in, it's 4 a.m., and the place is already trashed. We transformed the event space: put up curtains then shredded them, spray-painted things, dropped Solo cups all along the staircases. You walk up to the bar and the bartender starts screaming at you. We had a couple making out voraciously on the couch, and we had a pillow fight in the middle of the room. What exists at 4 a.m. at a party? It felt really good inside, like when something already feels lived in, relaxed. The end of the party is the best place.
What's your experience with mixology?
While working at the bar, I witnessed a gentleman making infusions night after night. I was fascinated by how he mixed his spirits with lavender or herbes de Provence, and I discovered a whole culture around it. Cocktails are great, but if you take the essence of a cocktail and condense it into a flask, you have an amazing experience. It takes something you're familiar with and blows it out with things like sage, orange rind, and a little bit of sugar. It's a balanced cocktail.
Talk to us about the experience of cocktails.
A good cocktail can be art. It can actually be an experience where it's trapped in a block of ice, or when you're surrounding the vessel with wheatgrass and you have to stick your nose in the grass to get a drink, or it can simply be in a coupe glass. It's also where you drink it—watching someone make it right in front of you. A cocktail is a balance of sour and sweet, bitter and base spirit. When you drink it, it takes you on a journey.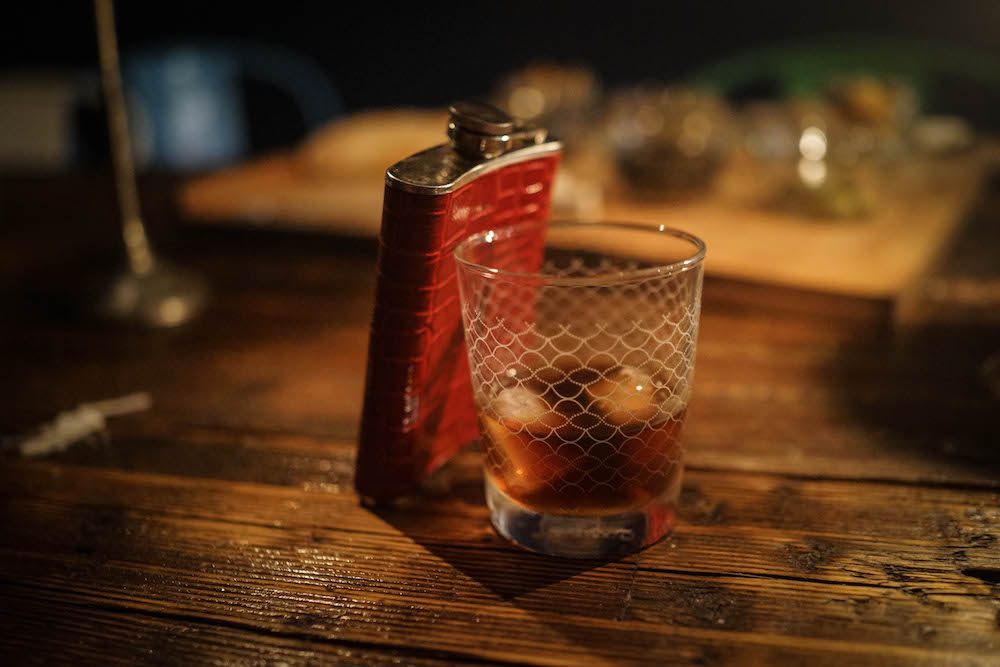 Adam's cocktail: Fig-Infused Fernet
Ingredients
1 bottle Fernet-Branca
4 oz. simple syrup (concentrated)
1 large container of fresh figs
Instructions
Cut figs in quarters
Combine all ingredients into a large mason jar
Let sit in a cool dark place for 1 week or until desired flavor is achieved
Strain figs and eat separately (perhaps with truffle honey)
Serve on ice or in your flask
Per La Mente — which means "for the mind" — has been created by Fernet-Branca to be a source of discovery about what's possible across the vast universe of creative experiences. We're endlessly curious about underground, experiential, and elusive culture, as well as the artists who make and love it. With every story, we share a spark of mystery, a hint of eccentricity, a dash of staggering originality, and a tinge of passionate genius. Think of Per La Mente as the storyteller, the enabler — the conduit to the path less traveled. Open your mind to some splendid adventures, like the one we have brought forth here.