How India's 'Mango Man' Grew a Tree With 300 Flavors
Kalimullah Khan was inspired by a crossbred rose bush.
It is a mango tree like no other. Standing tall in a nursery near Lucknow, the capital of Uttar Pradesh, its massive canopy is large enough to seat 15 people for a picnic and its branches hang heavy with fruit. Unlike the young trees it towers over, though, the texture of the leaves on each branch is different: Some are dull green or olive green; others are glossy and vibrant. The mangoes on each branch look different too: round, oval, or kidney shaped, some green, some yellow, and others with hues of orange, pink, and purple. That's because this magical mango tree grows more than 300 varieties.
Over a video call, Kalimullah Khan, 80, known as the "Mango Man," introduces me to his creation. Stocky and bearded in a crisp, white kurta pyjama, he sits under its canopy and points out varieties, each identified by a tiny label on its green pedicle: Dasheri mangoes from a nearby village, Himsagar from West Bengal, Langra from Bihar. And of course the prized Alphonso mango, whose sweet, creamy, saffron-colored pulp is in high demand domestically and internationally.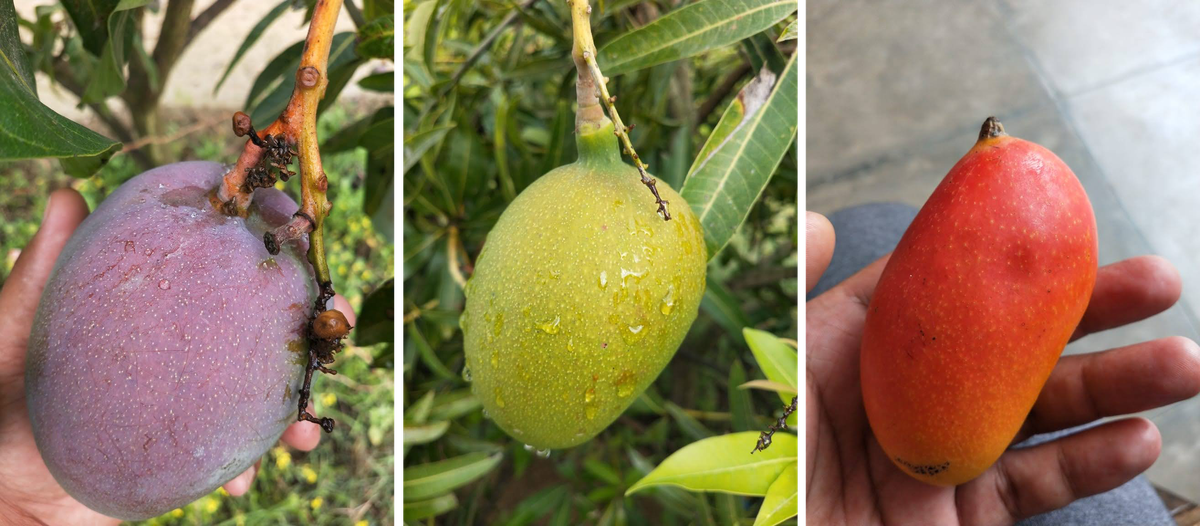 Khan's mango farm is in Malihabad, a large mango belt and mango-lover's paradise in Northern India with more than 10,000 hectares (38 square miles) of mango farms. Amir Khusro, the Indo-Persian poet, called the mango, which is native to India and its tropical and subtropical climate, the "fairest fruit of Hindustan." Intensive cultivation began centuries ago under the Mughal Empire, and India remains the largest producer of mangoes in the world, growing more than 1,000 varieties and accounting for more than 40 percent of production.
With the help of his son, Khan cultivates 22 acres of farmland first planted by his grandfather in the early 1900s. When Khan dropped out of high school and made this his life work, the family grew just a couple local varieties, much like nearby mango farms. The seeds of his obsession with mango grafting was sown at the age of 15, when Khan saw crossbred roses in a friend' s garden, with one rose plant growing flowers of different colors. It made him wonder if one tree could also produce different kinds of fruits.
"Naturally I wanted to replicate what I saw on [that] rose bush on a mango tree," he says.
He was 17 when he grafted seven varieties of mango onto a single tree. He was heartbroken when floods killed the tree, but determined to learn more about grafting, which he had learned about on his family orchards. Around the world, farmers and gardeners use grafting to fuse the roots and bottom portion of one plant with the shoots and top part of another. It's a quick and reliable method of reproduction that can potentially combine the best characteristics of two plants.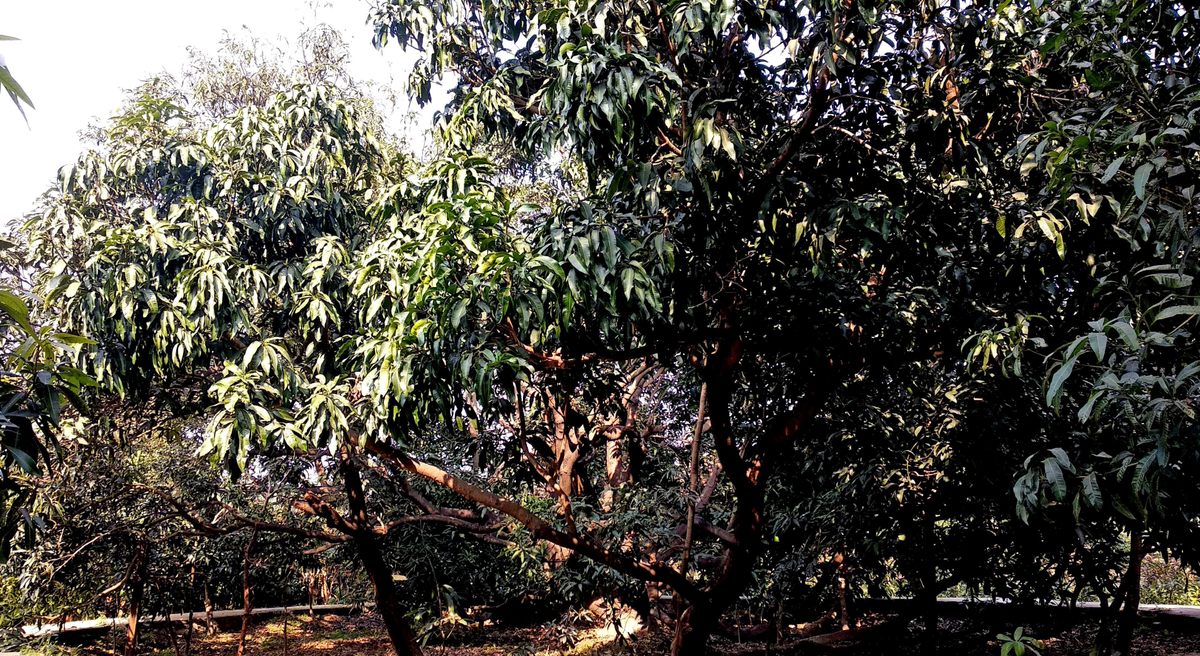 Over the years, Khan fine-tuned the art of cutting off a branch from one tree, slicing notched angles into it, and then attaching the orphaned cutting to a new, hybrid tree. In 1987, he started grafting cuttings of different varieties onto a 100-year-old mango tree. He collected samples from across the country to add, seeking out rare varieties. Khan says the tree now grows more than 300 types of mangoes. He calls it Al Muquaraar, or The Resolute.
"This miracle tree is not just a tree, it's an orchard by itself, a universe," says Khan.
I ask Khan how he protects the tree from birds and insects. "I don't scare them away," he says. "Nature's bounty is for everyone to share." Khan and his son pack the farm's produce in crates during harvest season to sell and export, but they give the fruits of the miracle tree away free to visitors who come to see it.
"Just like two children of the same parents are different in their traits and qualities, mangoes that germinate from the same seed can be totally different," says Khan, who waxes eloquent about each variety of mango, as if it were a favorite child. In addition to grafting, he breeds new mango varieties, experimenting with taste and texture and, often, creative names. He has named new mangoes after Prime Minister Narendra Modi (Namo Aam) and Bollywood actor Aishwarya Rai. "I created one after the famous cricketer Sachin Tendulkar, and he made a phone call to convey his happiness and thanks," says Khan. Most recently he named two new mangoes "doctor aam" and "police aam" in thanks of first responders' work during the pandemic.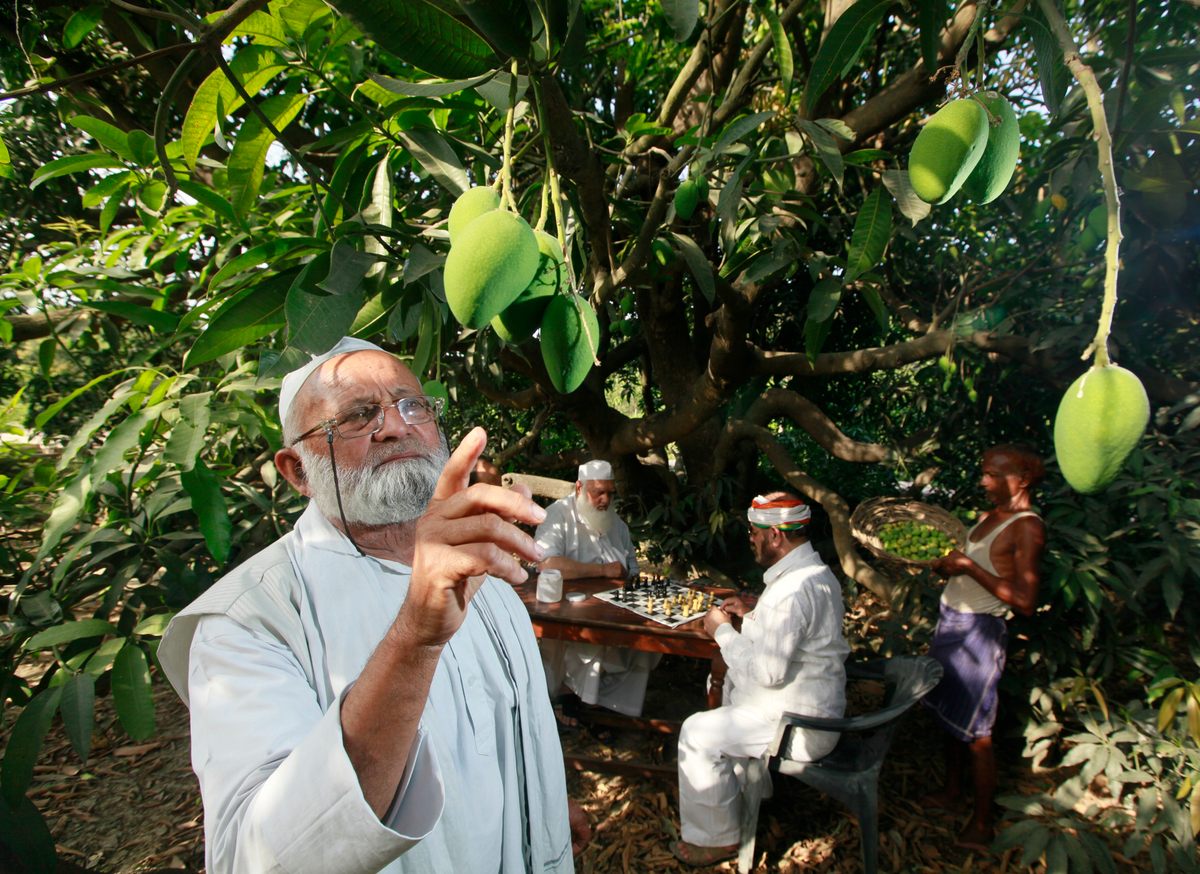 Khan has had celebrity visitors to the farm and won numerous awards, including the Padma Shri, one of India's highest civilian awards, and records in the Limca Book of Records. He has visited Dubai and Iran to teach the art of grafting, and in 1999, he created a mango tree with more than 54 varieties for the Mughal Gardens attached to the Rastrapathi Bhavan, the official residence of the President of India.
The acclaim is not universal. "It's only art and of no commercial value," says D.K. Sharma, the Vice President of the Mango Grower Association of India, who criticizes Khan's showpiece as cosmetic and not benefiting growers. Khan disagrees, pointing out that grafting is incredibly common in the commercial production of fruits and nuts, since farmers and growers want consistency rather than the variability of growing from seed. He sees it as an art with practical value.
"I want to live on even after my death, through the mangoes I have grown. I hope that people will eat the fruits of my labor and benefit in some way," says Khan. "That is the beauty of nature. It keeps on giving."
Gastro Obscura covers the world's most wondrous food and drink.
Sign up for our email, delivered twice a week.