How One Man's Desire to Flaunt His Wealth Became a Book of Psalms
It provides a searing glimpse of the toils of medieval laborers.
A representation of a sheep's pen. (Photo: Unknown/Public Domain)
Many people in the Middle Ages learned to read and worship by studying their psalters, or personal copies of the Book of Psalms, often collected together with other religious texts and a calendar of feast days. The intricately painted Luttrell Psalter, commissioned by an English lord in the 14th century, is one of the most beautiful surviving examples. What makes the Luttrell Psalter unique, however, is that it was largely intended to show off its commissioner's wealth.
Sir Geoffrey Luttrell, a knight who was Lord of the Manor of Irnham in Lincolnshire, lived between the years 1276 and 1345. The title page of the psalter reveals that Luttrell felt his impending death was near, and commissioned the psalter to serve as a record of his life, grand as it was. However, the psalter is also populated by illustrations of unhappy-looking laborers, now considered to be some of the most realistic depictions of pastoral life from that time. 
In the lower margins, two men thresh a bundle of grain stalks with flails. (Photo: British Library/CC0)
The psalter was created over a period of several years, sometime between 1320 and 1345, by one scribe and at least five different artists, who each had slightly different styles. Its 309 vellum leaves are richly illustrated with quotidian scenes from Luttrell's rural estate.
A page in the Luttrell Psalter with an illustration depicting Sir Geoffrey mounting his horse with the assistance of his wife and daughter. (Photo: Unknown/Public Domain)
Luttrell ensured that the psalter was filled with evidence of his wealth. The above image, for example, shows a page illustrated with the lord himself mounted upon a war-horse and displaying his family's arms. The words 'Dominus Galfridus Louterell me fieri fecit' (Lord Geoffrey Luttrell caused me to be made) caption the image as a friendly reminder as to who created the psalter.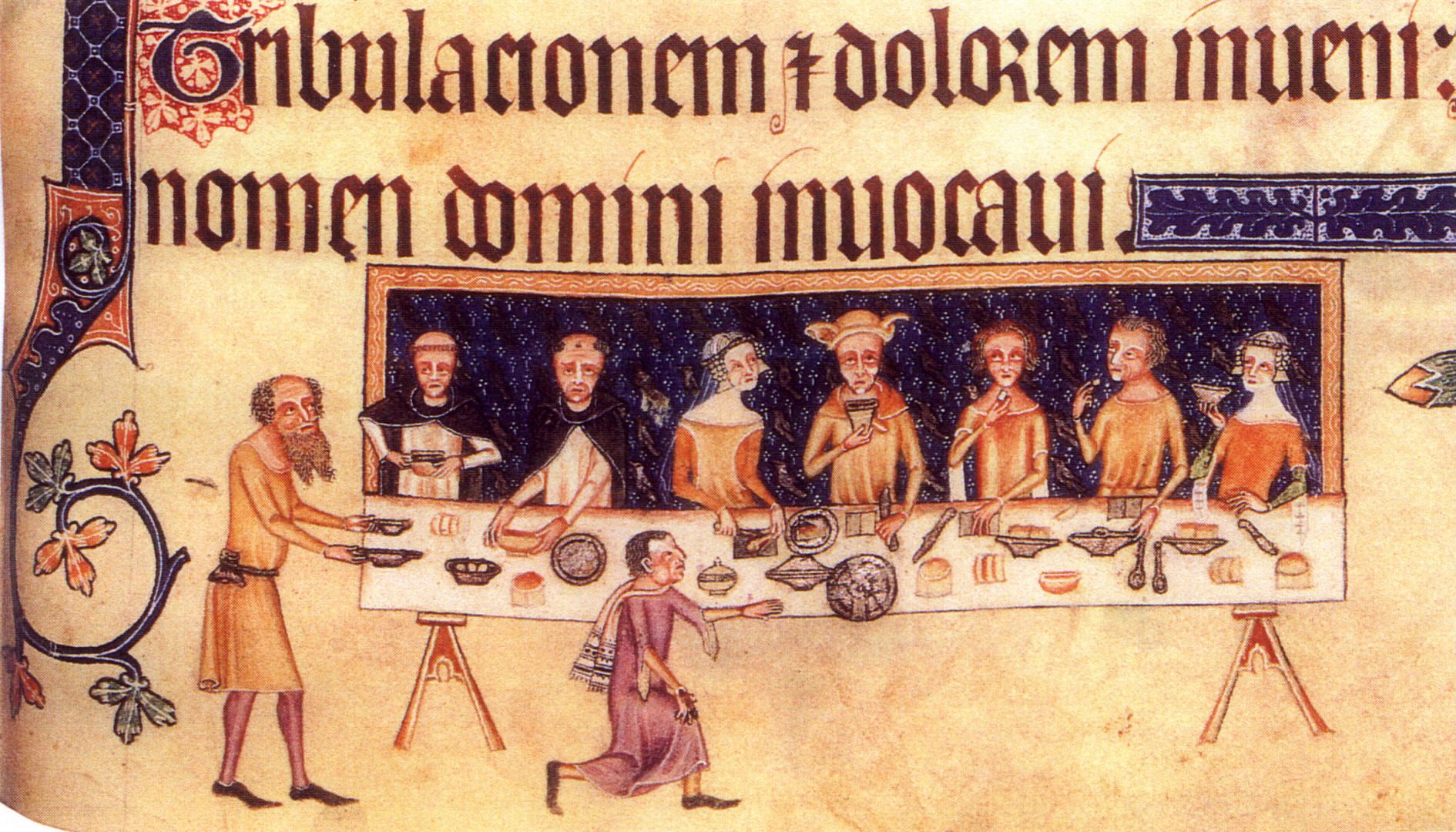 An illustration in the Luttrell Psalter depicts Sir Geoffrey Luttrell seated at the center of the dinner table, surrounded by his family and two friars. Servants wait on them and more approach on the adjacent page. (Photo: Unknown/Public Domain)
In addition to serving as a testament to Sir Geoffrey's wealth, the Luttrell Psalter's pages feature various images that are often humorous in nature. Two knights joust on one page, while wife beats her husband with a spinning rod on another.
Two knights joust at the bottom of a page. (Photo: British Library/Public Domain)
Today, the Luttrell Psalter resides at the British Library, and although scholars recognize that its pages probably present an idealized version of reality, the volume has been used to research the clothing, daily life and habits of medieval peasantry and nobility. You can read a digital version here.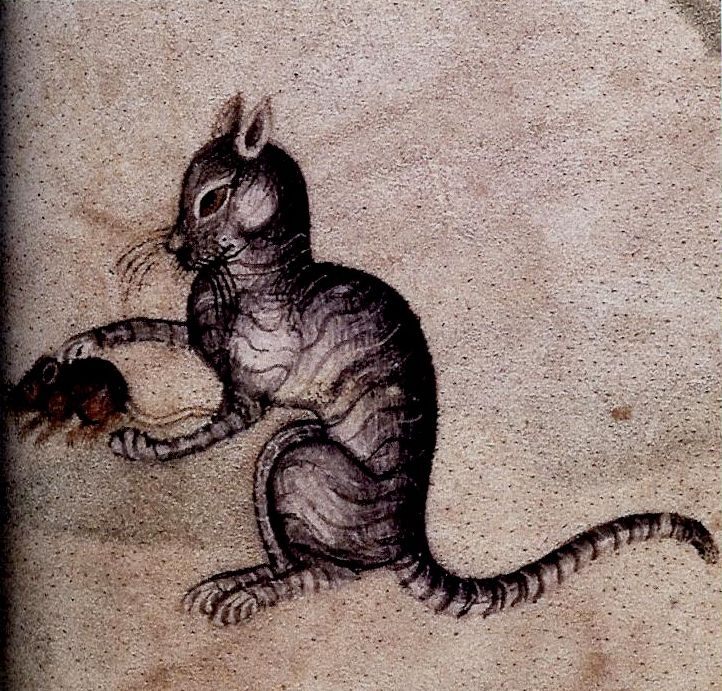 A cat and mouse detail. (Photo: Ioreth/Public Domain)
Object of Intrigue is a weekly column in which we investigate the story behind a curious item. Is there an object you want to see covered? Email ella@atlasobscura.com