How to Blend in at an Alpine Krampus Parade
You'll need a terrifying mask, a lot of fur, a smoke bomb, and a whip.
Nothing rings in the holiday season like a parade of demented yak-like demons wielding whips, smoke bombs, and a chainsaw or two. Welcome to Austria's Krampusnacht.

The modern Krampus story goes like this: He's the devilish sidekick of St. Nicholas, and his duties include throwing naughty kids into a sack or basket, beating them with a whip, and carrying them off into the night.
But in the Alpine region, Krampus-like creatures predate St. Nicholas by centuries. According to Austrian lore, pagan men would don animal masks and run around their villages in an attempt to scare away winter—or perhaps for the opportunity to make anonymous mischief for a night. Over time, these practices gave rise to more formalized folklore figures called Perchten, the winter spirits channeled by the masked men. Krampus is, essentially, a Percht that has taken on a life of his own.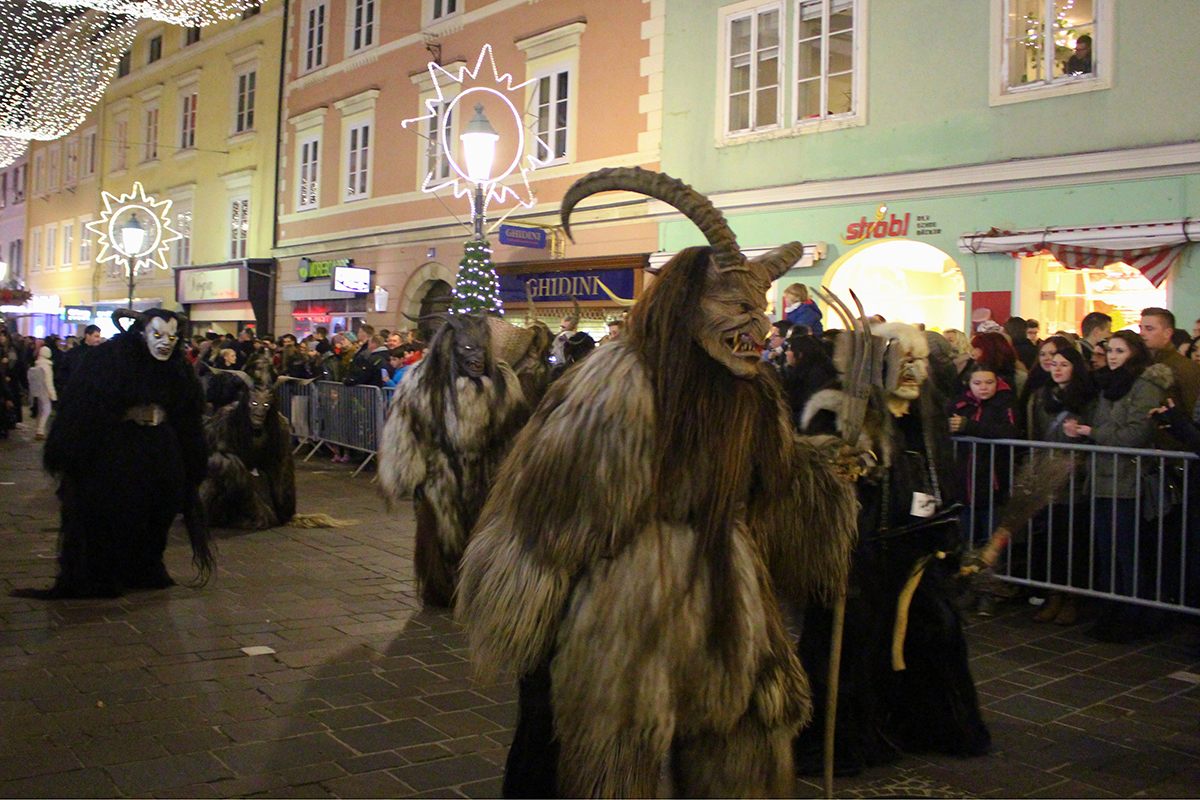 According to a new English-language history of Krampus, Alpine Perchten were targeted by anti-witchcraft efforts during the Dark Ages. That makes Krampus's survival particularly noteworthy: He outlasted most of his pagan peers because he was explicitly adapted to fit into the St. Nicholas narrative. By the 1600s, he'd begun to appear alongside St. Nicholas in Christmas morality pageants that were staged in rural Austrian homes.
Put another way, Krampus is one of the most obvious living examples of pagan and Christian syncretism in Europe, and you can't understand one half of him without the other.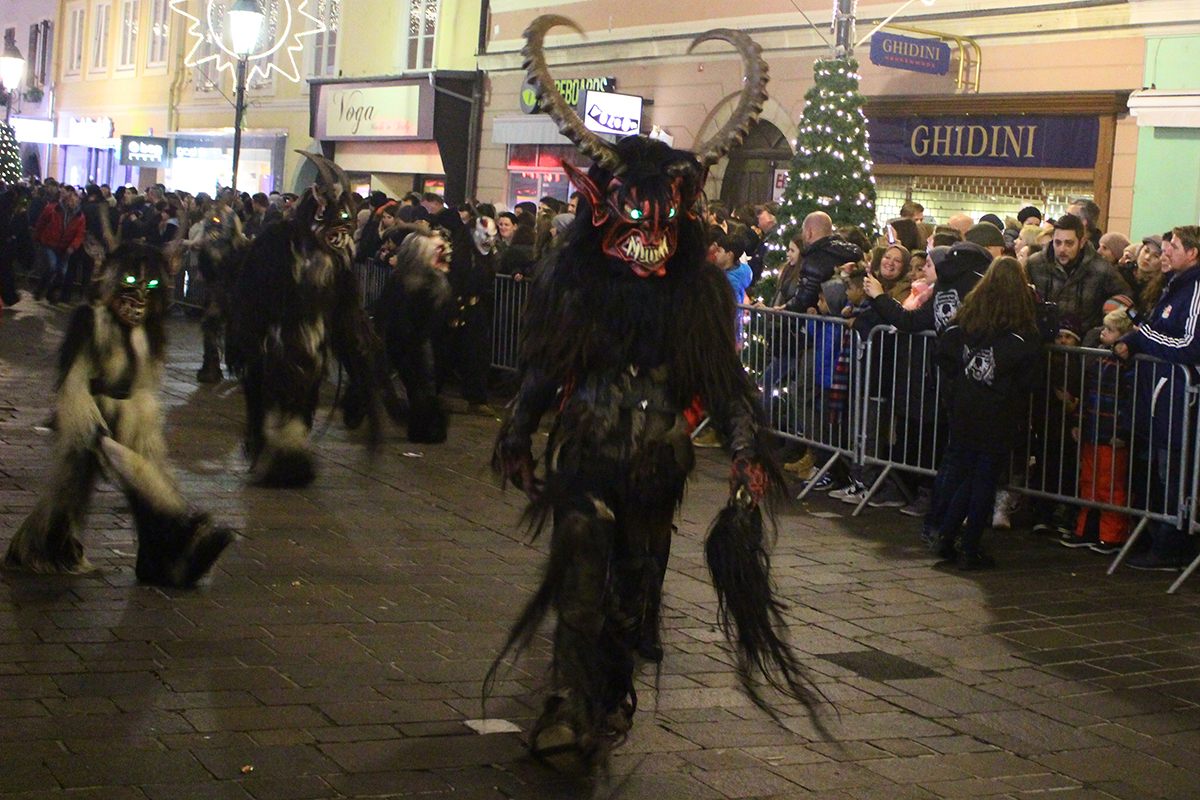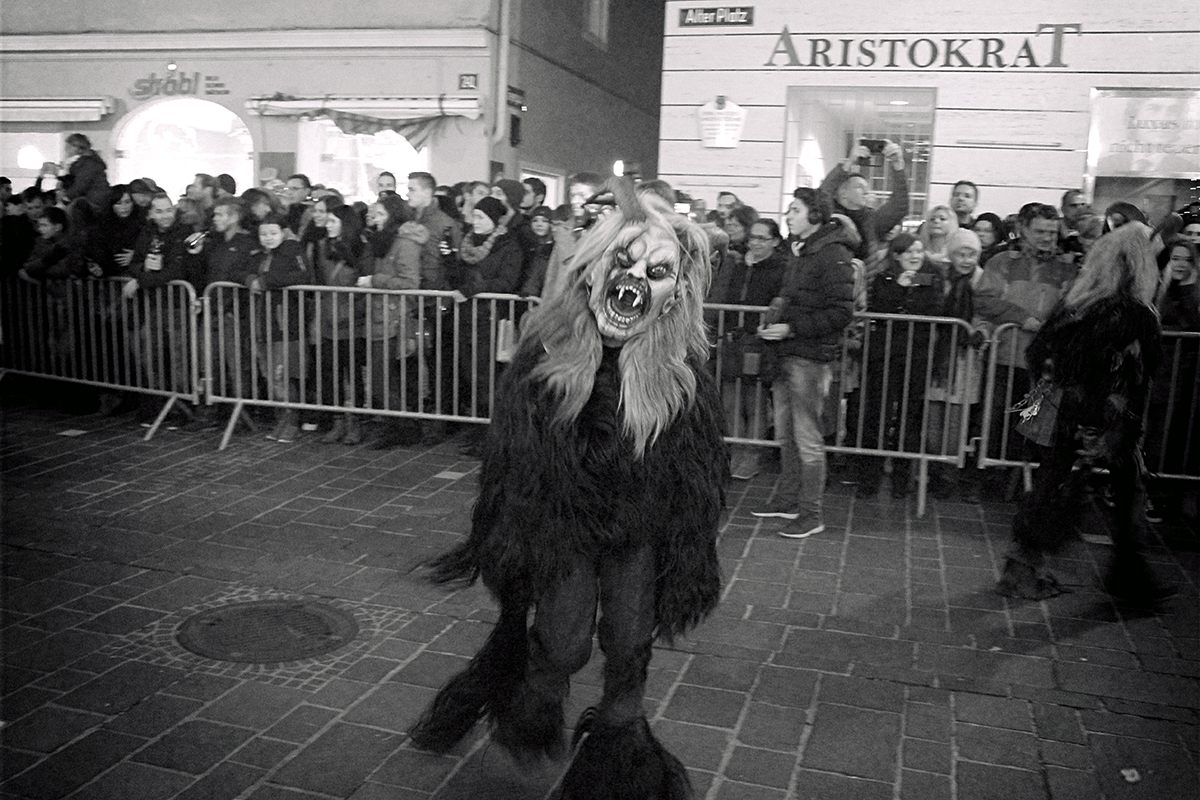 Today, the most common way to encounter Krampus is by attending a Krampuslauf or "Krampus run" in Austria. (A handful of towns also stage the UNESCO-protected Krampus morality pageants.) Most of the runs are held on or near December 5, known as St. Nicholas Eve or Krampusnacht.

Though multiple cities claim to host Austria's biggest Krampuslauf, Klagenfurt am Worthersee (near the Austrian-Slovenian border) makes a particularly vociferous case: "It's the largest Krampus run in Austria, with more than 1,000 Krampuses and Perchten, along with customary figures like angels, Nikolo, and witches," reads a loosely translated city brochure.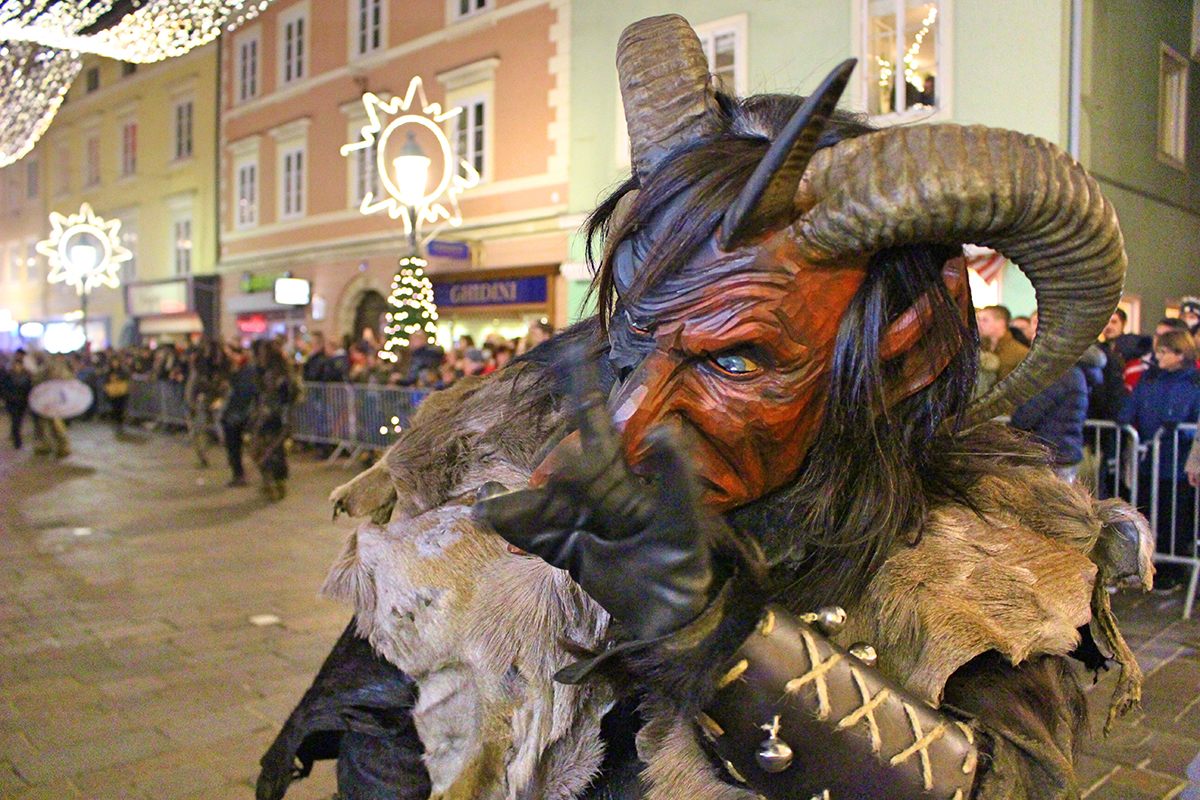 The "1,000 performers" claim is clearly exaggerated, but Klagenfurt does draw dozens of Krampus and Perchten troupes from across Austria, Bavaria, Slovenia, and northern Italy. The run route stretches for almost a mile through the city center and begins with a troupe of young men who strap 45-pound bells around their waists. Called Krampusglocken or Balkenglocke, the instruments make a thunderous boom as the men march together, smacking the bells with their thighs. Not all runs start this way, but the bells signal Klagenfurt's emphasis on Krampus as an Alpine tradition rather than as a rowdy, drunken terror.
Then, the street is flooded with winter spirits of all shapes, sizes, colors, and temperaments. Though most performers wear elaborate wooden masks and fur costumes, some use painted masks with LED lights and other modern accessories. Many carry birch or horsehair whips, which they use on adult and teenage onlookers.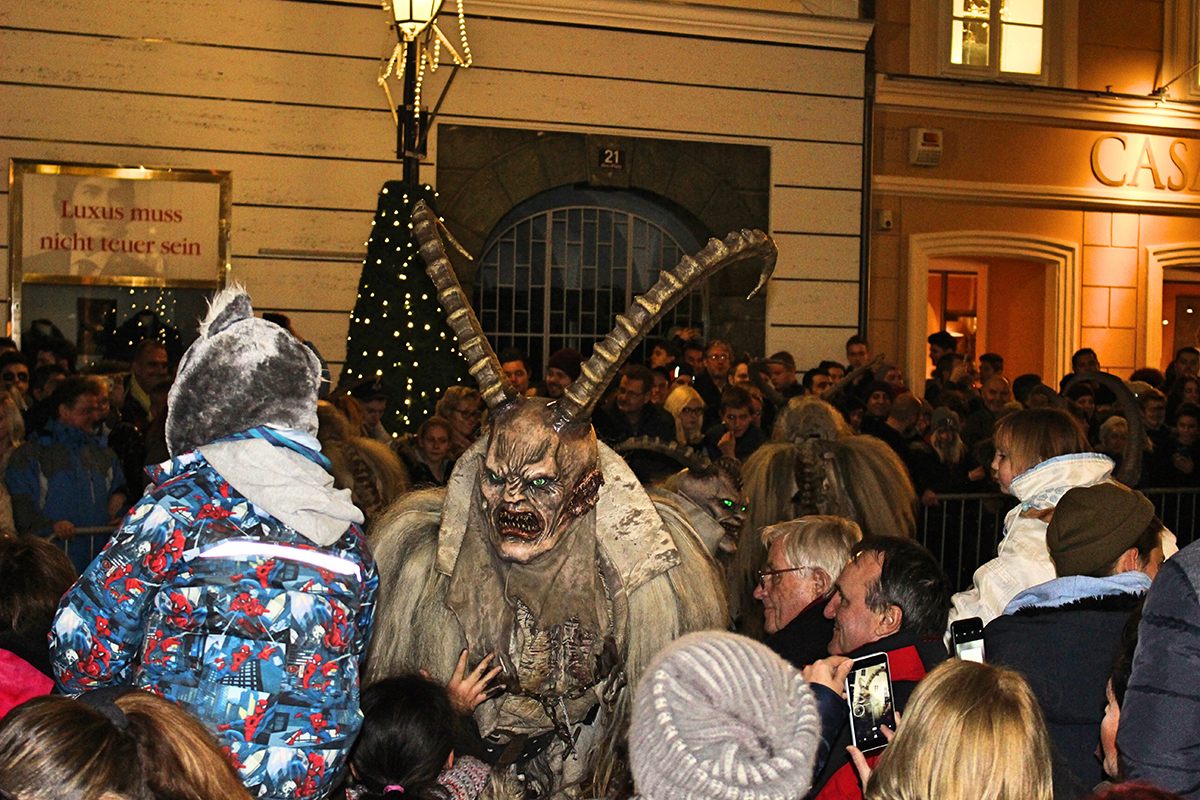 The approach is gentler with smaller children, since the aim of most performers isn't to terrify kids but to instill a sense of wonder. Many children shriek or cry when a Krampus shakes their hand or pats their head, but just as many offer smiles and giggles in exchange for the encounter.  

There is no "grand finale" to the run. After the last troupe passes by, the crowd disperses toward the seasonal mulled wine stalls, and just like that, Krampus is gone.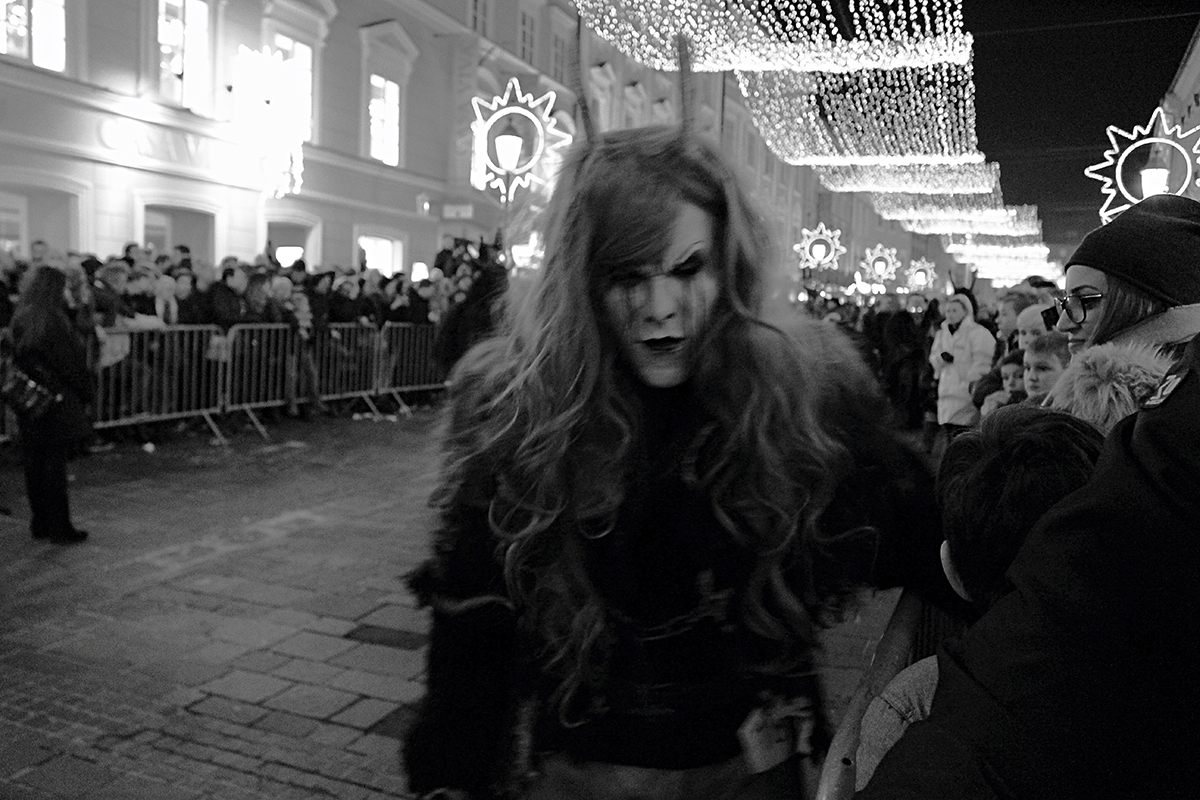 Thanks to last year's U.S. movie, there's been chatter in Austria about the over-commercialization of Krampus. But in Klangenfurt, exactly one Christmas market stall was dedicated to Krampus, and it mostly offered devil-shaped chocolates. Even replicas of the early 20th century Krampuskarten (Krampus Christmas cards) that are often credited with Krampus's fame outside of Austria are nowhere to be found.
The lack of Krampus kitsch appears intentional. Rural and suburban Austrians are protective of the tradition, and there's little interest in helping visitors take part (the Salzburg area is a notable exception). Websites about Krampus events are almost never in English, and in some areas, runs are conducted along ad hoc routes that "you have to know to know."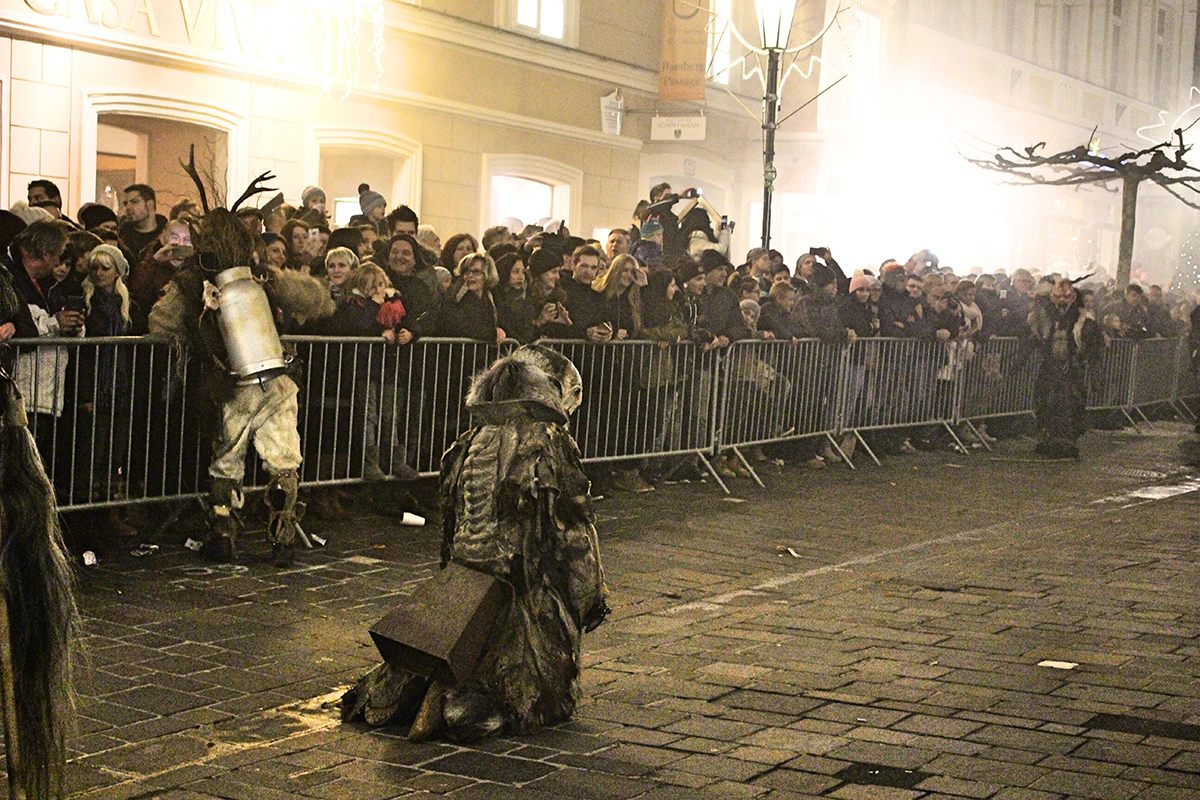 Though Krampus has always been a locals-first tradition, there are recent reasons for the antipathy toward outsiders. Increased international attention to Krampus has also meant increased scrutiny and regulation of Krampus' more violent tendencies. Austria's capital city in particular has little love for the creature; in 2006, several schools in Vienna permanently banned Krampus-related performances, and on the rare occasion that a Krampus appears publicly in the city, he's required to play nice.
As a result, attending a traditional Krampus run in the countryside can feel thrillingly illicit, like a nose-tweak to urban sophisticates who "just don't get it." Because when it comes to Krampus, seeing really is believing.
More specifically, seeing a giant, growling man-beast chase after laughing onlookers with a whip really will make you believe that nobody does Christmas quite like Austria.