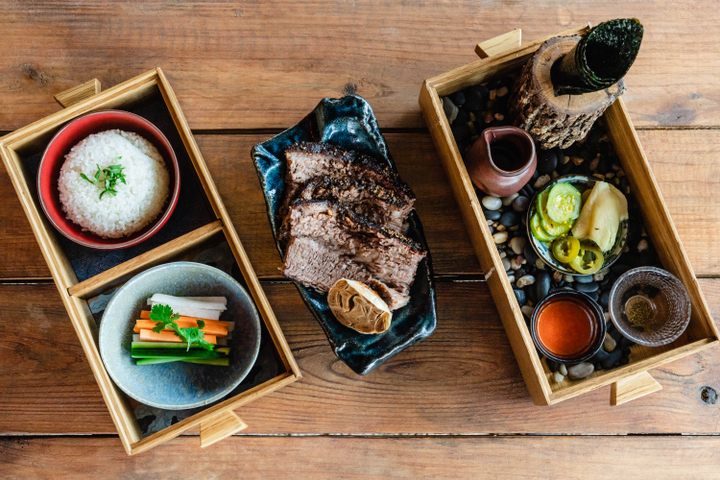 In Texas, Barbecue Has Gone Global
Across Texas, chefs and BBQ obsessives are stretching the limits of brisket, smoke, and sauce.
Texas barbecue is in the midst of a transformation. Long so entrenched in tradition that diners could predict the menu at a barbecue joint before visiting, smokehouses across the state are now experimenting with different cuts of meat, vegetables, flavors, and sauces. And as the state grows more diverse, these pitmasters come from a wider range of cultural backgrounds, with menus that incorporate flavors from around the world—often to very delicious ends. What tastes great with Texas barbecue? It turns out a lot of foods, including banh mi, injera, curry, birria, ramen, and more. These global influences have created a new generation of Texas barbecue that is a continuation of the genre's history of contributions from different cultures, rather than a departure from the norm.
The history of Texas barbecue is, in a way, the history of the people of Texas. Thousands of years ago, the indigenous Caddo people roasted and smoked game over open fires. The Spanish brought lamb and goats in the late 17th and 18th centuries. Tejano cooks wrapped their barbacoa in maguey leaves and added spice rubs to the equation.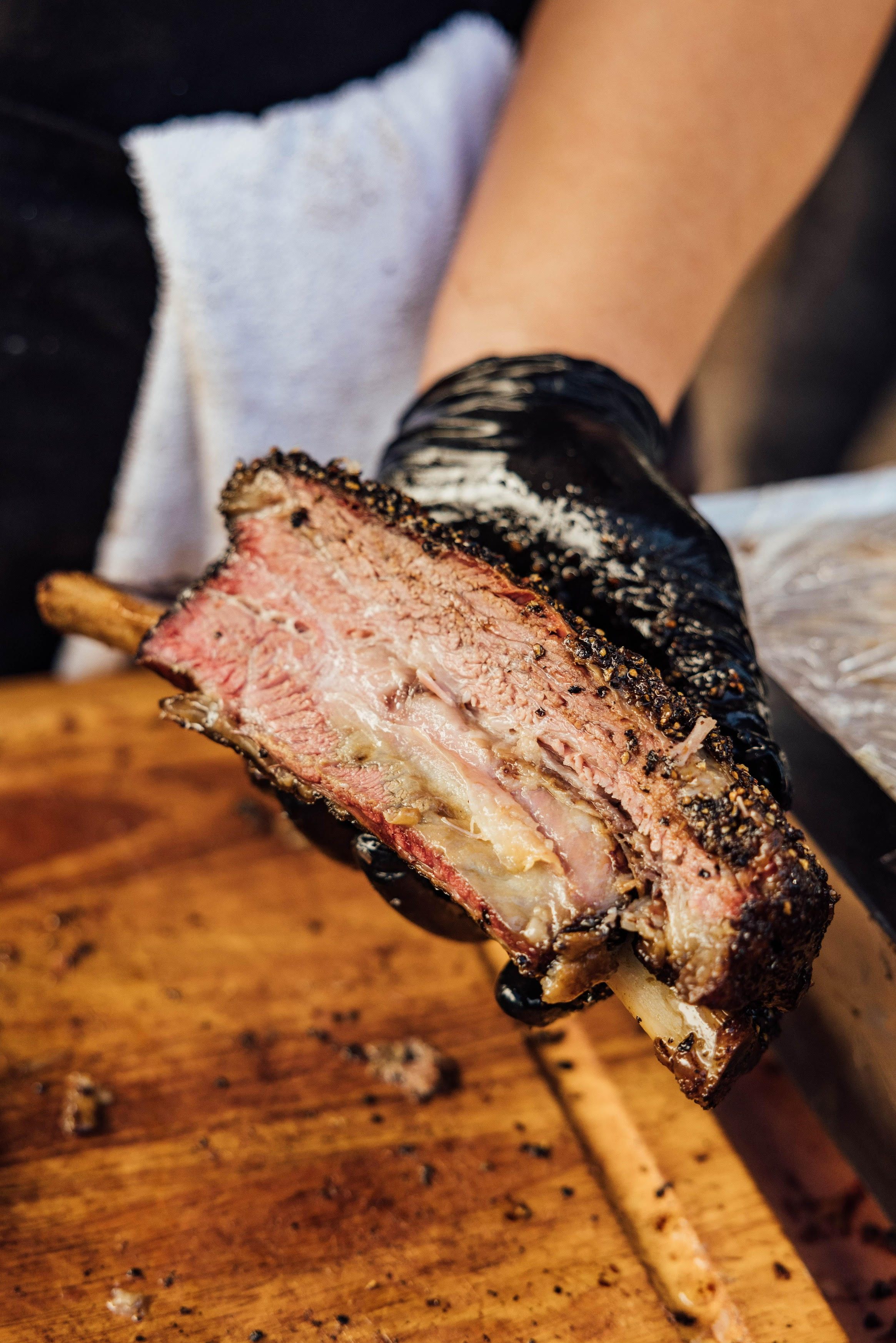 Black Texans brought whole hog traditions from the Eastern U.S., but after the Civil War, beef was more plentiful in the state, and cheaper than pork. These cooks were likely to have been the first to smoke brisket, the crowning glory of Texas barbecue, using cuts that held up to the low and slow cooking method, to produce something delicious. Smoked brisket soon became a staple at East Texas church revivals and Juneteenth celebrations.
German and Czech immigrants added to the barbecue tradition later in the 19th century and into the 20th, most notably with the addition of sausage to the smoked meat repertoire. Butcher shops offered all manner of smoked sausage, up to and including the famous Elgin hot sausage. These butchers started smoking meat as a manner of preservation, but serving hungry workers meat plates and sandwiches made barbecue a profitable lunchtime side gig.
As these influences converged, barbecue became a part of Texan life. Standards solidified, and while there is variation in regional style across the state, a typical Central Texas barbecue menu looks like this: meats sold by the pound, starting with the holy trinity of brisket, sausage, and ribs, smoked with post oak. There might also be turkey or chicken. Pickles, onions, and white bread, if you like. Sides include potato salad, beans, coleslaw, maybe macaroni and cheese or some kind of casserole. Dessert is banana pudding or fruit cobbler. You might drink iced tea, you might drink beer, you might drink sodas like Big Red or Dr. Pepper.
It's important to know the traditional Texas menu because, as Lane Milne of Goldee's Barbecue in Fort Worth says, "having a good foundation in Texas barbecue [means] you can rearrange those ideas." In other words, you need to know the rules if you want to break them. Goldee's is a restaurant started by a group of friends including Milne, Jalen Heard, Nupohn Inthanousay, Jonny White, and PJ Inthanousay, and the menu serves both traditional Texas barbecue and specials that draw on the group's background, as with Nupohn Inthanousay's now-famous Laotian sausage. In this case, says Milne, Goldee's is riffing on the traditional Texan idea of the meat on its own on the plate, with bread and sauce on the side—Goldee's serves the smoked sausage with sticky rice in place of bread, and jeow som, a tart and spicy dipping sauce.
Goldee's also functions as something of a think tank for barbecue creativity. After a series of successful pop-ups at the restaurant, pitmaster and Goldee's alumna Chuck Charnichart has left to open her own place, Barbs B Q in Lockhart, with co-owners Alexis Tovias and Haley Conlin. The trio of women will serve inventive, South Texas-inspired barbecue in a town called the Barbecue Capital of Texas—a place not known for diversions from tradition (or women pitmasters). Milne says other Goldee's employees are working on a halal Pakistani barbecue concept, as well as a Vietnamese-Persian barbecue concept.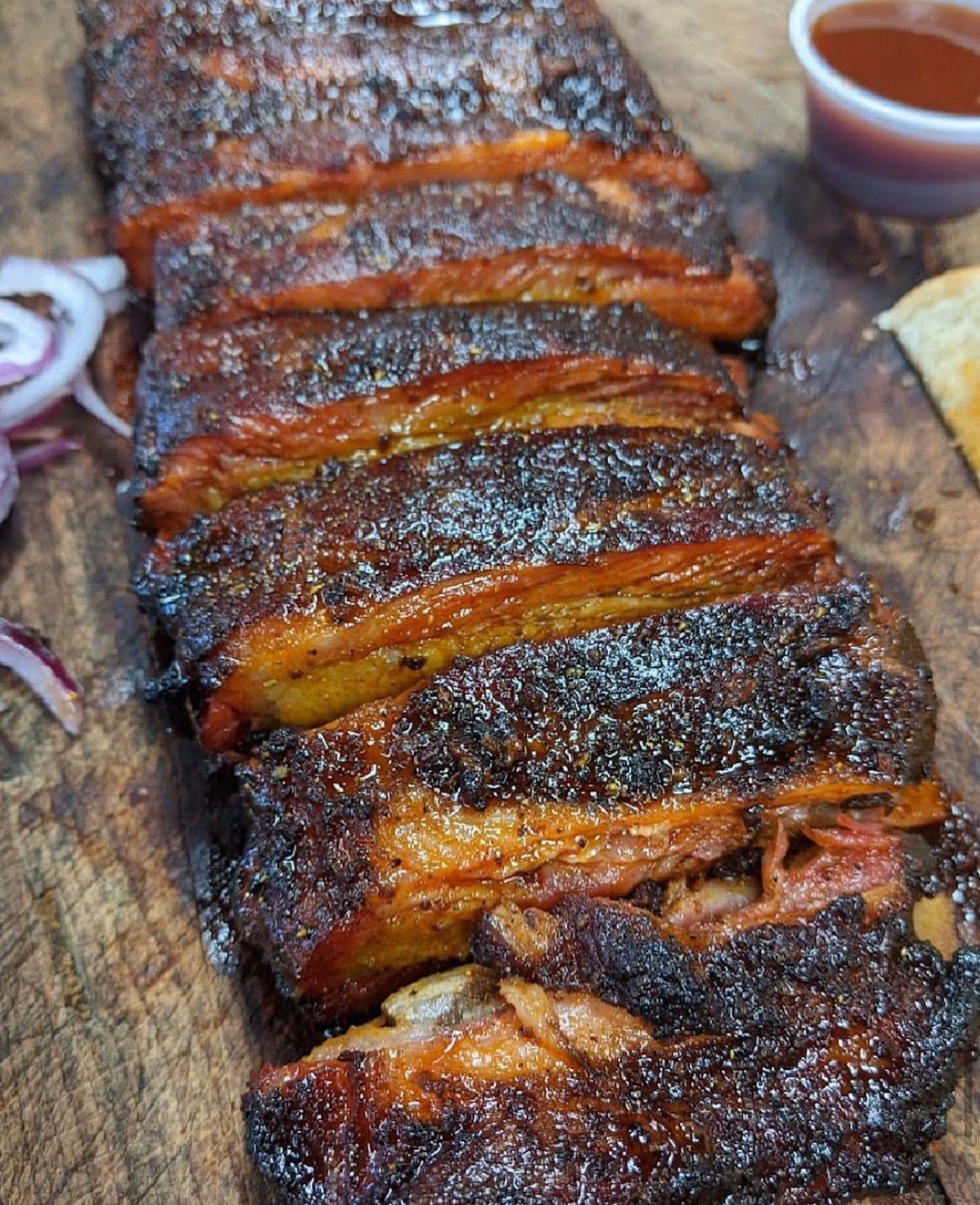 In nearby Arlington, Patrick and Fasika Hicks have combined their two cultures for another variation on barbecue tradition: Tex-Ethiopian barbecue at Smoke'N Ash. Patrick grew up in Waco, where he learned traditional barbecue from his family, while Fasika hails from Addis Ababa. After a series of pop-ups grew popular enough to warrant a brick-and-mortar restaurant, the couple expanded their menu to include Ethiopian fare. Fasika's sister, who still lives in Ethiopia, prepares a signature Berbere spice rub for the restaurant's meat, which is smoked over hickory wood. This combination, Fasika says, "creates an amazing flavor." She tells first-time guests to try the Tex-Ethiopian platter, which comes with smoked doro wat (a spicy chicken stew), rib tip tibs (a meat and vegetable saute), brisket and pork ribs dressed with awaze (a berbere-spiced sauce), beefy collard greens, Texas toast, and injera (a flatbread made with teff). The platter is in some ways a riff on the traditional cafeteria tray lined with butcher paper—except in this case, the lining is injera, which is both edible and delicious.
One of the reasons that barbecue is so amenable to cultural fluidity is the fact that smoke is a beloved and crucial flavor in cuisines across the globe. Kemuri Tatsu-Ya in Austin is a combination izakaya and smokehouse, serving a long list of Texas and Japanese whiskeys next to playful riffs on traditional dishes from both cuisines, like a build-your-own hand roll bento box that comes with your choice of barbecue. Chef Tatsu Aikawa was born in Japan, but grew up in Elgin, outside Austin—a.k.a. the sausage capital of Texas. Kemuri, which means "smoke" in Japanese, is the result of his childhood experiences. And in fact, the Tatsu-ya restaurant group saw so much potential in the mash-up of Japanese and Texan smoked dishes, they have now opened a second concept in the genre: BBQ Ramen Tatsu-ya, where Aikawa and partner Takuya "Tako" Matsumoto reimagine both what ramen and barbecue can be. Think "Texas Red" chili-doused tsukeman (dipping ramen) topped with chopped brisket, which comes with a Frito Pie kaedama (second portion of noodles).
There are many other chefs bringing their cultures and cuisines to Texas barbecue: A couple blocks from BBQ Ramen Tatsu-ya is KG Barbecue, an Egyptian barbecue truck from Kareem El-Ghayesh. The menu at KG offers dishes like pomegranate molasses-glazed ribs, smoked lamb chops, lamb and pork kofta, and a rainbow of sauces that take inspiration from Texas barbecue sauce and Egyptian yogurt, herb, and tahini sauces. Meanwhile, in San Antonio, Curry Boys BBQ tops Southeast Asian rice bowls with smoked brisket, sausage, and pulled pork. And Blood Bros. BBQ in Houston takes the entire city as their inspiration, changing up the menu almost constantly with specials drawing on flavors and dishes from Thailand, Mexico, Korea, China, Hawaii, Japan, Puerto Rico, Jamaica—the list goes on and on.
This is less a marketing-driven trend than a natural progression of Texan culture. One in six Texans is an immigrant, and another one in six was born in the US to immigrant parents—that's a third of the state's population that is either first- or second-generation American. For these people to incorporate their cultures into the long tradition of barbecue is not thinking outside the box, but rather drawing on their lived experience while extending the long-held tradition of different cultures evolving Texas barbecue.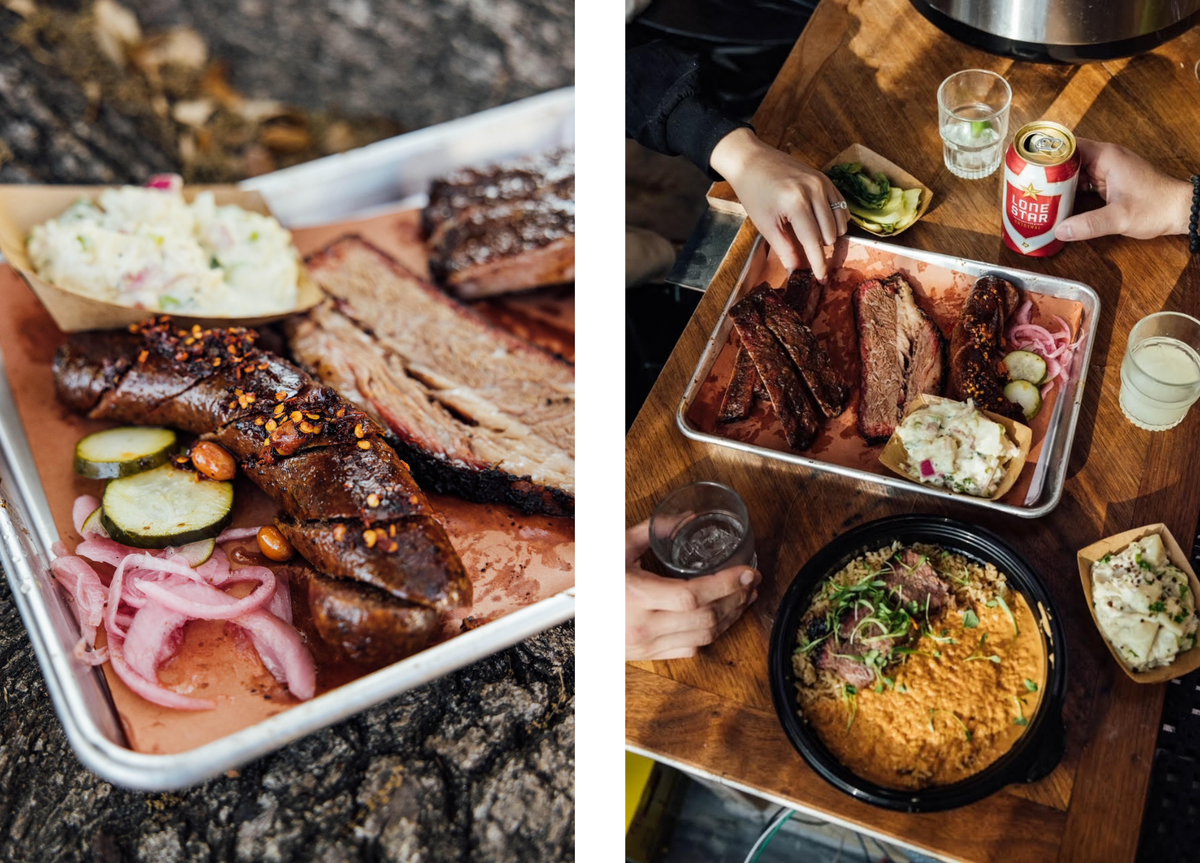 Don Nguyen runs the pop-up Khói Barbecue in Houston, and says Vietnamese-Texan food "is basically who I am—growing up in Texas as an Asian-American, [Khói] is a really cool canvas to express my upbringing." Nguyen got his start smoking meat after Hurricane Harvey, which lead to a barbecue fundraiser, which led to regular pop-ups. He serves dishes like bò lá lốt links, brisket pho, and a lemongrass pork steak, which is cooked over direct heat in homage to Tootsie Tomanetz's famous pork steaks at Snow's in Lexington. The Vietnamese parts of the menu are inspired by another Texan woman's cooking: his mom's.
"It's not just a bunch of cowboys making barbecue," Nguyen says. "It's people that look like me. There's so much good brisket out there, but what story are you trying to tell? It's the immigrant stories that are pushing the genre." This new generation of pitmasters is not just redefining barbecue, but reinforcing its identity: an ever-changing group project centered around smoke, fire, and delicious meat.