India's Mother Earth Cafés Shine a Spotlight on Indigenous Crops
Rural restaurants are providing a market for endangered edibles.
Early morning paints yellow stripes on the garden as Plantina Mujai selects a pumpkin. Carrying it inside, she hoists the gourd onto the kitchen counter, then turns to boiling fat red grains of red rice in a large steel pot and preparing round mounds of yam to cook with meat. After Mujai sorts her vegetables, she picks her main ingredient for the day: chutney ktung tyndong bad sohkhymphor, a paste made from papaya and dried fish, smoked in bamboo over hot ash for 10 days.
Mujai is the owner of a Mei-Ramew café, housed in a small bamboo hut that overlooks grazed paddy fields within Khweng Village, in the Indian state of Meghalaya. Mei-Ramew translates to 'Mother Earth' in Khasi, the name of both the tribe to which Mujai belongs and the language she speaks. Mujai's café is run with support from NESFAS, the North East Slow Food & Agrobiodiversity Society based in Shillong, the state's capital. For many years, NESFAS has been documenting the region's unique crops while educating farmers on their nutritional and market value. With three Mei-Ramew cafés in Meghalaya so far, the organization seeks to popularize indigenous ingredients and encourage entrepreneurship.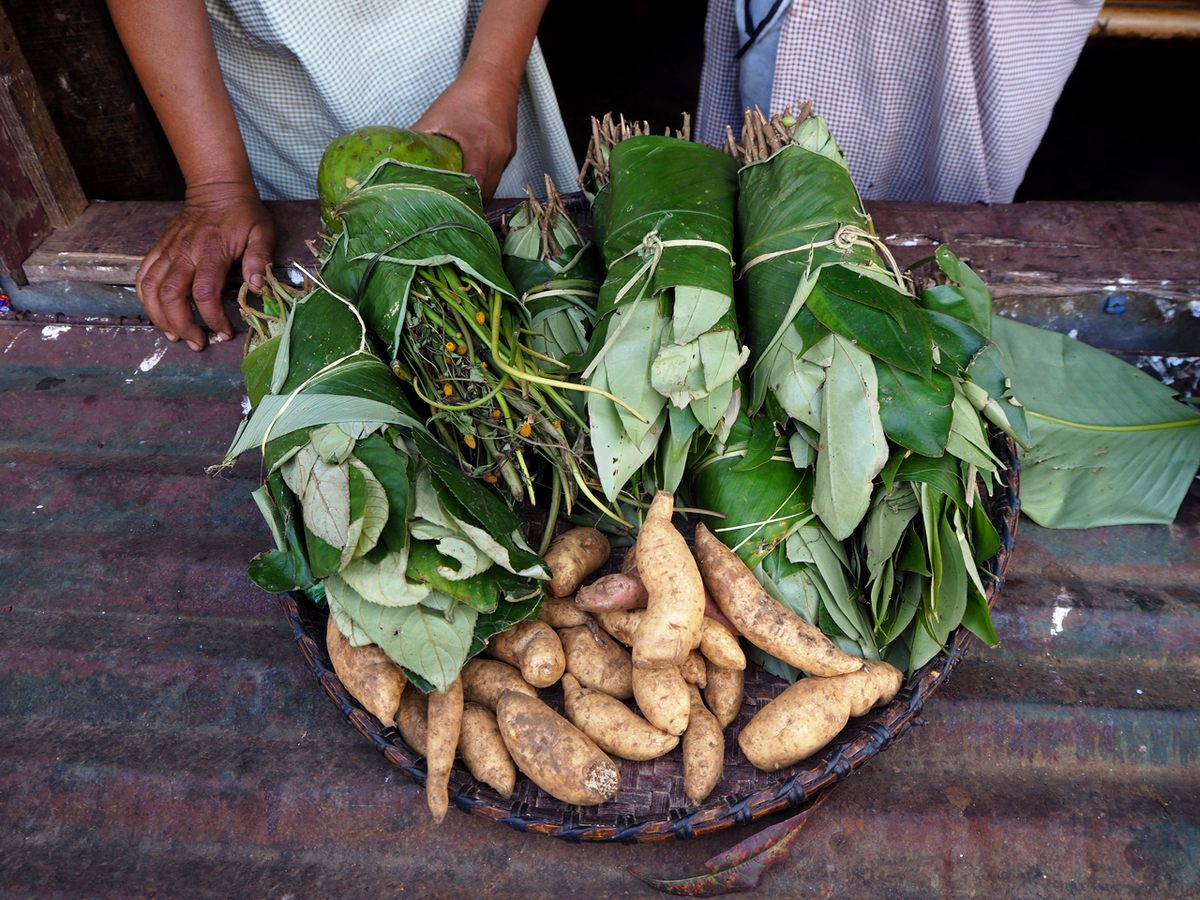 Here, thousands of age-old crops have resisted erasure: the black and red rice, unique edible greens, hundreds of kinds of yams, and potatoes in a rainbow of purples, reds and whites, not to mention the tubers with names unknown to languages outside those of the regional tribes. "Even between here and the next village, the vegetables and rice taste different," says Mujai.
But this biodiversity is under threat. In India, many indigenous crops have gone extinct since monocultural, large-scale farming systems took over during the 1970s. "In Meghalaya, hybrid, high-yielding varieties of seeds are subsidized by the state," says Janak Singh, a senior researcher at NESFAS. "These interfere with traditional systems, affect the quality of the soil, and also make farming with local seeds all the more expensive." In Meghalaya, traditional foods are slowly being replaced with cash crops such as broomstick grass, areca nut, sugarcane, and ginger.
This is where the Mei-Ramew cafés come in. "We want to help promote the consumption of local food, encourage local crops, and generate income," says Singh, explaining how the cafés serve produce that is indigenous to the soil and the communities that live in the region. "The knowledge is already there, the farmers know what to do," says Singh. "We are just supporting them, creating a market, and giving their efforts a push."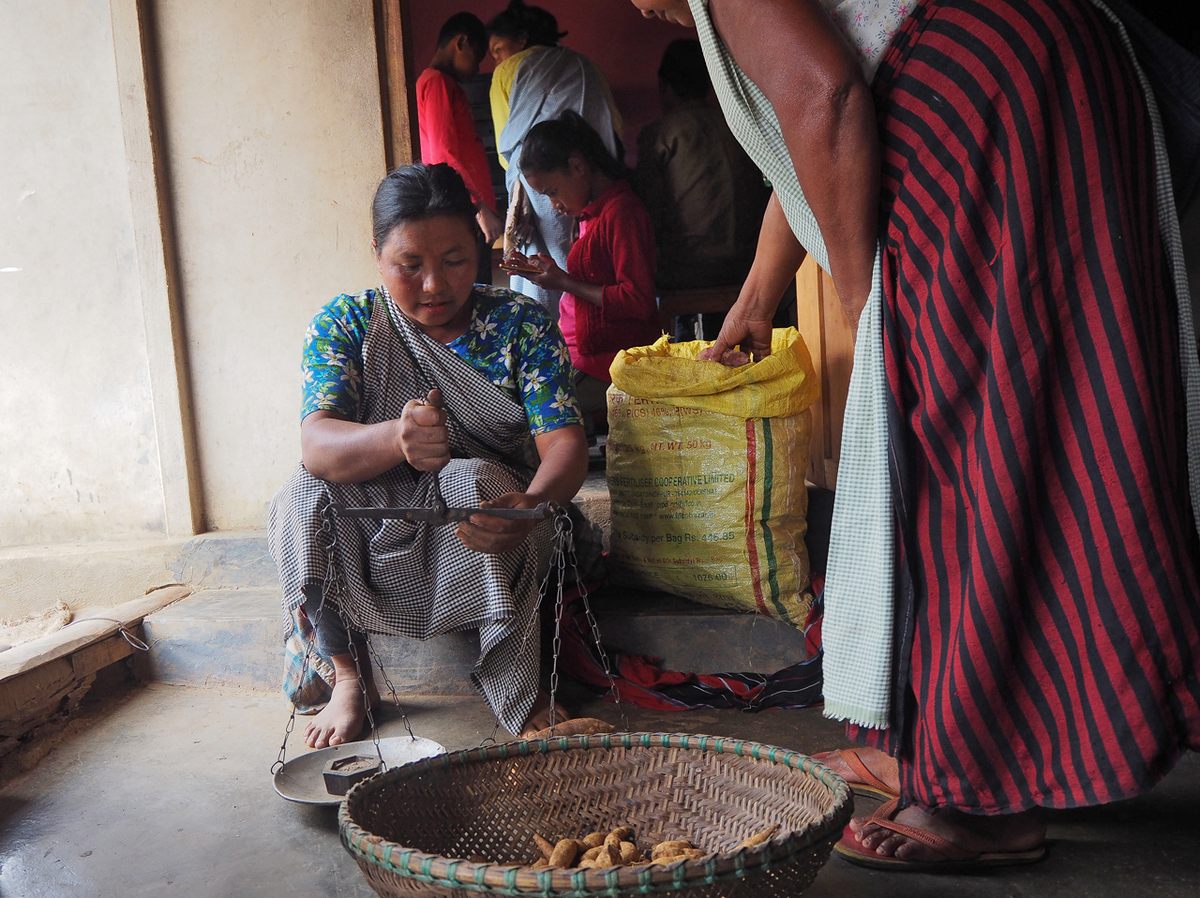 Mujai, now in her late 60s, learned to cook when she was a young girl. "I would go to the fair and ask older women to let me do odd jobs," says Mujai. "My mother would scream when I returned with my payment. 'Aren't you a child!' she would say." But Mujai always sought to keep herself busy: peeling nuts from their skins, pounding turmeric and ginger into pastes.
In her café, Mujai chops up jailer, a foraged leafy vegetable she will cook with dried fish and yam stems; scoops jama, a dish made with sweet potato and fermented fish, and stirs wangpanai bad dohnud sniang, a warm stew of mushrooms and pork liver. The Khasi palate leans towards sour, sweet, and bitter tastes, punctuated by nutty rice, rich meat, and the pungent dried fish that accentuates most dishes. "It's never boring," Mujai says. "I always think of new ways to use what we have." Behind her stovetop, her door opens to the garden, where she grows mustard leaves, bitter brinjal, or eggplant, tree tomatoes, and chilies. She also rears her own chickens and pigs, and keeps a shed where she grows mushrooms to sell on the side.
As she cooks, a local farmer passes by to sell her small yams. "Do you know how many varieties we have in this region?" she asks, rhetorically. "Hundreds." But Mujai mourns the loss of krai, or millet, which formed a prominent part of the Khasi diet before it was completely replaced with rice. "Krai is much more nutritious, it gives strength, and we farmers need that," she says, recalling the days when she would eat millet rolled into small mounds as dessert. "Khasi millet is also climate-change resistant," she adds. "It grows without much coddling in any season."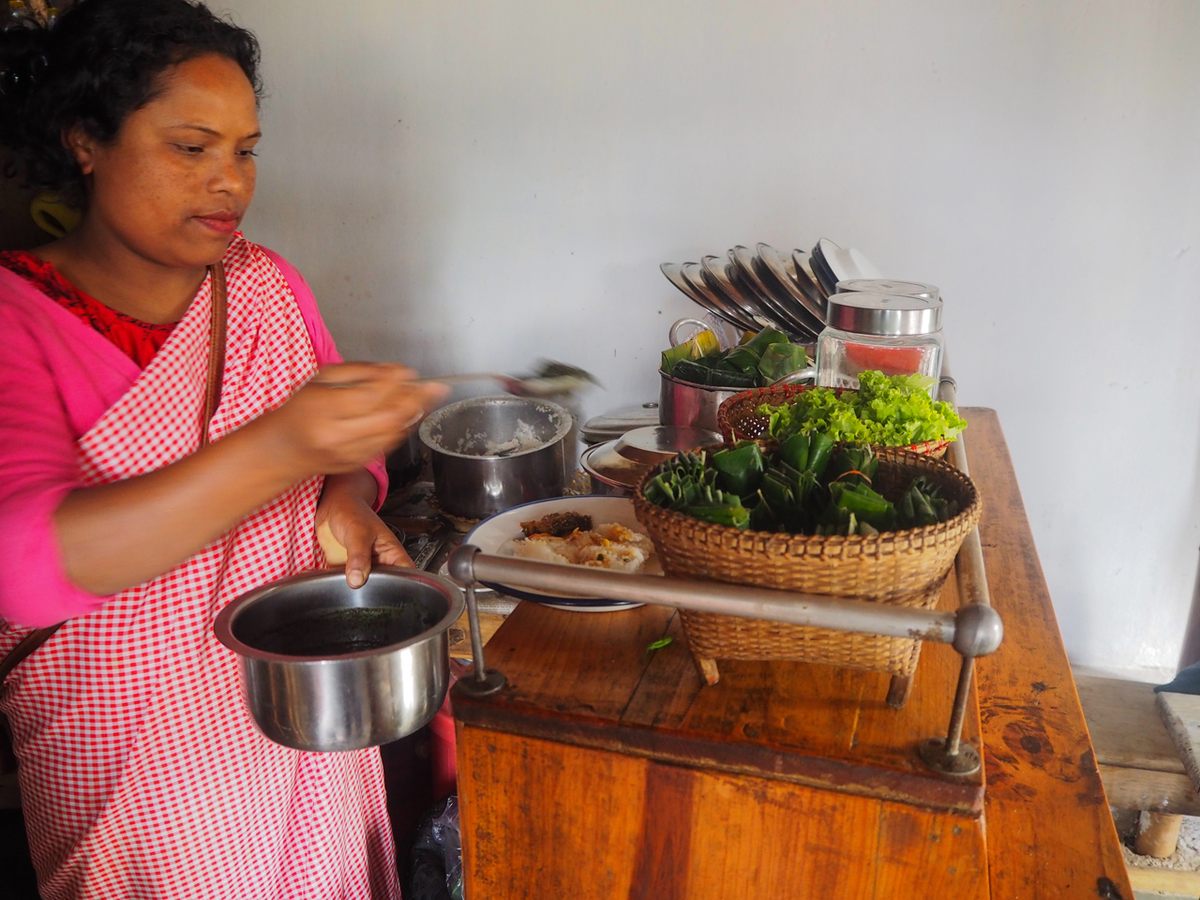 Though Mujai cooks all day, she doesn't eat in her own kitchen. Instead, she walks to her neighbor Dial Muktieh's eatery, the second Mei-Ramew café in Khweng. "She's a great cook," she says, as she eats Muktieh's meal for the afternoon: local rice, a piece of fried river fish, and a salad made with muli, the local radish.
As her customers eat, Muktieh watches intently, often bounding across the room to add condiments to their plates: bamboo pickle, fresh salad leaves, a dollop of rosella jam. Along with lunch, her café also provides local snacks, such as putharo, made from boiled beaten rice wrapped in a banana leaf, and pusla, sweet rice and jaggery sugar steamed together. Before Muktieh started the café, she sold Indian-Chinese cuisine, the junk-food preference of the region. "But I didn't like the taste," she says.
Muktieh, in her 30s, spends all day in her café. She compulsively grooms the benches and the soft pink curtains that filter the light into her establishment. Her counters are covered with pickles she has bottled, and she constantly notes down dishes to cook during the week—pork intestines with herbs, black rice sweetened into pudding. "Why are the markets full of foreign vegetables when we can grow so much here?" she asks, mentioning the timid-tasting cauliflowers and foreign cabbages eaten across India. "My aunt used to say, 'Dial, when you look at your plate and you look outside your window, you should see the same things.' That is the way to eat."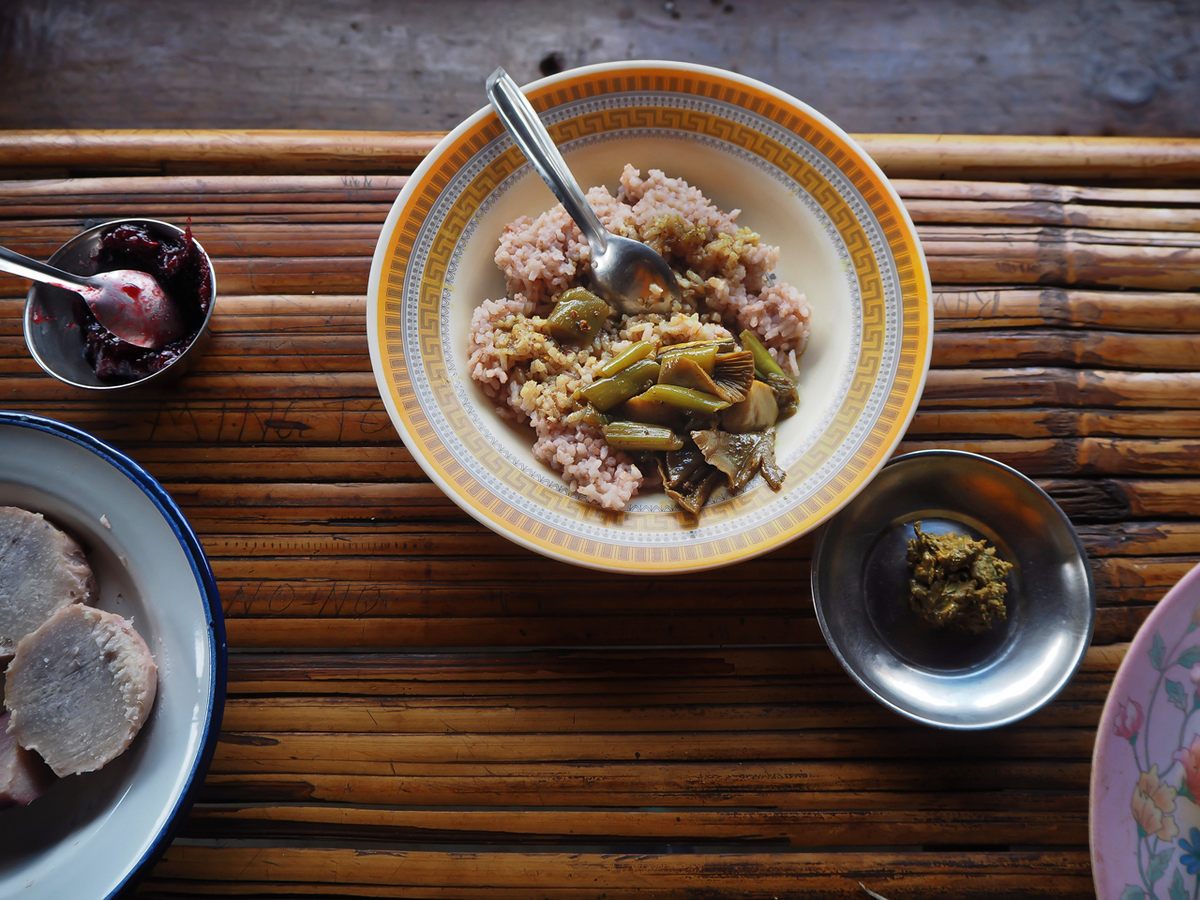 As Khasi women like Mujai and Muktieh work tirelessly to bring their tribe's food to the forefront, in Meghalaya's West Garo Hills, another Mother Earth café run by Hendri Momin has the same quest. Darechikgre is a winding 10-hour drive from Khweng Village, and it is populated by the Garo tribe, the state's other indigenous community. The café in Darechikgre is called the Aman-asong Café, which still means 'Mother Earth,' but in the Garo language.
While they live in the same state, Garos, in custom, folklore, and culture, are distinct from the Khasis. "People always tend to look at indigenous tribes as one big blanketed group," says Chenxiang Marak, a Garo researcher with NESFAS. "But that is reductive, it is why indigenous food gets no representation when the apparent diversity of Indian cuisines is fussed about." The West Garo Hills are warmer, the pumpkins are smaller, the rain heavier. But as with the Khasis, Garo specialties have begun to vanish over time. For example, kharchi, a vinegar made from bamboo ash used to add salt to food, has disappeared from the region.
In his café, Momin prepares breakfast: a local version of paratha, the popular Indian flatbread, made with tapioca flour and sprinkled with sesame seeds, and fritters made with an herb called samskal. Momin learned to cook in kitchens in the capital, but here, he can prepare mana muni, a local variety of spinach, smoke his own beef, and juice oranges from his own orchard.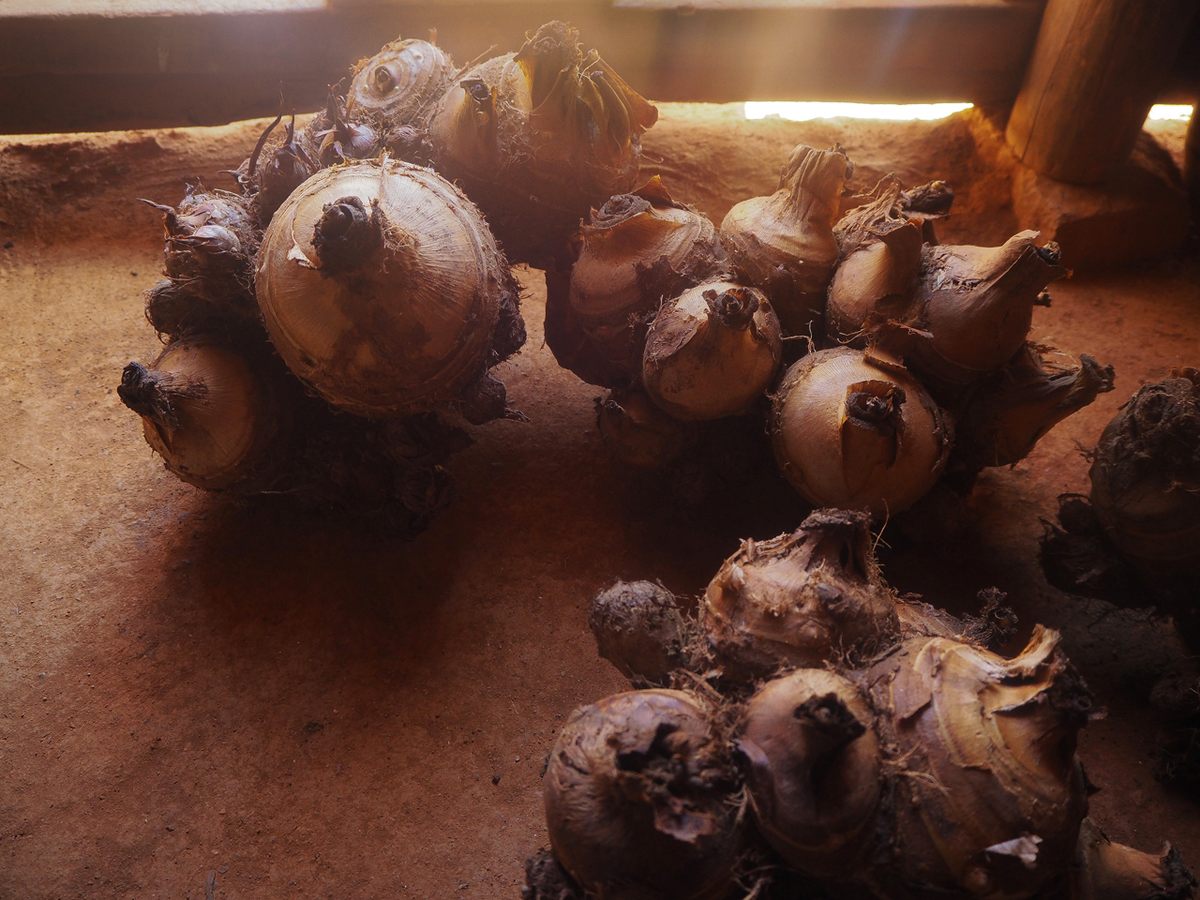 But Momin is worried. "There is no taste anymore for local produce," he says. In Meghalaya, the local rice is red, and flour can be made from tapioca and millet, but refined flour and rice have infiltrated people's palates. "Refined flour is cheap, and therefore becomes a very invasive taste," he says. Momin is trying to bring back local ingredients through his cooking. A wildly popular dish at his café is bhujia, a fried snack that he makes with dried black rice instead of flour. "To change minds, you slowly change what people are used to," he says.
Even though Garo Hills are plush with produce, the region shares a border with Assam, which allows the flooding of its markets with cheap crops from neighboring states. "We grow many kinds of gourds," says Gytelallin S. Marak, a farmer and indigenous seed custodian in the village. "The Garos eat the spike gourd, the bitter gourd. And we grow beans—broad beans, green beans, long beans. But our farmers aren't able to pay rent for shops, so they have to sell on the street, and often give their vegetables to middlemen for very low prices." Under Marak's supervision, many households now store indigenous seeds on their own. "Modified seeds given by the government are not always high-yielding, nor are they pest-resistant," he says.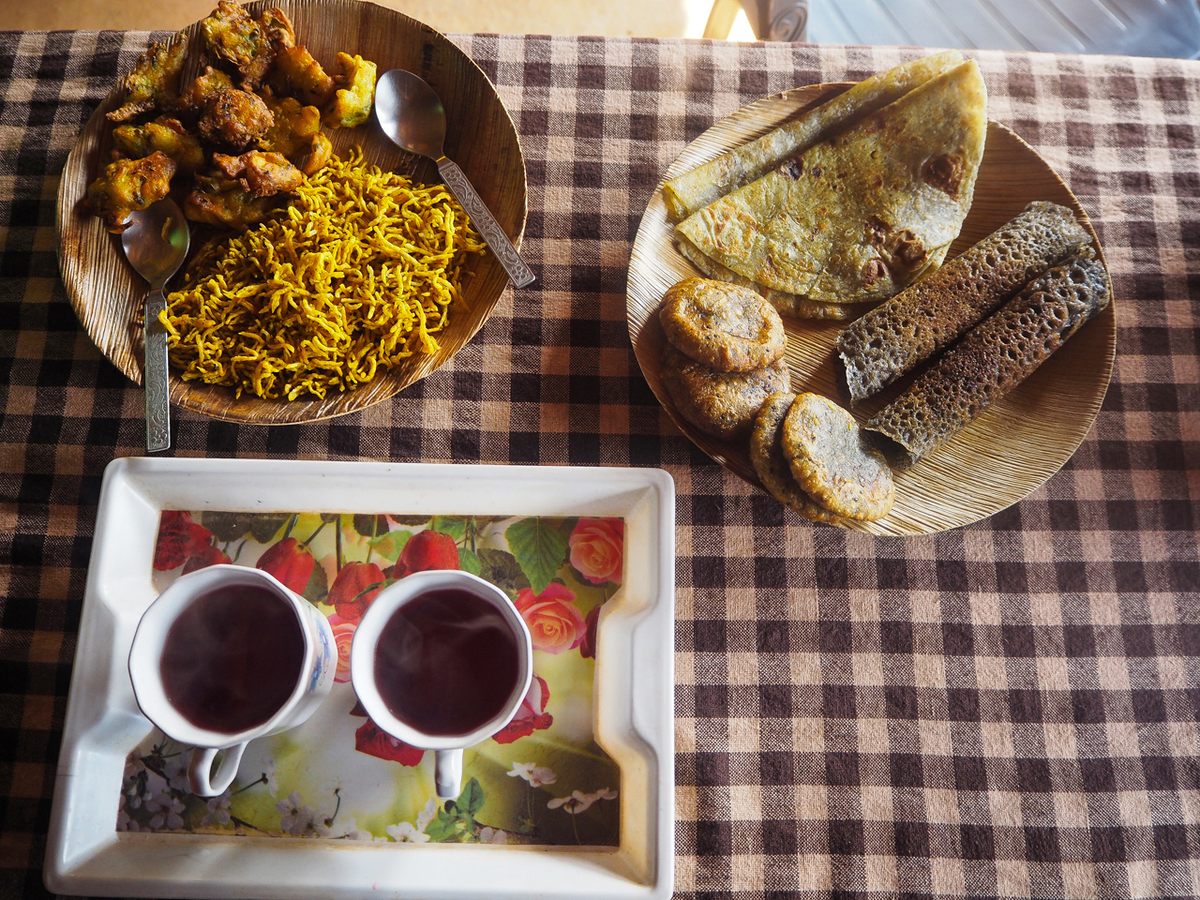 Climate change has already made things difficult in the region, one of the rainiest in the Indian subcontinent. Now during monsoons, it pours endlessly for days, Momin says, destroying many crops. Marak adds a story of an acidic rainfall that ruined the village's plants. "We didn't create the change," he says. "But we are affected." He believes that one mitigating step for locals to take would be to once again grow regional, resilient crops.
As Momin prepares snacks for the evening, he also sorts through seeds of sipin, the local variety of sesame. Meanwhile, customers demand pitta, a flatbread eaten with tea. "There is no value for indigenous knowledge, it is treated like it is second-hand," says Marak, as he helps Momin trim foraged herbs and wrap them up in paper parcels for the customers to take home. "But when we do not act, we are sacrificing our wealth, our histories, and our land."
Gastro Obscura covers the world's most wondrous food and drink.
Sign up for our email, delivered twice a week.