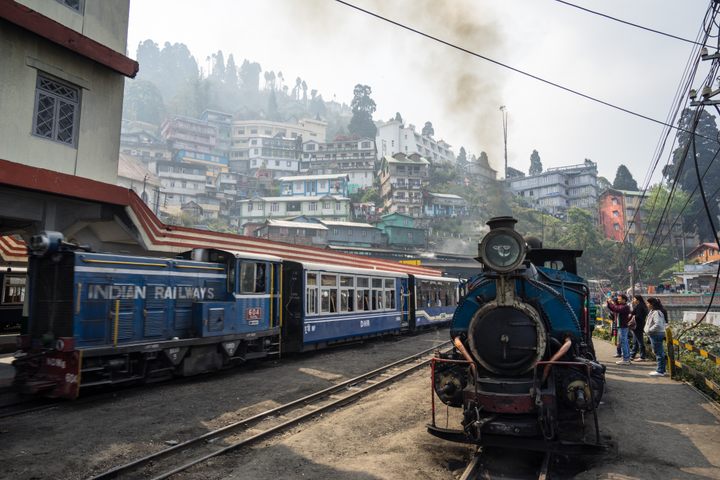 Meet the Most Passionate Admirers of India's Rail Network
The Indian Railways Fan Club unites thousands to talk trains, tracks, and subcontinental travel.
Mani Vijay remembers his mother telling him how, as a child, he would move a measuring tape across the table, mimicking the movement of a train. The IT professional, who grew up in India and is now based in New Hampshire, says he has been passionate about trains for as long as he can remember. There is something about the Indian Railways (IR) in particular, he says—the romance, the chaos, the sounds, smells, and diversity, the nostalgia too—that has sustained his railfanning from childhood until well into his adult life.
In the pre-internet days of the 1980s, when pursuing hobbies meant a lot more physical engagement than a quick web search on the go, Vijay would hover around a distant uncle who worked in the railways. That uncle taught him about the kinds of trains and their various distinctions, and gave him access to engine sheds, locos, and precious memorabilia from the IR. All the while, Vijay wondered if his intense passion for everything railways was a quirk he alone possessed. But after a 1985 move to the United States to study, he met a roommate who loved trains just as much. In 1989, following a serendipitous email exchange with another student from another university, Vijay and a motley crew of Indian railfans, all students then, set up a private mailing list to discuss all things rail.
Thus was born IRFCA—Indian Railways Fan Club of America, since the nine founding members were all living in the United States at that time. Today, the club has a ginormous website with an intricate web of facts, photographs, technical data, and resources so well organized that IR officials themselves have been known to consult its archives, albeit not in their official capacities.
The Indian Railways is famously among the 10 largest employers in the world, with about 1.4 million employees. The rail system has over 76,000 miles of track and transports over eight billion people a year. It is often called the lifeline of India, and rightly so, for it remains the cheapest way to travel across the vast country. The drastic differences in landscape, languages, and food available at the stations on an average long train journey makes the IR a flag-bearer for India's diverse socio-cultural realities. This rose-tinted nostalgia for the romance that rail travel promised has held a large space in the childhoods of millions of Indians.
Shashanka Nanda, a New Delhi communications consultant and long-time member of IRFCA, calls himself and his colleagues at the fan club children who never grew out of their boyhood hobby. (The club's membership is overwhelmingly male.) Like others in the IRFCA, Nanda did not expect to share his passion for IR with so many. "The interest [in trains] was always there," he says. "And then when the internet came to India and we were able to access it, we went looking for something like 'Indian train photographs' and saw that there was this website. That there were other people who shared your interests." He speaks of a time when such an eclectic hobby was almost closeted and "a lot of other people would find it strange." "People would wonder what was so interesting about Indian trains and the railways. They were smelly and trains were late, the food was bad. That was the typical experience people would have," he says. Riding the railway was mostly seen as a necessity one had to bear with, for lack of other choices to travel.
With the spread of the internet in the late 1990s and thereafter in India, IRFCA membership grew swiftly. The original mailing list, hosted on various university servers, had by then become a Yahoo Group, then a GeoCities website, and finally consolidated into the website it is today. It was in those years that Nanda discovered the fan club. Recently, he has been active in curating and maintaining parts of it. He is among the seven or eight admins that the crowd-sourced website has, all of them volunteering their time to organize the sections and, importantly, maintain some order in the forums. Except for having to register to participate in the forums, there is no other form of signing up, so it is hard to estimate how many fans use the website. "At last count, there were over 8,000 registrations," Nanda says.
The IRFCA website is a labyrinth with hundreds of detailed rail trip reports, which note the train number, type of coach, the horn sounded, and passing stations, referred to by their abbreviations. Alongside the reports are thousands of precious historical photographs, technical drawings, timetables, tips on trainspotting, and forums for everything from trivia to policy to quizzing. An archive goes all the way back to the first emails that founder members like Mani Vijay, Dheeraj Sanghi—now a professor at an engineering college in Chandigarh—and others exchanged in 1989.
"WARNING!! What follows is a rather exaggerated sycophantic rantings of a hopeless train-nut, singing praises about his 2nd favorite train!!" Thus begins one of the first emails among the founder members, followed by an elaborate report of a trip on the Horwah-Madras Mail train route.
Vijay claims to have been among the first rail fans to record train journeys on video. He began doing so in the 1990s, using a bulky camcorder he acquired while on a trip back to India to get married. While he has uploaded many old videos on his YouTube channel, which has several thousand subscribers, he says there are too many younger people these days with smartphones, splinter groups, and social media reach who post train videos more for publicity and revenue than for a "real" love for the IR. Admittedly, he says these things are bound to happen with the easy access to technology that India now enjoys.
The IRFCA makes a point of saying it has no official affiliation with IR, a wholly government-owned institution in India. But employees are familiar with the work the club does. They even help railfans access IR staff and information, and facilitate fan trips by granting permission, where needed. The annual convention that the club started some years ago is held in various parts of India, attended by railway officials. Photographs from the IRFCA gallery have found their way onto official IR calendars and publications. Vijay's old photograph of Vaigai Express, an old beloved meter gauge train that operated between Madurai and Madras (the city was renamed Chennai in 1996), has for years found itself on cakes cut on the train's birthday, and on mugs, tees and other memorabilia. While there is no official relationship between the club and the railways, the two have regularly found connections to make with each other.
The members understand that their passion for the IR is among the less common of hobbies. Nanda admits that early on, his love for rail travel was colored by nostalgia; he has fond memories of two-and-a-half-day long journeys from New Delhi where he grew up to his grandparents' house in southern India. "I remember seeing steam (engine trains) as a kid, and of course those big machines would fascinate me," he remembers. Over the years, with a better understanding of the way the railways work, he says, "Today, the charm for me is, for a country like India, the role the railways play in binding this country together." He points to how rail travel has always been a leveler. On a train, the caste system does not hold as tight a grip on people as it does otherwise in society—though, of course, that's because no one has much of a say in who sits next to them.
Popular culture often assigns railfanning to nerds—think Sheldon Cooper in The Big Bang Theory. IRFCA is that happy place for many to geek out on technical stuff and obscure factoids that not many others would care for. A member with the user name palbappaditya says it best: Indian Railways "is something more than the aggregate of its tracks and locos, schedules and signaling, MPSs [Maximum Permissible Speeds] and TSRs [Temporary Speed Restrictions]—in the subcontinent, Railways is a way of life."