Inside the Oldest Labor Union for Black Musicians
Founded in an era of segregation, the New Amsterdam Musical Association is one of New York's most fascinating—and unknown—cultural landmarks.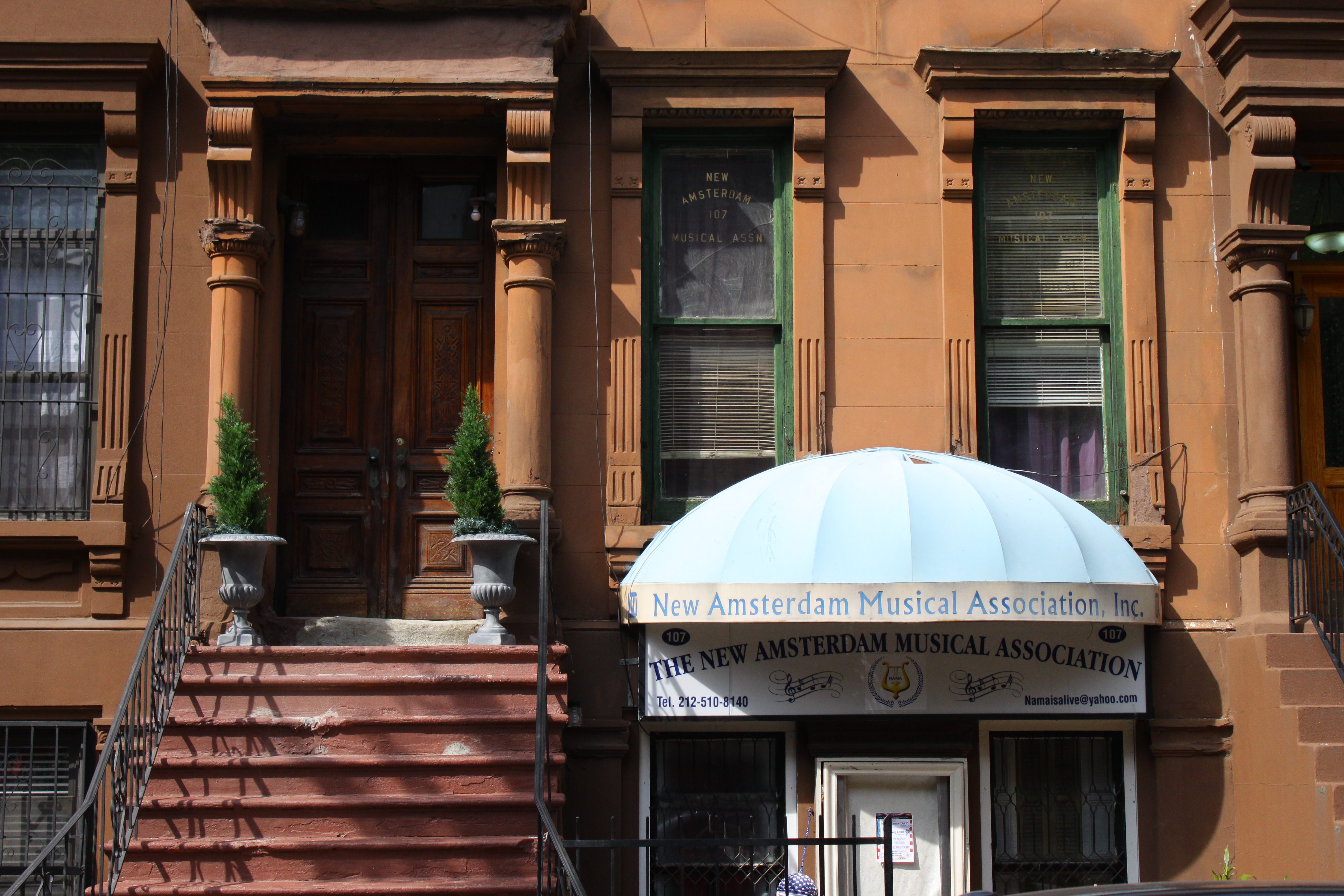 The New Amsterdam Musical Association's home in Harlem. (All Photos: Jack Goodman)
At the apartment of cellist Louis Biggar Wise in the then-notorious Tenderloin District, a group of professional musicians, all struggling to find work in an increasingly segregated city, were discussing how to improve their fortunes. It was 1903 in New York City, and every person in the room on West 54th Street was excluded from the white's-only musician's union.
The following year, these musicians founded the New Amsterdam Musical Association. Incorporated in 1905, it is among the oldest musical organizations for African-Americans in the United States, and was envisioned as a united front for musicians excluded from the unions to deal with the music industry in that hostile era. Some of the most influential figures in 20th century music and culture have been NAMA members. James Reese Europe, the famous composer and bandleader, was its first musical director. Eubie Blake, the jazz legend, and Langston Hughes, the poet, were both members.
Located inside a tall brownstone in Harlem, the New Amsterdam Musical Association is still a magnet for musicians today. The organization has evolved in both mission and scope since the days when black musicians were forced to fight back against the dominance of the white's-only unions. No longer a union or exclusively a members club, the association now aims to be a hub for Harlemites, and a testament to the history of African-American musicians in New York City.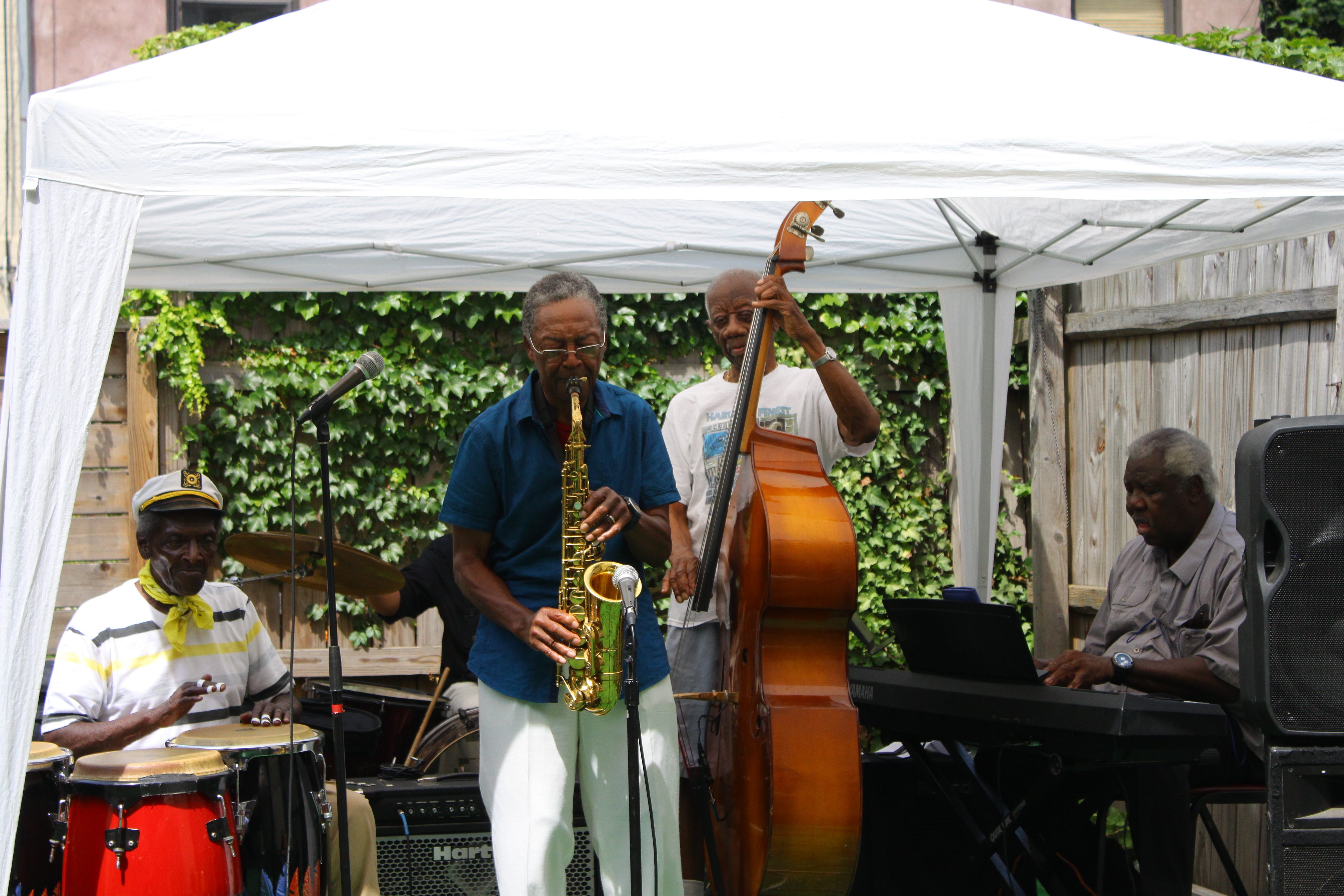 Chairman Willie Mack plays the saxophone on Independence Day.
NAMA moved between seven locations before it found its current home in 1922, at 107 West 130th Street in Harlem. Visitors enter through a red door underneath the main entrance's stairway, which leads to the performance area on the building's lower level. The setup is simple. Photographs of notable members line the walls and rows of chairs lead up to a small stage. A piano stands on the back left of the stage and to the right, a drum kit.
Many features remain intact from the original 1922 structure, and parts of the building retain a museum-like quality. Music lessons take place in a high-ceilinged room upstairs among an assortment of old records, sheet music and pianos. Musicians still teach pupils for little or no money. The ethos is: "I have this. I'll share it with you. Take it and make yourself better," says NAMA chairman Willie Mack. "I really feel that that legacy is going on today."
James Reese Europe originally conceived of the idea for a labor union for black musicians at the end of the 19th century. It was a time when migration of African-Americans from southern cities with Jim Crow laws to northern cities like New York had inflamed racial tensions.
The migration incited a growing disparagement of black people, says Marcy Sacks, a historian and expert on early 20th century New York City. "Black men found themselves shut out of employment, even when they used to have employment," says Sacks.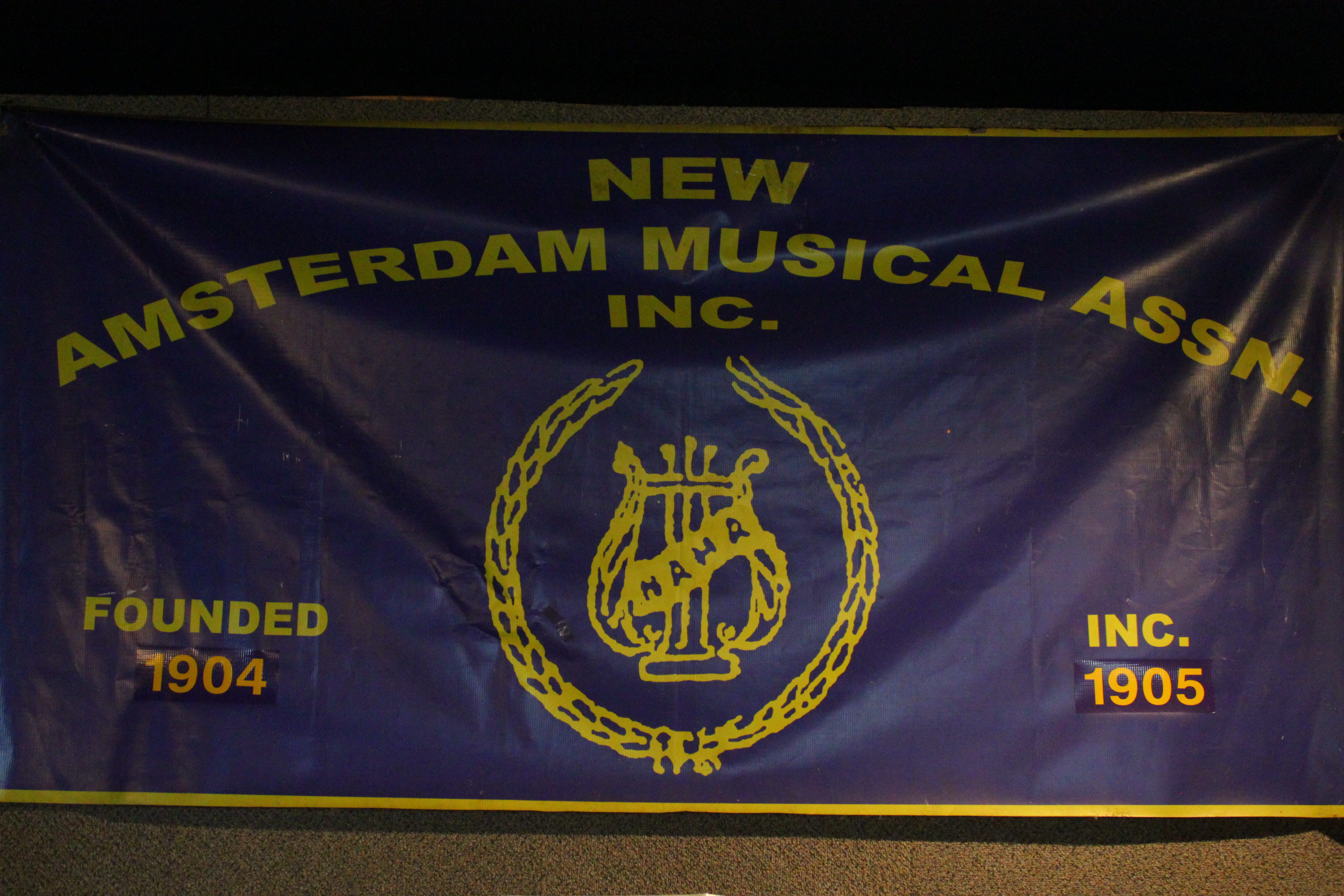 NAMA's official emblem.
After NAMA was officially incorporated as a non-profit in 1905, the association became a meeting place for black musicians. Membership provided musicians with benefits that were previously out of reach, such as better pay and protections against abusive contractors. They were also provided with lodgings and practice space.
Under Europe's direction, NAMA became more and more successful. "He was an extraordinary man," says Chris Moore, a former historian at the New York City Landmark Preservation Committee. And this collective action came at a time when large swathes of white society viewed black music as something illicit, says Moore.
Europe was an expert composer and player, and as members of NAMA became proficient in the most popular forms of dance music, they were soon offered the hottest jobs downtown. In fact, they became so good that in 1908 the local musical union–then Local 310–was forced to admit black musicians.
Europe went on to form an orchestra called the Clef Club, populated by musicians who had coalesced around NAMA. He later became the bandleader for Vernon and Irene Castle, married ballroom dancers who frequently appeared on Broadway and in silent films, and who popularized the foxtrot. And he fought for the Harlem Hellfighters, a regiment of black soldiers during WWI. The United States army refused to let the Hellfighters serve in combat, so they fought under the flag of France.
After musicians from NAMA joined the local union, the organization transformed into more of a social club. Musicians gathered, organized gigs, jammed together and sometimes stayed the night. In 1923, a year after they moved to Harlem, a 100-piece orchestra from NAMA played at Carnegie Hall.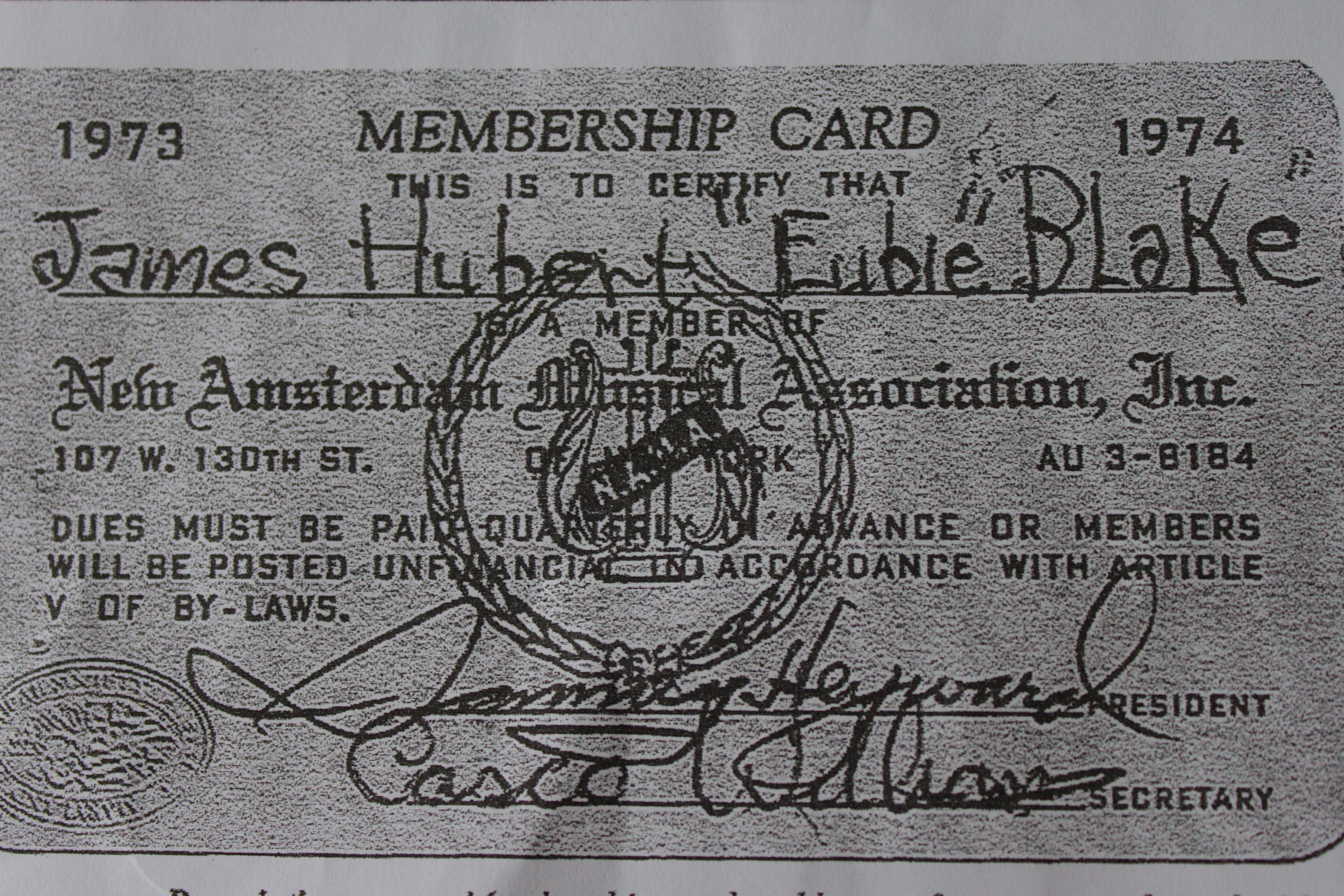 A scan of Eubie Blake's NAMA membership card.
Nearly a century later, the New Amsterdam Musical Association is still going strong. It opens to the public for regular Monday night jam sessions and special events, including during Black History Month and on Independence Day. This July 4, NAMA chairman Willie Mack played a rousing set on the saxophone underneath a cloudless sky in the building's backyard.
For Mack, the culture of solidarity, self-discipline and success that inspired those first musicians to create the organization still exists today. "It wasn't the music they taught me. It was the attitude," says Mack. NAMA, he says, is "a haven for people who are striving to make the world better through the arts. That's it."
At the Independence Day celebrations, Arthur Brown, NAMA's vice president, tells the audience that some of New York's greats walked through these same doors: Sammy Davis Jr, Charlie Parker, Langston Hughes, and Noble Lee Sissle. The New Amsterdam Musical Association became a hive of activity during the Renaissance years and into the 1950s, when Harlem was the jazz capital of America.
But NAMA's membership numbers dropped in the 1960s, as Harlem gained a reputation for high crime, and this started a slow decline. The headquarters at West 130th Street remained open, and the legendary Monday Night Jams continued, but the Association fell behind on bills and maintenance. When the current president took over in 2000, the City government was on the verge of taking over the building. "Men were still playing music but no one took care of the debts," says President Antoinette Hamlin.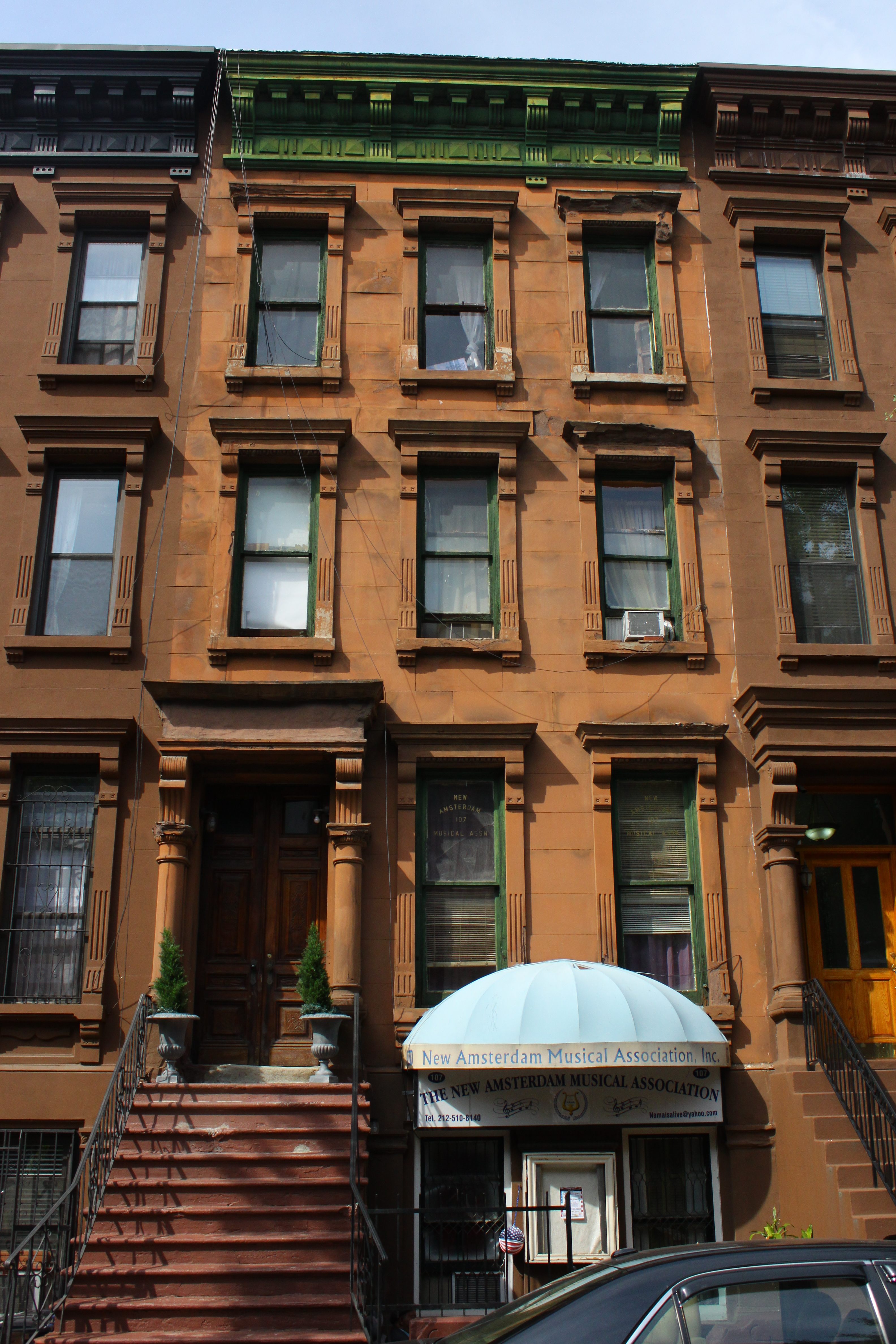 NAMA's home since 1922 seeks Landmark status.
A task force made up of longstanding members concluded that they couldn't afford to pay off the property taxes. But, by reinstating the place as a non-profit organization, NAMA was able to gain a tax-exempt status. Although some windows at the back of the house are still boarded up, the energy bills have since been paid off, and the Association now seeks landmark status for the brownstone.
Much of the action these days takes place during the Monday night jam sessions, ever-present for much of NAMA's history. It's where the celebrated blues and jazz guitarist Solomon Hicks got his start, when he began showing up there as a 13-year-old. "I wouldn't be the guitar player that I am today," he says. Playing with older musicians was exciting and scary, he recalls. But through these experiences, he grew to understand true jazz and blues music. Now he plays regularly in some of New York's best venues.
The New Amsterdam Musical Association wants to help many more young musicians in the future. A scholarship fund set up by members offers young players free tuition. It's all part of an effort to make sure the organization stays afloat for years to come.