Sorry, We Have No Imagery Here: When Google Earth Goes Blind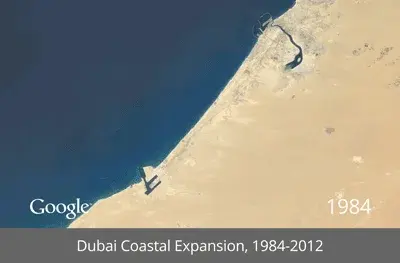 Dubai's coastal expansion over time on Google Earth (via Google)
Since its debut, Google Earth has been a kind of a double-edged sword. It's a stupefying modern marvel, more or less indispensable to those who use it. Even a decade after its release, the idea that we have the ability to navigate just about any terrain in the whole world, places we'll never even come close to personally seeing, is still pretty jaw-dropping. But by the same token, how much of ourselves do we want to be seen? And who's looking? It seems that some folks have been less than thrilled at suddenly being so accessible to the public.
As such, Google Earth began displaying censored versions of certain locations. It started with governments: When the site first launched in 2005, the images provided of the White House and the U.S. Capitol Building in Washington, D.C., were obfuscated. (They're not any longer.) Following suit, the governments of several countries talked with Google about censoring specific sites, among them India and Australia. Meanwhile, somewhat ingeniously, the government of Malaysia went the opposite route and realized that it would reveal its sensitive locations if they were visibly censored, so it chose to leave them unblurred.
But then things opened up a little. A house in Arkansas that was photographed by Google Street View while it was on fire in 2008 is no longer visible—you can see the smoke in the sky in Street View nearby, but direct Street View access to the house itself, along with approximately three blocks in its penumbra, is now unavailable. In the same year, the city of North Oaks, Minnesota, requested that Google remove all imagery of its streets, because the land there is privately owned, and Google complied.
Today, anyone can file to have just about any location blurred in Street View, and plenty of people have had their requests honored by Google. Some censored locations are private properties that are open to the public, like amusement parks or racetracks. Some are fast food joints. Some are governmental, such as nuclear facilities or airbases. Some are entire islands. Some are just regular people's houses, and some are both governmental and residential, like the Dutch royal palaces. Here are a few of the more compelling examples.
Marcoule Nuclear Site
Chusclan, France
44.144520, 4.706259

An enormous atomic energy site in the south of France, Marcoule works with plutonium and uranium oxides and was the scene of an explosion in 2011. No real mystery as to why this one's censored.
A reasonably large archipelago in the high Russian Arctic, comprising 14,000 square miles, Severnaya Zemlya was often not even included on maps until surveyor
Boris Vilkitsky
led an Arctic Ocean expedition in 1913–1915 to explore them. This despite the fact the archipelago was easily visible from the Siberian mainland.
The islands are named after elements of the Russian Revolution — Bolshevik Island, Komsomolets Island, and so on — although that may or may not be connected to their obscurity. No one lives on Severnaya Zemlya, and the jury seems out on why the land is censored. But censored it is, in possibly one of the most severe and obviously intentional cases on Google Earth. Even if the northernmost island didn't look like it had been drawn freehand in MSPaint, that giant gray bar would definitely seem to be hiding something. 
Volkel Airbase
Uden, Netherlands
51.654597, 5.686496

Here is another dramatic censoring. Belonging to the Royal Netherlands Air Force, Volkel Airbase has been rumored to have nukes stored within it since the 1960s, and this was finally confirmed by former Dutch prime minister Ruud Lubbers in 2013.
Koninklijk Paleis Amsterdam (The Royal Palace of Amsterdam)
Amsterdam, Netherlands
52.373154, 4.891227

Several of the buildings related to the Dutch royal family — including the Koninklijk Paleis in Amsterdam, the family's residence — are pixelated on Google Earth. Huis ten Bosch as well as the royal stables have also been similarly inaccessible at times. What's curious about the obscuring of Koninklijk Paleis is how someone sat and lovingly, carefully blurred out every single pixel along the border of the building's roof, rather than slapping a huge-gauge pixel-mask over the whole thing, as the Dutch seem wont to do. Seems… not very obscured.
Chekhov
Near Moscow, Russia
55.148392, 37.479011
A city of 60,000 in the Moscow Oblast and the seat of the oblast's Chekhovsky District, Chekhov's roads are perfectly visible from Google Street View but, not so when you switch to the bird's eye view. Zooming in doesn't help. No one seems to know why it's blurred — a satellite malfunction, or perhaps it was intentional. It's hard not to notice that the high resolution of the much smaller village of Chudinovo, only 5.5km to the east, stands in sharp contrast to the hazy layout of Chekhov.
Somewhat relatedly, it's rumored that the nearby Russian General Staff wartime command post, located underground, is connected to the Kremlin via an underground Russian Federal Security Service train, the Moscow Metro 2 line. Could that be a factor in not wanting the town to be visible by air? 
The Faroe Islands
Denmark/The North Atlantic Ocean
62.118920, -6.919588

A fair chunk of the islands in the autonomous archipelago-country of the Faroes are fuzzed out, including the old WWII military base on the island of Vágar. However, it's possible that Google Earth just didn't bother zeroing in, because outside of the country's capitol — Tórshavn — there's not so much going on up there. You know, in the way of people. Still, it seems like it'd be conscientious to at least get the borders sharpened out on the satellite view.
Gabčíkovo Power Plant
Gabčíkovo, Slovakia
47.884081, 17.541023

The switch yard of power plant near Gabčikovo in Slovakia is obscured for perhaps sensible reasons, but in an interesting way. It's a composite image of a grass field slapped over the yard, with patterns repeated. It blends in nicely until you really look.
Personeelsvereniging Tankwerkplaats
Amersfoort, Netherlands
52.122640, 5.357492
Personeelsvereniging Tankwerkplaats, a Dutch tank manufacturer near the city of Amersfoort, is also censored for rather assume-able reasons, and in the very fantastical Army-camouflage way that the Dutch are wont to use. 
Valencia City
Philippines
7.907765, 125.092966 
A large part of the Philippine city of Valencia is pixelated, even when zoomed-in on. It might be just an oversight on Google's part, except that Valencia, with a population of over 160,000, is pretty sizable— and is the largest city in the province of Bukidnon. You'd think it would be hard to overlook.
Army Logistics Command Headquarters Building
Taiwan, Republic of China
25.047424, 121.591454

This military logistics headquarters in Taiwan is likely censored for obvious reasons. And also probably because it kind of looks like a scary Transformers face. 
2207 Seymour Avenue
Cleveland, Ohio, United States
41.472554, -81.697886

One of the saddest censored images on Google Earth is the former home of Ariel Castro, who kept three women imprisoned for more than a decade until their escape in May 2013. The house itself was demolished three months later, but at the time of this writing, it remains visible on the aerial view and blurred on the Street View.
Colonel Sanders's Face, Every KFC
Lastly, and somewhat hilariously, Google Earth is prevented from showing the faces of real people, both living and dead. Colonel Sanders used to be one, which means that his smiling visage is blurred out on the logo of every one of the world's KFCs.
XX