Found: Mysterious Gold Ornaments, Buried in an Irish Country Field
The function of these ancient rings is not yet known.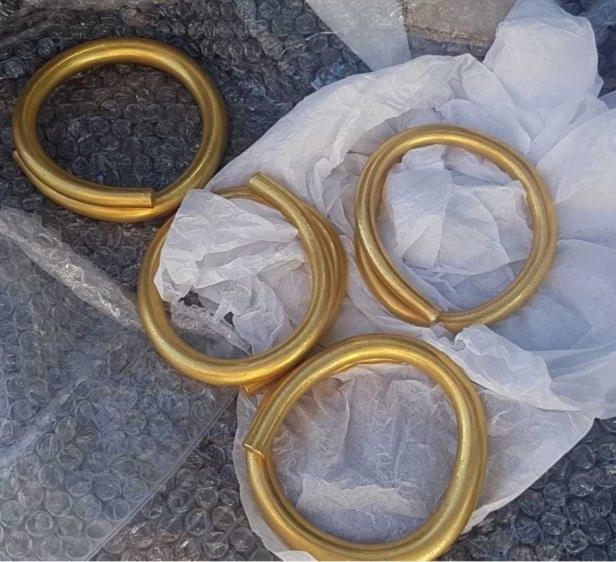 When Norman Witherow, a farmer from Ireland's County Donegal, came across some unfamiliar objects on a recent Saturday while digging a drain, they were so covered in clay he couldn't even make out what metal they were made from. He pulled them from the earth, then dumped them first in the trunk of his car, and next in his kitchen. They remained there for four whole days, until a jeweler friend nudged him to report the discovery.
Since handing them over to the Donegal County Museum, however, Witherow is beginning to have some appreciation for the scale of his discovery. "This is a once in a lifetime find for our county," the curator Caroline Carr told the BBC, "and we are absolutely delighted."
The artifacts, which resemble coiled metal rings, are made out of gold and believed to be thousands of years old. Each is approximately four inches in diameter: too large to be worn on one's finger, and likely too small to fit around a person's arm. Carr believes they may have been used as a kind of Bronze Age currency. They are now with the keeper of Irish Antiquities at the National Museum, who traveled from Dublin to collect them in person, but Carr noted that she'd like to see them return to her institution in the near future.
Witherow, for his part, is still reeling from the magnitude of his discovery. "We had no idea of the value," he told the BBC, "and we definitely didn't appreciate their worth when we first discovered them." Now, he says, he plans to make the trip to the Irish capital to see them on display, finally glinting gold again after centuries and centuries deep in the Irish muck.