John Ringling's Mobile Mansion Is Now Open for Digital Visitors
The showman's personal train car was full of stained glass, chandeliers, lavish furniture, and elaborate moldings.
John Ringling, the showman, had a flair for flashy extravagance, and his private train car was no exception.
As one of the founders of the Ringling Brothers circus empire, Ringling spent much of his adult life living on a personal train car, accompanying his traveling show from city to city, awing everyday Americans with trick horses and elephants. Ringling was also one of the richest Americans at the time, so his train car was no ordinary mobile home. Now, with virtual reality, anyone can see it.
"Back in those days, John Ringling was one of 11 individuals in the U.S. who owned a private train car," says Davide Tanasi, an archaeologist and self-described "digital humanist" at the University of South Florida. "It was an old-fashioned equivalent of owning a private jet."
The stained glass, chandeliers, lavish furniture, and elaborate moldings are a testament to the design style of America's rich and famous during the early 1900s, especially in Sarasota, Florida, where the Ringlings lived and built their famous Ca' d'Zan mansion. "It's an art history treasure and a crown jewel of Florida cultural heritage," Tanasi says. "The train is the only example of a mobile mansion of the Gilded Age."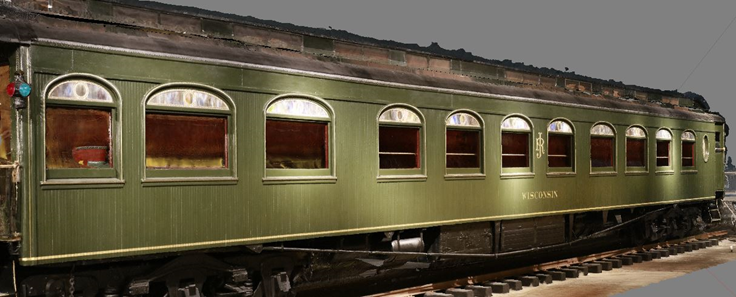 Tanasi and his collaborators have spent much of the past year digitizing every inch of the eight-room train car, including every table and chair, and every nut and bolt. They used high-definition cameras and lasers to create 3D-renderings of the car, utilizing a technique known as digital photogrammetry.
The train car now exists in two places at once: physically on a platform at The Ringling Museum in Sarasota, Florida, and digitally as a 15-terabyte collection of data files on a server at the University of Southern Florida in Tampa. With just one click, the fragile artifact can now seamlessly travel the world. "Anyone with a digital reality headset can explore or visit the train from your living room couch," Tanasi says.
The project shines a light on a new form of digital conservation, where a rendering of any cultural artifact can be saved on a computer, halting the gradual processes of deterioration or neglect. "This is the best application of this kind of cutting-edge technology," says Tanasi, "to extend and expand the lifetime of these old artifacts."
One of the motivations of the project was to gain the ability to 3D-print replacements for parts of the train that are falling apart, such as a rusty bolt or a table leg. In theory, the files created by Tanasi and his team could be used to print an exact replica of the train car, down to the most minute detail. "With the 3D model, we could print it out piece by piece," says Tanasi. "It would take forever, but we could do it."
If a fire or a Florida hurricane were to tragically destroy a priceless object like Ringling's gilded train car, every line, scratch, and detail would be able to live on. "The train car will be preserved for as long as computers will continue to exist," says Tanasi. "With this technology, we guarantee digital immortality."