Kashmir's Centuries-Old Weaving Tradition Faces an Uncertain Future
The craft is hanging by a thread.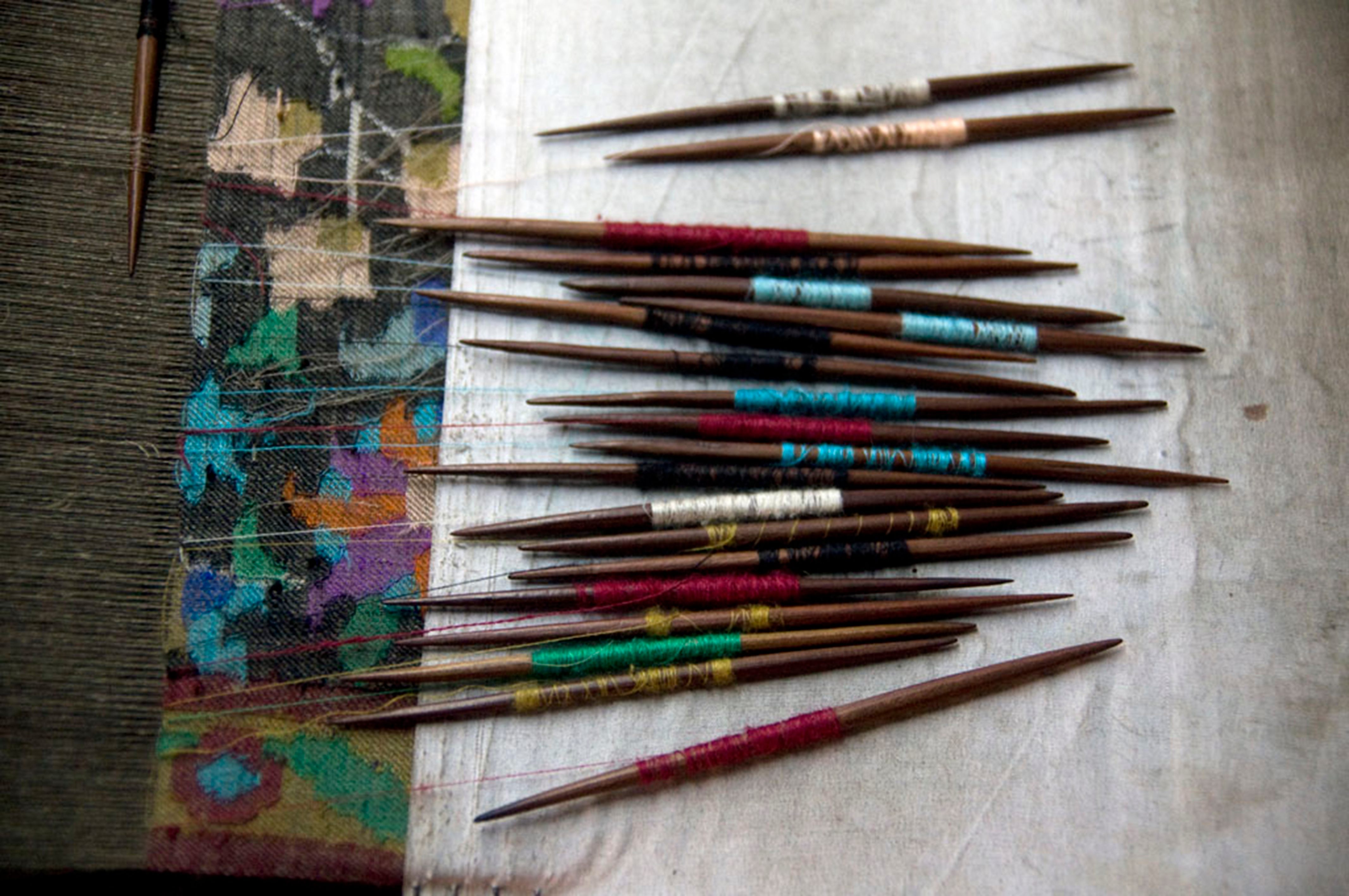 Deep inside Srinagar's downtown, the narrow streets of this working-class neighborhood are flanked by houses with intricately designed wooden windows and rusty iron gates. The network of lanes twist and turn around the mud-colored waters of the Jhelum River. Across a small bridge, a modest house overlooks the river, and a worn-out signboard dangles from a window: Sultan Khan & Sons, Carpets and Shawls.
In a dimly lit room on the top floor of the house, Sultan Khan works on his wooden loom. On the day that I visit, he is making a carpet, his long fingers moving quickly across a thick strip of threads. He squints his eyes at the brown parchment hanging across the threads. Some signs and letters are scribbled across the parchment. Those are the design and color codes—the secret and confidential blueprint, known as talim, handed down from generation to generation—that Khan has to follow as he makes the carpet. He takes a long puff at the hookah placed beside him and quietly orders for namkeen chai, a quintessential Kashmiri way of greeting a guest.
"Twenty years ago, there were at least 100 families in this mahalla (locality) who had the loom. Now, only two have remained in the trade," says Sultan's son, Aslam Khan, in Hindi. "My father has been weaving on this loom for the last 50 years, a skill that he learnt from his father. He is an ustaad (master craftsman) of carpet weaving."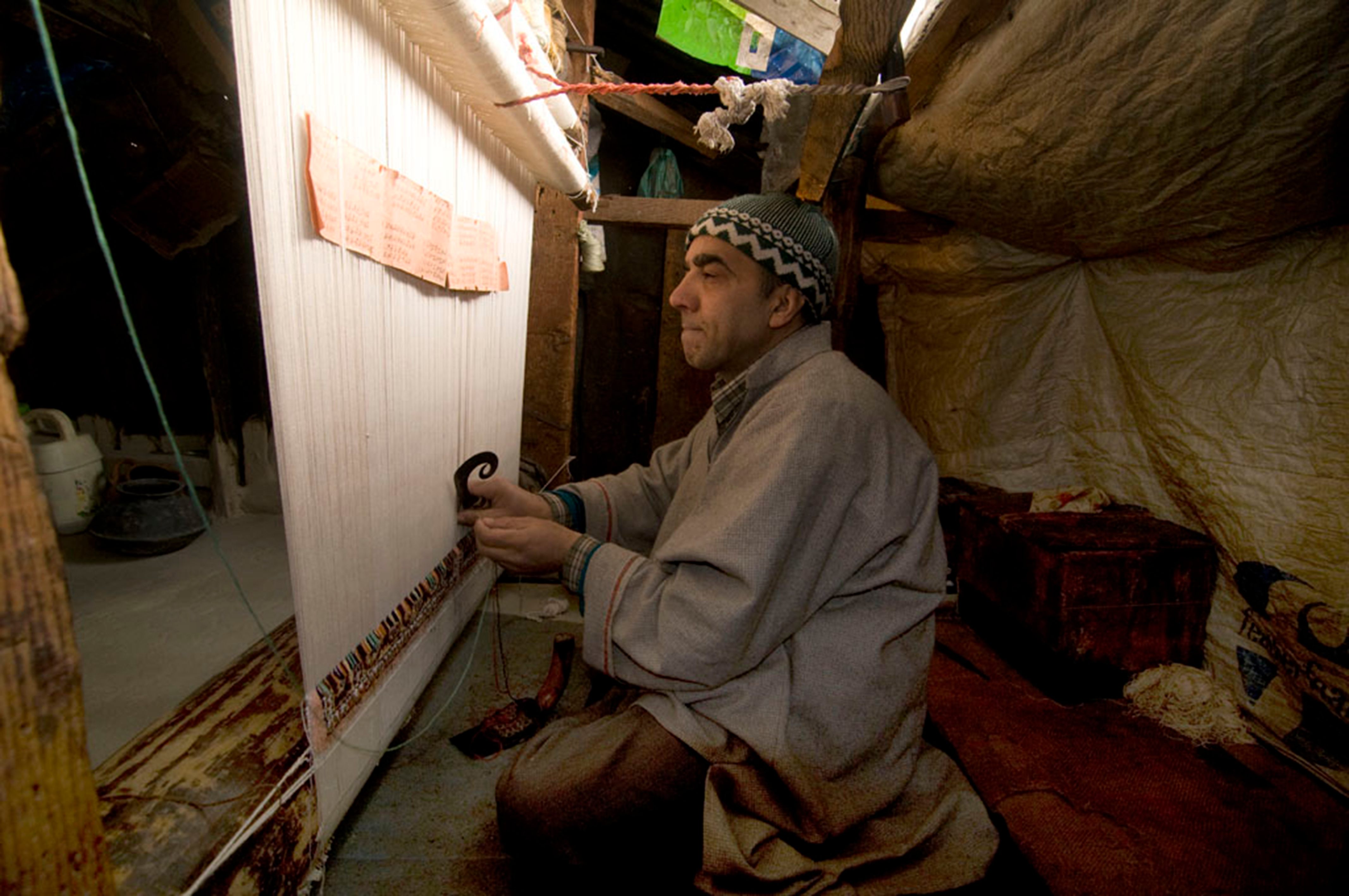 Sultan and Aslam are two of the remaining band of practitioners of the ancient craft of Kashmiri weaving. With anywhere from 200 to 900 knots per square inch, it is one of the most intricate forms of weaving in the world. The retail price of an authentic hand-knotted carpet can be as high as $100 per square foot, depending upon the fineness of material and knot density.
"Kashmiri carpets are known for two things: They are always handmade and knotted, never tufted," says Shaukat Hussain in Hindi. Hussain runs a workshop that his family has owned for five generations in the Idgah district in old Srinagar. "An artisan takes around six to eight months to complete a silk carpet, weaving about one million knots per square meter," Hussain says.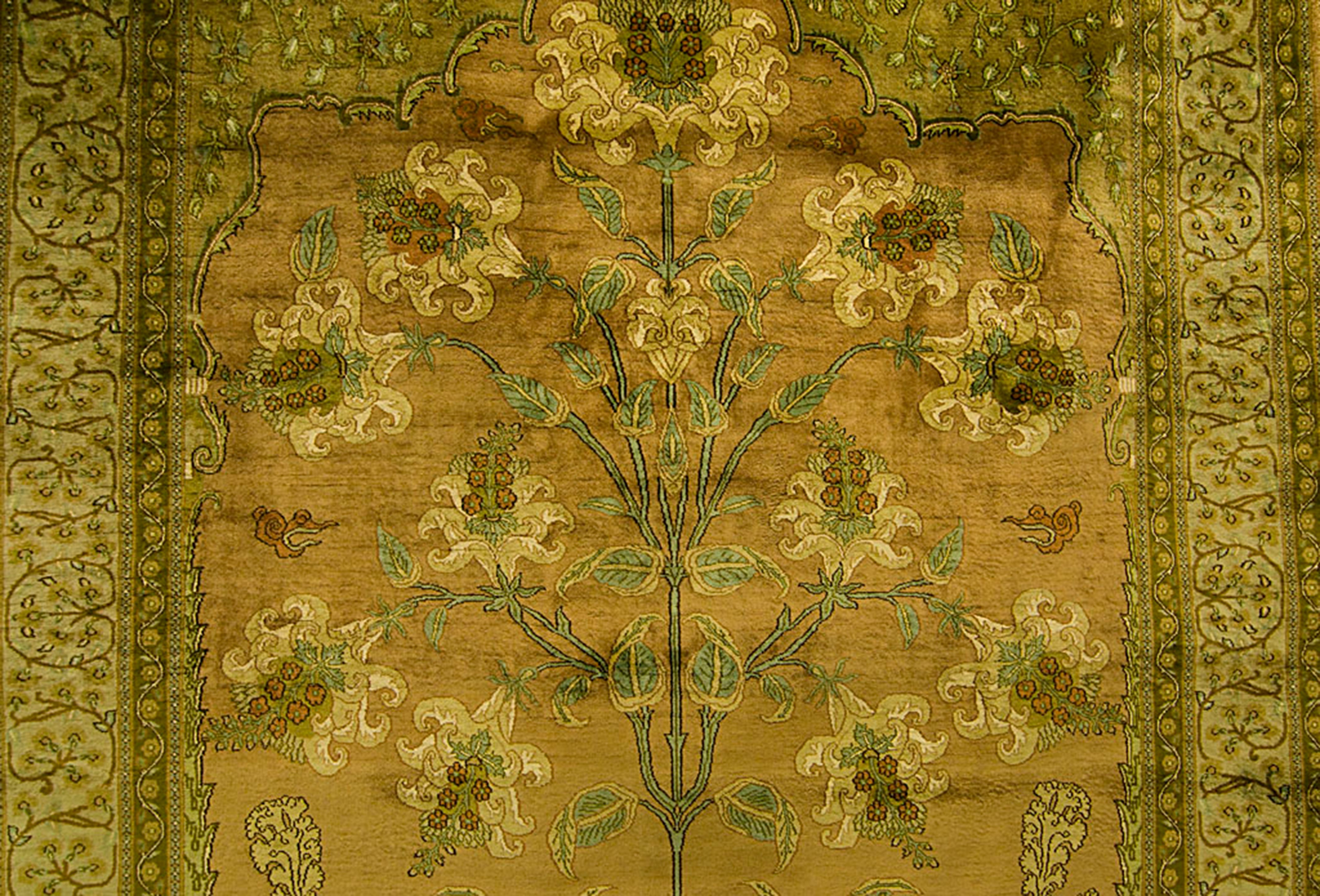 ---
It was Zain-ul-Abidin who introduced the art of weaving to Kashmir. The benevolent king, who had ruled the Kashmir Valley in the latter part of 15th century, had imported the art from Persia, which was Asia's capital of high art at the time. The craft flourished during the time of the Mughals and continued even during the troubled times of the Afghan and Sikh rules.
The British arrived in the early part of the 19th century along with a certain utilitarianism and commercialization. Kashmiri shawls and carpets became known as cashmere in Britain. Easy to pack and transport, these luxurious squares of fabric were considered fashion statements as they were much more expensive than the regular silk and cotton fabrics. The British opened factories in Kashmir and production started commercially. For Kashmiri weavers, this meant turning their skills into generations of income. To this day, Kashmir carpets and shawls still follow the centuries-old tradition of intricate geometric and calligraphic motifs established by the earliest practitioners. The craft's beauty lies in that detailed needlework.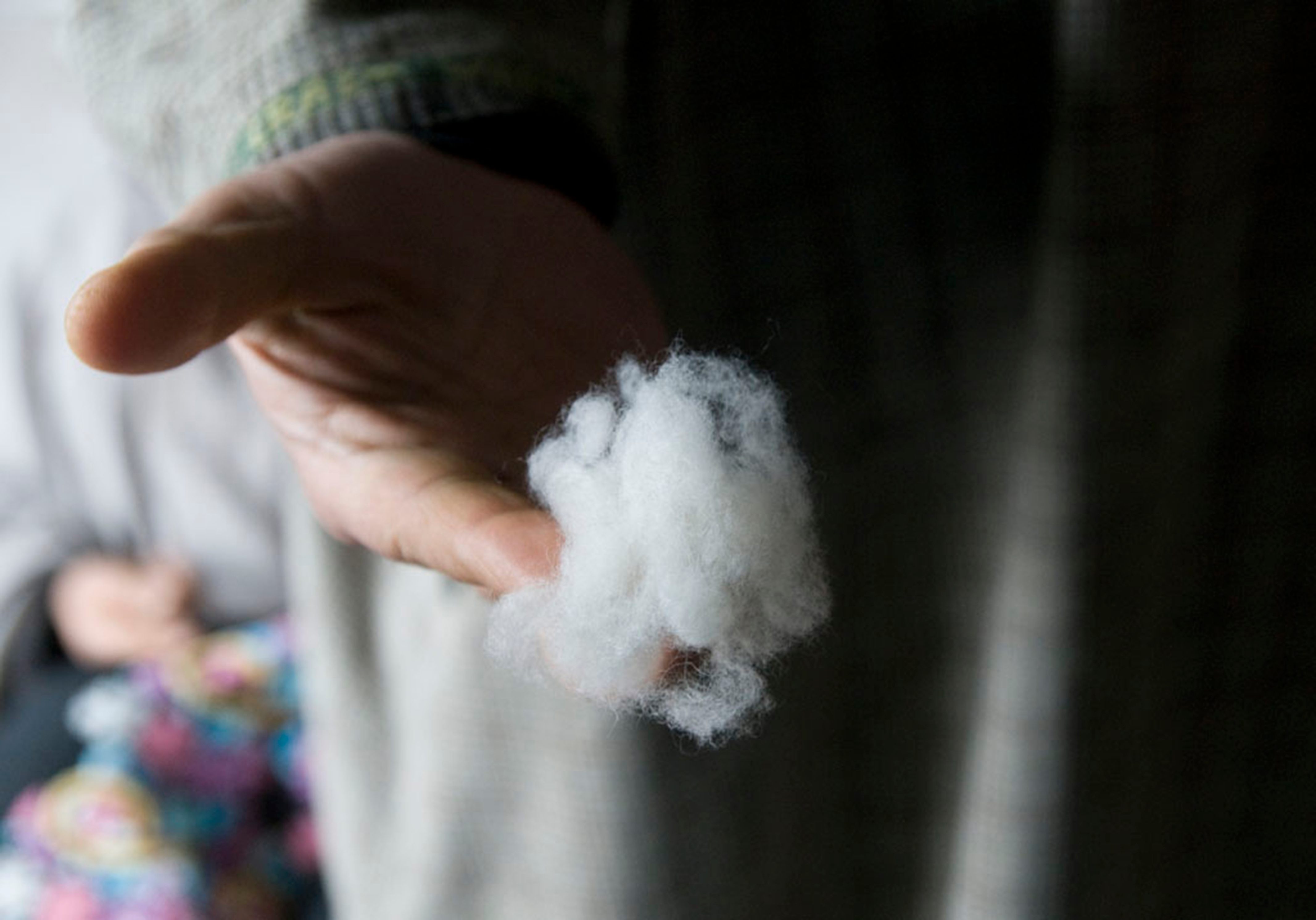 But in more recent years, this longstanding industry has suffered a series of setbacks. In 1989, the valley was engulfed in turmoil. As Indian military forces and separatist forces were locked in a brutal and drawn-out conflict, export orders dried up and inbound tourism hit an all-time low. Many artisans fled the valley, creating a void.
Three decades later, the valley has entered another crucial juncture. The first few years of the present decade had been a period of relative calm and the weavers felt optimistic about the future of their craft. However, since 2016, their dreams of rebuilding their industry have faded away due to escalating violence.
In July 2016, Burhan Wani, a commander of the Kashmiri militant outfit Hizbul Mujahideen, was killed in an encounter with Indian military forces. His death sparked several months of turmoil in Kashmir. More than 90 civilians died and approximately 15,000 were injured. Many economic activities, including the weaving industry, came almost to a standstill.
While that specific period of unrest ended in early 2017, sporadic violence still continues across the valley.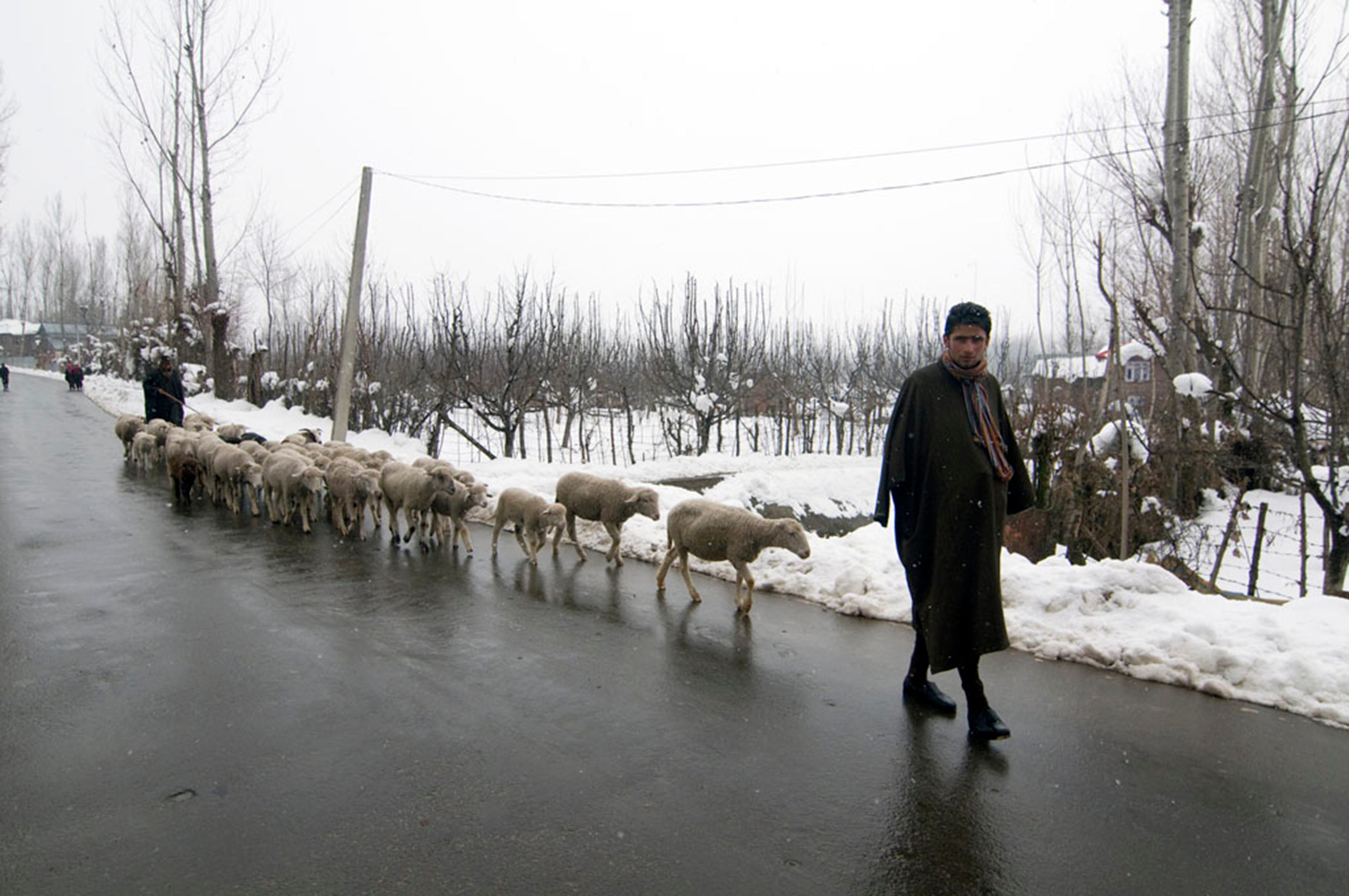 The industry is plagued by other obstacles as well. The cost of raw materials, namely the wool of the pashmina goats, has become prohibitively expensive. Unusually severe winters in the upper reaches of the Kashmir Valley have led to the death of thousands of goats, driving up the price of yarn to between $35 and $60 per kilogram. Additionally, the market is flooded with cheaper machine-made domestic substitutes. Most importantly, the younger generations living in Kashmir are not interested in mastering the skills of weaving, at least in part because of the low pay, which typically amounts to Rs. 150-225 per day (approximately $2.00-3.00).
"My son does not want to take up this profession. In fact, he often asks me why I am still in it," says 41-year-old Faiyyaz, one of the youngest of the 15 weavers employed at Shaukat Hussain's workshop, in Hindi. After learning the craft from his father, Faiyyaz started working at Hussain's in his teens. Today he specializes in making silk carpets. "The average wage I get is Rs. 200 (a little less than $3.00) per day and we work on a 'no work, no pay' system. Lots of artisans have shifted to other jobs as contract laborers of construction companies. The pay is better there." Faiyyaz adds that he doesn't want his son, who is presently in college, to be a weaver either. "I want him to be in a proper job."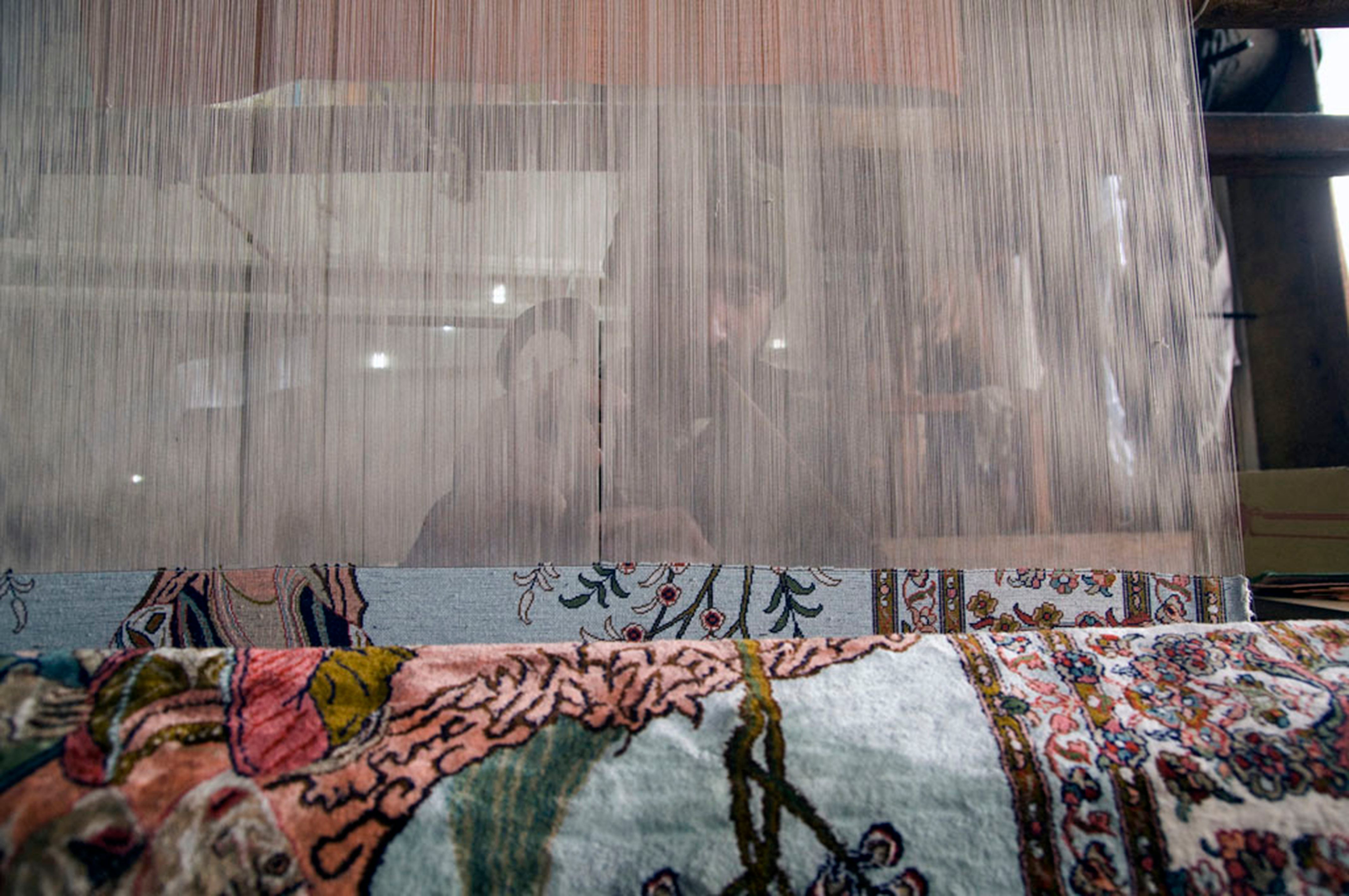 Altaf Ahmed is a close friend of Aslam Khan. A member of the Carpet Workers' Union in Srinagar, Ahmed hails from a weavers' village in the Budgam district, around 18 miles from Srinagar. "We need to ensure a hassle-free credit system for the independent artisans and a strong wage policy for the craftsmen working in carpets and shawls factories," he says in Hindi. There are loan schemes introduced by the banks, including the privately owned Jammu & Kashmir Bank, for the craftsmen in the valley, but the paperwork is too cumbersome for the weavers, who have little or no education. Additionally, the banks need substantial collaterals, which are impossible for an artisan to provide. As a consequence, an artisan who receives a loan can become trapped, borrowing huge sums from the wastas (contractors or employers) at high rates of interest to pay their debts.
---
Aslam Khan leads me to the Bund, a quiet avenue in Central Srinagar. The street is lined with sturdy chinars and weeping willows. Rows of elegant houses, with a distinct colonial influence, lie discreetly behind the trees. This downtown locality is a far cry from what we normally associate a shopping area with, but Aslam insists that it is the carpet hub of Srinagar.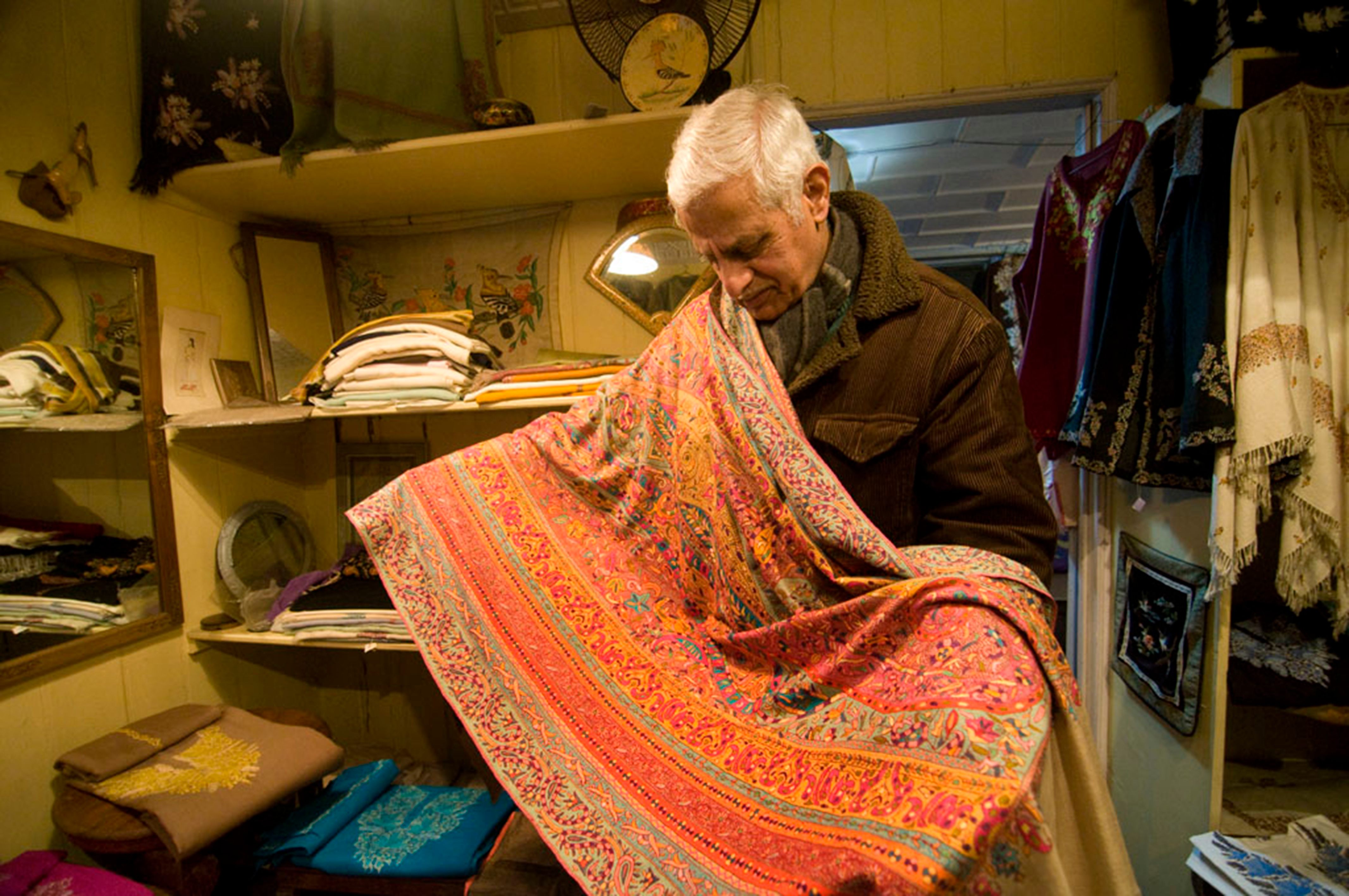 Amid a mild snowfall, a white vintage building with red rooftop windows stands on the Bund, overlooking a small park. Built in 1840, it is the oldest trading house in Kashmiri carpets and woven textiles. Sadiq Mohammed Wani, whose forefathers came from Persia a few centuries ago, is a leading exporter of Kashmiri handicrafts. He operates his business out of this building.
Inside the trading house, Wani points to an embroidered shawl hanging on a wall with intricate floral motifs. "That was made exactly 105 years ago," he says. "It is a Kani shawl and those detailed motifs cannot be found anymore." A Kani shawl is a rarity that requires special wooden needles. Normally an artist takes six months to complete a two-meter long piece.
"I am getting less orders for Kani and Pashmina shawls these days," Wani says. "Some of my outsourcing units in villages have closed down because there's not much order for them."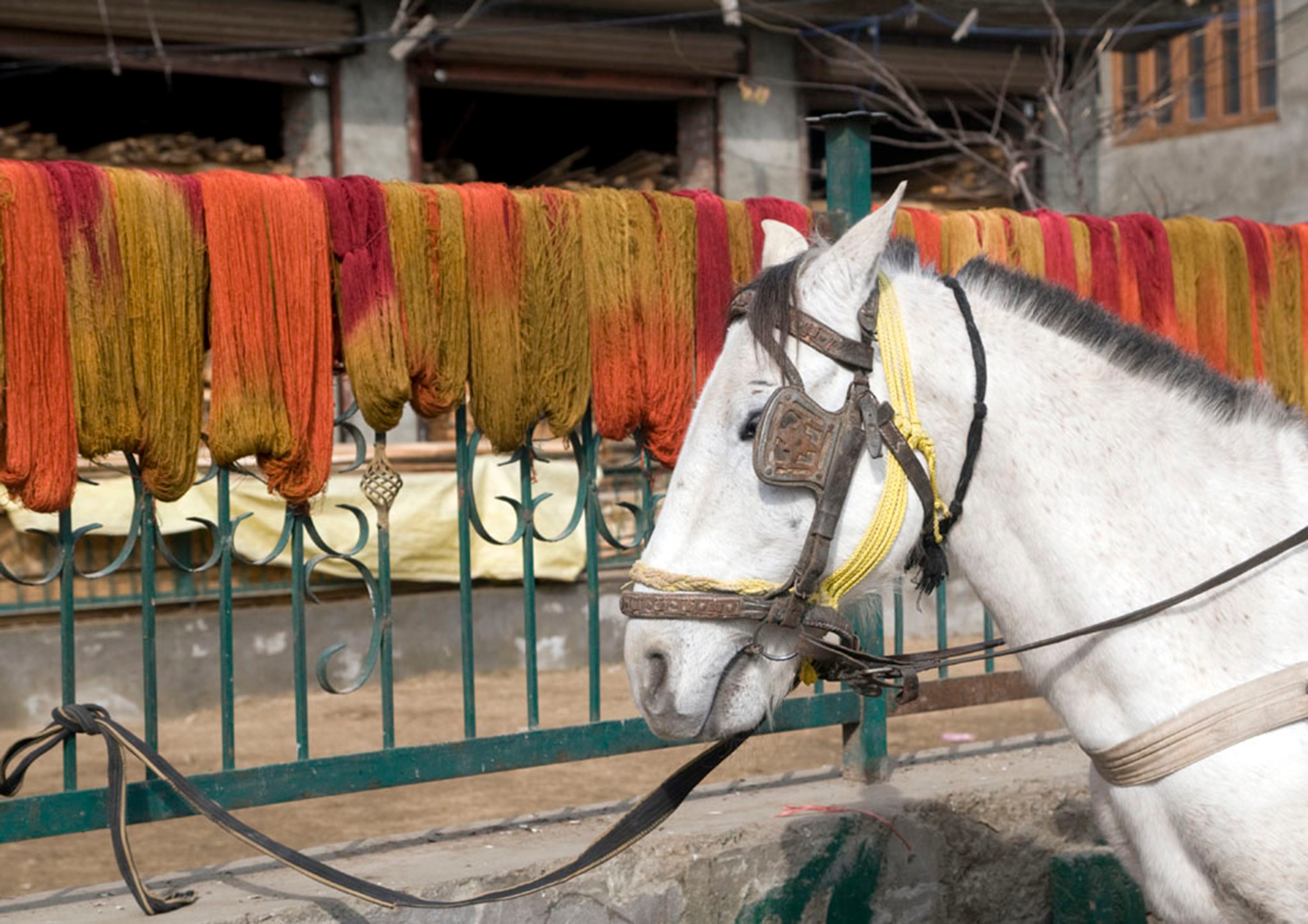 Winter, Wani says, has long been the most productive season for the industry. "As snow blanketed the valley for the long months of winter, villagers confined indoors wove shawls, embroidering colorful patterns by hand before selling them in the spring as the emerald slopes returned to life," he adds. "The situation has changed a lot recently with most of our weaving families shifting to other professions."
Wani knows that the artisans are getting underpaid, and that the Kashmiri youth is becoming increasingly disinterested in weaving. But the basic economics work against the factory owners and exporters, he says. The State Government of Jammu & Kashmir has obtained the Geographical Indication from the World Trade Organization for both Kani shawls and Pashmina products. It also introduced the RFIT (Radio Frequency Identification Tag), which uses stored electronic information to track an object, in order to stop the sale of fraudulent shawls. But these efforts have not quite reversed the market trends.
"If the labor cost is increased, it further increases the price, making it impossible to sell the products in the market," Wani argues. "We have been asking for drawbacks and subsidies for the carpets and shawl industry. But since the sector is highly unorganized, it is difficult…" His voice trails off and he adds, "It will be hard to convince my grandson to continue the business that my family has owned for generations."
*Correction: This article initially identified the material in the photograph as a skein of wool. It is not a skein.