This Challah Is Key to Good Fortune After Passover
Shlissel challah is a centuries-old Jewish tradition.
When Rochel Schulgasser asks her neighbor Nava to bring over a house key each spring, it isn't because Nava needs daffodils watered or a repairman let in. It's always right after Passover, so it's not like Nava has gone out of town and needs someone to housesit her home in Passaic, New Jersey. Instead, Schulgasser asks for her neighbor's key so that she can bake it inside a challah bread. You know, as one does.
Each year, on the first Sabbath after Passover, Schulgasser bakes shlissel challahs for her family and maybe a few friends. She wraps each key in aluminum foil and plants it into the classic six-strand braided challah she bakes every Friday. "God forbid, you're not trying to get anybody to have to visit the dentist," she says. "It's sticking out on top, so it's very obvious that you shouldn't be eating it."
Shlissel challahs, baked by Ashkenazi Jews, get their name from the Yiddish word for "key" (based on the German word schlüssel, meaning the same). A shlissel challah might be shaped like a key, or sesame seeds could form a pattern in a key-shape on top of an otherwise bare loaf. The challah may be topped with a key-shaped decoration, or baked with a key inside, as Schulgasser does, in the belief that the owner will be bestowed with good fortune upon eating the bread. Keys are key, whatever form these challahs take.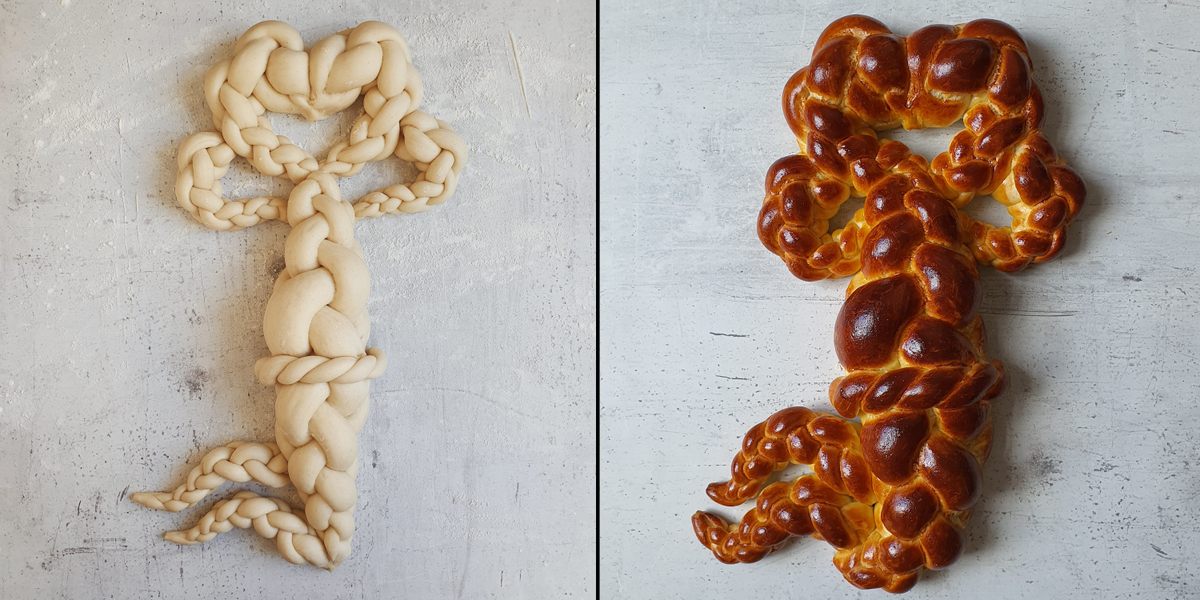 Those in orthodox Jewish communities such as Schulgasser's have been baking these challahs for generations out of a belief that it is a segulah for parnassah: a talisman with mystical power, bringing a good livelihood. God is believed to hold the key to prosperity and abundance, and baking these after Passover is symbolic. The Torah (the Hebrew Bible) relates how God provided nourishing manna during the 40-year period when the Israelites made their journey towards Canaan. But after arriving in Canaan, they needed to start sustaining themselves.
The shlissel challah custom isn't in the Torah and instead has been passed down as an oral tradition. Its exact origins are unclear. A few texts do acknowledge the practice, the earliest being the book Ohev Israel by 18th-century Hassidic Rabbi Avraham Yehoshua Heshel of Apt, Poland. In Heshel's discussion of Parashat Shemini (the Torah portion read after Passover) he mentions a custom of imprinting challah bread with keys or making key shapes on top. A mid-20th century book that describes traditions for the full calendar year of Jewish holidays, Sefer Hatoda'ah by Haredi Rabbi Eliyahu Kitov, also notes the custom and says that shlissel challahs "symbolize the key to parnassah [livelihood] held by God."
The Jewish year does include other specialty challahs, like the round challah made for Rosh Hashanah (the New Year) to symbolize a cycle coming full-circle, or infinite goodness. Shlissel challahs are more esoteric. "They're similar [challah] traditions, but because they're really not grounded in any [Jewish religious law], it becomes much more about if you're in the mood to do it and find meaning in it," says Shoshana Samuels, who holds a masters in Jewish Studies and trains women in the Jewish marriage customs.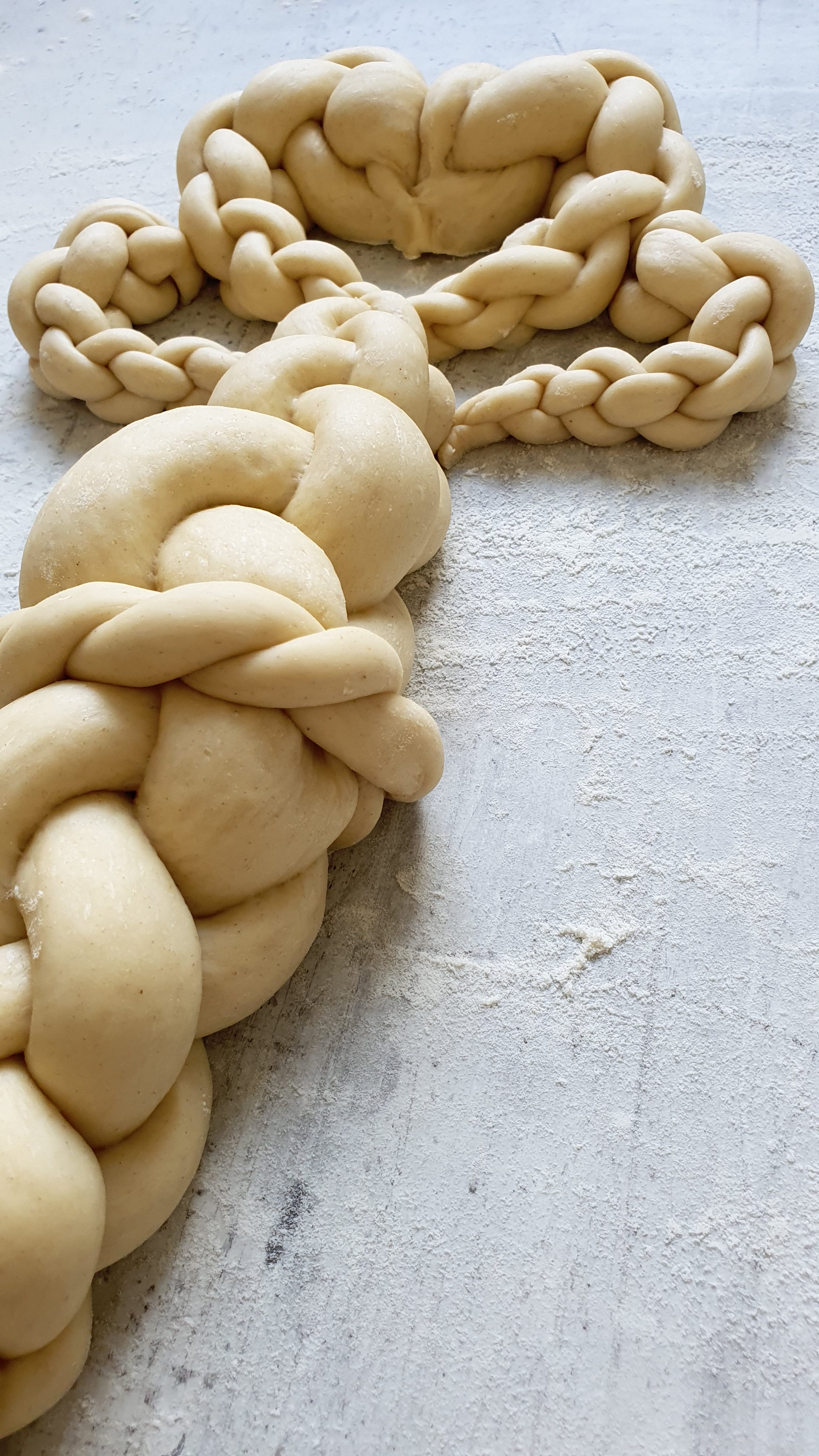 Inspired by Schulgasser (her sister Nava's neighbor) and her aunt Chayie, who have both been baking them for over 20 years, Samuels attempted her first shlissel challah in 2020. She wasn't the only one. Worldwide, when Jewish bakers were locked down during the first spring of the Covid-19 pandemic, shlissel challah became a social media baking challenge.
Seeing as braided challahs with keys sticking out on top or invisibly hidden inside aren't as Instagrammable as flamboyantly key-shaped challahs, most opted for the grid-worthier option.
"Challah braiding and baking in general are going through a renaissance as a wildly popular culinary form on social media," says Cheryl Holbert, a baker specializing in challah who runs Nomad Bakery out of her New Hampshire home. She attributes this to the ease of learning to bake challah, its history, and pure visual appeal. She'll be teaching an online shlissel challah workshop right after Passover this year.
Such workshops have become a post-Passover phenomenon. Israeli baker Idan Chabasov will also be teaching one this month following the success of an Instagram Live class he co-hosted in 2021 with cookbook author Jake Cohen. Chabasov, known online as @challahprince, started baking shlissel challahs in 2020. "Challah hasn't been just bread for a long time," he says. "It's a fashionable item, and people are always looking for new designs and new challenges."
The first in this string of shlissel challah workshops was taught over Zoom in 2020 by Tel Aviv-based baker Uri Scheft, with the Jewish Food Society nonprofit organization. Scheft was no novice to shlissels, since he'd been baking them for over a decade at his artisanal bakery, Lehamim. Regular customers kept asking Scheft to bake them every year. Finally, he agreed.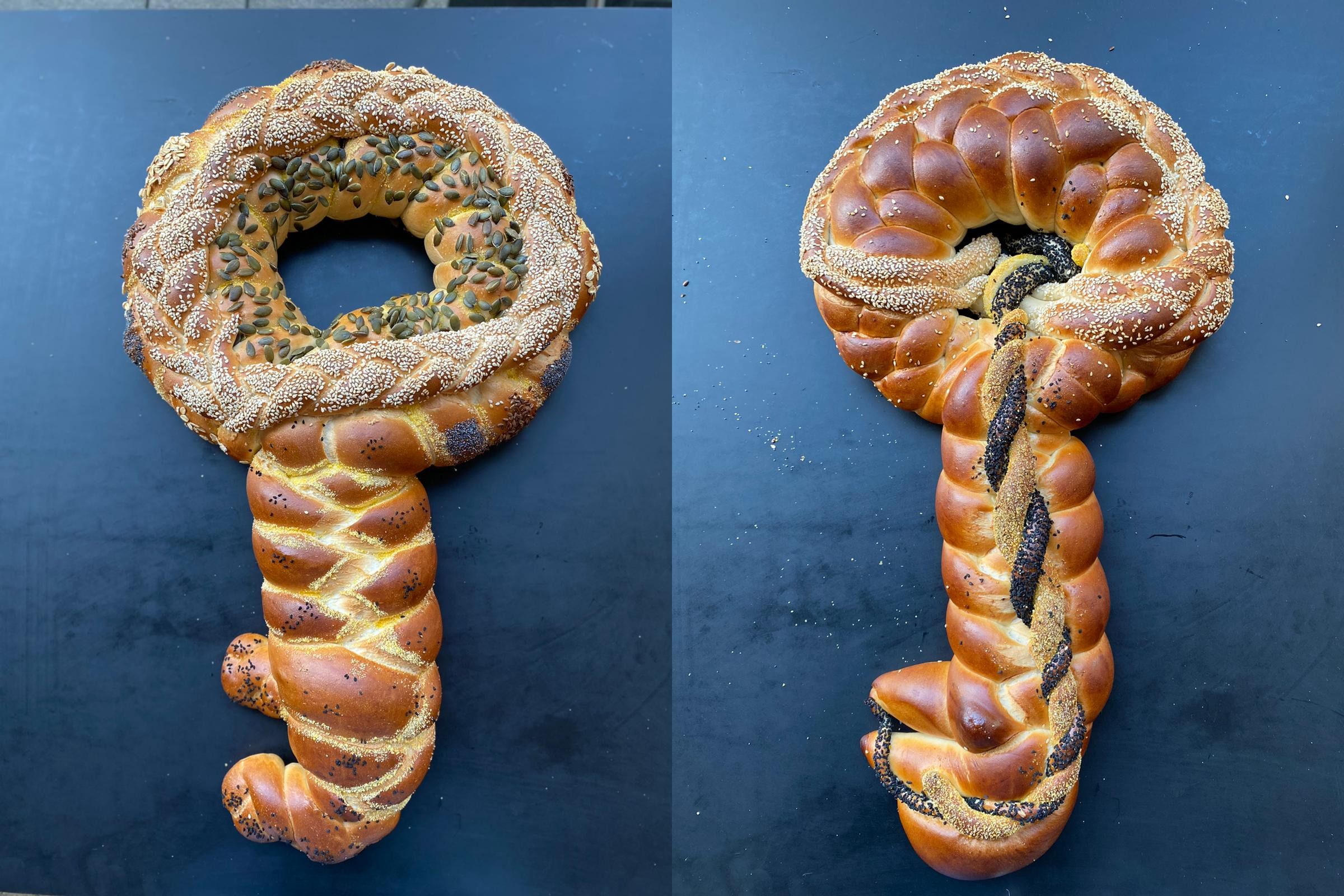 "I found in it a fertile ground for creativity," says Scheft, who researched different key shapes and started playing with different toppings, using poppy seeds, polenta, and pumpkin seeds to decorate individual strands. Each challah is different and he makes a few dozen each spring, mostly for customers who are savvy enough to order this off-menu specialty.
While a combination of pandemic lockdowns and baking frenzy may have been key to popularizing this tradition, shlissel challah will still be baked long after their hashtags stop trending, by home cooks hoping to unlock good fortune. Shulgasser helped her mother make them before her. Her kids (and maybe her neighbors' kids) are likely to carry on the practice.
"The way I look at it, anything we do to connect to [God] is a nice thing. That might not be your primary motive, but you never know," says Samuels' aunt Chayie of newcomers to the shlissel challah tradition. "It might lead people to say, well, I'm making this challah so why don't I sit down and have a Shabbat meal. Well, we might as well [bless the wine]."
"You never know where something like that might lead," she adds. "The more we connect, the better it is."
Gastro Obscura covers the world's most wondrous food and drink.
Sign up for our email, delivered twice a week.