7 Weird and Wonderful King Cakes From Around the World
From slips of Bulgarian fortunes to copulating French figurines, international king cakes hide many surprises.
THIS ARTICLE IS ADAPTED FROM THE FEBRUARY 18, 2023, EDITION OF GASTRO OBSCURA'S FAVORITE THINGS NEWSLETTER. YOU CAN SIGN UP HERE.
If you've ever visited New Orleans during Carnival season or you've read about Mardi Gras, it's likely you've heard of king cake. This sweet, ring-shaped cake topped with icing and purple, green, and gold sugar—the colors of the Mardi Gras season—is eaten by the hundreds of thousands in the Crescent City throughout January and February.
New Orleanians devour countless varieties of the cake between the Twelfth Night of Christmas on January 6 and Mardi Gras Day, which this year falls on February 21. Those varieties range from cinnamon to cream cheese to guava to even a cricket-based king cake made by the local insectarium.
But despite popular belief in the United States, New Orleans is far from the only place in the world that enjoys king cake. Many countries have their own versions. These iterations look different, taste different, and have slightly different names, but the core traditions are the same.
In Louisiana, it's common to have a tiny baby figurine hidden inside the cake, but other countries have trinkets of their own. Whoever finds that hidden treasure is crowned queen or king of the party. In many places—New Orleans included—this "lucky" partygoer also has the responsibility of keeping the tradition going by bringing a king cake to the next party or to the office break room the following day.

This week, we're looking at which countries have their own king cake customs. From cake to cake, there are similarities, but there are also fun differences in appearance, taste, and tradition to explore.
Saturnalia Cake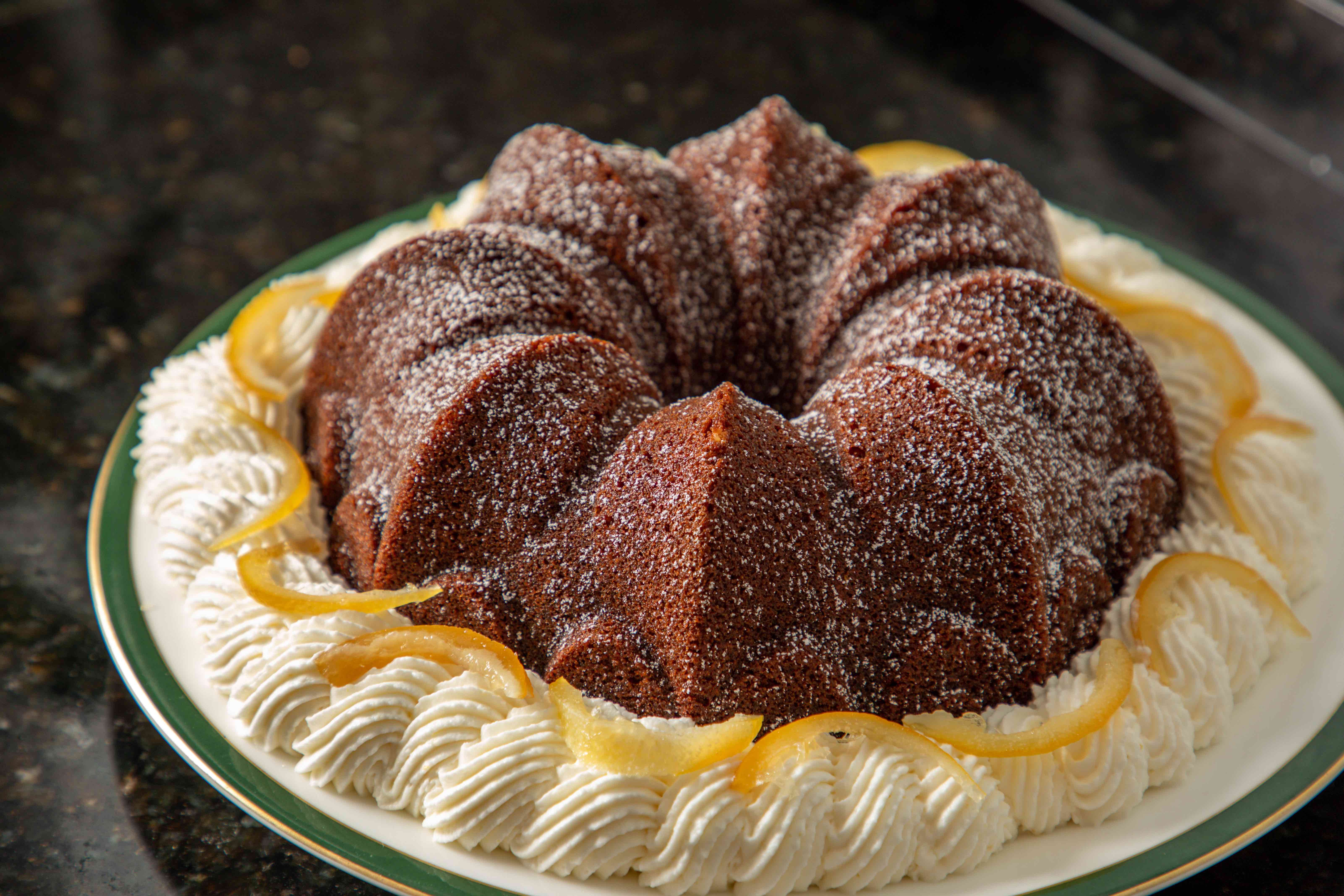 The king cake tradition began in ancient Rome. Mardi Gras wasn't yet a thing (neither was Christianity, for that matter), but the Romans celebrated their biggest festival of the year: Saturnalia.
Saturnalia was a multi-day celebration during December's winter solstice to commemorate the passing of the longest night of the year and the return of the sun. At the center of their celebration was a cake—which some historians suggest may have been round like the sun, sweetened with honey, and filled with figs, dates, and nuts.
There was also a hidden bean inside. Whoever found the bean became Saturnalia royalty and could choose the entertainment for the party. This began a long tradition of crowning ritual royalty via beans and other trinkets hidden in the king cake.
Galette and Gâteau des Rois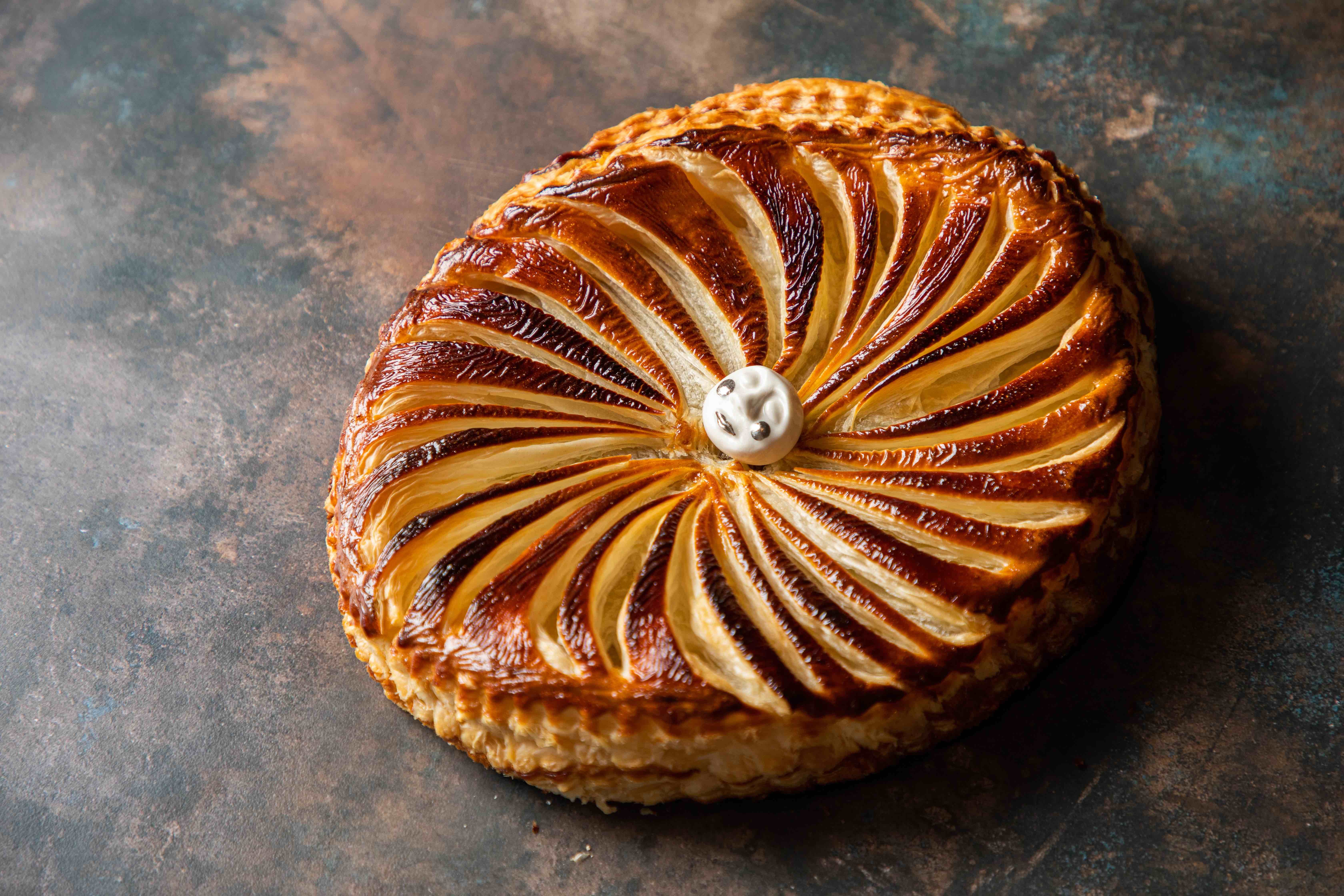 Depending on where you are in France, you'll likely find one of two types of king cake. In northern France, there's galette des rois, made of puff pastry and stuffed with a dense, creamy almond frangipane paste. In the south of France, on the other hand, it's common to find a brioche-style cake, called a gâteau des rois, flavored with cognac or orange blossom. The gâteau has a hole in the center and is covered with candied fruit and granulated sugar—reminiscent of a crown studded with jewels.
That crown shape is common among many king cakes. This is because early Christians merged their holidays with those of their pagan predecessors. Rather than eliminating Saturnalia, they morphed it into what we now know as the Twelve Days of Christmas. Galette des rois and gâteau des rois translate to "cake of kings" or "king cake," with the "kings" representing the Three Kings (or Magi) that Christians believe found the baby Jesus on the Twelfth Night of Christmas and presented him with gifts.
Twelfth Night, also known as Epiphany, is when many cultures begin eating king cake. On that night in modern France, you're more likely to find a beautiful porcelain fève hidden inside the cake than a bean like what the early Romans had used. Today, the figures come in many shapes that go far beyond a simple bean. There's even an annual fabophile convention in Paris, where fève lovers can find tiny porcelain depictions of everything from works of art to cartoon characters to every Kama Sutra position.
The fève in a French king cake is often highly sought after, so on Twelfth Night a fun protocol has been put in place to ensure no one cheats their way to finding it in their slice. The youngest child is sent under the table and, unable to see which slice has the fève, or which partygoer is up next, the child assigns slices without bias. Whoever gets the slice with the beautiful ceramic fève hidden inside keeps the treasure and is crowned queen or king of the party.
Bolo-Rei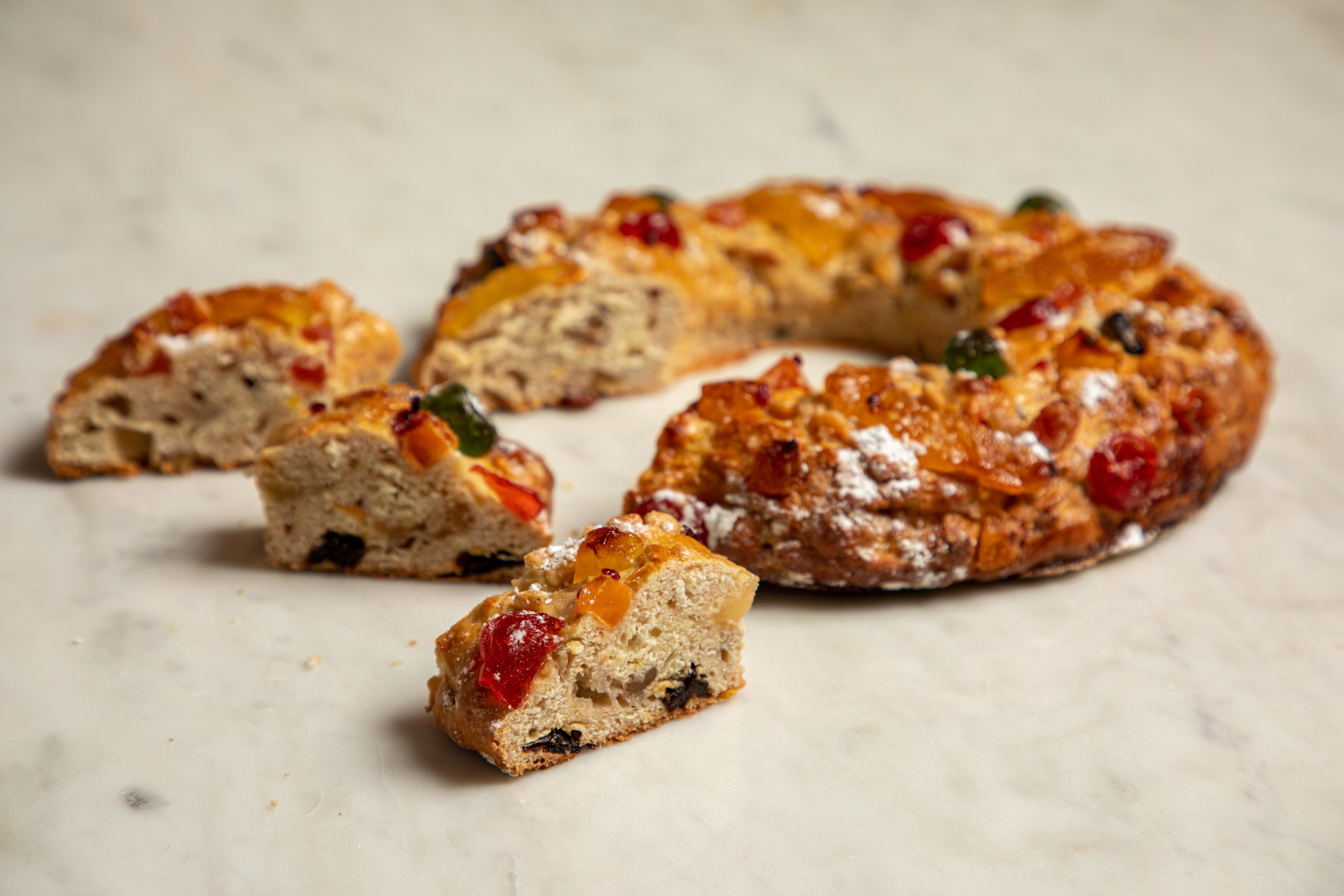 The Portuguese love their bolo-rei so much that it's available from the beginning of November all the way through the end of January. But it's most commonly eaten between Christmas Day and Epiphany, with some Portuguese traditions dictating Christians should eat 12 bolo-reis during this stretch.
On Twelfth Night, the bolo-rei receives a glow-up, adorned with a nougat crown of caramel and almonds, as well as decorative golden strands created by boiling eggs in a sugar syrup.
Unlike other countries' traditions, the bolo-rei has two hidden items inside the cake instead of just one. If you find the charm, such as a coin, you can expect a year of good luck. However, if you find the bean, or fava, your only "reward" is to buy the next cake. This has created a range of uniquely Portuguese phrases. Calhou-me a fava! means "I got the short end of the stick!"
Vasilopita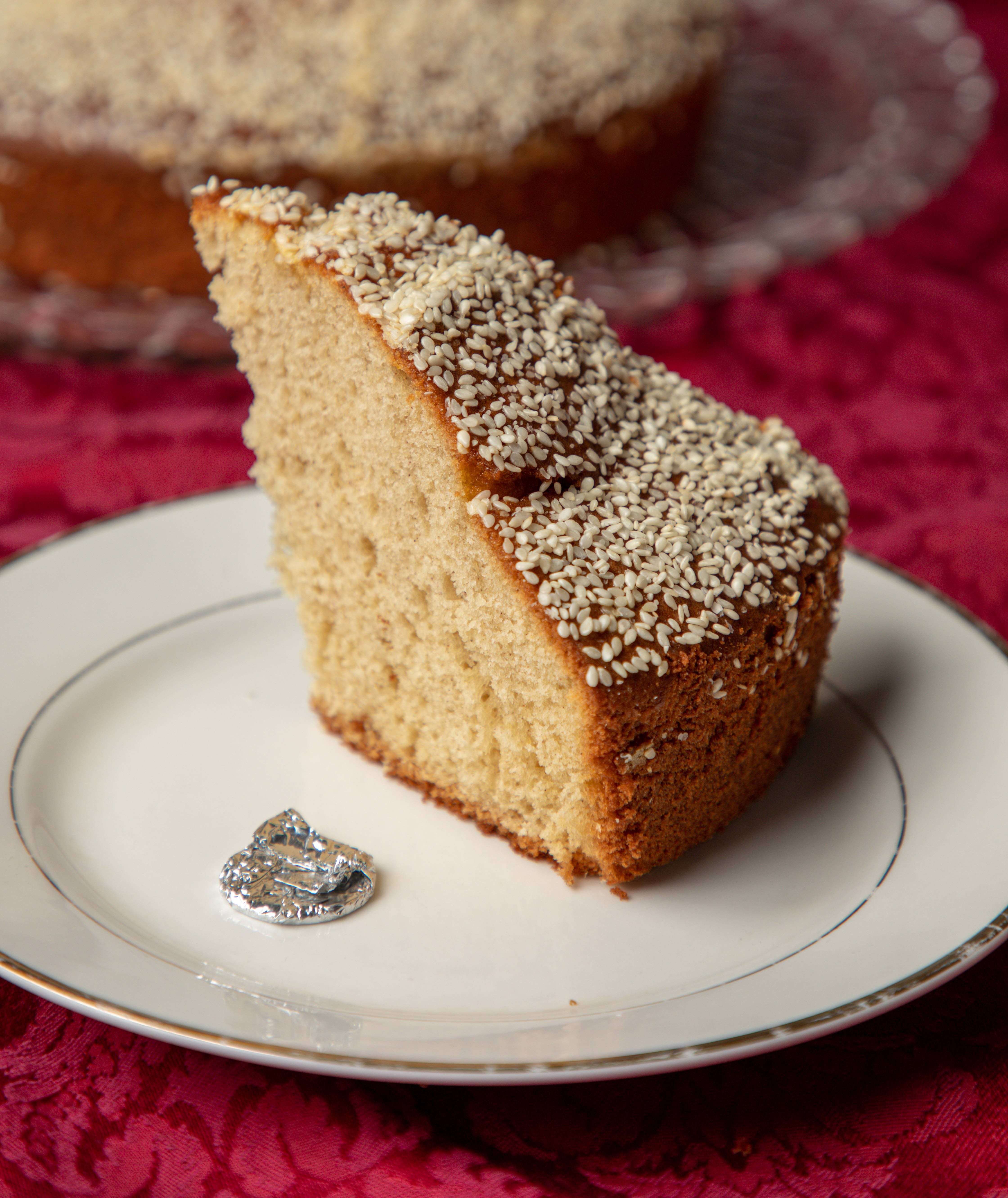 When the clock strikes midnight on New Year's Day, residents of Greece and Cyprus enjoy their version of a king cake. The cake, called vasilopita, is round and traditionally sweet to symbolize joy and hope for the new year. It's scented with orange zest, and topped with sesame seeds, powdered sugar, and sometimes even the numbers of the year.
But why is vasilopita eaten on January 1 instead of Epiphany? While this king cake likely has its roots in ancient Rome, it came to be associated with Saint Basil, one of the most beloved Orthodox saints and a revered figure in Greece and Cyprus. In the Eastern Orthodox religion, January 1 is Saint Basil's Feast Day.
Basil is said to have returned riches to his city of Caesarea, and vasilopita now has a similar charge. Whoever finds the coin hidden inside the cake receives gifts. And if you find the coin during a holiday party at work, the prize can result in monetary bonuses.
Roscón de Reyes and Rosca de Reyes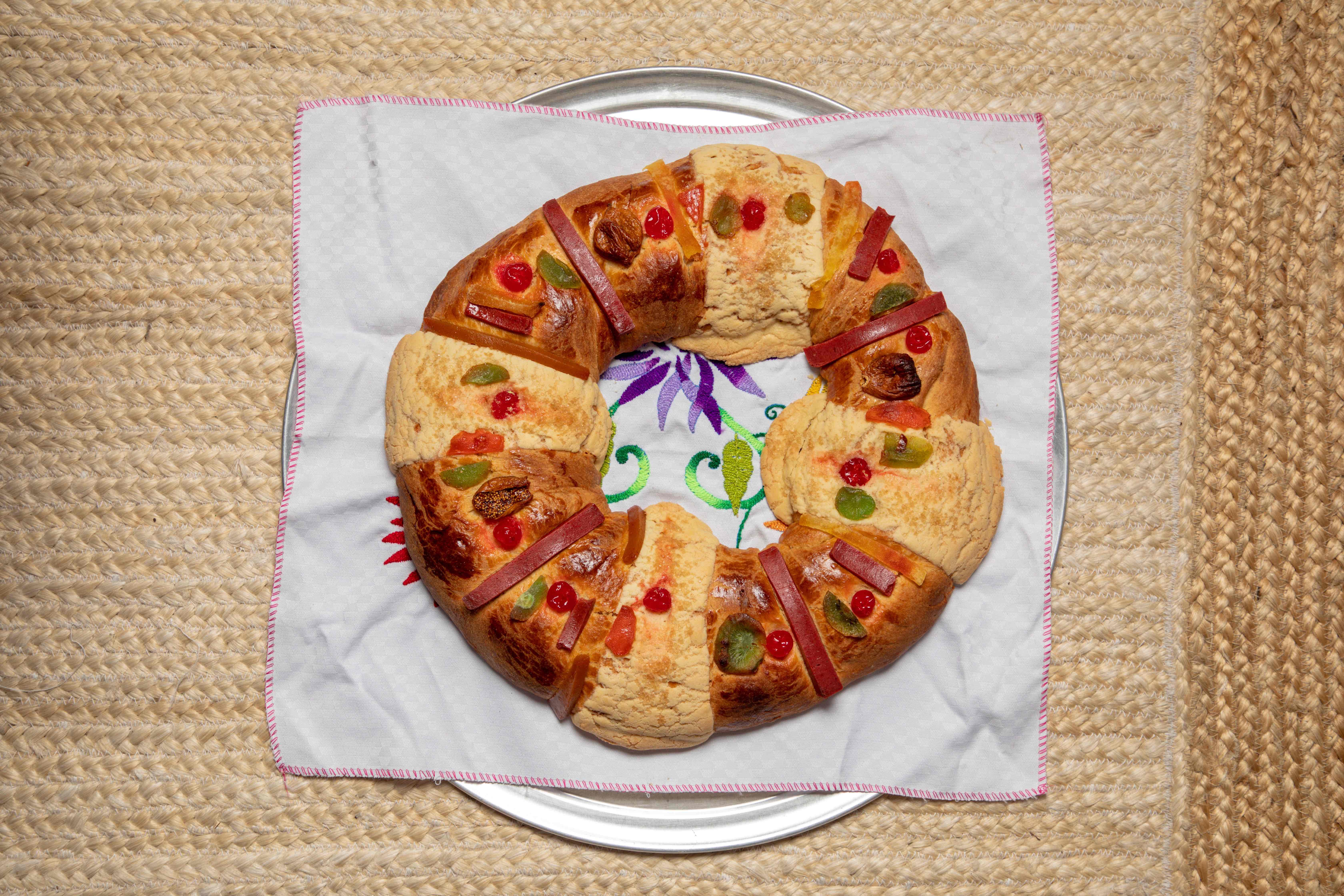 The Twelve Days of Christmas are marked by elaborate feasts throughout Spain and much of Latin America. While the menu might look different from country to country and family to family, a cake is often served on January 6, or Twelfth Night.
In Spain, the roscón de reyes starts with a brioche-like dough that gets shaped into a crown, flavored with orange blossom water or rum, and adorned with candied fruit such as cherries, orange, quince, and figs that are meant to resemble "jewels."
Fillings can vary from the sweet, whipped cream most popular in Spanish cakes, to less traditional options such as chocolate, strawberry, or marzipan. The Mexican rosca de reyes typically has no filling, but stripes of sugar paste join the candied fruit topping.
Christians believe Mary first brought the baby Jesus to church on February 2 (known as Candlemas). Whoever finds the hidden baby doll inside Mexico's rosca de reyes—meant to symbolize the Christ child—is responsible for bringing the doll to church on the same day Mary did. Not only that, but they're also on the hook to host a tamale party after the service.
Dreikönigskuchen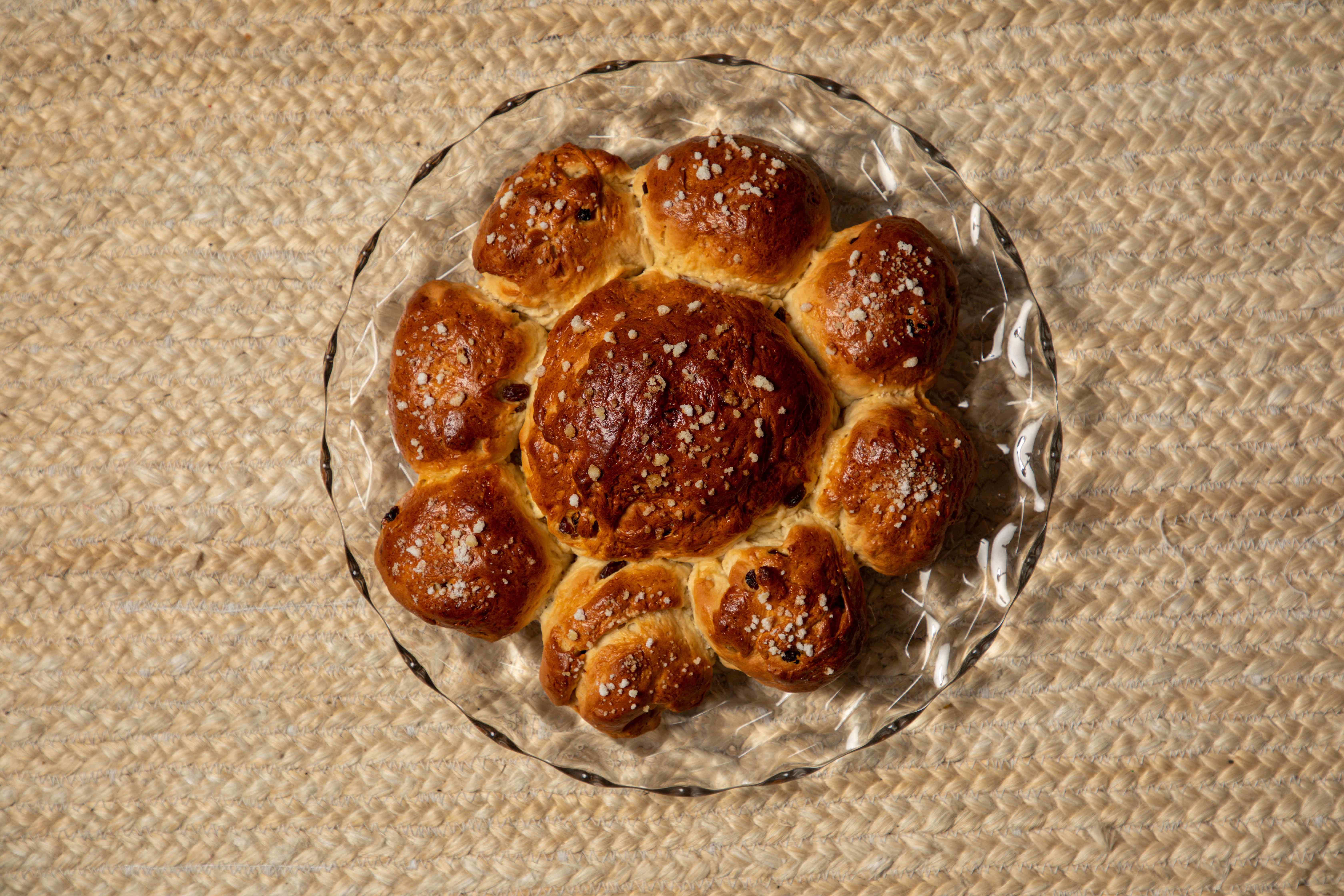 The dreikönigskuchen, which translates to "three kings cake" and is most commonly eaten on Epiphany, is popular in Switzerland, and the southern, predominantly Catholic portion, of Germany near the Swiss border.
Generally speaking, dreikönigskuchen is a fluffy, brioche-like cake made of separate rolls arranged in the shape of a crown. Crowns need to be studded, of course, and in Switzerland those jewels are more likely to be in the form of pearl sugar and almond flakes. In Germany, rum-soaked raisins or chocolate chips are often the decoration of choice.
Dreikönigskuchen is also associated with another German Epiphany custom. In the sternsinger—or "star singer"—tradition, kids go from home to home singing carols and collecting donations for children's aid projects. Just as the king cake is named to honor the Three Kings, the star singers dress as the Three Wise Men. After singing carols at a home, the singers are sometimes rewarded with a roll of freshly baked dreikönigskuchen.
Banitsa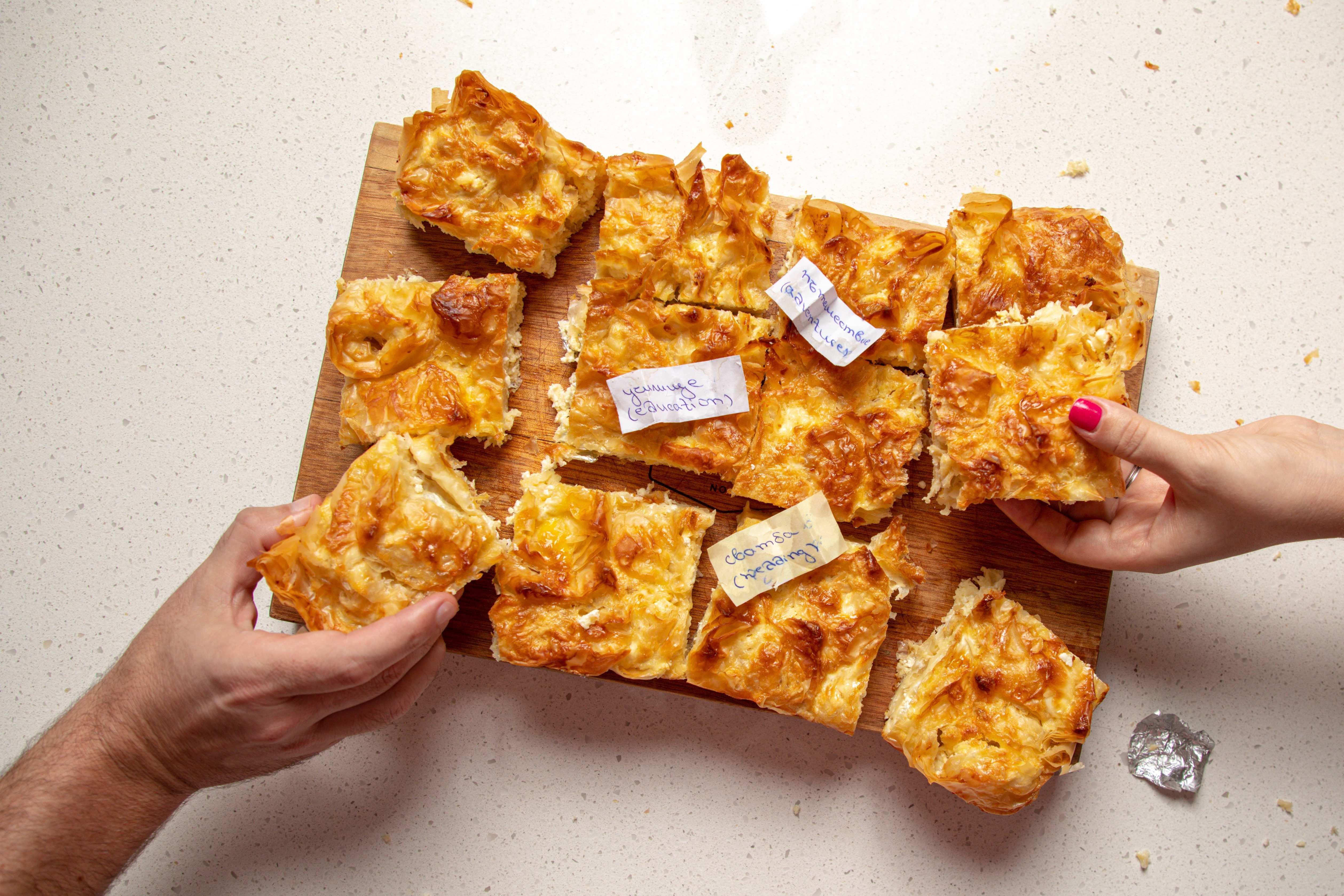 Banitsa is a flaky, savory pastry made of phyllo dough, eggs, yogurt, and the popular Bulgarian sirene cheese. While king cake is typically connected to the Twelfth Night of Christmas, banitsa is traditionally enjoyed on Christmas Day and New Year's Eve. Still, many of the customs are similar.
The banitsa gets cut into as many pieces as there are attendees at the party, plus an additional slice for the Virgin Mary, seen as the protector of the family. The partygoers often spin the pastry on the table and when it comes to a stop, all the guests take the slice in front of them. But, unlike the king cakes from other countries, everyone's a winner with banitsa.
Lucky charms, called kusmeti, are placed throughout the cake. A dogwood branch represents health and longevity. The pastry also contains small scraps of paper bearing fortunes offering outcomes such as wealth, marriage, pregnancy, or health. The messages or branch segments are placed throughout the cake so everyone gets a piece of good fortune.
Gastro Obscura covers the world's most wondrous food and drink.
Sign up for our email, delivered twice a week.