The Vietnamese Cafés Where Koi Fish Are the Stars
These lavish coffeeshops are aquatic wonderlands.
Saigon's District 5 was once home to the Casino Grande Monde, a casino of elephantine proportions built to end underworld control over gambling in the late 1930s.
Nothing of that sort exists today. But people have found a different way to relax.
On the grounds of bygone vice and grandeur, Ho Chi Minh City's Department of Culture, Sports and Tourism now operates District 5's Cultural Center. Within the compounds of the cultural center is a very peculiar café: Koi Garden Coffee.
In pools set into the floor, at least five breeds of Japanese koi fish swim around customers sitting at tables sunk within large ponds. As people sip on typical Vietnamese beverages such as cà phê sữa đá, hundreds of koi flock tableside in hopes of getting a snack.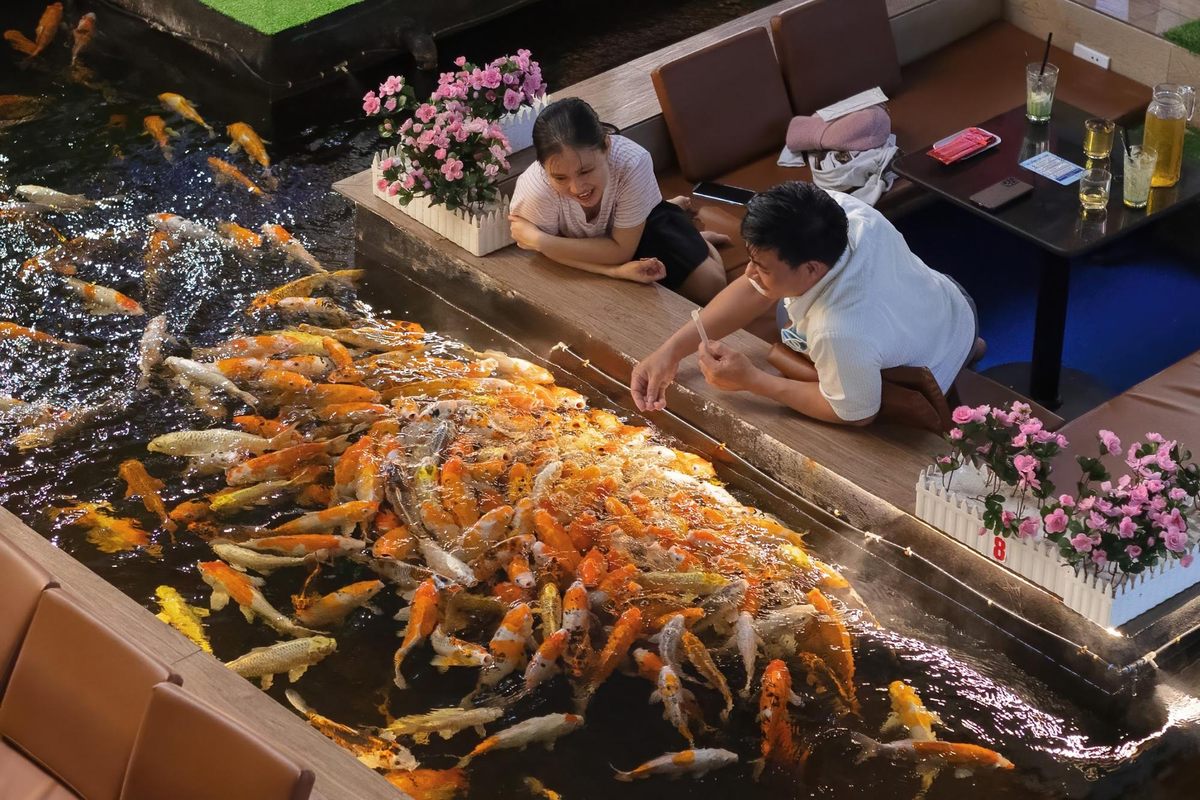 Koi Garden Coffee's manager, who goes by Minh, first thought that people would enjoy being "islanded" by schools of adorable koi a few years ago, after seeing elderly men feeding fish at ponds in a smaller neighborhood café. Now, he runs Koi Garden Coffee along with his brother.
"Since the trend started four years ago, there are about 10 [koi fish cafés] in Saigon right now," he estimates. His love of the fish has kept him going, despite what he estimates is a 15-hour-a-day job.
Many of the city's koi cafés share similar features. Often, they're enormous open-air venues, outfitted with retractable canopies. "Size matters. Many families need a place for large groups, especially on the weekends," Minh says. Large LCD screens showing everything from Peppa Pig to localized classics such as the beloved Japanese show Doraemon keep children adequately stimulated for a stress-free family occasion.
Some lavish cafés sport tree-like multicolored light structures, inspired by none other than the supertrees of Singapore's glitzy Gardens By The Bay. Along with LED lights and a quantity of fake maple leaves and/or plastic cherry blossoms, the aesthetic similarity of every koi café in town is hard to miss. There's just something alluring about the combination of Japanese fish, metal towers, and enormous gardens for coffee-sipping.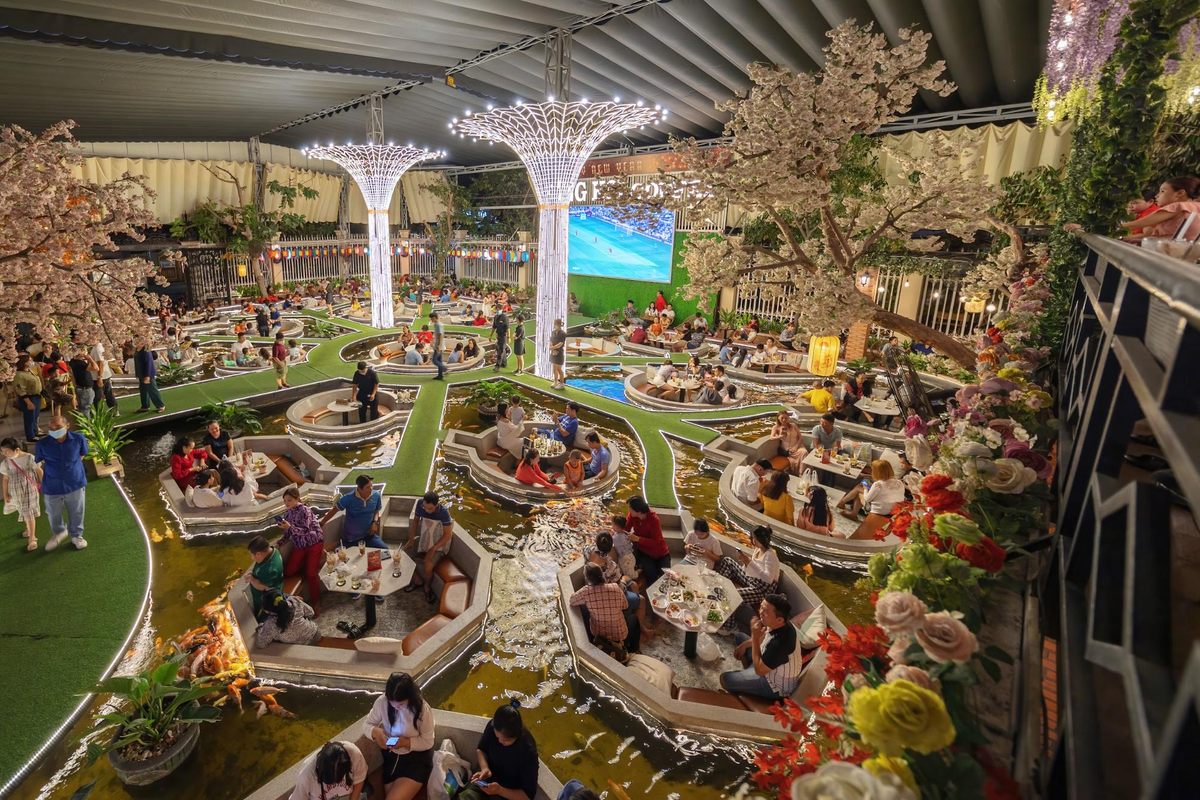 In Vietnam, this love for visual stimulation and spaciousness didn't start recently. In fact, koi cafés are just one type of what are locally known as "garden cafés."
The granddaddy of Vietnam's airy coffeeshops is often considered Du Miên Garden Café, located in Gò Vấp, a suburban district approximately six miles from the city center. During Vietnam's post-2000s boom, Du Miên led the way for a world of quirky Saigonese garden cafés that combine vibrant colors, plants, flowers, and maze-like layouts that have guests traversing from level to level and section to section in search of a perfect photo angle.
"Garden cafés are now a habit,"says Nguyễn Hoàng Minh Trang, who runs Du Miên and four other cafés with her family. Trang often sees many of her first customers from the late 2000s bring in their children and grandchildren, turning them into second and third-generation customers.
Even though maintenance, watering, and purging dead plants due to seasonal weather changes is a massive chore, her husband's love of gardening has kept them going. The duo try their best to make aesthetic tweaks to the café a few times a year to keep regulars interested. She admits that keeping hundreds of koi fish healthy is an even more challenging task.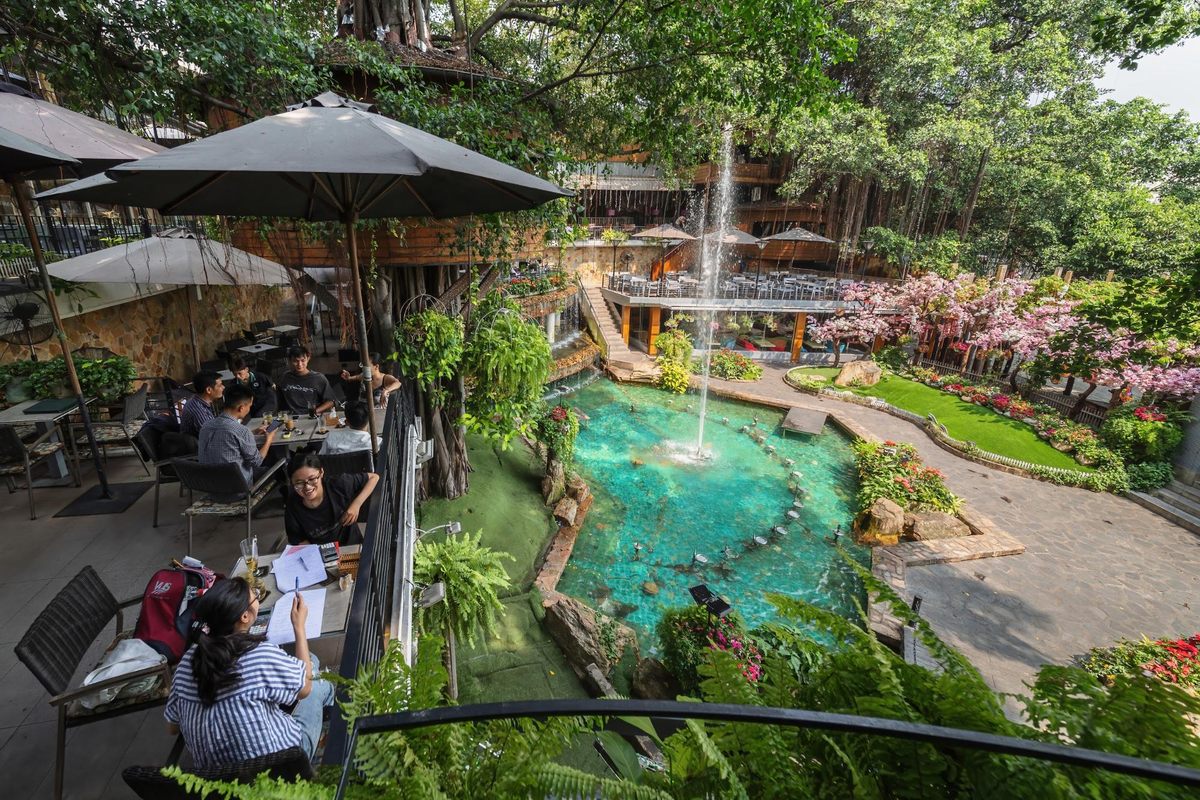 Minh of Koi Garden Coffee agrees. Taking care of 2,000 mature koi fish and approximately 1,500 immature fingerlings is a mammoth job. From climate control to ignorant guests tossing human food into the water, the problems can seem never-ending. At one point, it took weeks for staff to clear up a fungal infection affecting nearly a thousand koi in one of the café's four ponds. Minh insists that hygiene and keeping the café free of disagreeable smells keeps customers coming back.
While many cafés now feature koi as an attraction, Trang and her husband are inspired more by their love of old-school local cafés rather than fish. The region has already seen whole generations of different kinds of coffee shops, such as the now-defunct pre-war Café Chiêu and Café Thủy Trúc that evolved from rendezvous points for military officers in the late 1960s, and the vintage-themed cafés favored by middle-class students in the 1990s.
The unifying aspect of the majority of these garden cafes is the "no-door" philosophy, in contrast to what people-in-the-know call "boxed cafes," where customers sit within a space with four walls.
Madame Nguyễn Thị Thanh Thanh, a retiree and self-professed vintage café lover, has much to say about how the local coffee shop scene developed. "The French may have brought coffee beans and coffee plants to Vietnam, but a different way of enjoying it has come to fruition," she explains. "Starting in 1945 ,when common northern Vietnamese folk were displaced southwards due to the Southern Resistance War, makeshift cafés built in forests and rural places became popular."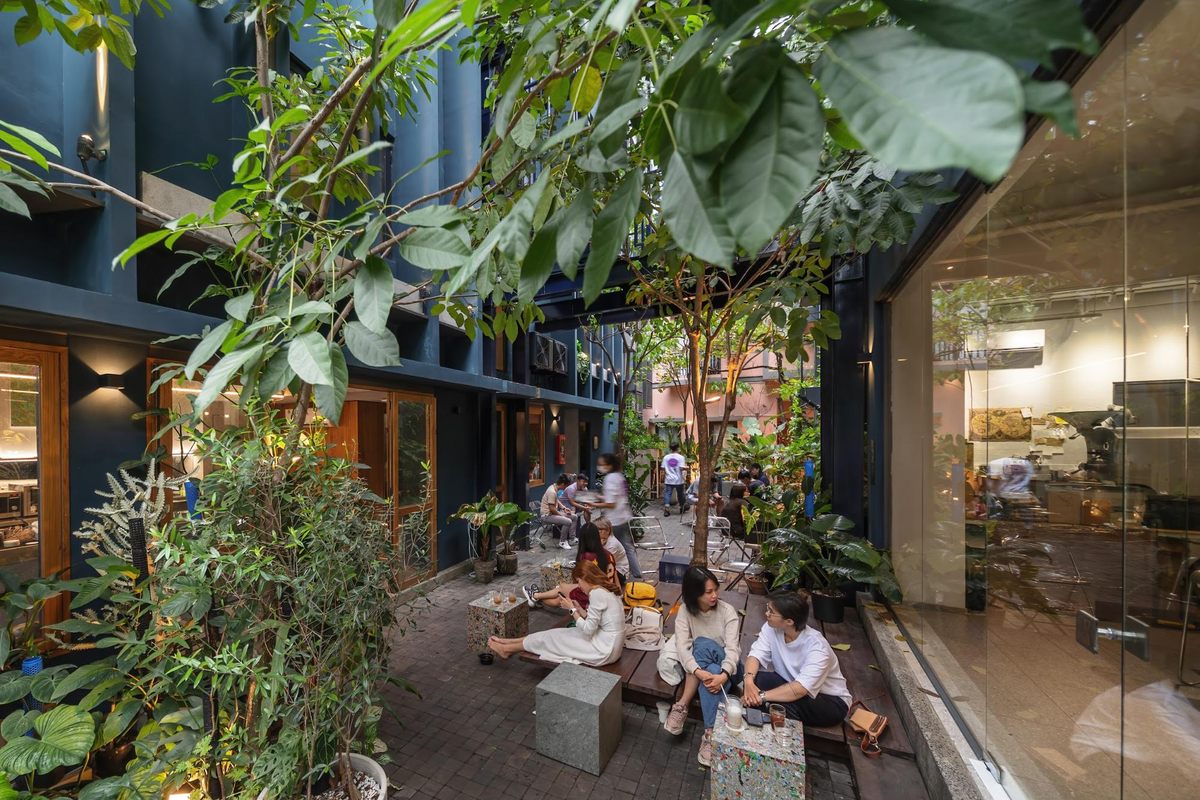 Funnily enough, even though the word coffee and café appear in the names of every koi and garden shop mentioned here, the scenery is usually the main event, not the drink itself. That is, with the exception of Every Half, one particularly trendy café.
Roaster-owner and plant-collector Trần Lê Minh Trúc set the cafe's main seating area mostly outdoors, and filled it with more than ten types of philodendron and other exotic tropical plants, from anthurium to a rosy trumpet tree. The breezy space, filled with tables made of recycled plastic, is sandwiched by the two buildings that house his roastery and barista counter.
Every Half doesn't have any on-site koi, soaring towers, or LED lights. But it does have smooth cups of espresso made from light-roast Ethiopian beans, pumpkin lattes, and a tranquil atmosphere of urban greenery. Socializing, shared drinks, and vibrant plants, in the end, are what draws customers to garden cafés. Seeing a pretty fish or two, though, is a nice bonus.
Gastro Obscura covers the world's most wondrous food and drink.
Sign up for our email, delivered twice a week.