The World's Longest Pedestrian Suspension Bridge Just Opened in Switzerland
It's not for the faint of heart.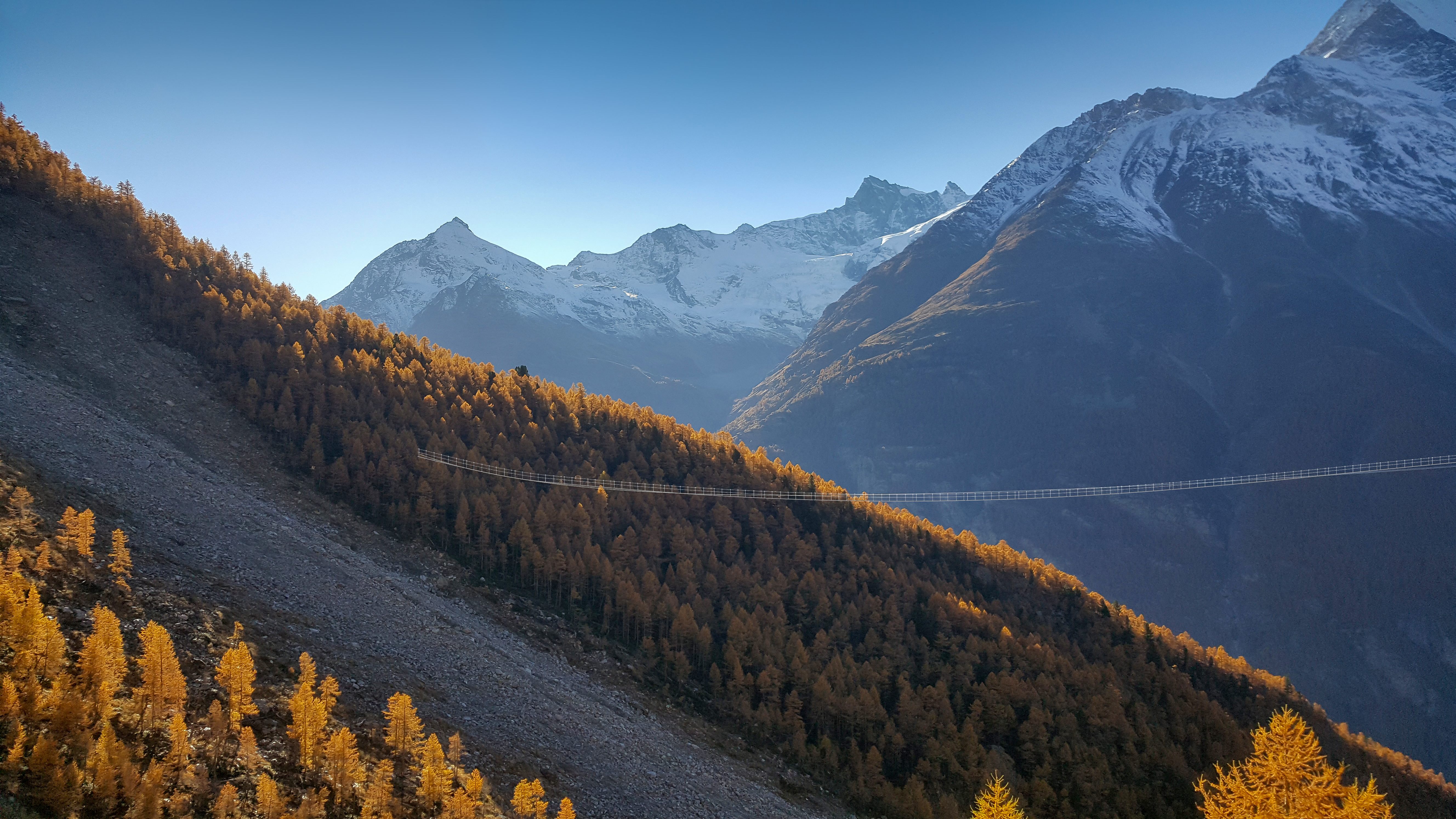 Have you ever wanted to walk across Switzerland's Grabengufer valley, but lacked the time for the three-hour hike it requires? Good news: there's now a shortcut, which cuts down the travel time to fewer than ten minutes. All you have to do is walk through the air.
This new possibility comes from the recently opened Charles Kuonen Suspension Bridge, which, CNN reports, is now the longest pedestrian suspension bridge in the world. The bridge opened for business on Saturday, July 29th, and spans 1640 feet—about the length of seven city blocks. At its highest point, it hangs about 28 stories above the ravine.
In far-off photographs, the bridge resembles a thin silver necklace, stretched between two mountainous shoulders. Close up, it looks more like a walkable roller coaster. While crossing, "it is possible to look into the precipice below one's feet," the Zermatt travel board writes in a press release.
This is the longest pedestrian suspension bridge in the world https://t.co/vw8KFz2bqq pic.twitter.com/PfXBeQjixW

— CNN International (@cnni) July 31, 2017
Pedestrian suspension bridges are currently in a bit of an arms race—the Europabrücke grabbed the "longest" title from Germany's Titan-RT bridge, which only opened this past May. Before that, Russia's SkyPark bridge, built for the 2016 Sochi Olympics, wore the crown.
Europabrücke replaced another bridge destroyed by falling rocks, and was specifically designed not to sway back and forth. Still, "people who have problems with a fear of heights, they have to close their eyes," travel board spokesperson Edith Zweifel told CNN. Seems reasonable.
Every day, we track down a fleeting wonder—something amazing that's only happening right now. Have a tip for us? Tell us about it! Send your temporary miracles to cara@atlasobscura.com.