Look At These Snarky Yearbooks From 100 Years Ago
The in-jokes from the class of 1916 don't all hold up.
A photo of a student in a typical dorm room from the 1916 Kentucky Normal and Industrial yearbook. (All Kentucky yearbook images: Public Domain)
As the school year enters its final stretch, there is one keepsake that many students will not be taking home: yearbooks. Indeed, colleges like Purdue University and the University of Virginia have phased out yearbooks altogether, while others, such as the University of Missouri, have switched to digital versions.
The class of 2016 may not get jazzed about yearbook-signing day, but the class of 1916 sure did. And though the technology was markedly different, the in-jokes, insults, and tales of awkward flirtation found in the yearbooks of 1916 are the World War I-era equivalent of Facebook posts.
For an insight into the lives of the class of 1916, we turn to yearbooks of two American colleges: Swarthmore, an overwhelmingly white, private liberal arts college in Pennsylvania, and teachers' college Kentucky Normal and Industrial Institute for Colored Persons, which is now known as Kentucky State University.
---
(All Swarthmore Halcyon images: Public Domain)
The student descriptions in Swarthmore's Halcyon yearbook are particularly lively—and topical, for 1916. For political humor, you can't go past Lewis Mendelson's "What's the deal with women voters?" schtick. 
---
At the time the yearbook came out, Pennsylvania was still three years away from granting women suffrage. But that state of affairs didn't seem to mar the confidence of Anna Michener.
---
Charlotte Seeds seemed to be the resident scrappy socialite. Not letting dorm life cramp her style, she greeted guests with window-sill tuna fish and cake found under her roommate's bed. 
---
Then there's "Lumo," the "ever willing, everlasting appendage" of the class.
---
Harry Briggs' write-up is a standard "field report from the psychiatric institute" tale. 
---
Helen Spiller's bedroom habits did not go unnoticed by the yearbook committee.
---
Katharine Strode had an inscrutably limitless fruit supply, and was happy to share it.
---
As for Dorothy Super, she was normal. Sort of.
---
The word "normal," however, had another meaning a century ago: a "normal school" was an institute of higher education devoted to training teachers. A browse through the 1916 yearbook of Kentucky Normal and Industrial Institute for Colored Persons yields some evocative and mischievous student descriptions.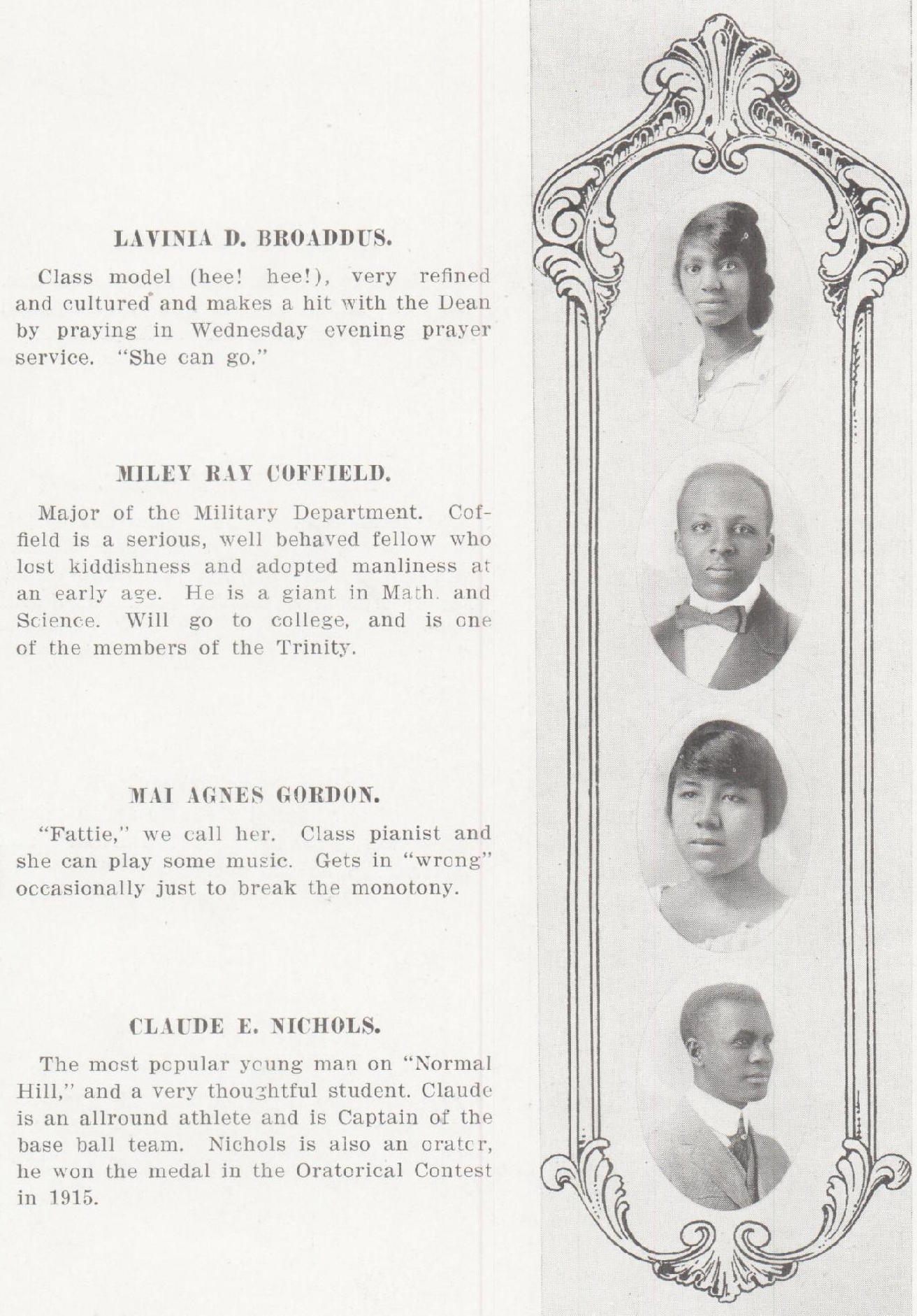 Lavinia Broaddus, pictured at top, wrote an address in the yearbook that mentioned a Senior Leisure Club consisting of "young ladies," all of whom "met every Monday night and did needle work and discussed many interesting subjects." Claude Nichols, at the bottom, was the class president. The class motto, chosen by the students, was "Gentle in Manners, but Resolute in Deeds."
No evidence can be found to confirm or deny whether Mai Gordon resented her nickname, "Fattie." Other women were referred to as "cutey":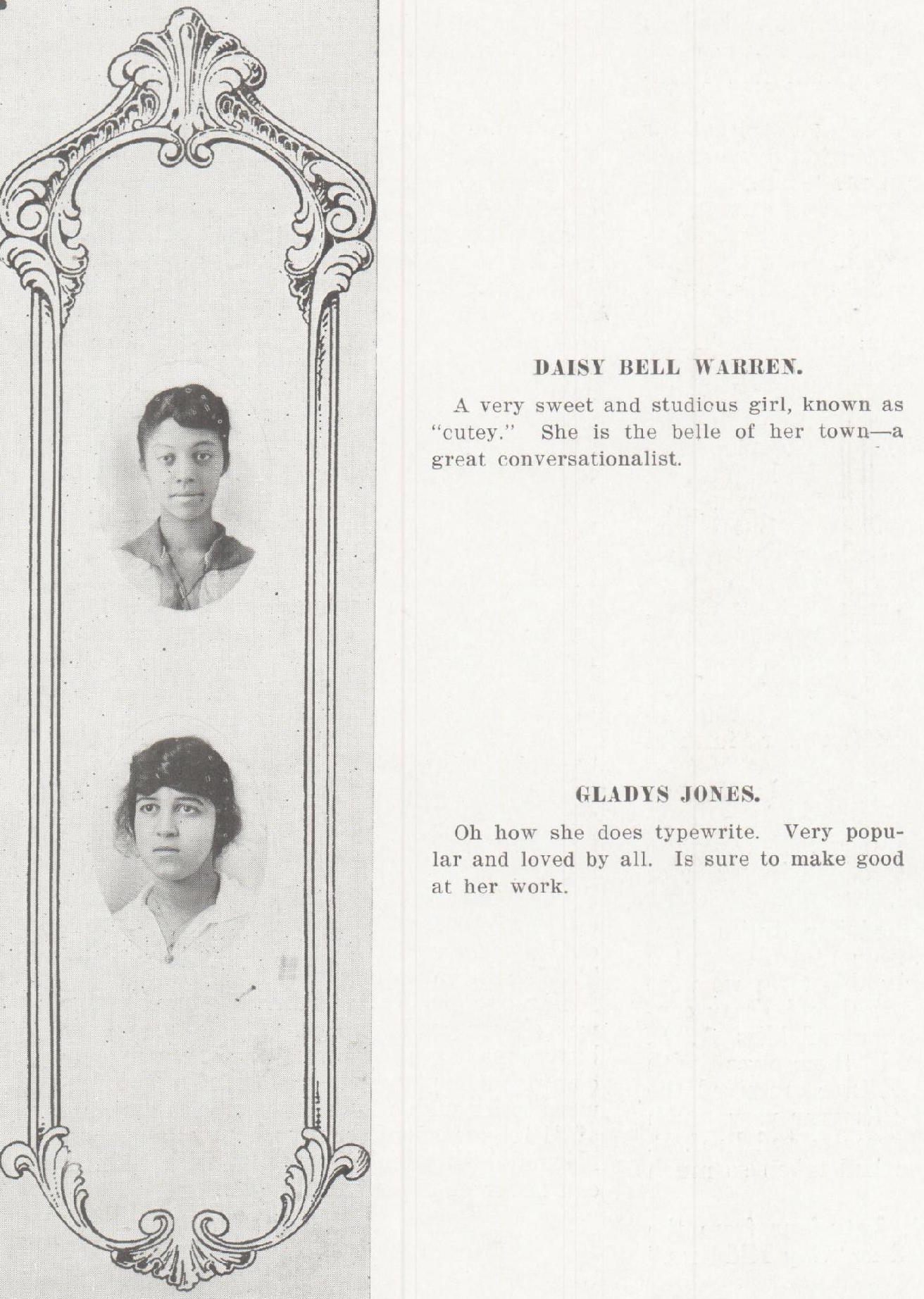 Or, in the case of Gertrude Wilson, a "doll" and a noise maker: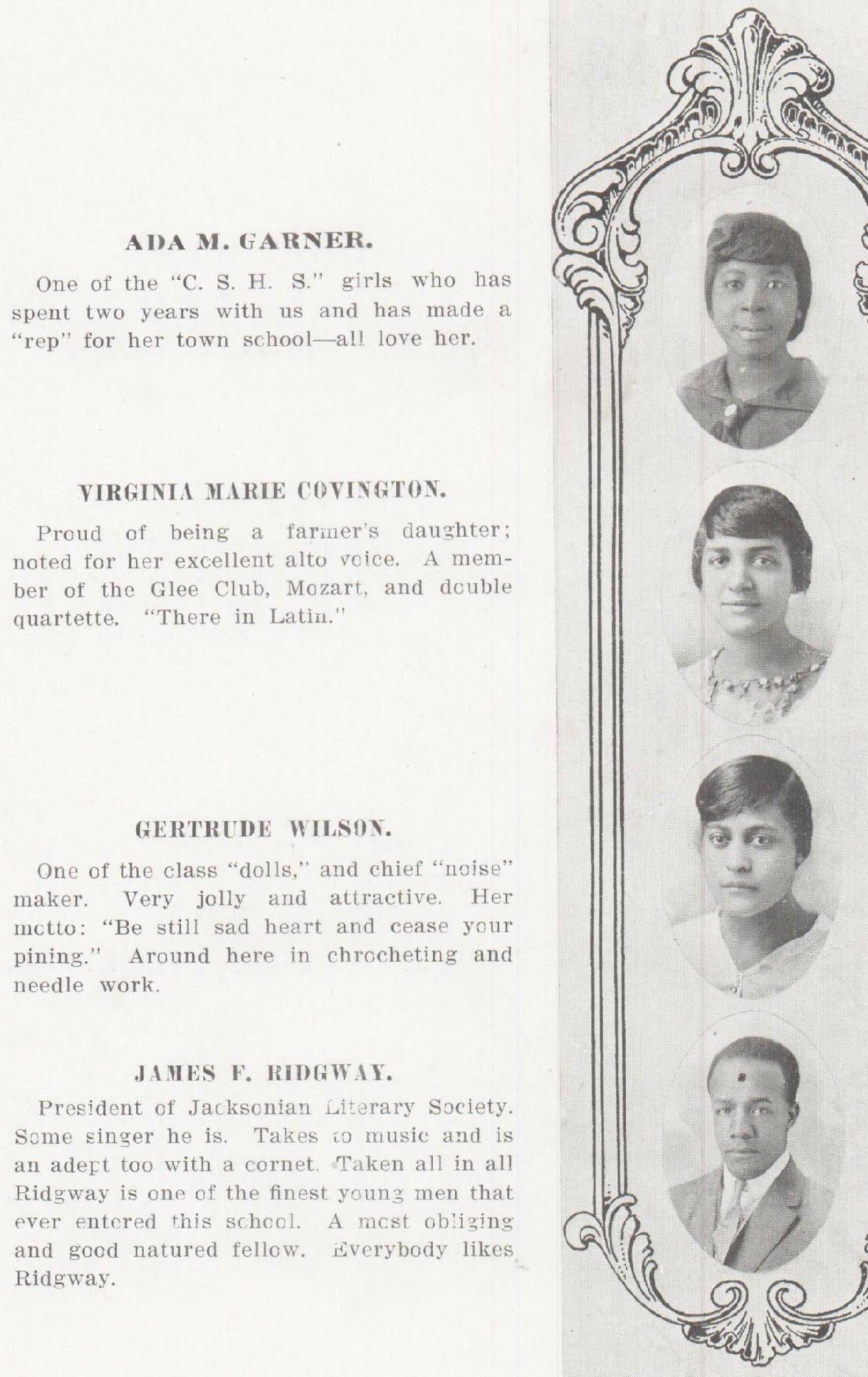 In a yearbook summary of on-campus social events, student Elizabeth Haskins described "moving picture entertainments" being screened for students in the auditorium, courtesy of a "splendidly equipped moving picture apparatus." She was careful to add that students were allowed to view "only the most wholesome and beneficial pictures." Movies with sound were still a decade away.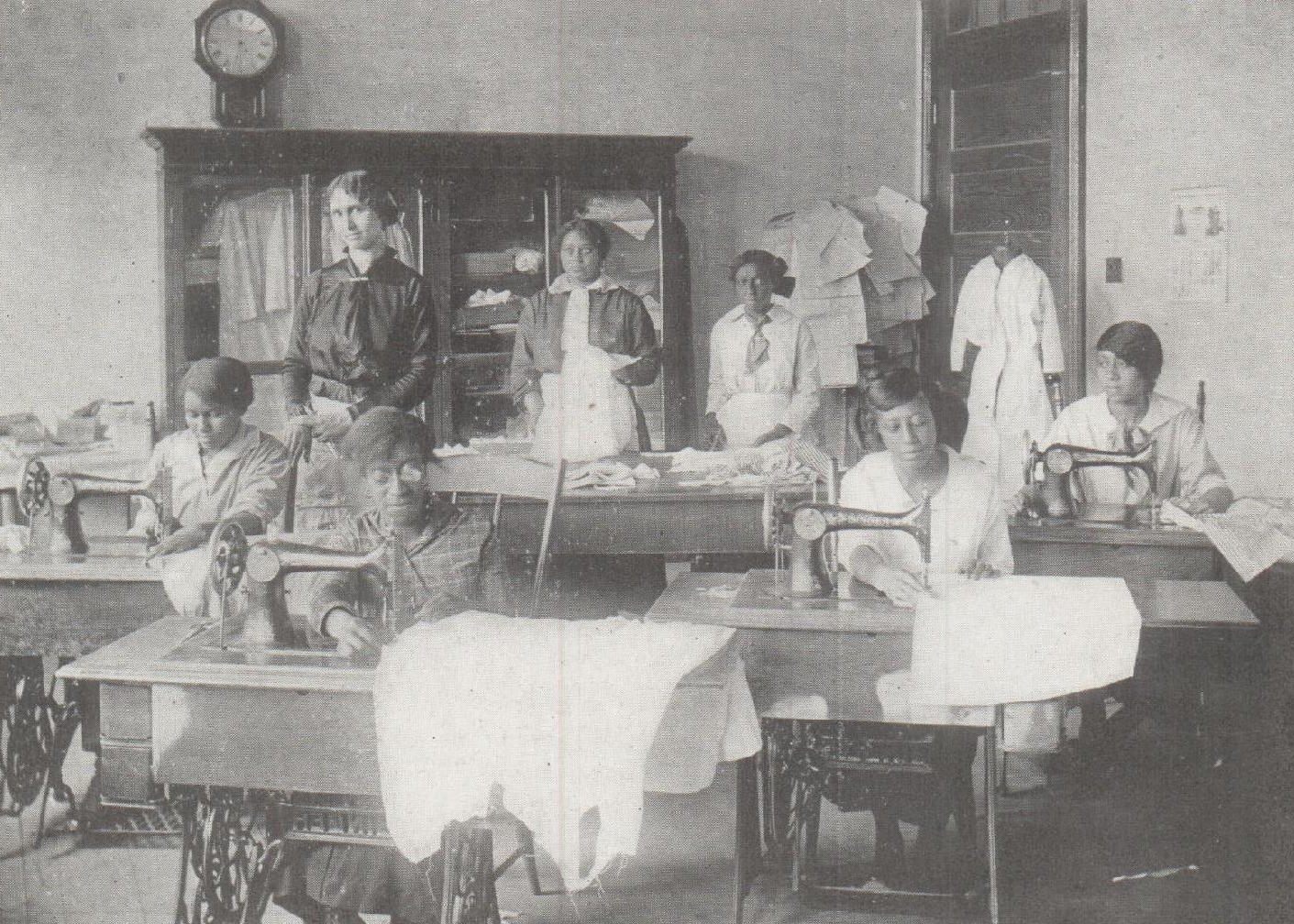 A sewing class at Kentucky Normal, from the 1916 yearbook.
The internet and the increased visibility of one another's information and activities may have made yearbooks less relevant to current students. But online media has also allowed for the digitization and viewing of yearbooks from the distant past, giving a fascinating look at what our parents, grandparents, and even great-grandparents might have gotten up to in college. 
As the above excerpts show, the social conditions may change, but the affectionate insults remain constant.