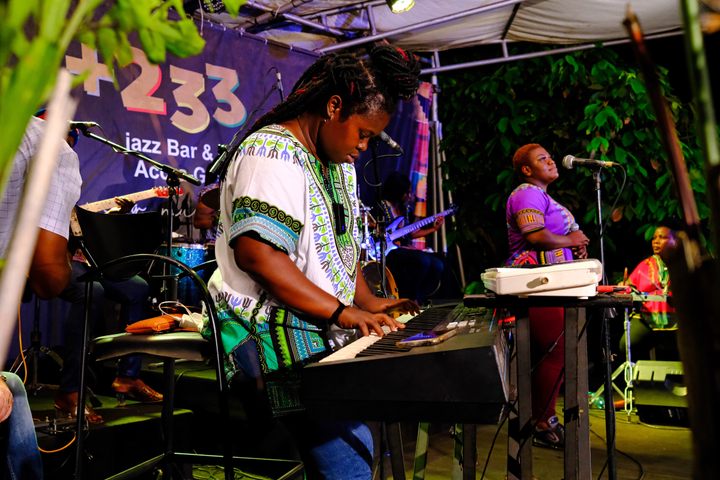 How Louis Armstrong Shaped the Sound of Ghana
You can still hear echoes of the trumpeter's 1956 visit in Accra's clubs today.
When jazz great Louis Armstrong's plane touched down in Accra—the capital of what was then the British Gold Coast—on a spring morning in 1956, thousands of spectators awaited him on the tarmac. Cries of "Armstrong Akwaaba!"—Welcome, Armstrong!—went up as the world-famous trumpeter and his All Stars musicians appeared. At that moment, more than a dozen African bands began serenading them with a joyous rendition of "All for You!," a song recorded by Accra's own E.T. Mensah, a trumpet player, saxophonist, and vocalist who was among the many revelers. America's King of Jazz picked up his own instrument and joined them, his Dixieland sounds meshing with the upbeat brass and calypso rhythms permeating the air and bringing a whole new level of fever to an already exuberant crowd.
"There was more than just excitement in the region during Armstrong's visit," says Adrian Oddoye, co-owner of Accra's +233 Jazz Bar and Grill, "it was euphoria," he says of the scene captured in archival recordings. This was Armstrong's first trip to Africa, and the Gold Coast colony—which had been under European occupation since the 15th century—was on the verge of independence; it would become the sovereign nation of Ghana less than a year later. The trumpeter had arrived at the precise moment that the citizens of this soon-to-be independent country were reclaiming both themselves and their sound—one that played a pivotal role in establishing Ghana's new national identity.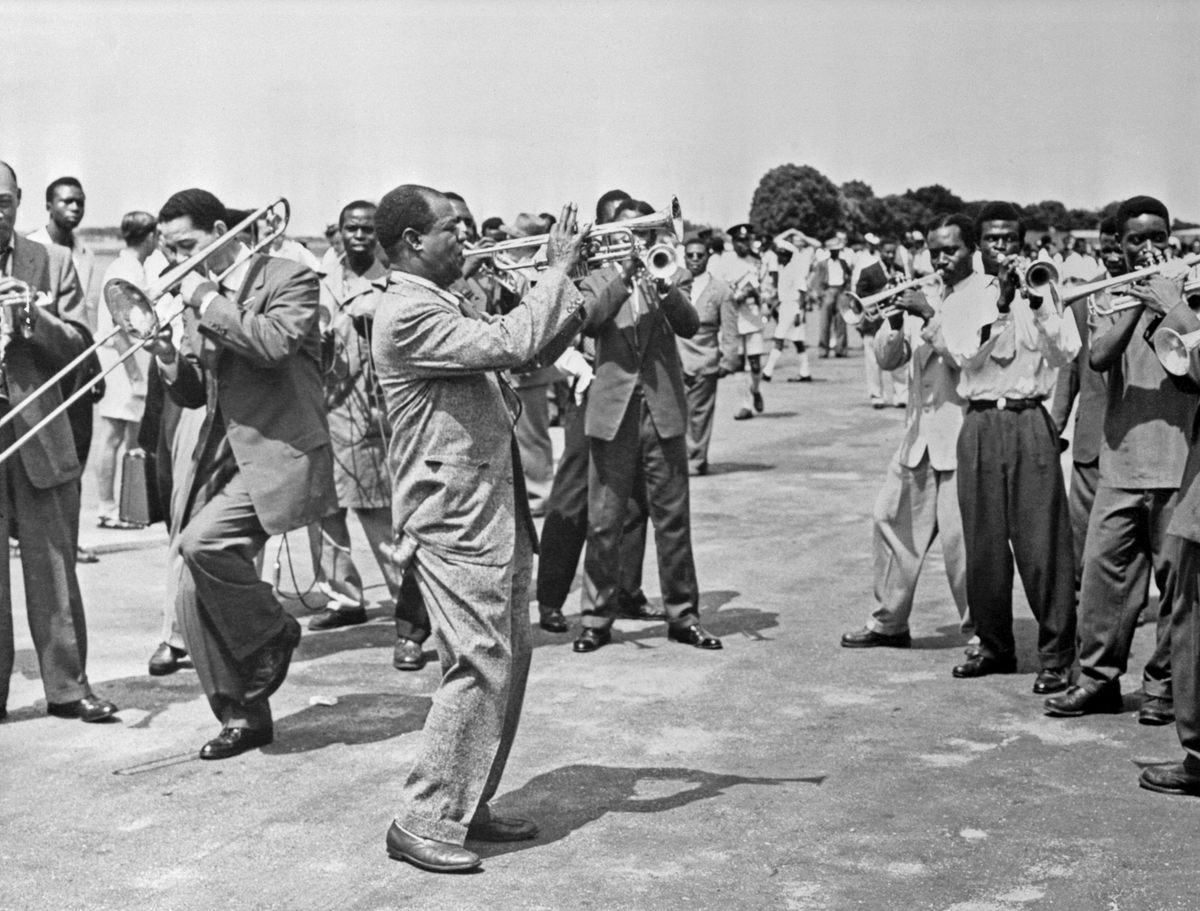 Today, Ghana is a thriving country with a stable democracy and its own distinctive beat—highlife. The homegrown musical genre, a blend of local indigenous melodies and rhythms with elements of jazz, all played on Western instruments, became a voice of the emerging nation thanks in large part to Armstrong's visit, and it is now experiencing a resurgence within the country, as Ghana reexamines the legacy of the slave trade and the African diaspora. That's thanks in part to Armstrong's visit, which brought global media attention to Accra's music scene. As Kwesi Owusu writes in his 2015 essay, "The Highlife Revolution," "if local musicians needed a seal of approval, it could not come from anyone better than Armstrong."
---
Louis Armstrong has long been hailed as one of the first great jazz soloists—but while jazz as a musical genre first developed in New Orleans in the early 20th century, its roots are distinctly West African. Rhythms and harmonies derived from West Africa's indigenous tribes made their way across the Atlantic with the enslaved people removed from Africa through ports such as Elmina Castle and Cape Coast Castle in Ghana. By the time of Armstrong's 1956 visit, New Orleans jazz had already found its way back to West Africa. Swing jazz and highlife were the tunes of choice in local clubs catering to American and British allied troops stationed along the Gold Coast during World War II.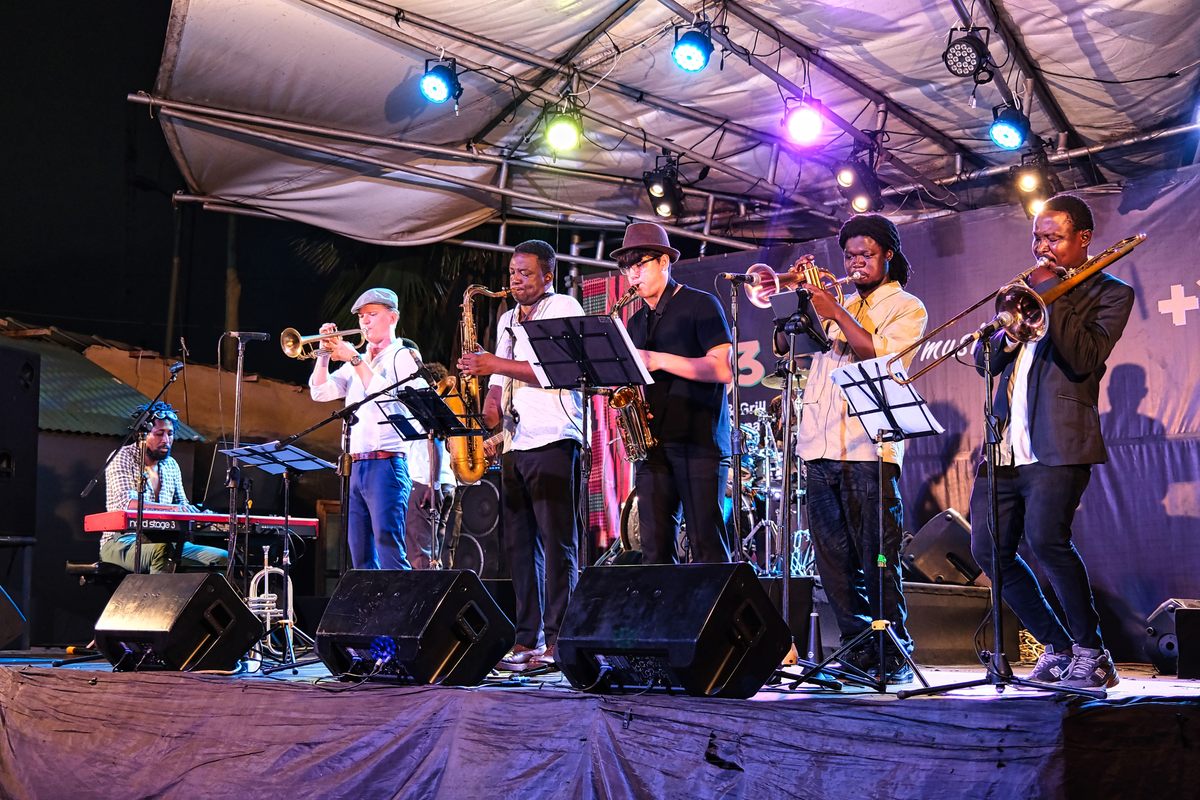 "Jazz was extremely popular in Ghana back then," says Victor Dey, Jr., a pianist and keyboardist who is one of Ghana's most prominent jazz artists today. "And from what I've heard through older musicians who were there at the time, Armstrong's visit marked a really lovely part of Accra's history." With his innovative riffs and signature bluesy sound, Armstrong could command an audience like no other, and Accra was no exception. During his 48-hour visit, Satchmo belted out a show in front of 100,000 spectators at the city's Old Polo Grounds and performed another at the city's opera house. However, it was his collaboration with Mensah, known as the King of Highlife, at the Paramount Club which left an enduring mark on the country's music scene. Not only did their joint jam session propel Mensah and the highlife genre toward international recognition, but it also solidified Mensah as a leading voice in Ghana's independence movement. The musician's song Ghana Freedom became an unofficial national anthem.
More than half a century later, it is hard to know for sure how the visit shaped Armstrong, who died in 1971. The trip was arranged by famed American broadcast journalist Edward R. Murrow, who, according to the 2016 Georgetown University exhibit "Jazz Ambassador Louis Armstrong, Ghana 1956," "was eager to see what impact the city's cultural life might have on a performer like Louis Armstrong," and most of what was presented to the public about the trip was mediated through white culture.
But it is clear that for Armstrong this visit was a chance to experience his ancestral continent as well as his music's roots. At one point the jazz legend even saw a local woman who was the spitting image of his mother, convincing Armstrong that the Gold Coast was indeed where his relatives came from. "I came from here, way back," said Armstrong, after seeing her. "At least my people did. Now I know this is my country too."
In fact, a colonial officer named Jimmy Moxon who was stationed in Accra and helped arrange Satchmo's visit, believed this cultural exchange was a "life-changing" event for everyone involved, including both himself and the entire Gold Coast colony. Perhaps because they were all speaking the same language—music.
"Jazz is a language, and it's one that's universal," says Dey. "How lovely that you can travel anywhere and meet a South African, Japanese, British, or Finnish musician who likes jazz and almost immediately, you're playing together. You don't know them and probably will never meet again, but still speak a certain language that is familiar to all of you."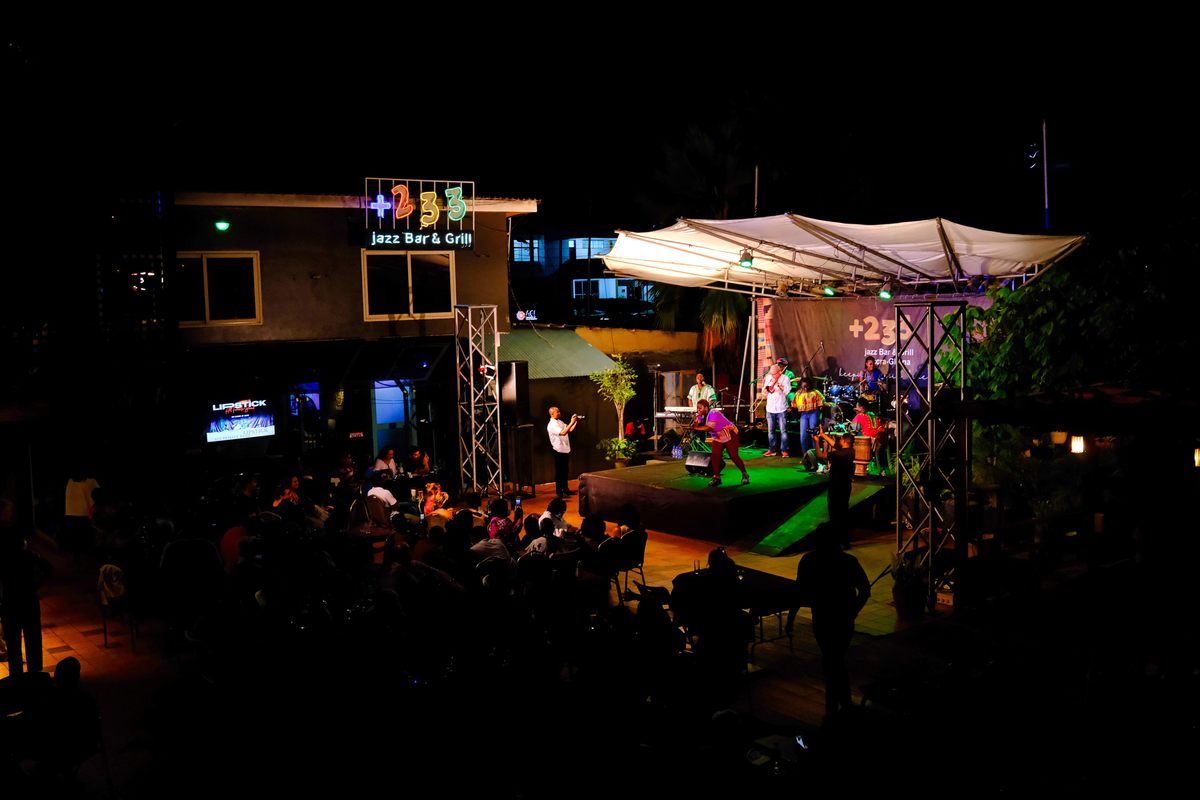 ---
On a recent Wednesday night, I headed out to enjoy some jazz at Accra's +233 Jazz Bar and Grill, an open-air club in the city's central Osu neighborhood. Around me sat couples grooving to the music while dining on plates of lamb kebabs and kelewele—fried plantains spiced with ginger and hot pepper—and large, well-dressed parties of friends sipping on bottles of Ghana's own Club beer while together, we rocked and swayed to the tunes of +233's all-female Lipstick Band. Their music was a mix of Ghanian and Nigerian highlife songs with a distinct Caribbean beat, with several standard jazz tunes tossed in for good measure. Although the band opted for keyboards, drums, and guitars, over brass, their energetic rhythms and swinging riffs echoed Armstrong's own signature music style—one that's spirited and uplifting, with a sound that's built on history.
In the many decades since Armstrong's visit, Accra's jazz scene changed substantially. Over time, fusion styles like funk and afrobeat—a blend of highlife, American jazz, Islamic-influenced fújì music, and later funk and soul—superseded Satchmo's bubbly sound and even that of bebop, the quick-tempo style of jazz greats such as Charlie Parker and Dizzy Gillespie, which came after Armstrong. Although a penchant for traditional jazz resurfaced briefly in the 1990s, when cozy clubs with names like Jazz Tone Club and the Village Inn popped up to cater to middle-class Ghanian expats who'd started returning home, the trend was short-lived. By the second decade of the 2000s DJs, electronic music, and audio processors like Auto-Tune, were taking over Ghana's sound. Even highlife music was moving away from its predominantly acoustic format.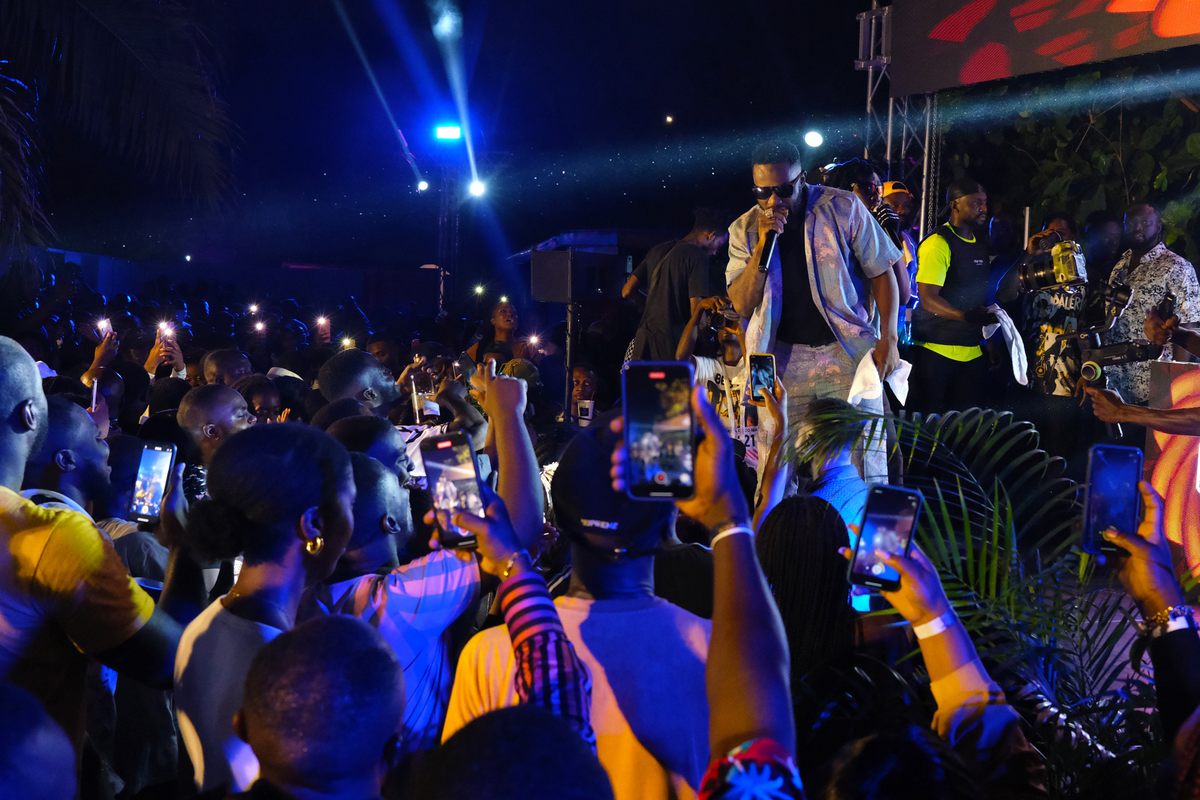 "For many years," Dey says, "it seems electronic music was the only sound that mattered."
But along with technological advances in sound production came song streaming apps like Spotify, online clubs spanning all sorts of musical genres, and YouTube video recordings highlighting everything from early 20th-century ragtime songs—a jazz forerunner—to Armstrong's 1956 Accra visit. Suddenly, Ghana's younger generations were rediscovering the basics of jazz music. "And it seems they like it," says Dey.
This rediscovery of jazz and highlife has coincided with the country's own African renaissance. In 2019, as Ghana approached the 60th anniversary of its independence, the country launched the Year of Return, a tourism initiative and celebration of African resilience that marked 400 years since the first recorded slaves arrived in the U.S. and also encouraged citizens of the worldwide African diaspora to return to their roots. A line-up of festivals, art exhibits, and local jazz performances at Accra clubs like the Republic and +233 Jazz Bar and Grill helped draw the approximately 1.1 million international visitors who came to Ghana in that year alone.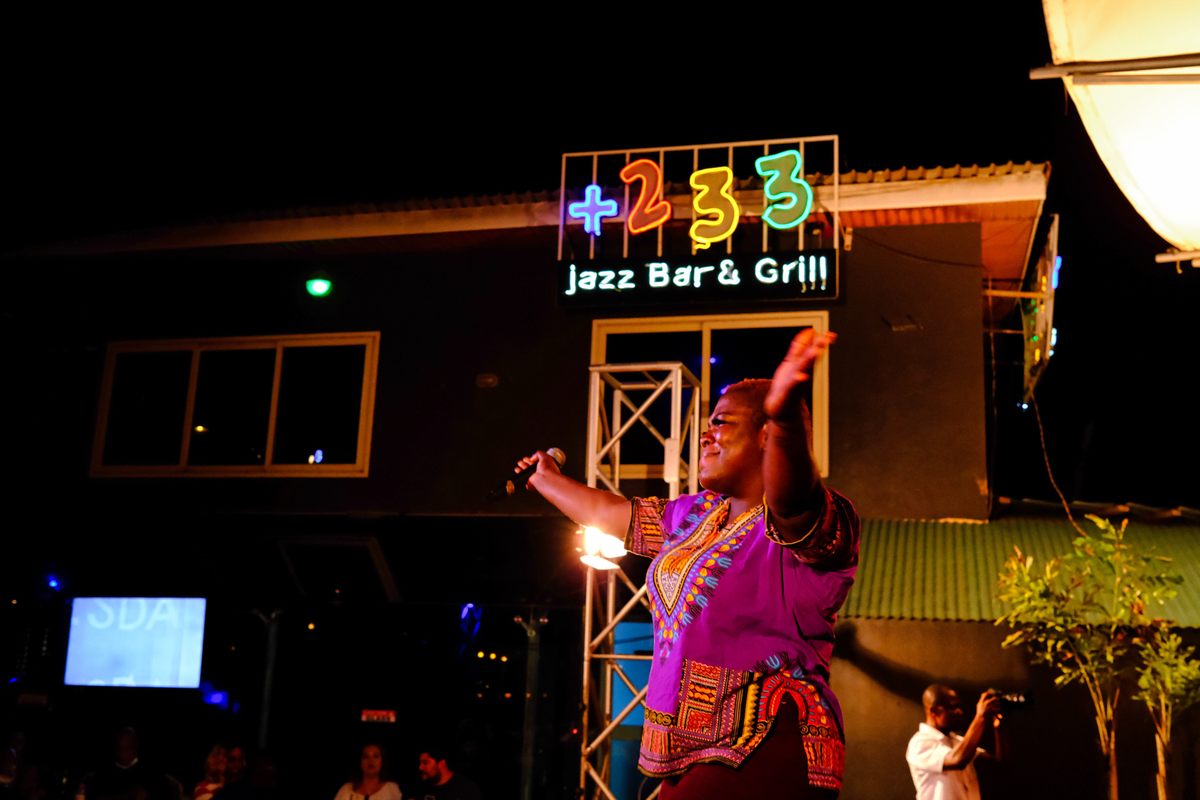 These days +233 puts on live shows five nights a week. Ghanian jazz musicians like Mihi Matsinghana, the Ghana Jazz Collective, and Dey himself perform here frequently, often sharing the stage with global artists like South African fusion singer Pilani Bubu and American jazz multi-instrumentalist Barry Finnerty when they happen to be in town. "They let me know when they are coming to Accra," says Oddoye, "and I'll put them into a show for a night or two. We benefit from their performance, and they take away something too."
Jazz has formed the foundation for Ghana's cultural and music scene, says Ken Agyapong Jr., one of the founders of Afrochella, a celebration of African music, food, fashion, and culture. "Jazz is the basis for a lot of different types of music," he says. "South African amapiano, R&B…and it's a genre that continues to grow with each new generation." It's also a continuous exchange of ideas that Armstrong embraced wholeheartedly, both within his music and throughout his 1956 visit.