Map: There Are Hundreds of Police Robots in Cities Across the U.S.
American police killed a human with a robot for the first time ever in Dallas. How many more robots are there?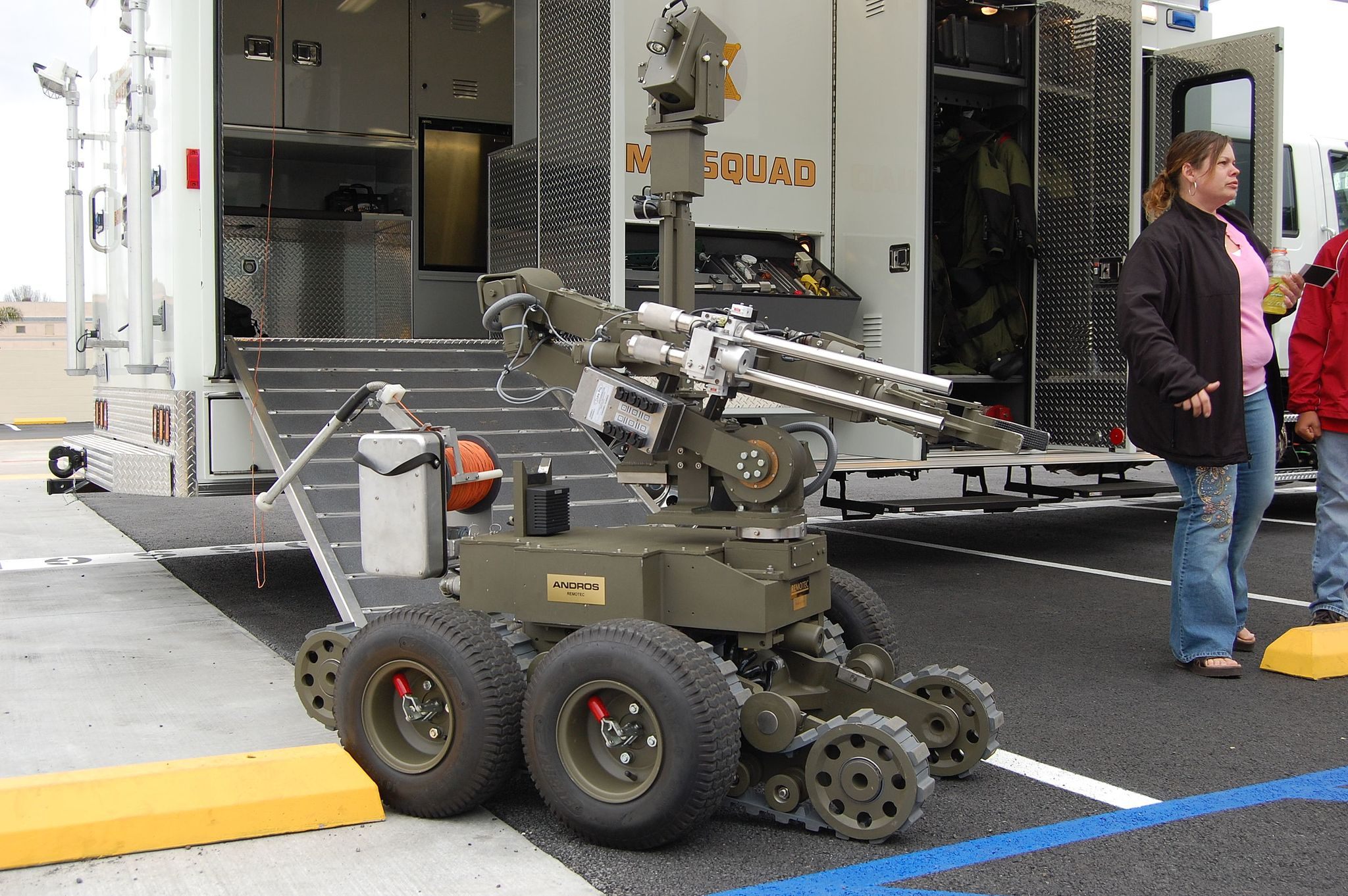 A robot on display from L.A. County Sheriff's department. (Photo: Eric Polk, CC BY-SA 3.0)
After a sniper in Dallas killed 5 police officers during a protest against police violence, intended to be peaceful, Dallas police killed a suspect using a robot to deliver and detonate a bomb.
That's right: the "bomb robot," as described by Dallas Police Chief David Brown, was used as a weapon. This type of robot is usually used to disarm bombs, and this appears to be the first time one has been used to deliver and detonate a bomb outside of a war zone. "Police robots have been used in unusual circumstances perhaps before, but never with the intent to kill a suspect," says Dan Gettinger, of the Center for the Study of the Drone at Bard College. "I think in this circumstance, [the tactic] was probably improvised."
While this use of the robot is extremely unusual, explosive ordnance disposal robots like these have become common in police departments across the country. This map, created by the Center, shows the distribution of surplus military robots owned by federal, state, and local law enforcement agencies around the United States.
The map was made in June 2015, and shows ex-military robots in many major cities—including Dallas, where the Dallas County Sheriff Department is listed as having one explosive ordnance disposal robot, and the Dallas branch of the FBI has them as well. According to a 2012 Dallas Police Department resource report, the DPD also owned "three various sized robots" intended both to deal with "hazardous devices" and allow the squad to examine areas without exposing police personnel to danger. "It's not unusual [for] an FBI department, a federal agency… and police departments [all in one city] to have EOD squads with bomb disposal robots," says Gettinger.
The robots (and more) are thanks to the Department of Defense's 1033 program, which rehomes used or surplus military equipment within civilian law enforcement agencies. The 1033 program has drawn public scrutiny before, particularly in the aftermath of the 2014 Ferguson protests. (It's worth noting that source of the Dallas Police Department's robot is a bit murky; the department itself isn't listed on the map, so it might have obtained its bot from somewhere besides the U.S. military.)
The military has contracted with Northrup Grumman to provide bomb-disposal robots, under a using a "indefinite-delivery, indefinite-quantity" agreement. When used by police departments, these robots have been used to confirm the deaths of suspects, but also to deliver pizza to a suicidal man. In one case, in New Mexico in 2014, the Albuquerque Police Department's "bomb squad" used a robot to send "chemical munitions" during a stand-off with a man who had locked himself in motel room with a gun. That action, the APD reported, "led to the subject's surrender."
"They sent that robot over there, and I thought, 'Man, what is that?' You know?" the man later told Vice. " "They threw a grenade in there, it started smoking, I threw it back out."
According to Gettinger, these situations don't necessarily spell a new use for the robots: "I think their function is not going to waver, [and] I think it would be pretty unusual if a robot had the express function of delivering lethal force in a police department," he says. However, "it does demand some reflection on the type of technologies and systems that are migrating from the military space to the domestic front."