How Cuba's Greatest Cartoonist Fled From Castro and Created 'Spy vs. Spy'
One day a Cuban illustrator walked unannounced into the MAD Magazine offices, and the rest is history.
Spy vs. Spy cover by Peter Kuper. (Photo: Courtesy of Peter Kuper/Spy vs Spy © E.C. Publications Inc.)

One of the greatest rivalries of all time has been raging since 1961 between two figures who don't even have real names.
The pro/antagonists of the long-running gag strip Spy vs. Spy have been trying to one-up each other for decades, and it's all thanks to a Cuban expatriate who was once accused of being a spy himself.
The creator of Spy vs Spy, Antonio Prohías, had already enjoyed a successful career as an illustrator in his native Cuba before he created the legendary strip. Born in Cienfuego, Cuba in 1921, Prohías picked up illustration at an early age thanks to a sympathetic teacher, then went on to study briefly at Havana's San Alejandro Academy before leaving after a year to become a full-time newspaper illustrator. After working his way up through some smaller publications, and receiving a number of awards for his editorial cartoons— including Cuba's highest newspaper honor, the  Juan Gualberto Gomez medal—Prohías achieved national fame while working for Cuba's (at the time) largest newspaper, El Mundo, beginning at the end of the 1940s.
His style was defined by clear, bold lines, and exaggerated comic forms which would eventually evolve into the characters of Spy vs. Spy. Award-winning artist Peter Kuper, who currently creates Spy vs. Spy for MAD Magazine described the spies, saying, "They have this very strange look to them, that I'm now used to, but their shape is so odd." Kuper, a lifelong political illustrator and author, whose latest book, Ruins, recently won the Eisner Award for Best Graphic Album, took over Spy vs. Spy duties in 1997. "Which is kind of wonderful because they create this surreal universe just by their appearance."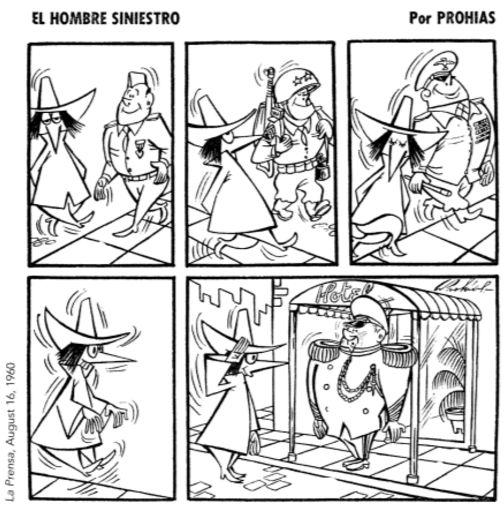 From Spy vs. Spy: The Complete Casebook (Watson-Guptill, 2001/Spy vs Spy © E.C. Publications Inc.)
Back in Cuba, years before he he would make the Black and White spies (and later the female, Grey Spy), Prohías created a number of popular characters, which he used to comment on both the government, and life in the country. His most famous creation prior to Spy vs. Spy was a comedically vicious character known as El Hombre Siniestro. This agent of chaos, in his wide-brimmed hat and exaggerated snout, was an early, more grim, iteration of the spies. The " Sinister Man" took part in a series of wordless capers where he rained down hilarious misfortune on unlucky passersby. While many of the gag strips weren't outwardly political, in a quote recounted in the introduction to Spy vs Spy: The Complete Casebook, Prohías described the character as being, "born out of the national psychosis of the Cuban people."
By 1959, Prohías was not only enjoying a successful run at El Mundo, as well as in magazines including the political Bohemia, but he had also become the president of the Cuban Cartoonists Association, making him possibly the most famous cartoonist in Cuba.
Prohías' cartoons did not escape the notice of the government itself. Many of Prohías' cartoons had an anti-Batista bent before the Cuban Revolution in 1959, so Fidel Castro initially welcomed him. In Prohías' New York Times obituary, the paper notes that Castro himself handed him a cartoon of the year award.
The artist soon became fed up with Castro's strong arm policies regarding the press and many of Prohías' cartoons started taking aim at Castro. "He was attacking any form of hypocrisy, and no doubt there was some hypocrisy going on with Castro as well as with Batista," says Kuper. Once the Castro regime got wind of Prohías' satirical attacks, it began to filter down that Prohías was thought to be working with the CIA, and he was labeled a spy. He began being fired from many of the publications he worked for, and in May 1960, he'd had enough. Unable to continue finding work, and fearing for the safety of his fellow El Mundo workers, Prohías, unable to speak a word of English, headed for New York.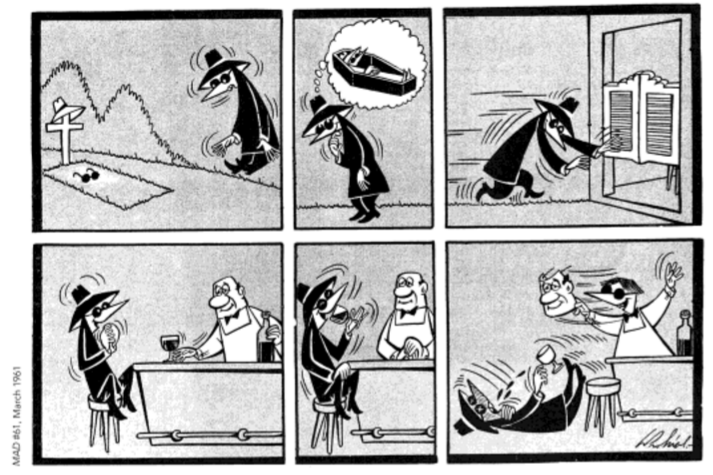 From Spy vs. Spy: The Complete Casebook (Watson-Guptill, 2001/Spy vs Spy © E.C. Publications Inc.)
In New York, Prohías took work in a factory during the day, while working up his illustration portfolio at night. Taking inspiration from his supposed spy status, Prohías altered the look of El Hombre Siniestro, and gave him a counterpart, creating what we now know as Spy vs. Spy. In 1960, just months after moving to the city, Prohías, along with his daughter Marta who acted as an interpreter, walked unannounced into the offices of MAD Magazine. The editors were skeptical of the artist, but his silly spy gags won them over, and he had sold three of the strips to the magazine before leaving that day.
From that initial meeting on, Prohías' Spy vs. Spy cartoons became a fixture in the magazine, the pointy-nosed Black Spy and White Spy, getting the better of one another in some outlandish way or another, every few months. Most of the jokes were simple turns of fate, a button meant to blow up the White Spy would blow up the Black Spy instead, etc, but through them all, there was an underlying subversiveness. "He really did something original with Spy vs. Spy, that was a comment on the bigger world of the Cold War, and the futility of war," says Kuper. "He made it a very, very flexible strip, that had political commentary in it, or could sometimes just be surreal. And always come back to the basic futility of war." Based on the simple, but strong foundation of two spies who can never truly win, Prohías went on to create the cartoons for decades, both as published in MAD, and in separate books where he could experiment with longer narratives.
All throughout, Prohías kept his cartoons wordless, a fact that Kuper believes was a key part of their success. "You can be preliterate, and get them. That's one of the powers of why Spy vs. Spy is so popular in MAD. It's the first thing everyone looks at. You read it before you even intended to. It was a brilliant choice on Prohías' part to do a wordless comic." That same use of wordless humor that had benefitted Prohías in Cuba was just as effective, if not more, in the U.S. "It's no doubt [also] because he spoke Spanish. He would have had to deal with translating his work."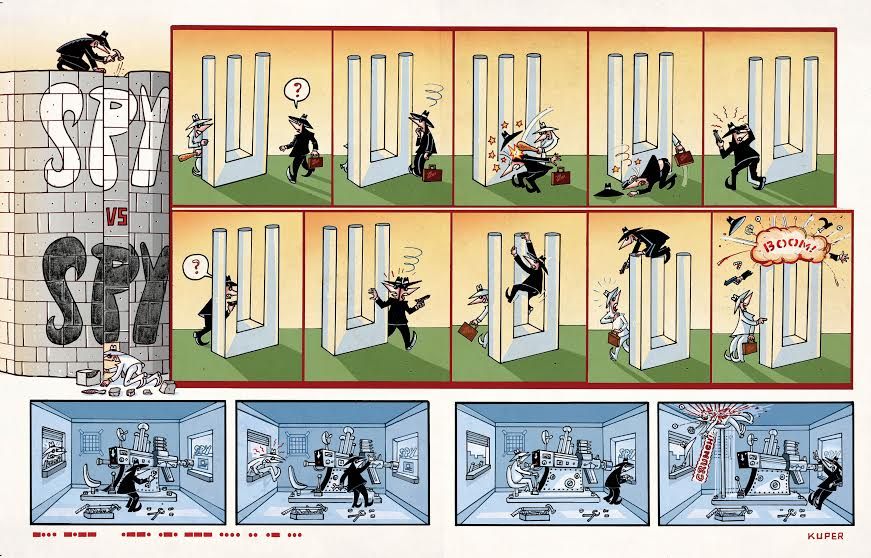 One of Kuper's latter day Spy vs. Spy strips. (Photo: Courtesy of Peter Kuper/Spy vs Spy © E.C. Publications Inc.) 
Despite its seeming simplicity, Spy vs. Spy became a phenomenon, inspiring video games, cartoons, a board game, commercials, toys, and more. Prohías would continue creating Spy vs. Spy comics until the late 1980s, when he retired due to poor health. However his iconic spies lived on. The strip was taken over for a time by MAD mainstays Duck Edwing and Bob Clarke, before finally being taken over by Kuper in 1997. "I had done a fair amount of wordless comics and the people at MAD saw that and asked me if I wanted to try out for it, and I almost said no immediately," says Kuper, who quickly rethought his stance. "When I sat down to work with it, I realized rather quickly what an important influence it had been on my own work over the years. MAD certainly, in general, but how I had really focused on Spy vs. Spy. It's probably one of the reasons I did wordless comics."
Prohías passed away in 1998. He was living comfortably in Florida, and still spoke next to no English. Unfortunately Kuper never got to meet Prohías, but he keeps working on the cartoon, which he describes nowadays as "more Road Runner than it is Kennedy and Khruschev."
This is not to say that Kuper has lost the political edge that Prohías embedded in the strip. In fact, in addition to the open-endedness of the gags and characters, it is part of what Kuper finds most appealing about the comic. "The parameters are so wide in the way he created the strip. I've added to the line-up, I've made them cavemen. I can put them in outer space, or I can have them doing very mundane things," he says. "Unfortunately we keep developing new, insane weaponry, so I have new things to pick up." The Black and White Spies keep killing each other, but Spy vs. Spy may never die.