America's Most Obscure Regional Pizza Styles
Do you want a slice of American cheese on that?
This article is adapted from the June 25, 2022, edition of Gastro Obscura's Favorite Things newsletter. You can sign up here.
Which is better: a New York slice or Chicago deep dish?
The correct answer: Who cares? Let's talk about the town where they top their signature pie with slices of American cheese in all their uniform-yellow glory, or the pizza style defined by adding cold cheese.
For this week's newsletter, I recruited Daniel Bromfield, journalist and curator of the wonderful Twitter account @RegionalUSFood. He's taking us on a tour of America's most obscure regional pizza styles—or at least the ones we find most distinctive and interesting.
Let's start with that pie topped with cold cheese.
---
Ohio Valley-Style Pizza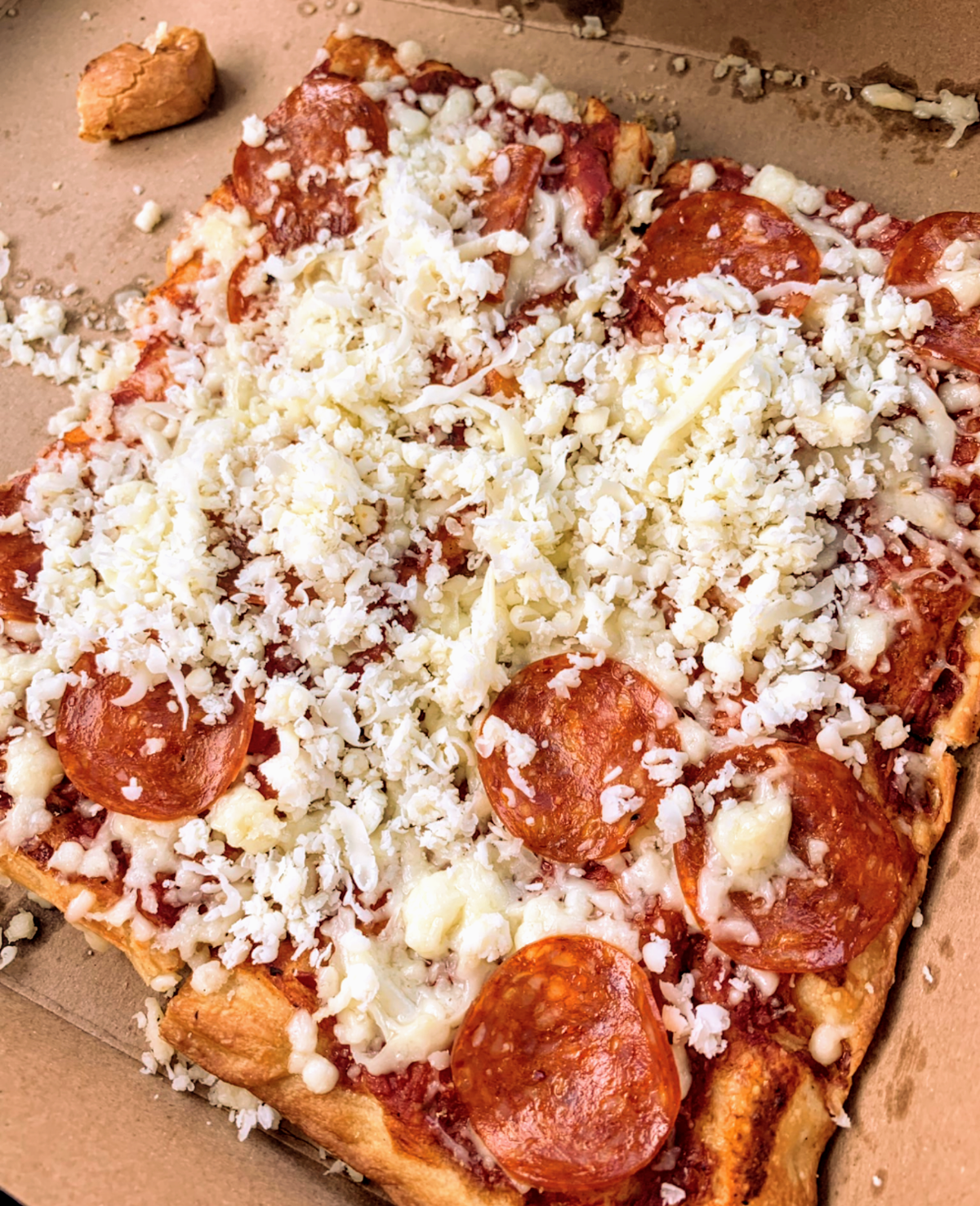 America's most misunderstood pizza looks a bit like an oversized Lunchable at first, with frigid pepperoni and ribbons of cold cheese added on top of the square pizza after it comes out of the oven.
As it turns out, the heat from the baked crust, tomato sauce, and thin layer of pre-melted cheese cooks the cold pepperoni and cheese in the box, ideally as the customer drives home.
Proponents swear by the distinctive, sweet tomato sauce and the contrast between the chewy toppings and the crunchy crust. The cradle of Ohio Valley pizza is the DiCarlo's chain founded in Steubenville; they'll melt the cheese for you if you specify, but that seems beside the point.
Where to Try It
DiCarlo's Pizza, Steubenville, OH (among other locations)
Ray's Pizza, Wintersville, OH
Colorado-Style Pizza
Gargantuan, honey-sweetened, and sold by the pound, Colorado-style pizza dwarfs Chicago deep-dish pie just as Ghidorah dwarfs Godzilla.
It's also sometimes called "mountain pie," appropriate for both its Rocky Mountain origins and the way its crust rises up like an escarpment along the perimeter of the pie. You could imagine thunder and lightning cracking along the edges of this thing.
It'd be tricky to eat if not for its braided crust, which keeps the ample toppings from sliding off into a cheesy mess. What's more, you can dip the crust in honey as a dessert.
Where to Try It
Beau Jo's Pizza, Idaho Springs, CO (among other locations)
Altoona-Style Pizza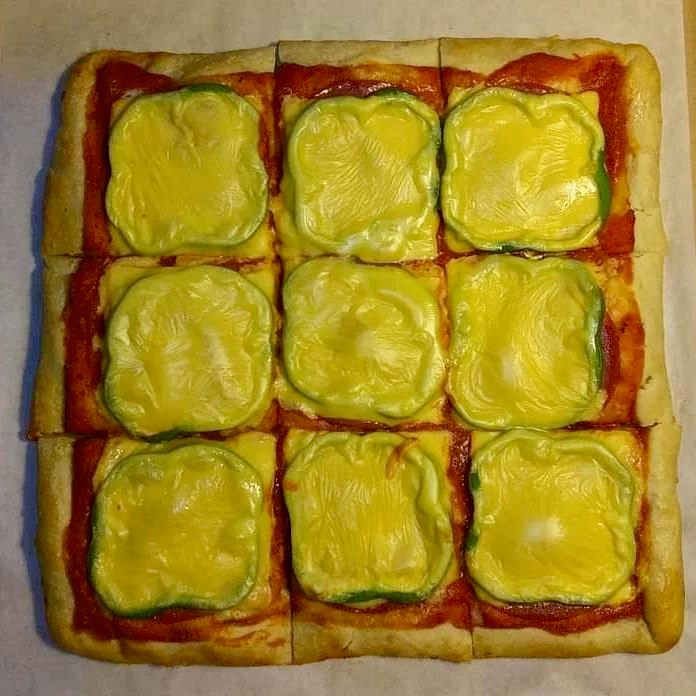 Connoisseurs in the central Pennsylvania city of Altoona call this style "Sicilian," though one imagines bona-fide Sicilians being befuddled by this square, yellow slice.
Distinguished by a thick pizza dough, a ring of green bell pepper, salami, and American cheese, the Altoona pie started life as a quirk on the menu of the Altoona Hotel, developing an avid following among late-night noshers coming from nearby high-school football games.
After the hotel burned down in 2013, local pizzaiolos preserved the style, and it's gone from a niche concern to a regional phenomenon.
Where to Try It
29th Street Pizza Subs & More, Altoona, PA
Zach's Sports & Spirits, Altoona, PA
COBHRs II, Altoona, PA
Pizza Strips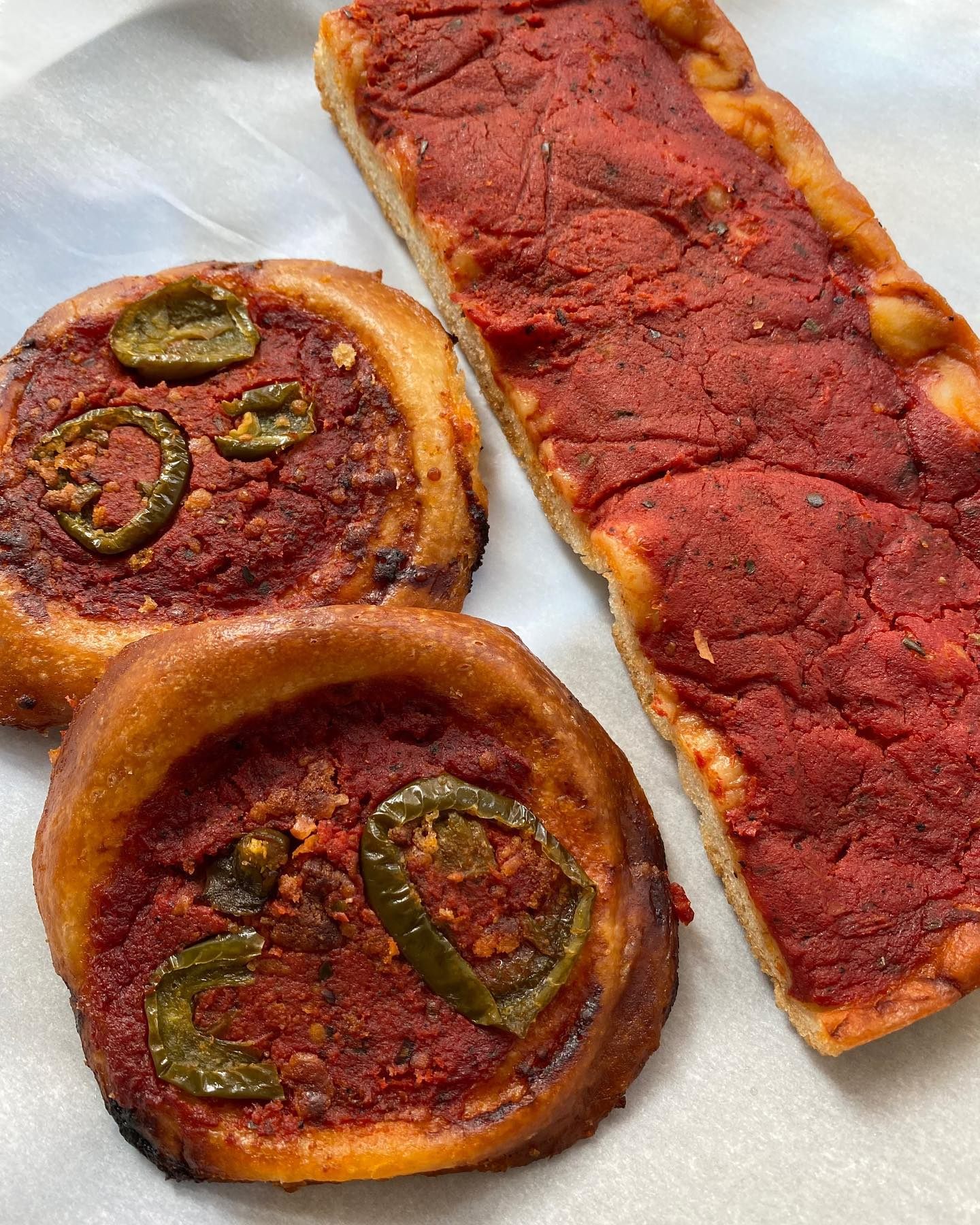 The smallest and most cheese-agnostic state in the Union has many names for its distinctive pie: tavern pizza, party pizza, red pizza, pizza strips. Even those who make it might argue it's not quite pizza, calling it "red strips," as if to preemptively counter accusations of inauthenticity.
But this Rhode Island specialty, which essentially amounts to a rectangle of dough slathered in tomato sauce, is as addictive to locals as it is to the lactose-intolerant—though grating cheese on top is not unheard of.
The Original Italian Bakery in Johnston serves a variation called pizza chips, which are tiny pies that come in bags of eight: the pizza equivalent of donut holes, more or less.
Where to Try It
Palmieri's Bakery, Johnston, RI
DePetrillo's Pizza and Bakery, Providence, RI
Original Italian Bakery, Johnston, RI
Quad City Pizza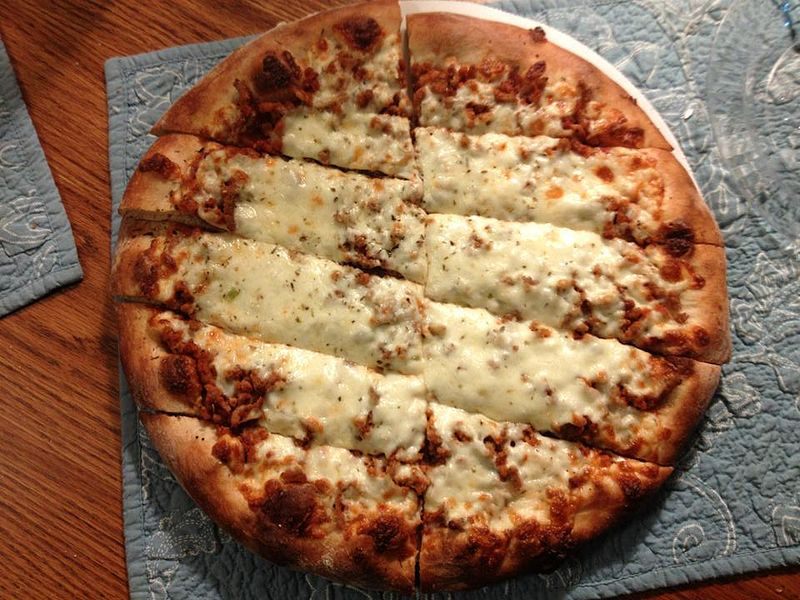 The white center of the Quad City pizza looks a bit like the geographical region itself, an inland metropolis at the Illinois-Iowa border. The toppings rest under the cheese, and though its Moby Dick-like whiteness might seem ominous at first glance, it's really just a classic pizza with the toppings flipped.
More relevant to the unique, toasty flavor and soft texture of this pie is the inclusion of malt in the crust. It's also generally cut with scissors into strips.
Another style, taco pizza, baked with meat and refried beans and topped with lettuce, tomato, and Doritos, also originated in the Quad Cities. Invented by the Bettendorf, Iowa-based Happy Joe's chain, taco pizza has expanded as far as the Middle East thanks to the franchise opening locations in Egypt, Bahrain, Jordan, and beyond.
Where to Try It
Frank's Pizzeria, Silvis, IL
Gunchies, Davenport, IA
Quad City Pizza, Bettendorf, IA and Moline, IL
St. Louis-Style Pizza
A style so regional that even the cheese is hard to find anywhere else. Provel cheese was invented specifically as a pizza cheese, offering a "clean bite" in contrast to the gooey, stretchy, sinewy experience of your typical 'za.
Provel pairs well with the unleavened, matzo-like crust typical of St. Louis pizza, and though it's a love-it-or-hate-it dish, those who can't stand soggy pizza may well gravitate towards the dish's other textural extreme.
Provel can also be found in a local specialty called the Gerber sandwich: half a loaf of French or Italian bread slathered in garlic butter, topped with ham and the local cheese, sprinkled with paprika, and toasted.
Where to Try It
Imo's Pizza, St. Louis, MO
Faraci Pizza, Ellisville, MO
Pirrone's Pizza, Florissant, MO
---
Preserving a National Pizza Treasure
In 2013, the Altoona Hotel burned to the ground, nearly taking its unique culinary specialty with it. But for nearly a decade, Steve Cokrlic at 29th Street Pizza Subs & More in Altoona has preserved a slight variation on the recipe, leading to an Altoona pizza renaissance. I spoke with Cokrlic about his efforts to keep Altoona Pizza alive.
This interview has been lightly edited and condensed.
How did you first become acquainted with this pizza?
I would say it originated either in the late '50s or the '60s at the Altoona Hotel. It's a thicker pizza, a Sicilian pizza with yellow cheese. My older sister would go out with her friends, and the Altoona Hotel was a place to go to after football games. You would hear stories that kids would go into the back door and there'd be leftovers, and the owner would just bless them with pizza.
When I was younger, I didn't really care for it much. Square cut was pretty popular around this town, and that's what I ate a lot. But as my taste buds changed, I started to love it.
Were you aware of other people making Altoona-style pizza before the hotel burned down?
I'm not aware if anyone was, but I know there's a lot of places making it now. We had a young man [Donnie Wertz] that actually worked there for a couple years, and he worked for us for a few years. He helped us [figure out] the dough and what to put on it.
What's the furthest someone has traveled for Altoona pizza?
Boy, it's been so humbling. We had a young lady that lived in Seattle, and she heard a commercial on the radio about a place that sells this pizza called Altoona Yellow Sicilian, and she came to Altoona about a week later.
Two weeks ago, a guy traveled from Morgantown, West Virginia, and told us how much he heard about this pizza. And a kid from Scranton, Pennsylvania, came in nine minutes later. We've had things like that pretty consistently.
How do you respond to people who find Altoona pizza unusual or bizarre?
We've had people coming from all over. And I always ask them: "Are you from Altoona? No? Well, I want you to know what's on this Altoona Sicilian before you order it." We have pictures of it, but I explain it to them. But we've had people that'll buy a hundred slices of it at $2.50 a slice.
I keep on saying we've been blessed. The good Lord's showed us the way the whole 18 years, and He's had His hand on our business from day one. Otherwise we would not have lasted.
Gastro Obscura covers the world's most wondrous food and drink.
Sign up for our email, delivered twice a week.