The Grave of Nancy Adams, Who Thrice Escaped Slavery, Is Now a Symbol of Freedom
It has been designated as part of the Underground Railroad Network to Freedom.
In 1982, surveyors from the Massachusetts Department of Public Works were mapping for a proposed expansion of Route 146 when they stumbled upon a handful of gravestones on a small, wooded hill. When archaeologists from Boston University came to take a look—suspecting the hill was an old Native American burial ground—they counted 16 fieldstones and one traditionally inscribed marble headstone, which lay face up and cracked under around an inch of soil, writes Ricardo J. Elia, an archaeologist at Boston University, in a 1992 paper published in the journal Markers. Reassembled, the headstone read "Mrs. Nancy Adams." Her name, deeply etched, arced like a rainbow over her epitaph: "A respectable colored woman."
Adams, who died on June 6, 1859, had led a remarkable life. Over her 93 years, she escaped slavery three times—once in Maryland and twice in Connecticut—before settling in Uxbridge, Massachusetts, where she lived as a free woman for the last 21 years of her life. Her long-forgotten grave was rediscovered 37 years ago, but it's just been during the last several years that the town of Uxbridge has worked to have her grave site accepted to the National Underground Railroad Network to Freedom, operated by the National Park Service. Earlier this month, it was accepted—immortalizing it among 650 sites critical to the history of resistance and escape, according to Diane Miller, the national program manager of the Network to Freedom. "Even if she escaped one time, we would have included her grave site," Miller says. "But it's remarkable that she had to escape three times."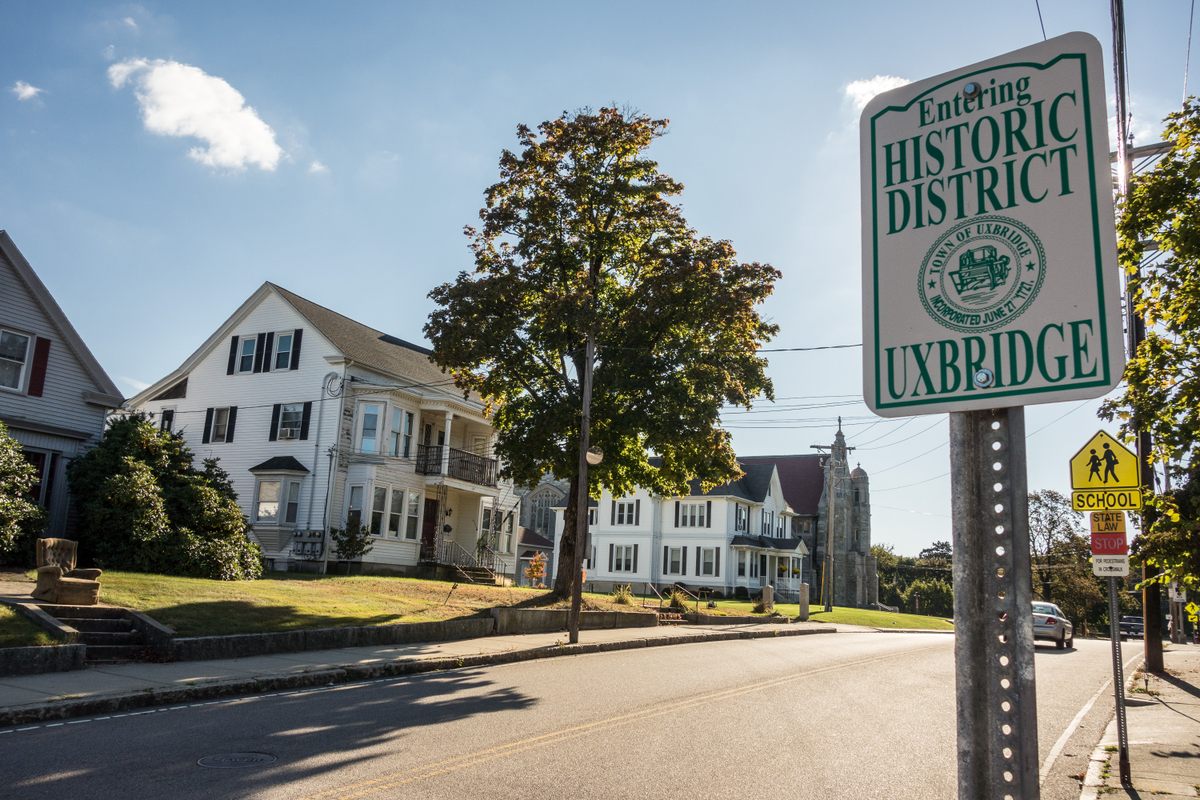 The town of Uxbridge sat at the crossroads of two historic highways that freedom-seekers followed, according to Susan Franz, a local councilmember. The Boston Post Road (now Hartford Avenue) connected Boston to Hartford, and intersected with the Great Road (now the less-elegant Route 146) from Worcester to Providence. Much of this history has vanished over time under pharmacies and highways. "Now, it's a CVS," Franz says. The town also boasted a robust community of Quakers, one of the first groups of white people in America to openly oppose slavery.
The discovery of Adams's grave was not enough to reroute Route 146, so archaeologists moved all 32 bodies from the burial ground and, after examining them at Boston University, reburied 31 in what became the New Almshouse Cemetery on 80 Almshouse Road. (The final body, determined to be Native American, was returned to the Nipmuc people and reburied at their burial ground in Thompson, Connecticut.) Though given a proper reburial, Adams was once again largely forgotten, in a cemetery carved out of a patch of dogwood forest, accessible only by a small road off 146.
In 2018, a group of concerned citizen-historians approached Franz with an idea. They wanted to submit Adams's grave site, along with 10 other sites in the town, for official recognition as part of the Network to Freedom. At the time, Franz knew little about Uxbridge's involvement with the Underground Railroad. But Michael Potaski and other members of the Uxbridge Historical Commission had been researching Adams's life for years, and had been buoyed by the discovery of a letter in a collection of abolitionist papers at the Clements Library at the University of Michigan, Franz says.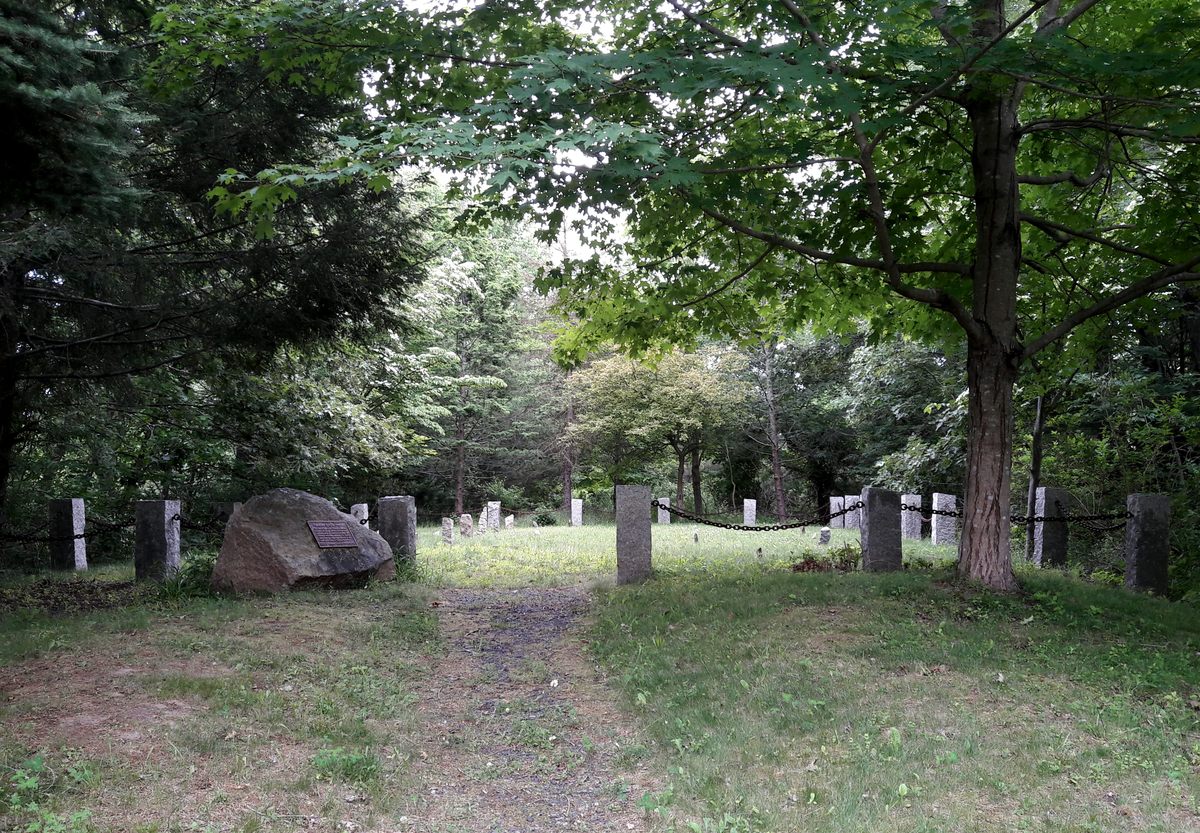 What little is known about the life of Nancy Adams, who was illiterate, comes from this letter, which she dictated and sent to abolitionist sisters Sarah and Angelina Grimké in 1838. It says she was born in eastern Maryland, was married at 17, and gave birth to two sons and one daughter. (Experts believe her grave stone, which states she was born in Louisiana, is incorrect.) When the slaveholder's wife informed Adams that he planned to sell her family to the "Spaniards," the letter continues, she and her family fled to the woods, where they lived in the hollow of a dead tree and ate acorns, Adams dictated. The family came out of hiding once it was promised they would be sold to a neighbor instead, who said that Adams could buy her freedom. But he broke this promise, and sold Adams and her three children down south, to Port Gibson, Mississippi.
Adams and her two sons—her daughter died on the journey—worked on a cotton plantation there. After 23 or 33 years of backbreaking labor (a hole in the letter obscures the precise span of time), she was sold again. Her new owner took her on a trip to Norwich, Connecticut, where she escaped again. She hid in an icehouse for two days until the slaveowner left town. She lived in Norwich for 12 years until she learned that the master knew where she was and planned to recapture her. So she fled one last time, to Uxbridge.
To Miller, Adams's life is a remarkable encapsulation of the Underground Railroad because it demonstrates three common patterns for escape. First, Adams escaped to avoid being sold to the more-brutal plantations in the South. Second, she escaped opportunistically, while accompanying a slaveholder on a trip to a free state. Third, she ran away as a free person to ensure she would not be recaptured by a former owner. In her time overseeing the Network to Freedom, Miller has never seen any other individual's story touch on all these narratives at once. "And the fact that she told her story herself?" she says. "That's beautiful documentation."
That first-person history is exceedingly rare. Many narratives we have of formerly enslaved people are told from the perspectives of white people, most often white abolitionists, writes historian Cheryl LaRoche in Free Black Communities and the Underground Railroad: The Geography of Resistance. In 1895, Harvard historian Wilbur Siebert published The Underground Railroad From Slavery to Freedom, an expansive tome that spotlighted the role of benevolent white abolitionists who aided "fugitives." The few narratives that come directly from formerly enslaved people became valuable tools of abolitionist propaganda—such as the Reverend William M. Mitchell's The Underground Railroad—though these accounts were careful to obscure many details of successful escapes, so as not to tip off slaveholders, LaRoche writes.
Due to centuries of this focus, the history of the Underground Railroad is still being rewritten, Miller says. In 1998, the Network to Freedom was created to help establish a grassroots history of the Underground Railroad and allow local areas to highlight their roles in the freedom movement. Miller likens it to a crowdsourced public history project. "We're uncovering this history from the ground up, as it's a story you can't appreciate from the top down," she says. Communities submit sites, educational programs, and research facilities that are in any way associated with the Underground Railroad, which the Park Service vets for approval.
Uxbridge first submitted Adams's grave along with 10 other sites, but this initial application was not approved, Franz says. The Park Service asked for more documentation, and luckily Adams was relatively easy to locate in the historic record, unlike many other formerly enslaved people, Franz says. Adams appeared in two censuses, which noted that she could not read or write and had no family. Then there was the letter, and the careful documentation of her grave and remains by Boston University archaeologists. She had been buried in a hexagonal yellow coffin made of pine and poplar, with a single brass hinge. Archaeologists discovered a mushroomy deformity in her hip that indicates she walked with a limp for many years.
According to a 2017 article in the Clements Library's publication The Quarto, Adams's name also appeared in William Lloyd Garrison's abolitionist paper The Liberator twice—once for giving 25 cents to the Massachusetts Anti-Slavery Society and again for dictating a letter of gratitude for Garrison, along with "a very liberal supply of excellent cake," he wrote.
If you know of a grave, monument, or building (even ones long gone) in your town that commemorates the Underground Railroad, the Park Service has a thorough list of guidelines to help fill out an application for recognition. There are even a few strategies for finding more information. "Were there Quakers or African Methodist Episcopals living in any houses, and did they leave correspondence or journals behind?" Miller suggests. "Once you have a profile of who these people were, then you can tease out their involvement." In Uxbridge, Franz hopes next to unearth the story of Susan, a formerly enslaved person who enrolled in the local school at the age of 28 to learn how to read.
"I have thus far tried to give some account of myself but I have not told half that I could tell," Adams dictated in her letter. "My eyes have seen what my tongue dares not speak." Though Adams died in a poorhouse, the fact that she was buried with marble headstone indicates she was beloved by at least one member of the Uxbridge community, The Quarto notes. The shards of her original headstone now reside on the third floor of the Uxbridge Public Library, and a replica stands at the revived Almshouse Cemetery, just off Route 146.
You can join the conversation about this and other stories in the Atlas Obscura Community Forums.