Indigenous Geographies Overlap in This Colorful Online Map
Native Land highlights territories, treaties, and languages across the U.S., Canada, and beyond.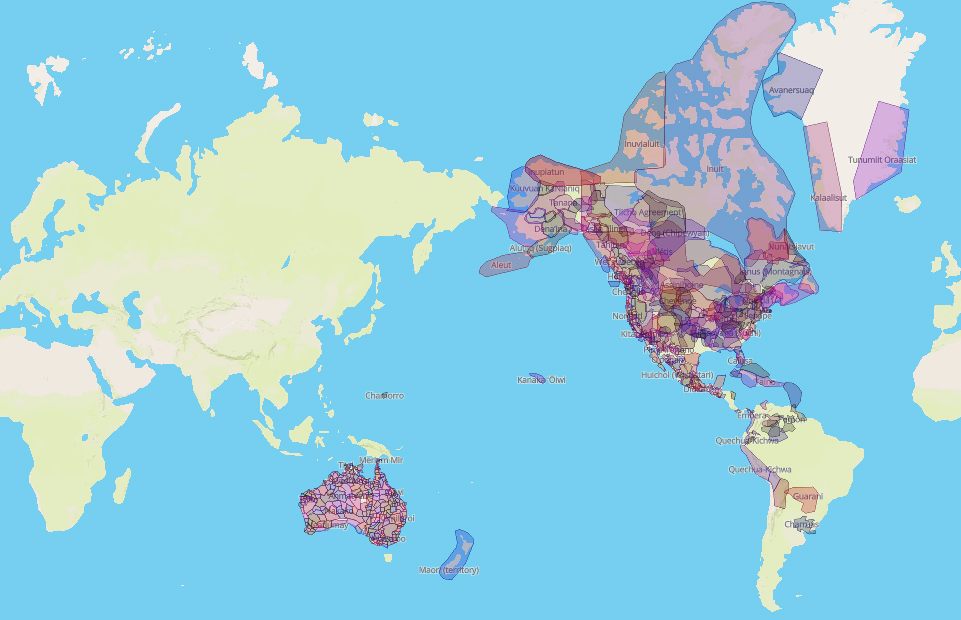 For centuries, Indigenous peoples and their traditional territories have been purposefully left off maps by colonizers as part of a sustained campaign to delegitimize their existence and land claims. Interactive mapping website Native Land does the opposite, by stripping out country and state borders in order to highlight the complex patchwork of historic and present-day Indigenous territories, treaties, and languages that stretch across the United States, Canada, and beyond.
Visitors to the site can enter a street address or ZIP code into the map's search bar to discover whose traditional territory their home was built on. White House officials will discover that 1600 Pennsylvania Avenue is found on the overlapping traditional territories of the Pamunkey and Piscataway tribes. Tourists will learn that the Statue of Liberty was erected on Lenape land, and aspiring lawyers that Harvard was erected in a place first inhabited by the Wamponoag and Massachusett peoples.
The map, which is also a mobile app for Apple and Android, was created by a Canadian programmer named Victor Temprano, who started educating himself about Indigenous land rights and ownership when he got involved in anti-pipeline activism in British Columbia three years ago.
"The map is really about me, as a settler, trying to educate other settlers, to plant a seed in their historical consciousness," he says. "I want it to get the message to people who don't already agree with me already, who don't think about this stuff. People who haven't thought about Indigenous history or Indigenous land ownership."
Temprano lives in Vancouver, a city built on the traditional and ancestral territories of the Coast Salish peoples, including the Musqueam, Squamish, and Tsleil-Waututh Nations. Like most of mainland B.C., the land is unceded, meaning that it was never officially signed away or won through treaty and war. (The British neglected to negotiate treaties with the estimated 40,000 Indigenous people living in the colony of B.C. when they declared it the property of the Crown in 1858.)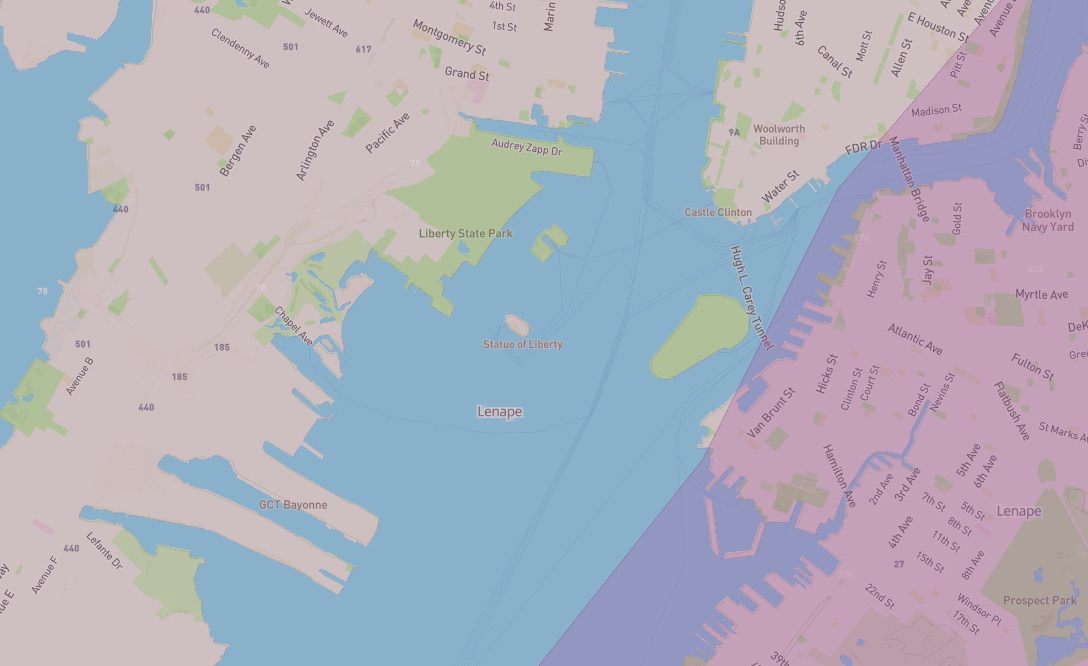 Temprano started collecting information about the territories around him in B.C in 2015, and Native Land grew from there, first across the rest of Canada and into the U.S., and then to parts of Latin America and Australasia.
Maintaining the map is no small feat; older areas are continually reworked and edited based on community feedback. Temprano estimates that over the last three years, he has received thousands of emails from people with suggestions of fixes. He spends between 10 to 15 hours a week on the non-profit project, and recently hired two employees, one for social media and the other for research.
"I'm surprised how much people are willing to forgive the problems with the map," Temprano says. "I often worry about how good our sources are, if we're being transparent, if we are potentially misrepresenting histories. Occasionally, people acknowledge those criticisms, but for the most part the feedback has been very encouraging." The most common issues flagged are omissions and the incorrect labelling or grouping together of nations or territories.
Sourcing is a challenge, given that different recorded, written, and oral histories clash. Indigenous maps of Indigenous territories, which Temprano obtains online or in collaboration with a group or nation member, surpass all other sources. Next are the email fixes and personal requests. Failing that, Temprano turns to dedicated academic studies of a particular nation that rely on meticulous cross-referencing and book sources. Old colonial maps come last because, Temprano explains,"they are usually full of mislabeling and misdrawing of territory."
At the end of the day, disparities between sources are inevitable—but that's okay, Temprano says, because the map's fundamental goal is not to accurately pinpoint territories for legal or academic purposes. Instead, it is to encourage visitors to engage with "the broader narrative and think: What is colonization? Are there Indigenous people here, and who are they?"
(If the map were to be a valid academic resource, he adds, it would also need a time slider to specify different time periods, separate existing and historical nations, and highlight the movement of nations across time. That would be a huge logistical challenge, Temprano says, requiring time, sources, and resources not currently available to him.)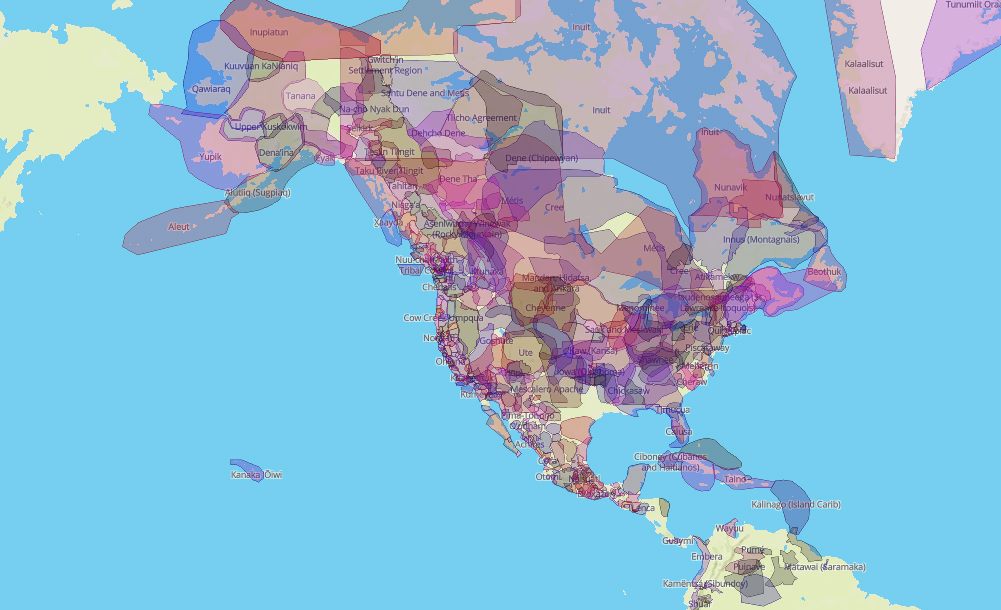 One person who reached out to Temprano with a fix was Leena Minifie, a journalist, media artist, and filmmaker from the Gispwudwada (Killerwhale) clan of the Gitxaala Nation in Tsimshian territory. While Temprano had accurately mapped the parts of Tsimshian territory on the coast of B.C., he had omitted its extension into the southern tip of Alaska. "I sent some evidence—I had some links and murals to show him what I was talking about," Minifie says. "He was very appreciative, and changed it right away."
She will soon become a member of Native Land's board of directors, which will be finalized next month and comprise Indigenous individuals with expertise in mapping, geographic research, and forming and advising nonprofit Indigenous organizations. According to Temprano, the board will help him determine Native Land's future direction, keep him "accountable in terms of continuing to grow and build the organization," and advise him on complex questions like "who should be on the map—who is Indigenous."
Like Temprano, Minifie sees the map as an educational tool, but has different ideas about its primary audience. While she acknowledges the project's value for non-natives and newcomers to the U.S. and Canada, she believes the map is a cultural tool that enables Indigenous individuals, communities, and their allies to continue a centuries-old Indigenous tradition of verbally acknowledging whose traditional land they are on when visiting places in the Canada and the U.S., a practice that is particularly important when visiting other Indigenous nations.
"Knowing who your neighbors are and which territory you are in not only shows respect and follows protocol, but its part and parcel of our basic social mores when we go anywhere. We always ask: Whose territory is this?" says Minifie.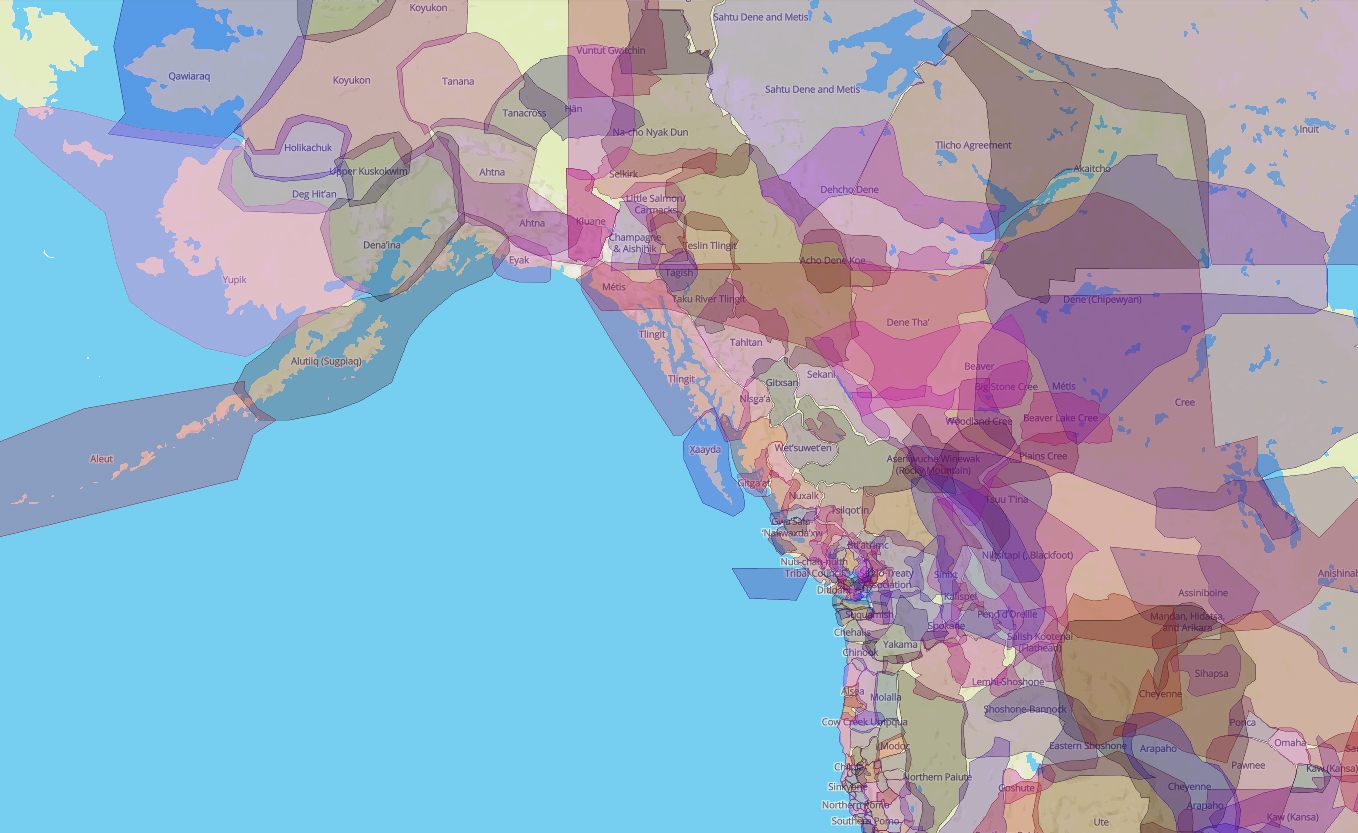 Land acknowledgements are increasingly common at events on university campuses and in progressive spaces in Canada. Last year, on the 150th anniversary of Canada, Native Land's data was integrated into a web app called On Whose Land, which allows people to learn the correct acknowledgement for their location. Another website called Whose Land borrows the data for similar purposes.
Temprano purposefully keeps Native Land's data open so that it can be embedded on other websites, and he estimates that it has been used in "hundreds of courses at different levels," from elementary schools to universities and professional training workshops. Minifie uses the tool at the different technology, democracy, and nonprofit digital strategy conferences she attends. "It helps people understand where they are situated, where they reside, who is in their backyard, who their neighbors are," she says.
Mapping traditional lands using Western cartography must be done conscientiously given Western maps' pernicious history and continued application as a tool for companies and foreign nations to exploit and colonize. "The most important piece is that these projects happen under the direction and with the consent of the communities that are involved, and that ultimately it's Indigenous peoples' decision about how and when they map their territories," says Tyler McCreary, a geography professor at Florida State University who researches geographies of indigeneity and colonization. According to him, maps like these "are useful [to Indigenous peoples] for the sad, but necessary practice" of defending their lands against various forms of intrusion.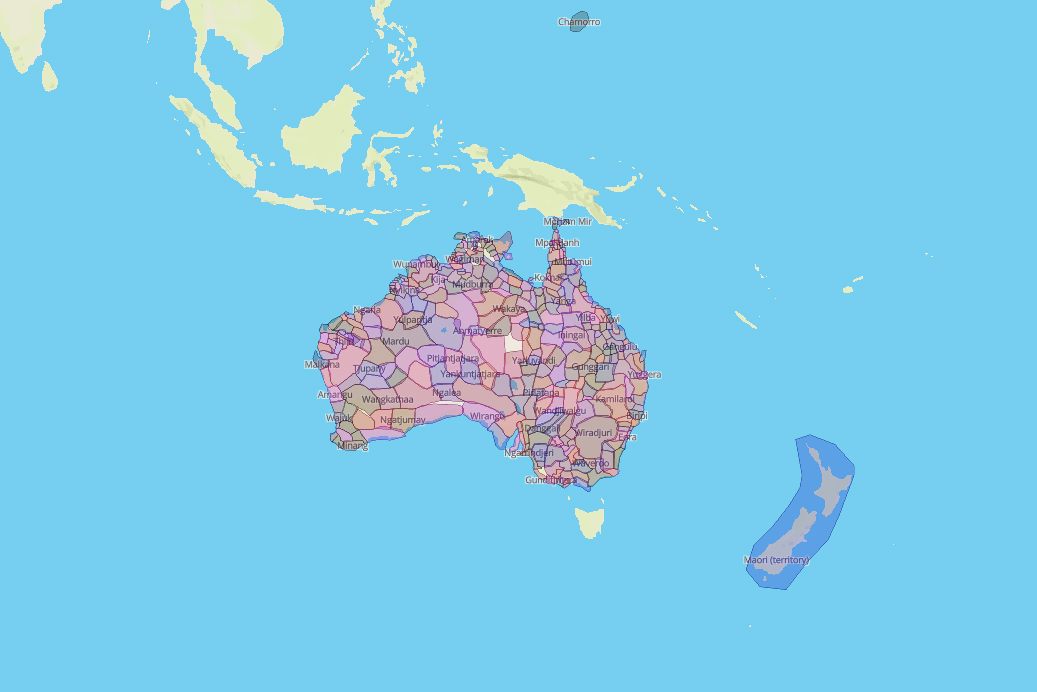 There are obvious contradictions in trying to map Indigenous peoples' relationship to land using techniques designed around European ideas about nationality and territory. One of Native Land's most distinctive qualities is its dappled mish-mash of colors. Borders overlap and cross each other.
"There's overlapping borders and people say, is that a problem?" says Minifie. "In my view, that [question is] really tied in with Western ideas of geography and ownership. My feeling on this—and I can only speak to my own experience—is that we always had shared places, so that's not a difficult concept."
She points out that Indigenous peoples' relationship with land—one where humans are "beholden to it"—is a far cry from the Western concepts of land possession. "Land determines our language, our food, and our DNA," she says. "Our ecology system decides our housing, our regalia, how we organize, how we decision-make, how we produce children, how we treat those children […] Land is everything and it kind of decides everything."
As a result, she adds, the team behind Native-Land have "a big responsibility to figure out how to lead this conversation and discourse, and to make the map both exciting and representational to what people want to see and what their knowledges are."