Never Fear, Pet Owners: There's Now An Oxygen Mask For Your Cat
Or your dog, bunny, guinea pig, bird, or even turtle.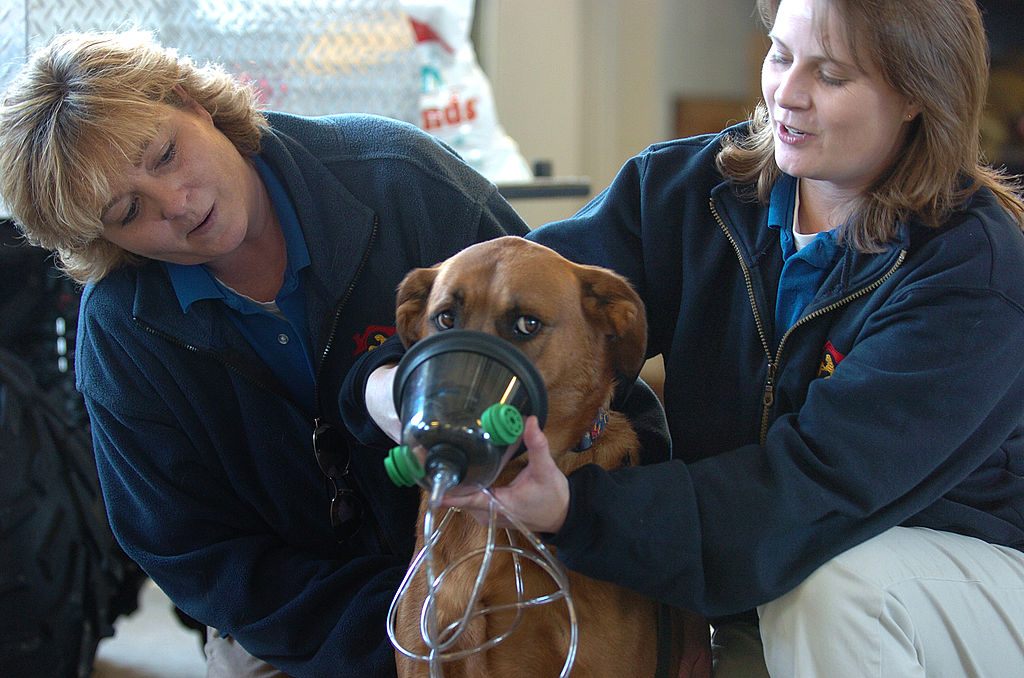 A demonstration of an oxygen mask fitting for a dog. (Photo: Helen H. Richardson/ The Denver Post/ Getty Images)

When the call came in about the fire on Duff Avenue, the second that day for the Ames Fire Department, in Iowa, the emergency operator checked first that no one was in the house.
"No, but our cat is," said the caller.
"Okay, we'll take care of the cat," the operator assured her.
After the firefighters arrived, two went in the building to look for the cat, Cleo. They searched the first and second floors. No cat. They consulted again with the homeowners. They went back inside. Still, no cat. Finally, the team working in the basement found her, passed out. They brought her outside, and started to revive her.
They were prepared for exactly this situation: in the engine, among the equipment, blankets, and teddy bears used to comfort kids, they had an oxygen mask designed especially for small animals.
Usually, in a fire, pets get out before humans. "The dog is going to be scratching at the door, saying—come on, let's go," says Lt. Jordan Damhof, one of the Ames firefighter who helped rescue Cleo. But when pets don't flee from burning buildings, they're likely to suffer from smoke inhalation. Often, by the time they're rescued, they're stunned or passed out, and without help, they're in danger of dying.
Previously, firefighters might have improvised by using oxygen masks designed for babies to revive pets, but over the past 10 years or so, it's become increasingly common for fire departments to equip themselves with oxygen masks designed specifically for animals.
Since 2008, for instance, the public safety company Wag'N O2 Fur Life has distributed more than 7,250 mask kits to fire departments across the country, and the donation program Project Breathe has provided some 10,000 masks to fire departments. Wag'N estimates that roughly one-quarter of fire departments in the U.S. have at least one of these pet masks. The masks were originally designed for veterinarians to use; the New Zealand manufacturer who makes a popular model first set out to make resuscitators for calves.
There are no reliable numbers about how many animals have been saved using this equipment: the systems that fire departments use to track their work don't have fields for animal saves. (It seems like there's a code for everything except for that, says Damhof, the Ames lieutenant.) But local news outlets regularly report on pets rescued from fires and resuscitated using this equipment. Most of the pets treated are dogs and cats, but the masks have been used to help rabbits, ponies, and at least one guinea pig, too.
Human faces and animal faces are shaped very differently. "People are short-snouted. You can compare us to a pug," says Ines de Pablo, the founder of Wag'N, who has a background in emergency management. "Most dogs and cats have protruding snouts." A mask designed to cover animals' noses can deliver oxygen more efficiently and effectively.
In recent years, as the rise in pet health care spending can attest, Americans have been willing to go to greater lengths to keep their pets alive and healthy. There are pet emergency rooms that stay open around the clock, and a growing awareness of pet needs in emergency preparedness planning. After Hurricane Katrina, the federal government passed a new law that instructed the Federal Emergency Management Agency to address the needs of people with service animals and household pets.
Firefighters working in dangerous conditions still have to weigh the dangers to human lives (including their own) when they're deciding whether they can save pets. Wag'N's de Pablo emphasizes that they're not trying to put firefighters at risk: "We never ask the fire department to choose a dog over a person," she says. But firefighters do choose to save pets, and when they do, she says, the masks are a tool they can use to improve those animals' chance of surviving the ordeal.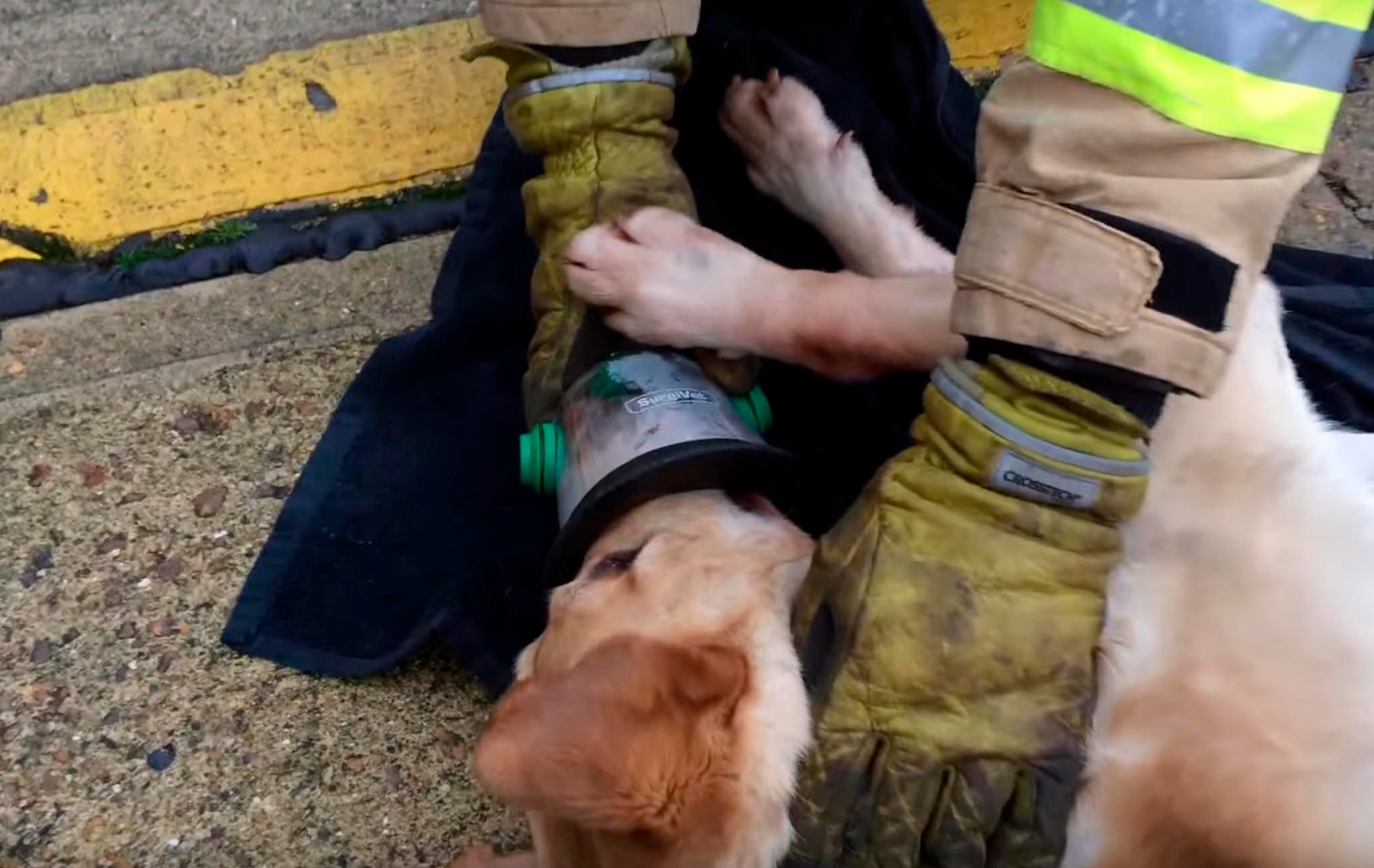 Pet masks are becoming more common. (Photo: Surrey County Council News)
"Pets become a part of the family for a lot of people," says Damhof. Firefighters in his department make rescuing them a priority, but that decision must be balanced against other responsibilities. In less dangerous situations, they regularly help out non-human species; in Ames, for instance, the department brought over long ladders to help animal control rescue birds from a building slated to be knocked down. Damhof was once part of an operation moving a woman's pets from her house when she needed to leave an unsafe situation.
Sometimes, the firefighters get more credit for saving animals than people. "It makes people feel they've gone above and beyond their normal responsibility," says de Pablo. Shortly before they saved Cleo, though, the Ames fire department rescued six people from a balcony during an apartment fire. That story go no press coverage, while Cleo the cat became an instant celebrity; PETA gave the department an award recognizing their compassion.
Cleo herself, by the way, ended up just fine. The Ames police transported her to a facility at Iowa State's veterinary medical college with round-the-clock staffing, and within a day, it was clear she hadn't suffered any neurological effects. Her little cat lungs needed a bit more time to recover, but she was lucky—if the firefighters hadn't found her or been equipped with the right gear, she might never have woken up.