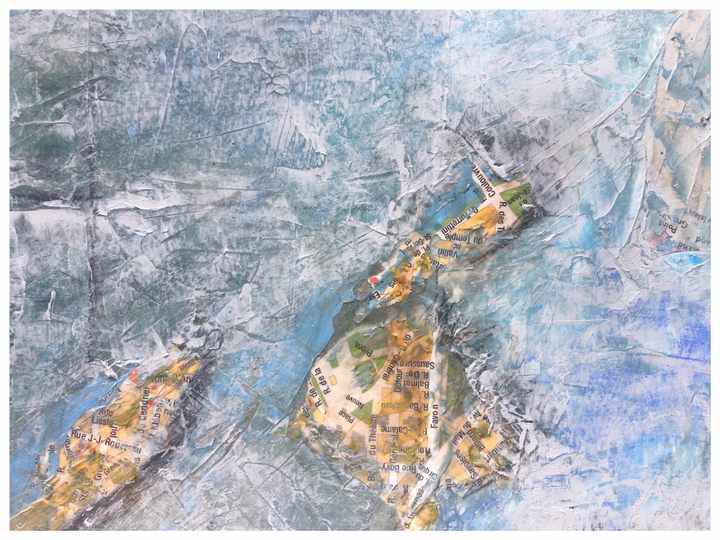 Art Challenge: Readers Show Us How They Map Their Worlds
Travel down the Road to Productivity, go on a bear hunt, and hope you get to see Super Island.
As many of us find ways to explore the world from inside our homes, maps can be a source of comfort and inspiration. Recently, we asked you to be the cartographers by creating maps of your own. The results were a fascinating mix of real and imagined worlds, and a few that charted the ground between those spaces.
Some submissions were filled with dizzying details and abundant alliteration, while others were beautifully simple, leaving room for the reader to fill in interpretations. Each gave us a glimpse of something unique: a fond memory, an obstacle to overcome, a familiar view.
While we couldn't include all of the artwork we received, we've brought together a few of our favorites here, along with notes from their creators. If you still want to try your hand at mapmaking, we'd love to see what you create. You can share your maps with us in Atlas Obscura's forums or by emailing places@atlasobscura.com.
Thanks to everyone who contributed! We hope you'll keep an eye out for other challenges and activities from Obscura Academy.
Champ Turner
Austin, Texas
It's titled "The Road to Productivity" and it maps the many things that stand in our of getting things done, even now when many of us have even more time on our hands to do it. It's inspired by several of the maps from this article.
I also got my grandma to draw a map of her life these days. The first drawing shows how she now enjoys much more Netflix in bed on her iPad. The second shows the view of the place she would most like to be right now, the beach.
---
Linda-Marlena Ross
Montreal, Québec
Here are a few … called "drifting stations" (referencing both sea levels rising and the ships in the polar seas researching magnetic north).
---
Kees de Jager
Christchurch, New Zealand
I personally love maps and being a keen tramper/hiker I spend a lot of time looking at them. Today my daughter Georgia, who is four, and I went for a bear hunting expedition in our local hills here in Christchurch. We don't have bears but my daughter watched a movie about them and I thought it would be a good way to get her excited about getting out for a walk with me. Once home we both worked on creating a map of our trip together.
---
Melinda Thompson
Los Angeles, California
I teach two Chinese children English over Zoom every week. Kolisa and Joe live in separate houses in Shanghai, and I live in Los Angeles. I loved your idea of making a map and thought it would be fun for the children and me to make a map together in class using Zoom. Because we don't meet in a physical place, I wondered how they would imagine our meetings. We meet in the Party Room on Super Island!