Ohio's Famed 7-Story Basket Building Might Be Doomed
Tough times for the big basket business.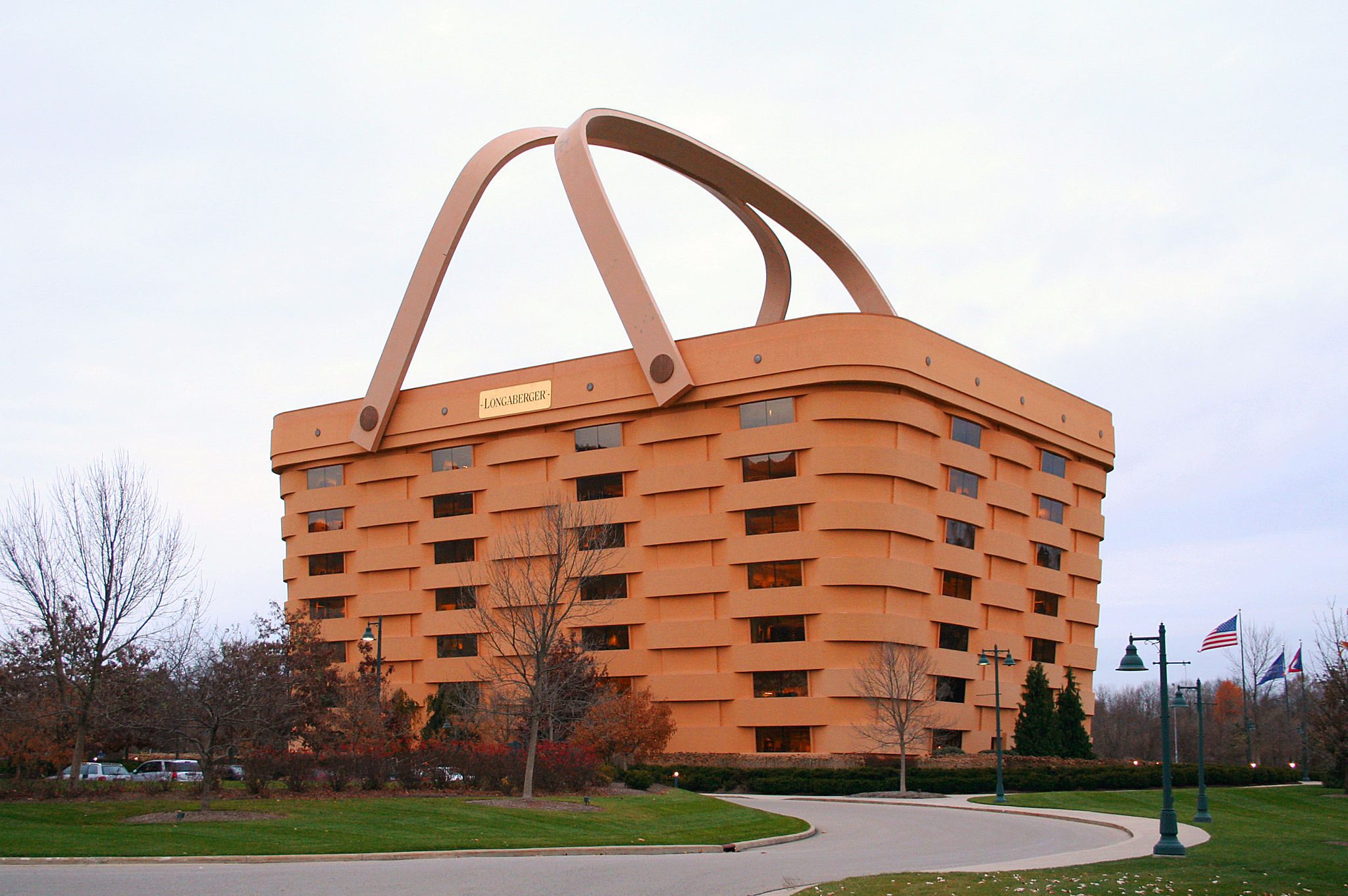 (Photo: Derek Jensen/Public Domain)
A lot of people used to buy Longaberger baskets, a maple wood staple of American picnics. At its peak in the late 1990s, the company did hundreds of millions of dollars worth of business. But then the aughts came, and then current decade, and those baskets aren't selling.
That has meant, for a company that once had annual revenue of $1 billion and now gets by with a small fraction of that, hundreds of layoffs and other cost-cutting measures. 
Through it all, Longaberger has held on to its most famous asset: the Longaberger Basket Home Office, a seven-story giant that was designed to look exactly like one of the company's medium-sized baskets. Finished in 1997 near the height of the company's power, the building instantly became a Newark, Ohio icon. 
It also became a Midwest destination of sorts, for a time. My grandparents (I'm a fifth-generation Ohioian) took me there on a brief trip shortly after it opened. I can attest to its wonder.  
But the monument is likely doomed.
The struggling company has long owed thousands in back taxes on the building, and JRJR, Longaberger's parent company, admitted the inevitable in February: the remaining employees at the Home Office were going to be moved to the company's production facility in Frazeysburg, Ohio. The Longaberger basket building, then, would be sold; when and to whom remained the only issues. 
Russell Mack, a spokesman for JRJR, tried to put a positive spin on the news, telling Atlas Obscura that even after the sale the building would remain an "icon" in central Ohio. 
But any new owner—who presumably would not be the producer of unique baskets formed in the building's image—would also have to contend with the building itself. Upkeep and maintenance, for one thing, in addition to the fact that office space in rural Ohio is not exactly in high demand.
Also: Does anyone want to actually own a 180,000-square-foot basket? Brokers have said that it will be tough. The Longaberger Home Office might be too unique for its own good, too good for this world, even, much less Newark, Ohio. 
"We did a Google search one day of 'unique buildings in the U.S.' because there's a market out there for just about anything," Jim Garrett, an executive vice president at Colliers International, a commercial real estate firm, told the (Columbus, Ohio) Dispatch. "Our thought was, someone who owns two or three different-shaped buildings might be interested. But that didn't bear a lot of fruit."
Remembering our Founder, Dave Longaberger
December 7, 1934 - March 17, 1999 pic.twitter.com/gsgDczLdZq

— Longaberger (@Longaberger) March 17, 2016
Any conversion of the building—to a hotel, say—would be expensive and likely cost more than what the building is worth, which said to be less than $1 million.
The basket itself is not that old. It had its genesis in the mid-1990s, when company founder Dave Longaberger, struggling with some architects over how to design the company's new headquarters, abruptly left the conversation, only to return with one of the company's woven baskets. 
"Make it look exactly like that," he told them, according to the Dispatch. 
Longaberger realized his dream and inaugurated the building in 1997, but he died just two years later, which marked in many ways the beginning of Longaberger's fall. 
Inspired by his father, a former basket weaver, Longaberger had opened the first iteration of the company in 1976, calling it J.W.'s Handwoven Baskets, according to a company history. Sales were slow at first, until later Longaberger hit upon a more winning formula: direct sales, which pushed the company's fortunes to new levels throughout the 1980s and 1990s. The company employed up to 500 workers at its peak. 
But those glory days are long past, and Mack said that JRJR was now focused on pivoting the company toward a more stable future. 
"We have been engaged in strengthening Longaberger in a variety of ways, including eliminating its bank debt, improving operations and restoring strong, charismatic leadership," Mack said. 
And whereas in the past Longaberger fans might have made a pilgrimage to the basket building, today they go to a different facility, the Longaberger Homestead, about 60 miles away. There, you can buy baskets, of course, while also getting a first-hand look at how the baskets are made, and even make one yourself.
The basket building, meanwhile, remains in a strange limbo, though visitors can still visit, taking in, among other things, the building's massive skylight. (The basket building's handles, which collectively weight 150 tons, are heated during the winter to prevent ice from smashing the skylight's glass.)
On Friday, a Longaberger guest relations employee told Atlas Obscura that employees' slow migration to the Homestead site was continuing, though that meant continued uncertainty over when the basket building would officially be closed to the public. For the next two weeks, at least, she said visitors could still go inside the interior of the basket building. After that, she said, "It's up in the air."