Philadelphia's Trinity Houses are the Original Tiny Houses
Move over, cabin porn. These are the oldest, and cutest.
A tree-lined narrow street in Philadelphia's Society Hill, an area with many Trinity Houses. (Photo: Joe Strupek/CC BY-ND 2.0)
Philadelphia is a place that hides its secrets.
Sure, the city seems to welcome visitors—come see the Liberty Bell or Love Park. Have a cheesesteak. But Philadelphians do not really do these things; Philadelphians know that the roast pork and broccoli rabe sandwich, another Philadelphia-Italian creation, is the superior sandwich. Philadelphians head to Fairmount Park, a gigantic urban park a whopping ten times bigger than New York's Central Park.
And when New Yorkers crow about their brownstones, Los Angelenos boast of their bungalows, and Chicagoans brag of their glittery and schizophrenic architecture, Philadelphians do not chime in with talk of their own homegrown creation.
But it exists—and might be the best urban answer to the "tiny house" movement, one built to withstand the rising rent that today's gentrification has brought.
These structures, called "trinity houses," are typically a very small three- or four-floor townhouse of well under a thousand square feet in which, bizarrely, each individual floor contains only one room, connected by a spiral staircase. (The name comes from the classic three floors and three rooms, plus Philadelphia's extensive Catholic history: the father, son, and holy ghost house.) These small dwellings are fantastically on-trend: small, full of history and character, efficient, and inexpensive.
A portrait of William Penn. (Photo: Public Domain)
The history of the trinity house in Philadelphia tells the story of the city itself, from early planning to its time as the colonies' (and then country's) premier city, to the departure of industry and decades-long decline, and finally to our current stage: tentative rebirth as an underappreciated but amazing (and affordable) city.
Philadelphia's early planners, especially William Penn, for whom the state of Pennsylvania is named ("sylvan" referring to the forest, and thus the state translating to "Penn's Woods" or thereabouts), wanted a natural vista. Penn once said about the city that he envisioned "a greene country towne," a phrase that predates "the city of brotherly love" as Philadelphia's first slogan. By this he seems to have meant something like a dense suburb: the city was planned to have large, wide thoroughfares creating a grid, in each of which would be a big and beautiful home for the rich.
But the early- to mid-1700s found a boom coming to Philadelphia, thanks to the efforts of mayor James Logan and Benjamin Franklin, who established the city as a major trading and cultural center. Immigrants, largely German and Irish, began flooding in. All of a sudden, the city simply wasn't dense enough.
Philadelphia City Hall in 1922. (Photo: Library of Congress/LC-USZ62-84403) 
In New York, most of Manhattan and parts of the other boroughs are designed with a rectangular grid, made up of long blocks going one way and short blocks intersecting them; New Yorkers call the long blocks "avenues" and the short blocks "streets." The spaces are filled very efficiently by homes and businesses fronting the street. There really isn't very much space left over between the back of a building on one street and the back of a building on the next street. Philadelphia is different; the square blocks allow for a ton of leftover space in the interior. That was lucky, because by the 1750s, the city needed that space.
Inside those square blocks, architects built tiny houses, connected by alleys and sub-alleys. They are hidden from the main street, accessible usually by a gate-covered break in the larger, more impressive townhouses that front the main street. Go through those gates and you'll find yourself in a secret pocket of the city, in which there are tiny alleys with tiny houses and tiny courtyards.
The historic Alfreth's Alley, in Philadephia, with houses dating back to the 1720s. (Photo: Norman Maddeaux/CC BY-ND 2.0)
In the early 20th century, the Great Depression hit Philadelphia exceptionally hard. The city had formerly been the financial capital of the country; that all ended, and the banking industry moved to New York. The paper, leather, and energy industries all collapsed. Rampant corruption cost the city millions of dollars each year. After World War II, the city began its decades-long decline, losing people to the suburbs and to other cities. Unemployment skyrocketed, and for the first time, the population began to drop, by 5 percent in the 1950s, 3 percent in the 1960s, and a whopping 13 percent in the 1970s. Nobody cared about Philadelphia anymore.
But the lack of attention has allowed the city's original architecture to remain standing, proud and weird and beautiful. The trinity is one of the strangest; originally a few did exist in other cities, but as an inefficient use of space, they were mostly knocked down.
Danielle Burrows, a freelance writer, lives in a trinity in the fairly posh neighborhood of Queen Village. Her trinity is typical of the form. "It looks like a quintessential Philly brick rowhouse on the outside," she says. But when you walk in, you can tell it's different. The front door leads directly into the living room. In a corner of the house is a spiral staircase; sometimes this has been updated in the modern wrought-iron exposed style, but Burrows's house retains its original staircase, which looks as though you're entering a tiny, curved cave.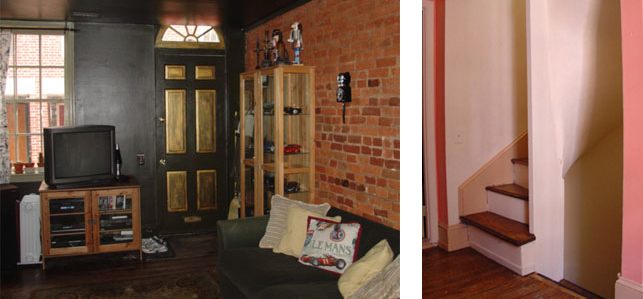 Inside a typical Trinity House layout: the front door opening onto the living room (left), and a narrow staircase (right). (Photo: Suzanne Dreitlein)
Downstairs, halfway below ground level, is the kitchen. Upstairs, past the living room, is a bathroom barely divided from a very small room that most trinity owners use as an office. And up from that, the entire top floor is the master bedroom. Each level is about 14 by 16 feet, 224 square feet, which makes the entire home smaller than 1,000 square feet.
The trinity is Philadelphia's version of the age-old problem of low-cost, high-efficiency urban housing. In the American south, that take would be shotgun homes. In New York, it's tenements, and sometimes railroad apartments. These were all designed for the poorest workers, and were usually rented. In other cities, they remain rentals, but, says Suzanne Dreitlin, a trinity owner and proprietor of Rowhouse Magazine, "Philly is very much a house city. More houses, fewer apartments." Philadelphia is the only major city in the northeast where home-owning is common, largely thanks to the comparatively low house prices.
The median home value in Queen Village is, according to Zillow, $482,200. (Park Slope, in Brooklyn, has a median home value of $1.1 million, for what that's worth.) But that doesn't really get at the extreme diversity of homes in Queen Village: the original Philadelphia mansions are still there, as are the mid-priced rowhouses, but the cheapest homes aren't condos or apartments: they're trinity houses. For under $300,000, a buyer in Philadelphia can secure an entire home, top to bottom, in one of its nicest neighborhoods. This is completely out of the question in New York, DC, or Boston.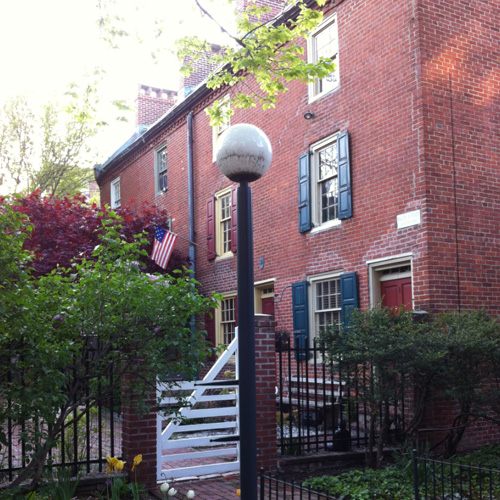 Houses in Bell's Court, Philadelphia. (Photo: Suzanne Dreitlein)
The trinity has its quirks, of course. "Usually the stairs are round, which is kind of hazardous. We've all fallen down the stairs, even the cats," says Dreitlin. Most furniture can't be moved up the staircases; large inflexible items like box springs have to be sawed in half, hoisted in through upper floor windows, or, more often, discarded entirely. "We had to buy all new furniture for the upper floors because nothing could go up the stairs," says Dreitlin. (Ikea beds are common; the slats that replace a box spring are much easier to manipulate.)
Another weird thing: there are no interior doors in most trinities. The rooms are separated vertically, not horizontally, so there's no line of sight between rooms, and thus no real need for doors. "If you are a couple, and you have a kid, the privacy thing is a challenge," laughs Dreitlin. "But you don't really feel crowded, because you're visually separated. You're on top of each other but for some strange reason that doesn't seem very crowded."
The quirks of living in what is, basically, a very large stairwell aren't always negative. "One of the benefits is that I rarely eat in my bedroom," says Burrows, "because going three flights down, preparing food, and carrying it back up three flights is just not fun. That said, when I do eat in my bedroom, the dishes stay for way longer than they would under normal circumstances." Parking, too, is often an issue: because the trinities are usually tucked away behind gates along non-driveable alleys, you can't park in front of your house to easily move groceries or anything else. On the other hand, they provide a sense of quiet and calm; you can live in a bustling part of the city but not feel that way.
A small street with Trinity Houses in Philadelphia. (Photo: Kelly Anne/CC BY-SA 2.0) 
The ceilings in the kitchen, just below ground level, are often incredibly short; Burrows is actually going to be selling her trinity soon because her 6'3" boyfriend can barely stand up in her kitchen. "I think the second you get a dog, or a kid, or a significant other…it's an ideal house for one and a half people, but once you start talking two, it's kind of a different story," she says.
These difficulties do not, for the most part, endear the trinity to Philadelphians. It isn't seen as a status symbol; it remains just about the cheapest house you can buy. When Burrows's realtor suggested she see what would become her house, "I kind of sensed in her voice, 'ugh, I don't know if you're going to want to see this.' And we got there and I think I had the opposite reaction of what she expected."
For both Burrows and Dreitlin, the trinity is a quirky, adorable, weird little house. "You either get it and you love your little house and you think they're great, or you just don't get it," says Dreitlin, who is prone to gushing on the topic of Philadelphia's architecture. "I haven't encountered a lot of value placed on trinities, like conversationally," says Burrows. "When I mention I live in a trinity, people say, 'I don't know how you deal with those steps all the time,' or comments about 'make sure you're not drinking when you go up those steps.'"
But the trinity occupies an intersectional point of a few major trends in architecture these days: the tiny house movement and the desire for history, or authenticity, or character, or whatever term means "a cool house that has a story behind it." Like many other gems of Philadelphia, it's unknown outside the city and hardly worshipped within the city, though Philly Magazine has begun showcasing trinities in its "Trinity Tuesday" posts. But there are plenty who don't just tolerate the trinity's weirdness; that's the whole reason these owners like them in the first place.
"Frankly if I wasn't getting married I'd stay in my house forever," says Burrows. "I love it, I absolutely love it."