These Adventurous Women Photographed the California Desert in the 1920s
We almost lost their work forever.
One average day in 1988, during his lunch break, the archaeologist and historian Ron May climbed into a Dumpster outside his office building.
Earlier that day, a colleague had dropped by dragging a heavy plastic sack filled with black photo albums that appeared to be quite old. Though May was an environmental management specialist who reviewed history and archeology reports for the County of San Diego, sometimes workers at the Office of the Public Administrator would ask May to assess the historic value of items from unclaimed estates of the deceased, so this visit was not unusual. But when his colleague told him she'd recovered the photo albums after they were trashed by someone from the Public Administrator's—and that there were more photos still inside the Dumpster—May's curiosity was officially piqued. "I recognized this is stuff that should not have been thrown away," May says.
Which is how he wound up among stacks of rotten food and smeared newspapers, urgently rescuing what turned out to be an extraordinary collection of black and white photographs taken by Susie Keef Smith, who died in 1988. Smith's images, as well as pictures taken by her younger cousin Lula Mae Graves, are featured in the new book Postcards from Mecca, The California Desert Photographs of Susie Keef Smith and Lula Mae Graves, 1916-1936.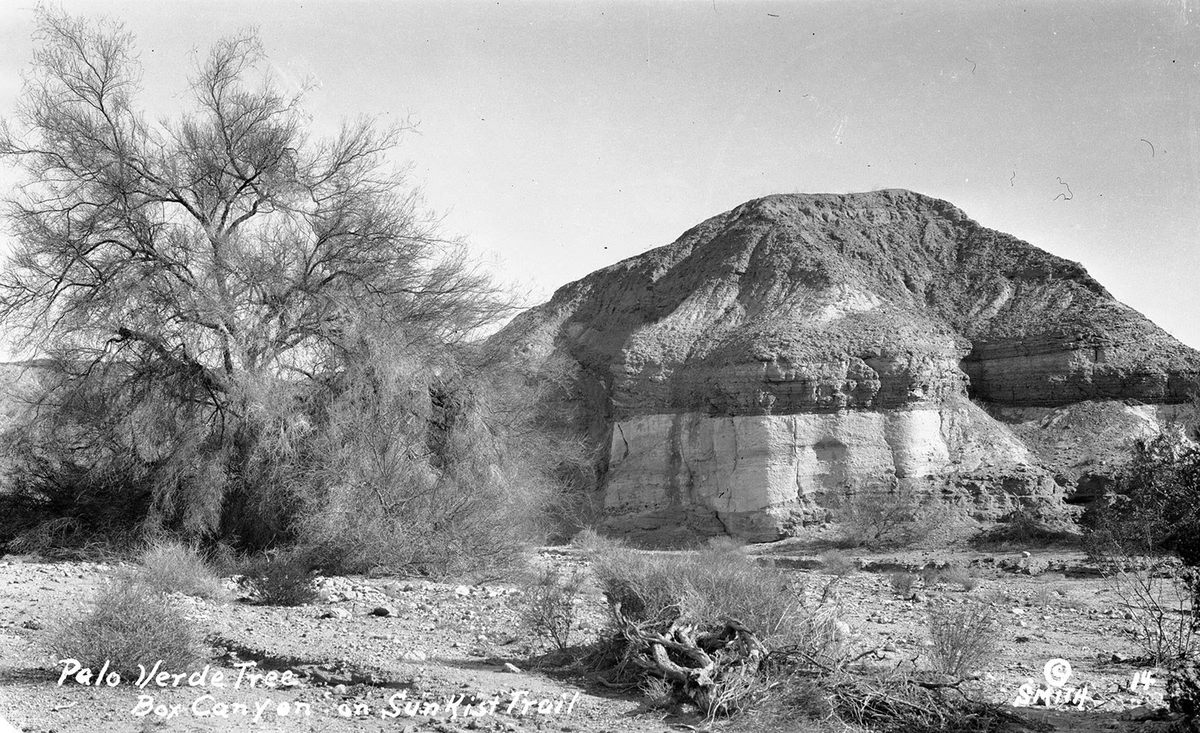 ---
Smith served as the postmaster for the town of Mecca, California, in the southern Coachella Valley, for almost a decade starting in 1926. It was in that capacity that she came in frequent contact with the unconventional characters, such as prospectors, who lived and worked in the harsh desert region to the east. She also aspired to take photos with her Graflex camera to sell as picture postcards, a popular product of the time. Much of her free time was therefore spent journeying to rugged and remote desert areas such as Mecca Mud Hills, Desert Hot Springs, and the Salton Sea by foot, burro, or Ford Model T.
Her travel companion, Graves, had come to California from Tennessee for her health (and, apparently, to escape an undesirable family situation back home). She lived with the Smith family, and also enjoyed looking through the camera lens. Together, Smith and Graves risked travel unchaperoned, often donning men's clothing and cowboy hats. In their photos, they can be seen joyfully handling cameras, guns, and kingsnakes, while at the same time capturing on film all the wilderness they encountered.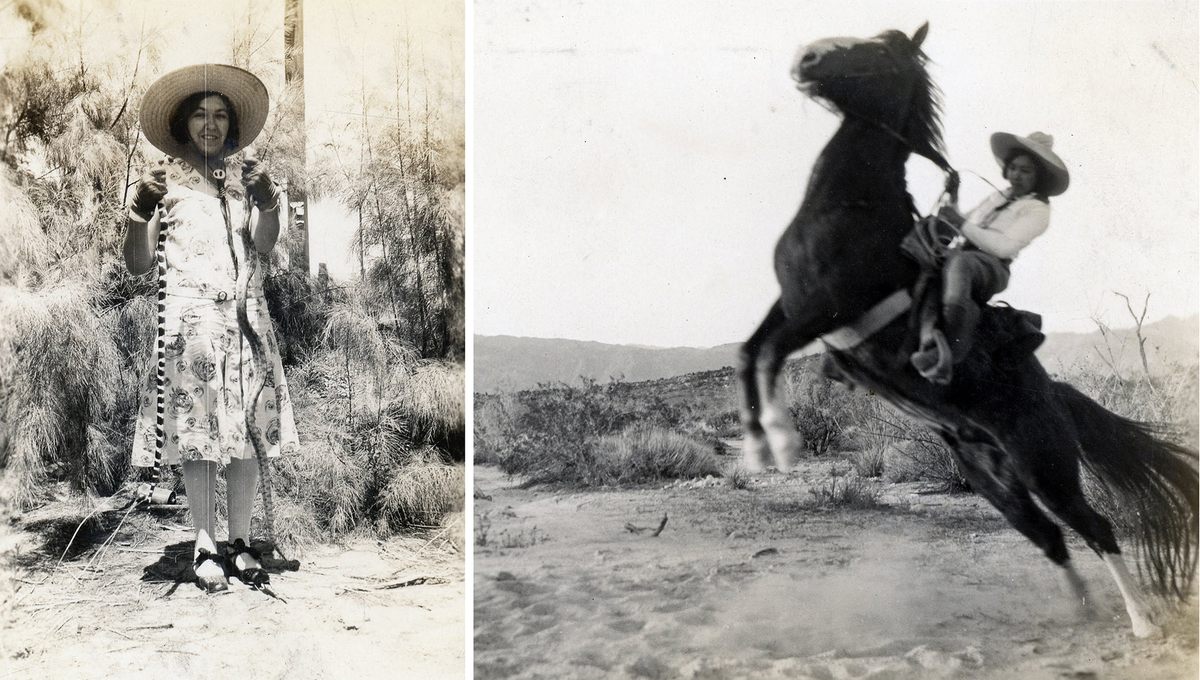 ---
After he'd carefully cleaned the pictures he'd rescued from the Dumpster, the historian in May realized the material was worthy of archiving for future scholars. What especially grabbed his attention were Smith's images from an early era of Southern California's Corn Springs in the Chuckwalla Mountains. "Susie was documenting a period in the desert, especially the years 1910-1920, we know little about," said May.
Graves shot black and white visions of prospectors with their burros, young aqueduct surveyors smiling in their tank tops and cowboy hats, and a human skeleton rotting in the dirt. Such images had long fascinated her grandson, the artist Warner Graves III, growing up, and which he treasured upon inheriting his grandmother's photo albums of her adventurous youth.
Many of Smith's photos were in Graves's scrapbooks and vice versa; so intertwined are the photos that it's sometimes unclear which woman clicked the shutter. The pictures came together as a book when its editor, whose original intent was to write about the solo adventures of Smith, was introduced in 2017 to Warner Graves III and his hundreds of photos by Lula Mae Graves. In comments included in the book, the younger Graves writes of his grandmother's images, "…the photos conjure a lost world of seemingly greater freedoms and possibilities, as well as landscapes that have not survived the onslaught of our modern era." May echoes a similar thought in the publication about the sense of history in the lost pictures he saved:
"What occurred to me is that these early 20th century photos are of places that no longer exist…Only crumbled rock foundations survive for young archeologists to try and interpret what they are seeing. And people misinterpret what is there now, yet Susie Keef Smith's photos could help solve the mysteries."
Atlas Obscura has a selection of images from the book, published by the Mojave Desert Heritage and Cultural Association.