See Retro Space Mission Patches Worn by Cosmonauts
These rare Russian insignia are a colorful relic of Soviet space travel.
From left, Viktor Afanasiev (Commander) and Musa Manarov (Flight Engineer), members of the Soviet-Japanese crew of the 1990 Soyuz TM-11 spaceship, during training in the Mir simulator. (Photo: © Archiv Alexander Glushko)
The history of Soviet mission patches begins with one of space travel's most significant achievements. In 1963, Valentina Teresknova made history as the first woman in space. Her call sign was Chayka—Seagull—and under it, she completed 48 orbits of Earth. As she did so, hidden from view, sewn onto the thermal garment under her orange space suit, was the first mission emblem. It depicted a dove of peace flying in the sun's rays, and underneath, in blocky red text, the letters CCCP. Teresknova called it a seagull, after her call sign.
From Teresknova's history-making voyage in 1963 through to 2015, 250 different mission patches have been worn by Soviet and Russian cosmonauts. This fascinating history is explored in new book Design for Space: Soviet and Russia Mission Patches. It chronicles the patches, how they were worn and how they changed with the collapse of the Soviet Union.  (As the author notes, "Whereas patches from Soviet times always contained a stylized star and red flag, during the existence of the Russian Federation it has become obligatory for patches to include the cosmonaut's national flag.")
Today, original Soviet mission patches are a rare find. Drawing from his own collection of patches, the author of Design for Space has created a comprehensive guide to 52 years of Soviet and Russian mission patches. AO brings you a selection from the book.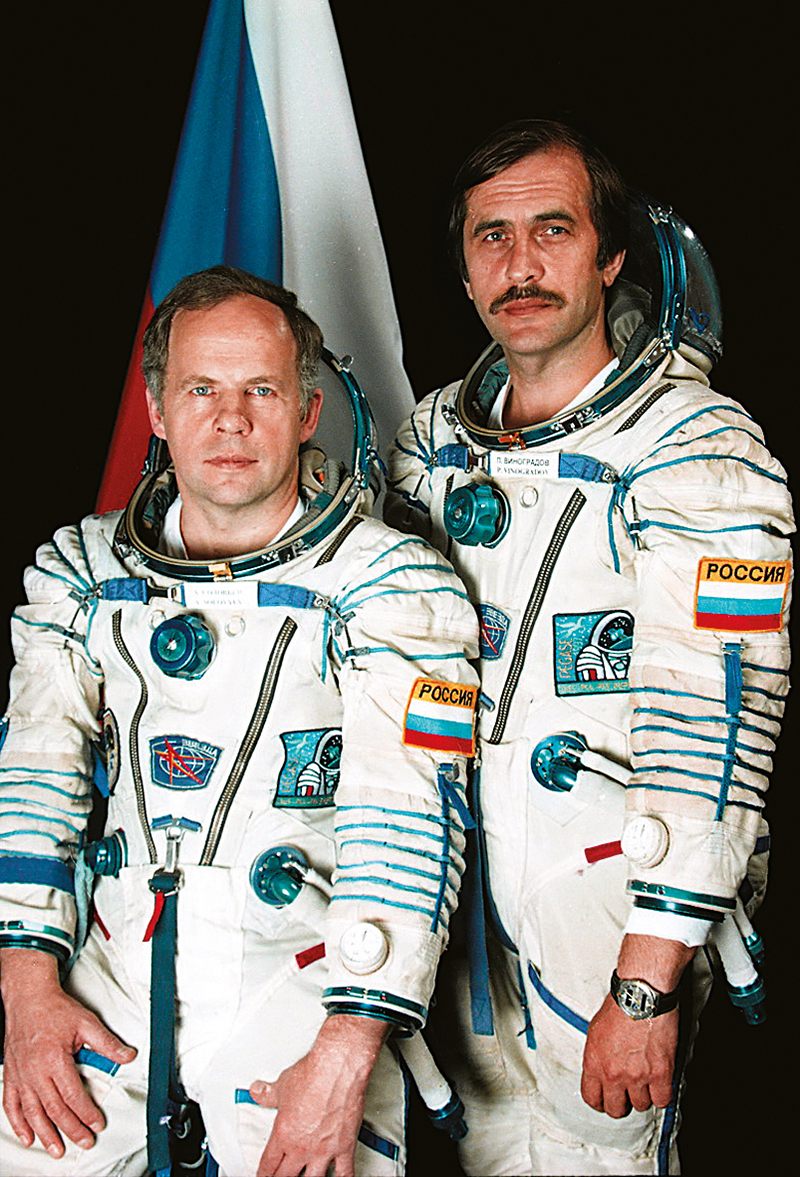 The final crew of the Soyuz TM-26 spaceship, Anatoly Yakovlevich Solovyev and Patel Vladimirovich Vinogradov, showing the position of the patches on their spacesuits. Soyuz TM-26 launched on 5 August, 1997. (Photo: © Archiv Alexander Glushko)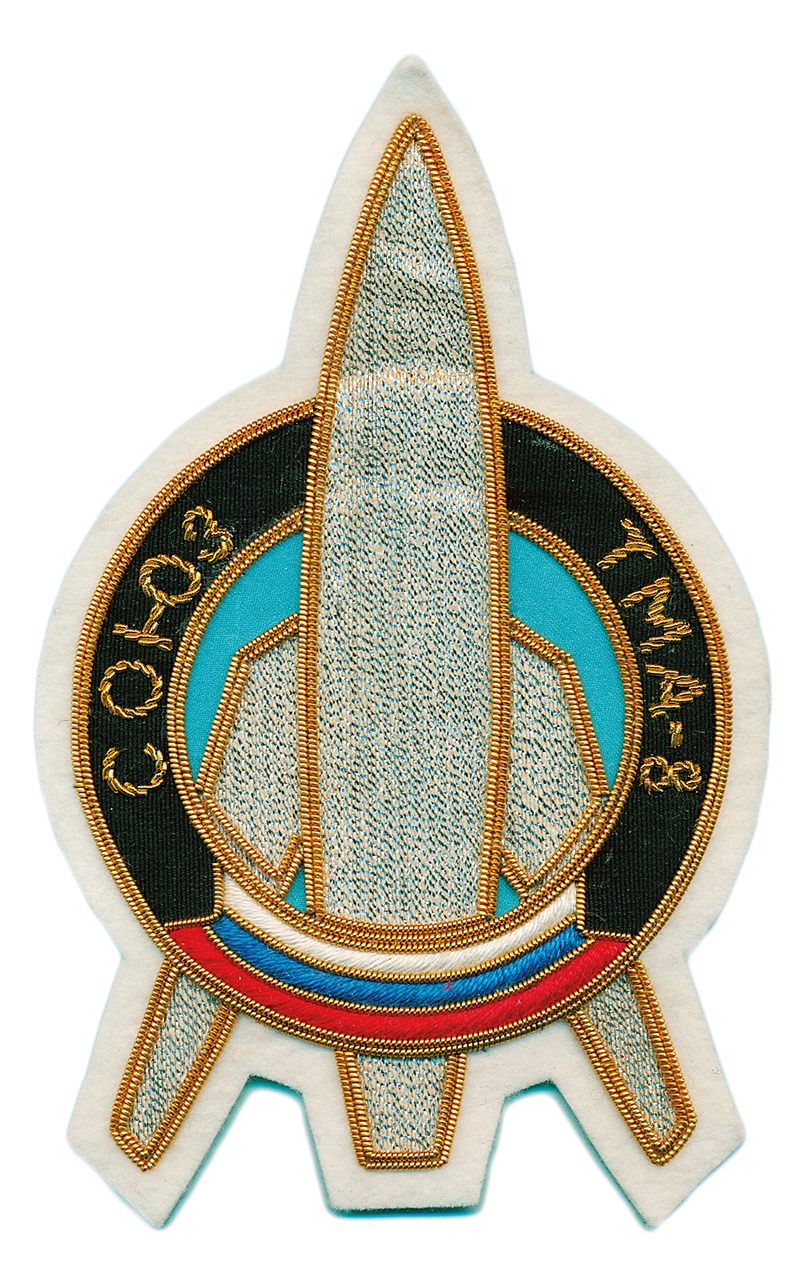 The first variant of the patch of the Russian-American-Brazilian crew of the Soyuz TMA-8 spaceship, used in 2006 on the mission to the International Space Station. (Photo: Courtesy DOM Publishers)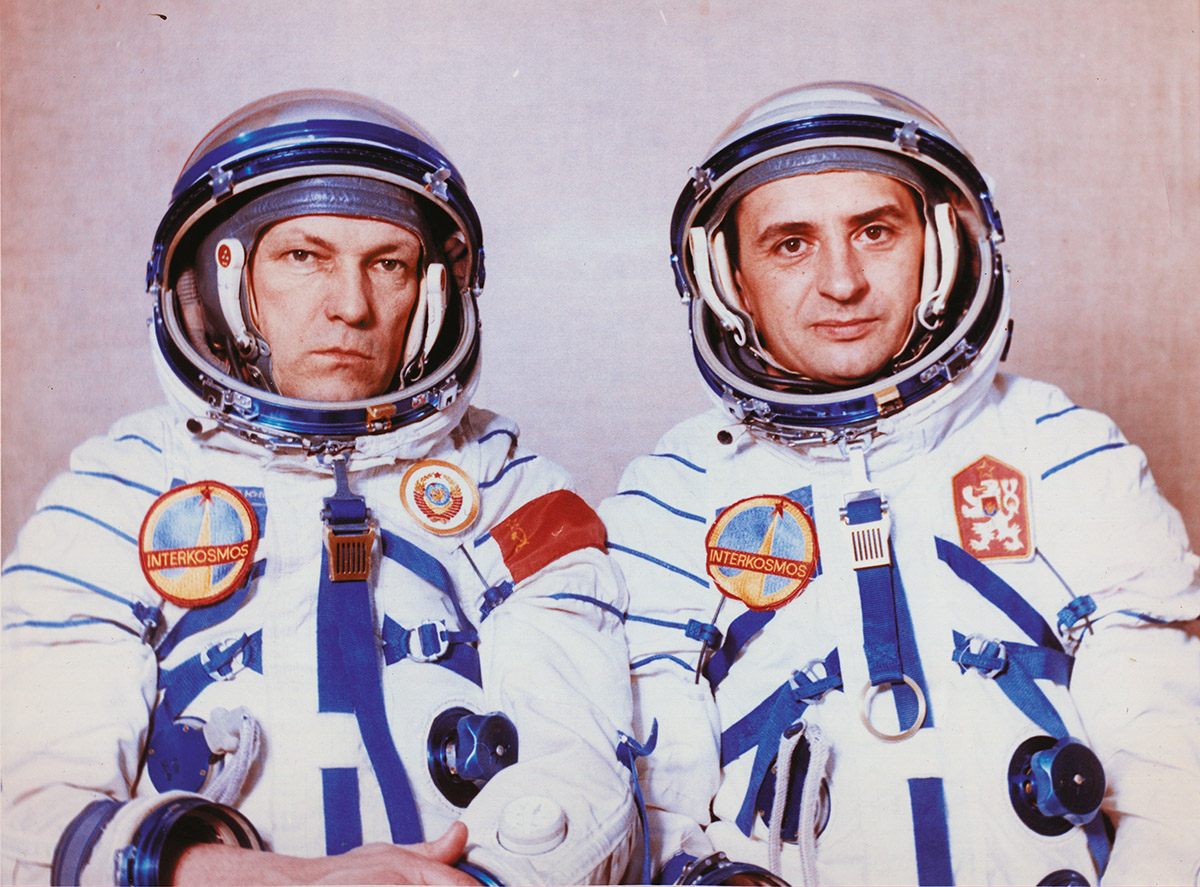 Nikolay Rukavishnikov and Oldrich Pelczak, the back-up Soviet-Czechoslovakian crew of the Soyuz-28 spaceship, showing the Interkosmos patch on the their spacesuits. (Photo: © Archiv Alexander Glushko)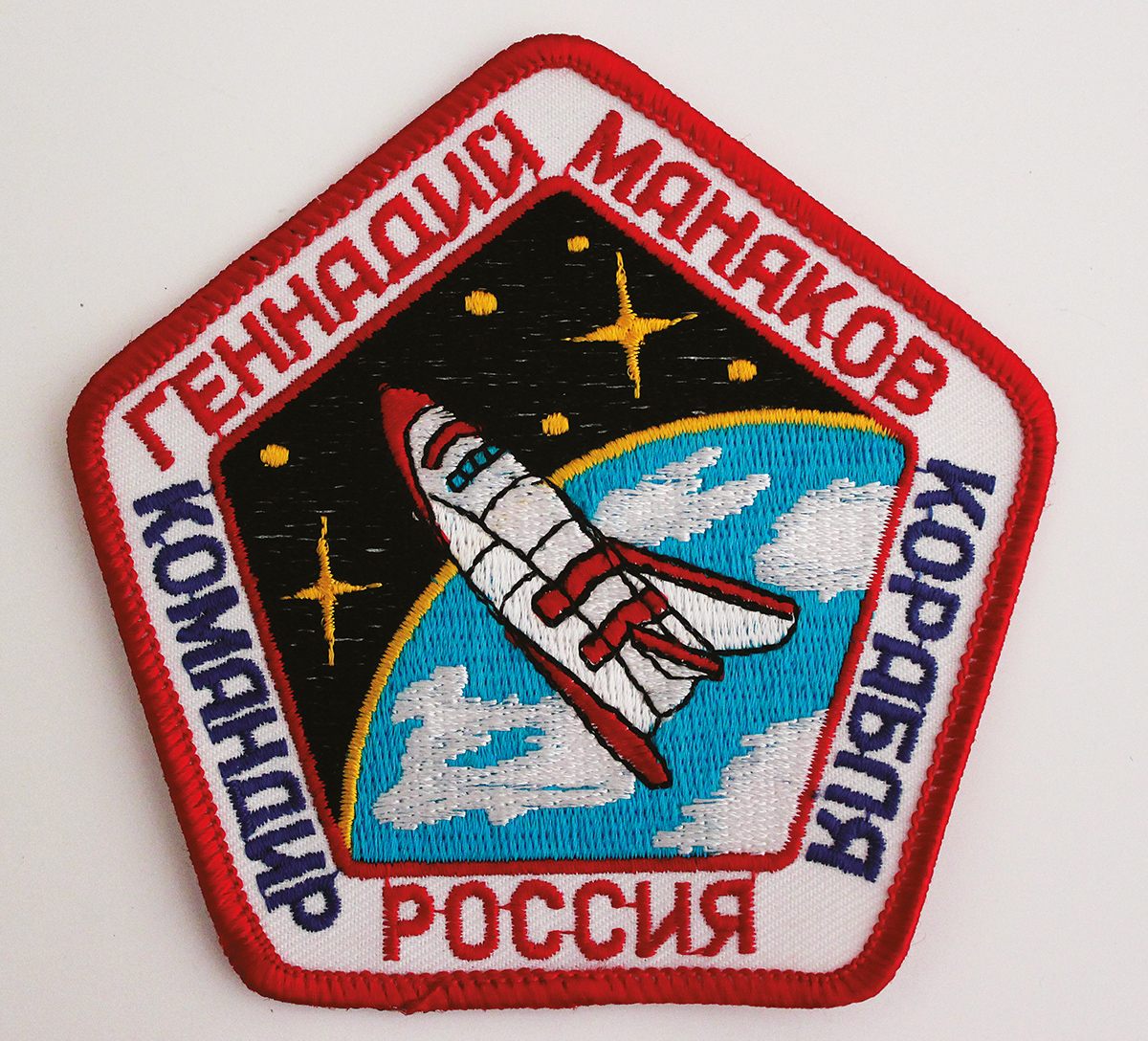 The personal badge of cosmonaut Gennadi Manakov, used in 1996. (Photo: Courtesy DOM Publishers)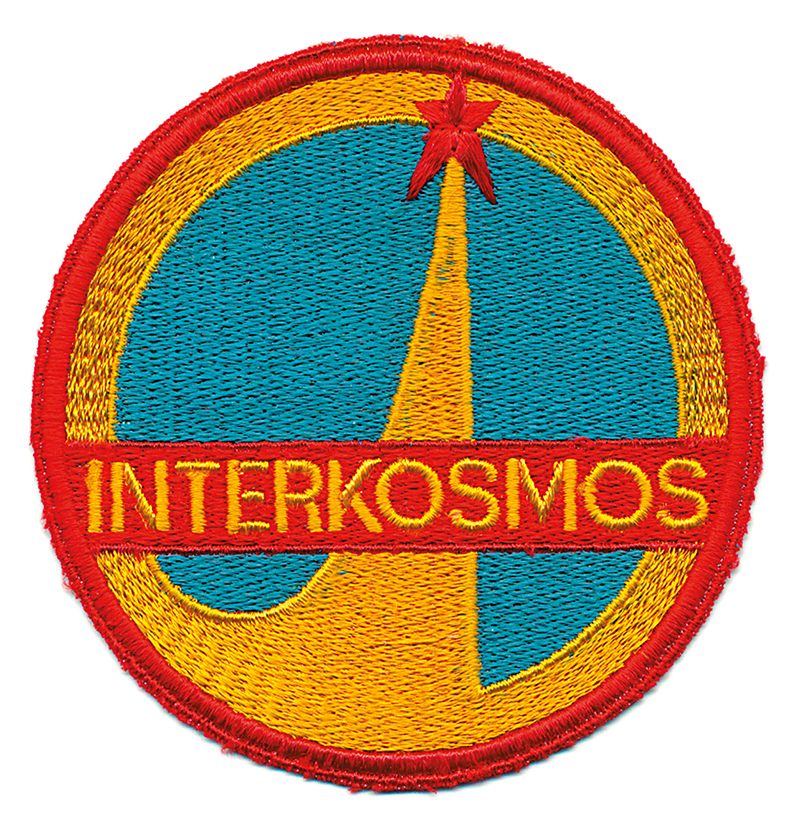 This patch is a variant used by the Soviet-Czechoslovakian crew, in 1978 for Soyuz-28. It was worn on the right side of the chest or sleeve of spacesuits, and likewise on the upper and lower right sides of training suits. (Photo: Courtesy DOM Publishers)
The first variant of the patch for the Apollo-Soyuz Test Project, the first joint flight between the Soviets and the U.S. Framed by English and Russian text, it shows the two spacecraft docking together.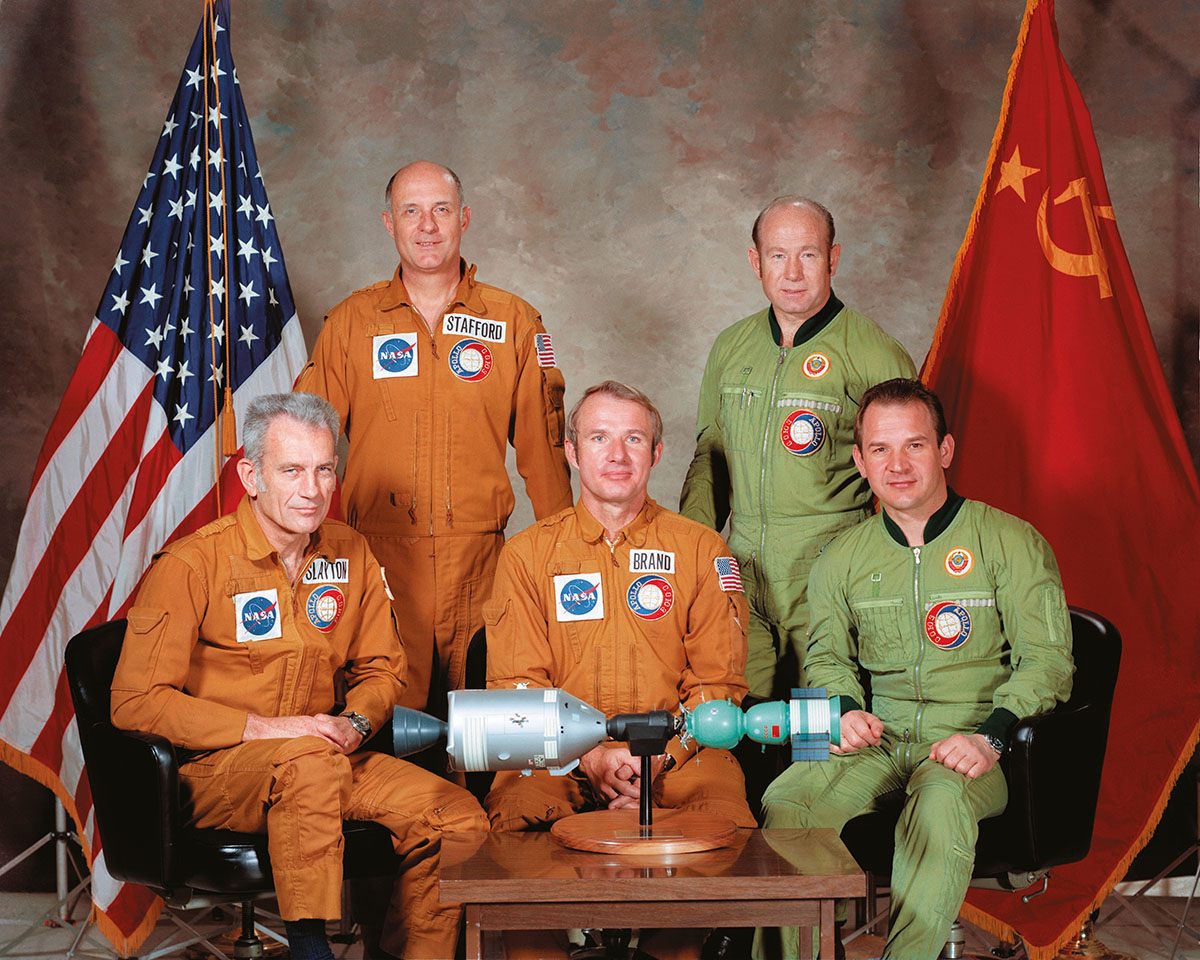 The principal crews of the Apollo Soyuz Test Project. Seated (left to right): astronauts Donald Slayton, Vance Brand and cosmonaut Valeri Kubasov. Standing (left to right): astronaut Thomas Stafford and cosmonaut Alexey Leonov. On the cosmonauts' training suits we can clearly see the ASTP patch, which was worn by all crews during training for the space flight. (Photo: NASA)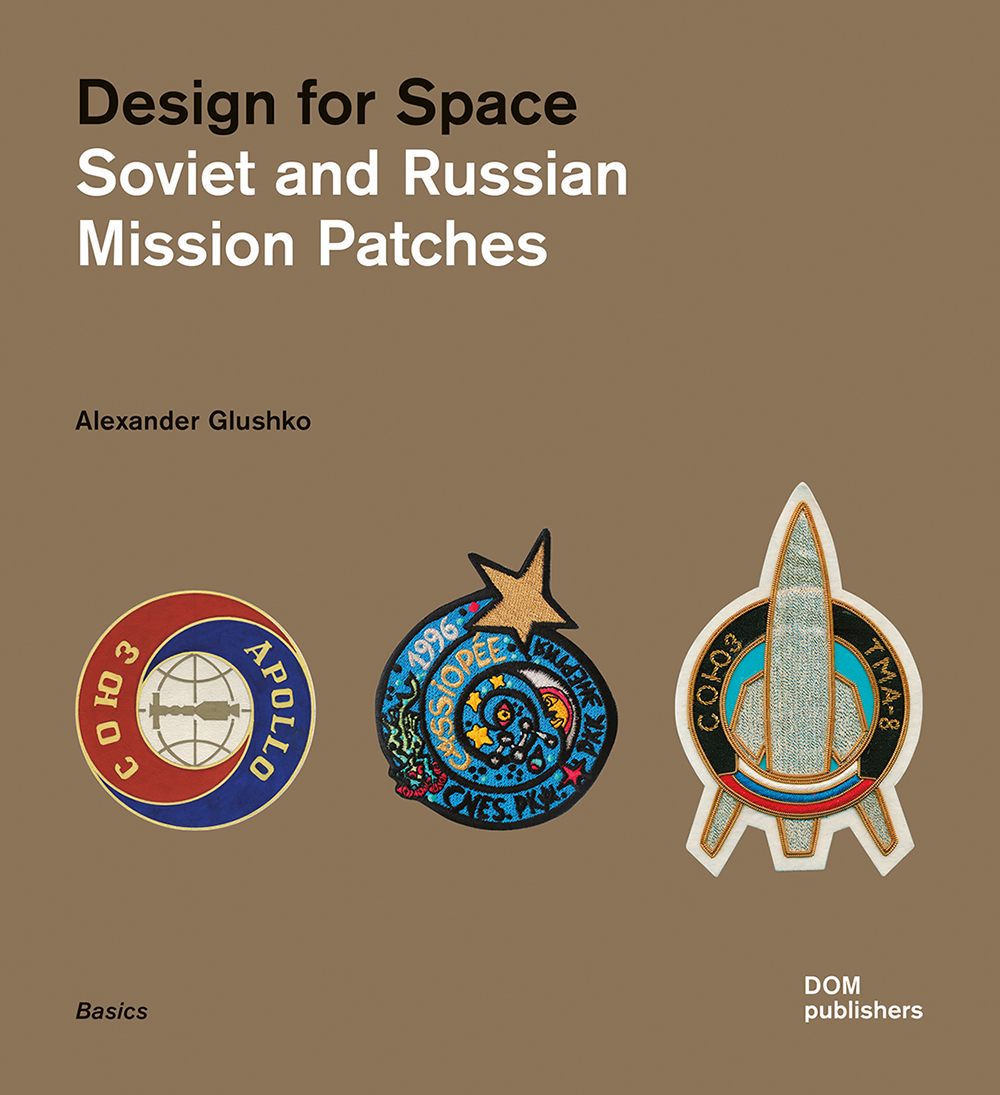 The cover of Design for Space: Soviet and Russian Mission Patches. (Photo: Courtesy DOM Publishers)