A Trailblazing Japanese-American Sculptor Is Getting Her Own Postage Stamps
Ruth Asawa also championed arts education—and had a great recipe for salt dough for sculpting at home.
Ruth Asawa's legacy comes in many forms. It sits on a wall in the Guggenheim, a six-pointed star that dissolves into fractals on its fringe. It hangs in the tower of San Francisco's de Young Museum as a cloud of massive inkblots. It is also present, if invisible, at the Santa Anita racetrack in California, where Asawa, a Japanese-American, was interned for most of 1942. (She was later interned in Arkansas as well.) Now Asawa's oeuvre will live on in the latest stamp assortment from the U.S. Postal Service.
Asawa, an outlier in a field dominated by white male artists, cultivated friendships with abstract painter Josef Albers and quixotic inventor and futurist Buckminster Fuller. She was also a student with Robert Rauschenberg at North Carolina's Black Mountain College.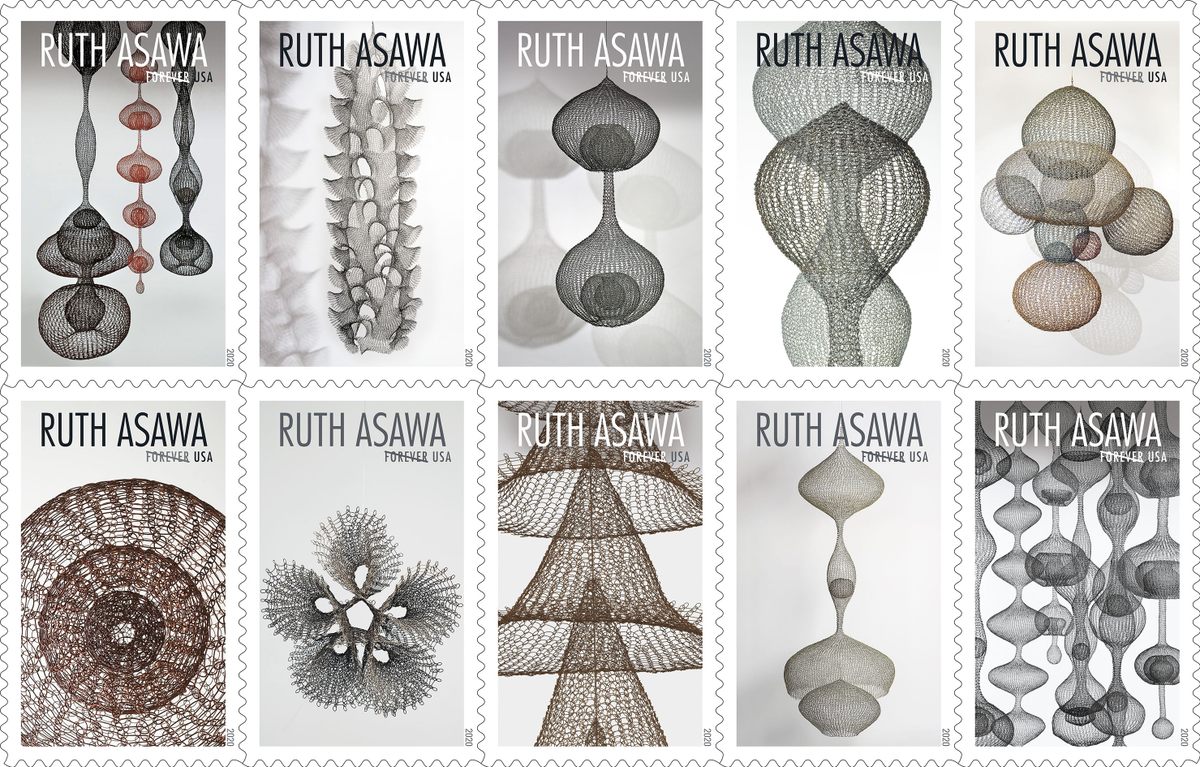 The 20 new stamps commemorate some of Asawa's most iconic constructions, the wire sculptures she began to produce in the 1940s, which made her a household name a decade later. The method was a variation on wire-knitting techniques used by villagers outside Mexico City, where Asawa visited in 1947. The eccentric geometrics overlap and envelop one another, transparent from one angle, solid from another. Only up close does the intricacy of her work truly emerge. Now, the art will grace doorsteps and mailboxes in America and beyond.
Asawa, who died in 2013, was also an advocate for arts education, particularly for children, and served on a number of boards to further that goal. Just as she had developed her own techniques for making, she urged young students to "learn by doing." She created a famed art activity for making works like hers from milk cartons. And something you can do right now is try out her recipe for baker's clay or salt dough that can be made with a few pantry staples.