The Town Where Santa's Sleigh Is a Surf Boat
In Mooloolaba, Australia, Saint Nick wears sunglasses.
It was a typical Christmas Eve at a beach in Australia—80 degrees in the early evening and not a cloud in the sky. The year was 1997 and families were busy at grills cooking sausages, while suntanned kids played cricket on the beach and surfed the waves. Out of the blue, the sound of a bell tinkling interrupted the happy scene. The chiming started getting louder and louder and everyone began pointing up to a small red figure in the sky: It was Santa Claus.
Father Christmas was parasailing onto the beach, grinning beneath his curly white beard as he rang his bell and waved at the beachgoers. With his fluffy red coat and signature hat on, only his sunglasses hinted that he was far from the North Pole. The jolly man landed in an inflatable rescue boat and was picked up by his "reindeer"— lifeguards wearing nothing but speedos and antlers—who rowed him toward shore. That image of Santa cruising on the waves is an iconic part of Christmas in Mooloolaba, a coastal town in Australia.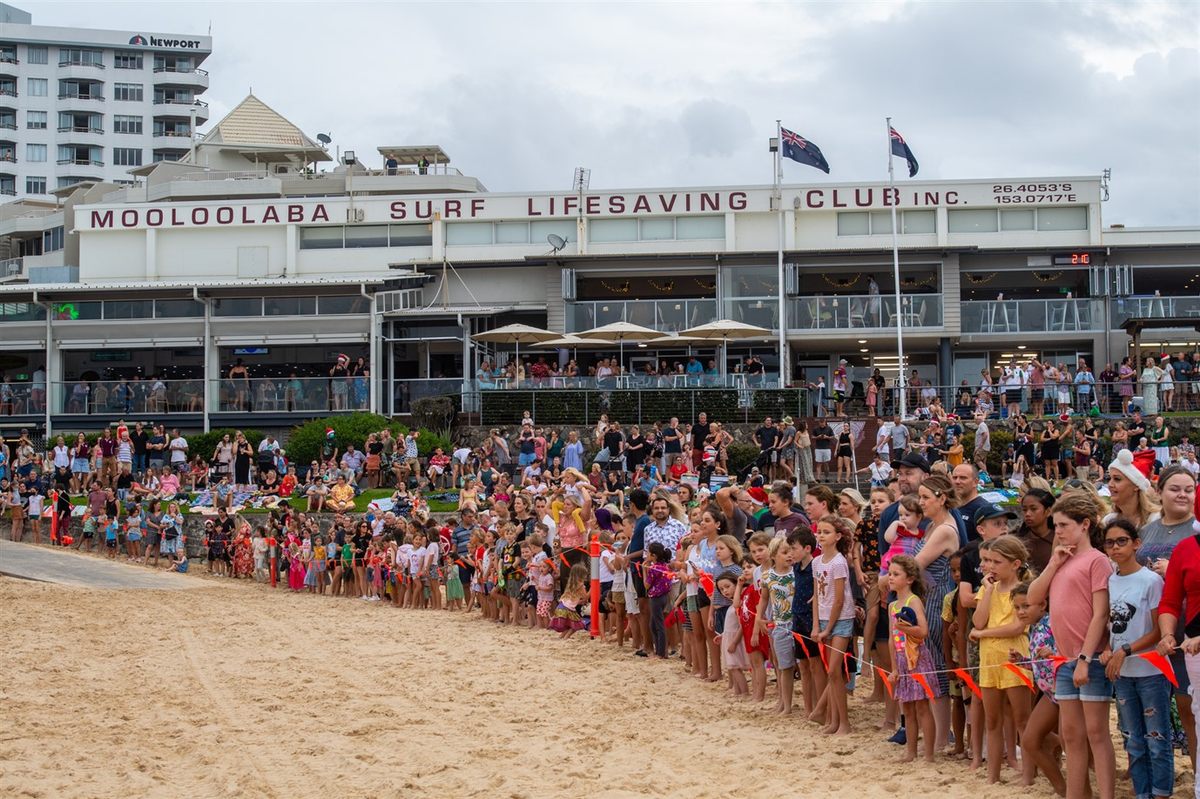 For the last sixty years, Santa has made a special visit to Mooloolaba beach, located on Queensland's Sunshine Coast on Christmas Eve. Santa's unorthodox arrival began as part of the annual Christmas concert on the beach—though exactly why it began remains a bit of a mystery. Santa typically travels by surf boat, although in the late 1990's local legend Barry Munro, who took on the role of Santa, made history by parasailing into the beach for a number of years. Regardless of the mode of transportation, Santa's ocean arrival is a tradition unique to Australia's eastern coast—and something of a local secret.
Carole Amai, 52-year-old longtime resident of the Sunshine Coast, has attended the event regularly with her kids. She recalls the first time she saw Santa coming into the beach by parasail back in the 1990s; it was completely unexpected. At the time she was in her mid-twenties and had recently moved into the area. Santa's arrival wasn't advertised, and Amai says it seemed like most people on the beach didn't realize what was going to happen. "One of the best memories I have is feeling that sense of wonder that little kids must feel when they experience Christmas because we all heard that bell and we had no idea what it was," she says. "I mean, we knew it had to be Santa but we just couldn't believe it really was. It was the most exciting thing we ever saw."
Santa always arrives with a big sack full of wrapped "lollies" like chewy white minties and chocolate-covered caramel fantales to hand out to the kids but it isn't always smooth sailing. "I remember one year Santa really struggled to get into the boat. It was really windy and really wavy and by the time he got back to shore he was completely soaked," says Amai.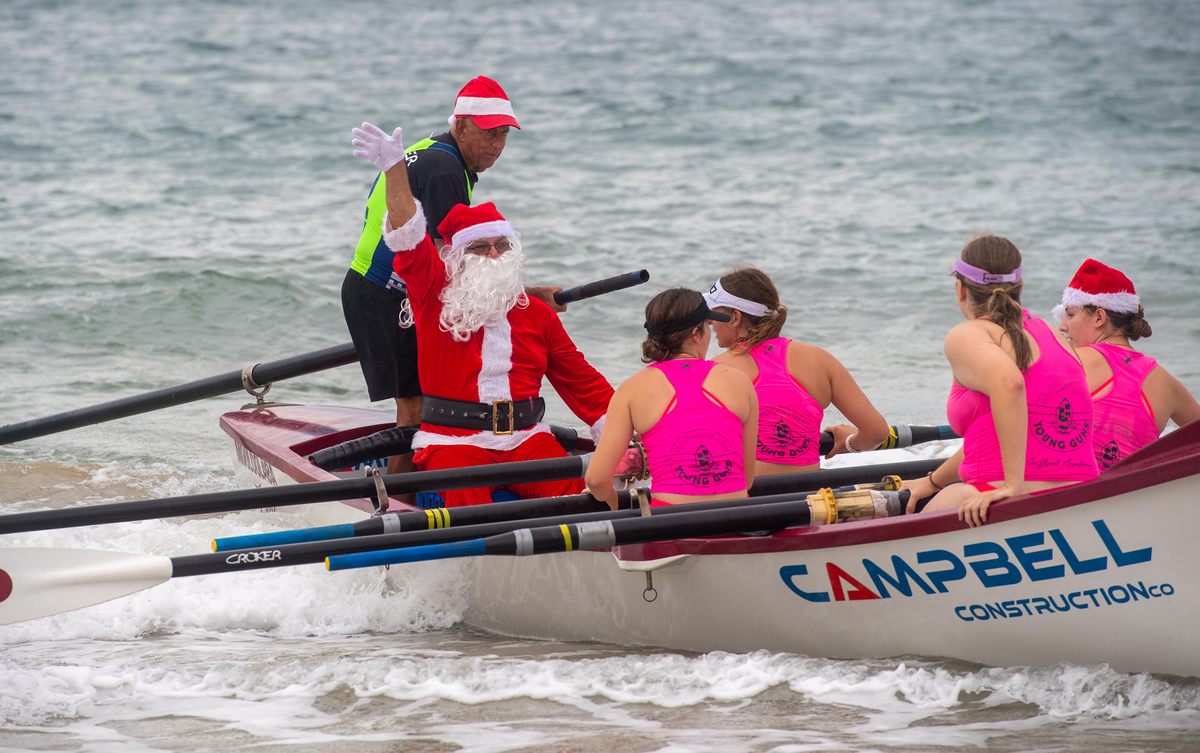 Santa's beach arrival is run by the Mooloolaba Surf Lifesaving Club, and the event has grown from humble beginnings; it is now well advertised. "What started out as a small community event has grown into one of the coast's much-loved traditions," says Matthew Horder, president of the Mooloolaba Surf Lifesaving Club. "Every year the event has got bigger and bigger. I think we average around 2,000 families visiting the beach on Christmas Eve." It's now so big that there's barriers set up on the beach when Santa arrives to keep him from being stormed by excited children.
Despite the years that have passed, and the increase in attendance, the tradition has changed very little. Nowadays though, the "reindeers" are more often women than men and Santa has accumulated lots more "elves" to assist him in handing out Christmas candy. Selfies with Santa during the evening are also in high demand, but his identity is kept a secret. Consenting to be interviewed only by email via his public relations team to preserve his anonymity, this year's jolly old Saint Nick explained the continued tradition: "It's a perfect and relaxing stop off before I head off to the South Pacific and New Zealand later that night," he says.